In 2010, Phil and I were still dating when he moved to North Carolina for a teaching job. And he bought us our first home! It was just 900 sq. ft, but a great space for us to start our life together. I was still in college in Pennsylvania, but after my graduation and our wedding (!), I moved down too and we started making the house "ours". We were pretty broke, and starting from scratch, but I enjoyed the challenge of creatively updating our house on a tight budget.
Front Yard
This is the exterior from when Phil first bought the house –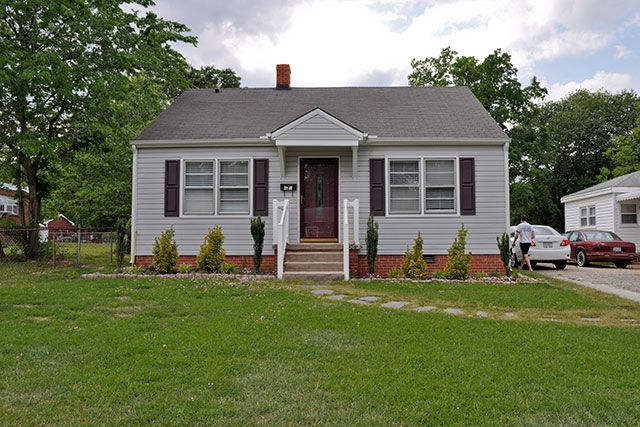 Since then, we added some landscaping, removed the storm door, and painted the front door and shutters in a happy yellow and gray color scheme.
The front porch "before" had some very sad carpeting and a mailbox that was well past it's prime –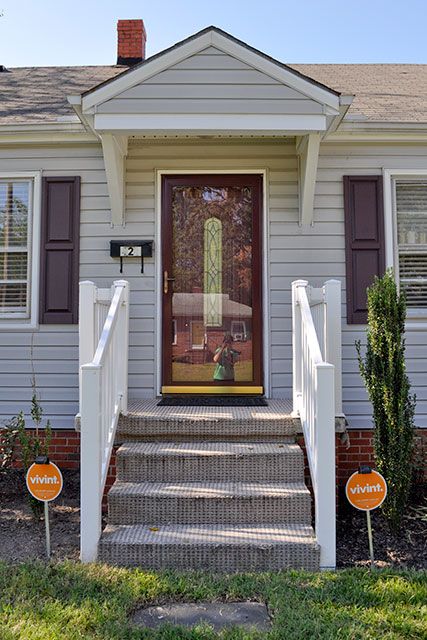 I painted the mailbox and made some plywood house numbers, Phil removed the carpeting and all of the remaining glue, and we added some happy plants for a much more welcoming entry.
Living Room
All that Phil had when he moved in was a single bed, a futon, a little bench, and his TV, haha. In the living room, we also added a $50 craigslist sofa, a rug, and I refinished a craigslist buffet into a TV console. He was a smart man and knew not to make any other decorating decisions until I moved in 🙂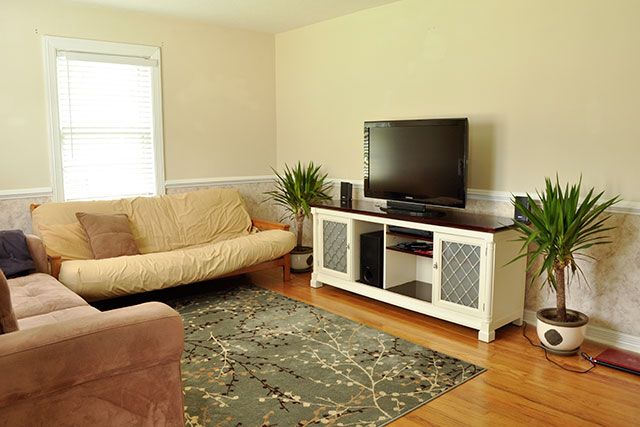 Slowly we turned this room into a fun yet cozy space for watching TV and hanging out with friends. We removed the wallpaper and painted the walls a light aqua (during a hurricane, I might add), added a gallery wall around the TV (and I changed it once…and then again!)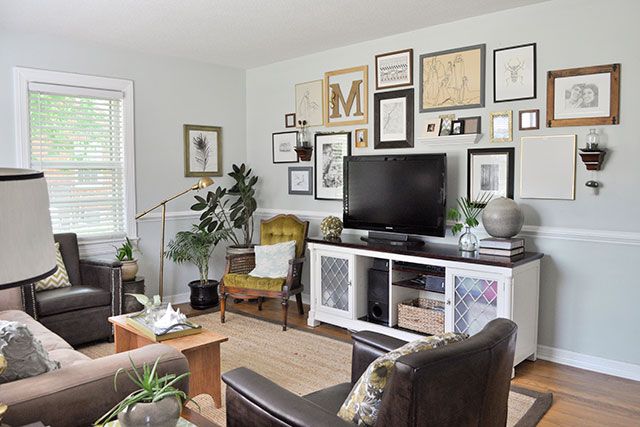 I distressed some faux leather club chairs to replace the futon, painted the inside of the front door glossy black, and we replaced the old rug with a larger natural fiber rug.
Hallway
The hallway had a pretty bland "before" –
I painted the walls a dramatic charcoal gray to disguise the air vent.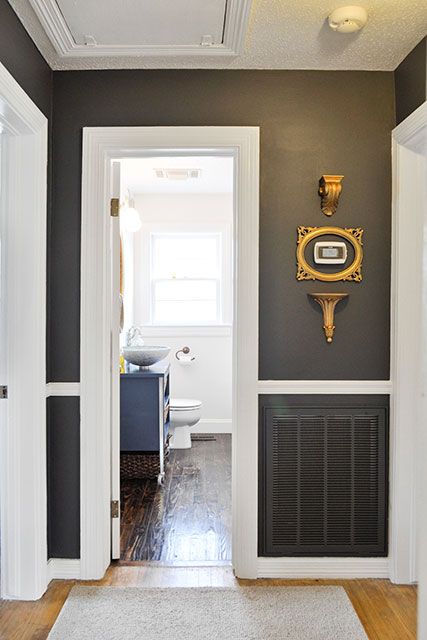 On the other side was the linen closet and coat closet, and weird cut-out in the floor where an old floor radiator once was.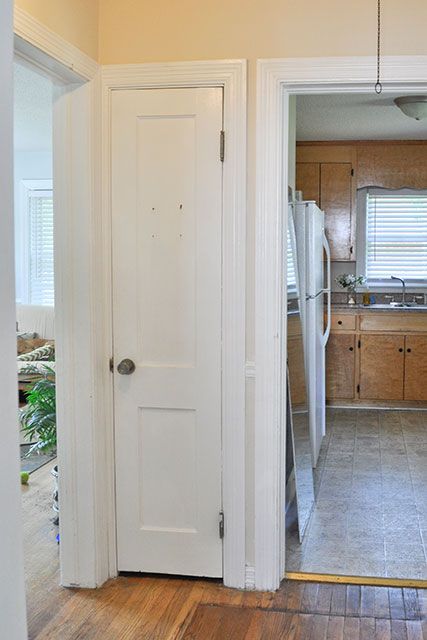 I removed the door to the linen closet to allow for open shelving instead, and added a rug to hide the flooring imperfections.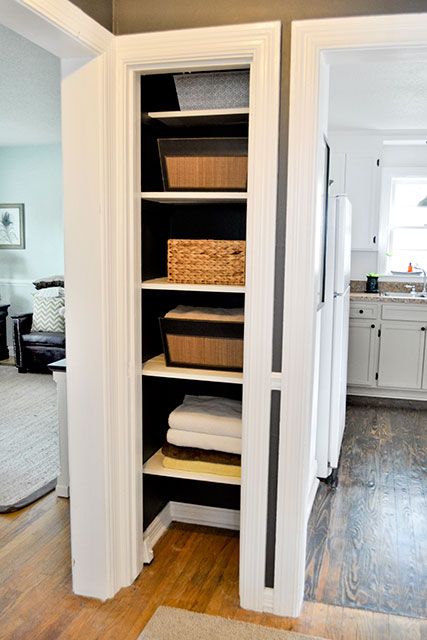 Master Bedroom
We ran out of time and I wasn't able to bring this room anywhere close to my vision for the space before we moved. This was the room when Phil first moved in (I added the dead plant to for an extra gloomy effect).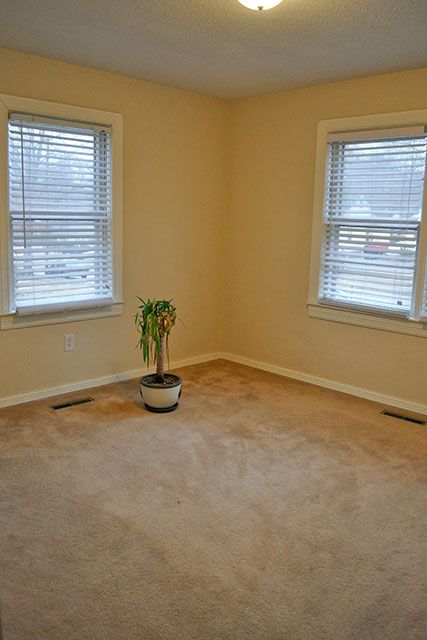 We removed the old carpet to expose the original hardwoods underneath (wohoo!), brought in some craigslist and hand-me-down furnishings, hung some thrifted sheet curtains, and mounted some wedding photos on the walls.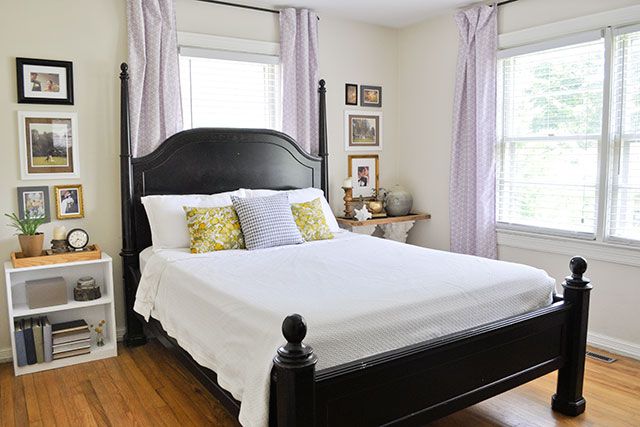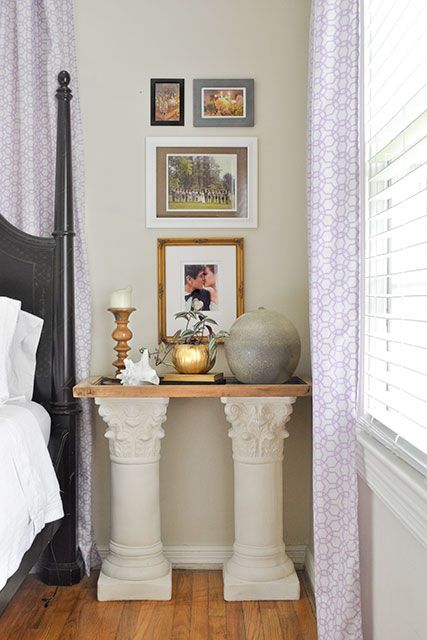 Bathroom
When Phil bought the house, we knew that renovating the bathroom would be a top priority. Everything was in poor shape, and to top it off, it was decked out in a palm tree theme!
We removed the wallpaper, painted the walls white for a fresh look, removed the old linoleum and refinished the original pine subfloor, and installed new trim.
I turned a metal cabinet into our new vanity (you can read parts 1, 2, 3), updated the mirror and light fixture, applied frosted window film, and made some simple abstract art.
The old shower tile was dated and falling off the wall, and the finish on the tub was completely worn off so it always looked stained.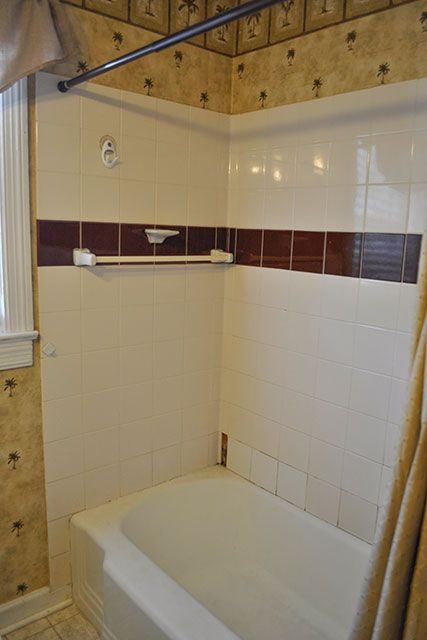 We re-tiled the shower in white subway tile with gray grout, I used a DIY kit to refinish the old tub, and made a double shower curtain.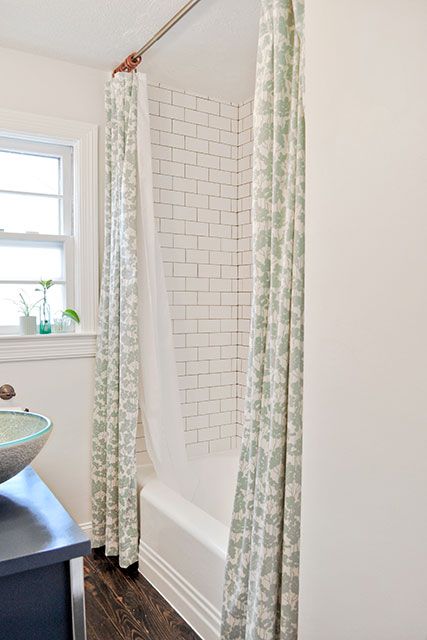 This was our very first renovation project, and we were able to complete it for under $1,000. It's kind of my pride and joy. You can see the whole reveal here.
Studio
After I moved in, this room's sole purpose was to store our stuff that we didn't know what to do with yet. And it lived this way for probably a year (shamefully) while we worked on other parts of the house.
But I finally got my act together and made this junk room into a space that actually had a useful purpose as a creative workspace, and a home for my house portrait business! I painted the room a medium gray, removed the old blinds, and brought in a work table (my dad actually built it for my sisters and I when we were little!). The skirt on the table is definitely not attractive, but it hid the messy storage underneath.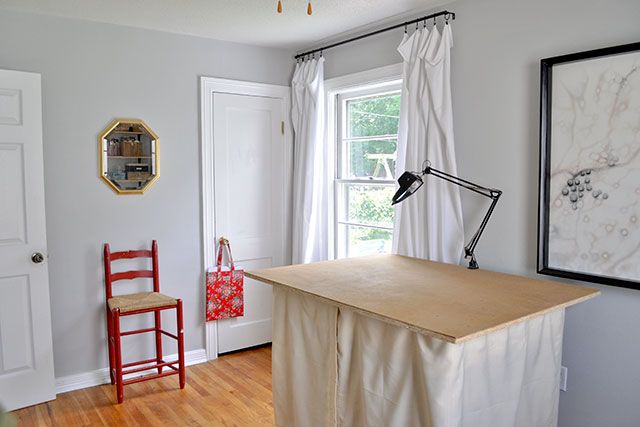 We hung shelves on the wall for some very necessary art supply storage, and built a custom desk for two using thrift store filing cabinet bases.
Having this studio space made my life about 100 times better. It was really functional and SO nice to have a designated room for working on projects. I could just shut the door and contain the craziness, rather than turning the entire house into a war-zone.
Kitchen
The kitchen was pretty dated, but it was fairly big for the size of our house. We knew that the old linoleum floors and dated 50's cabinetry needed a new look.
We started by ripping out the old linoleum, refinishing the original pine subfloor, and adding new trim. We also removed the old swirly header over the sink and added a new pendant fixture, painted the back door a bright red, and added a speckled window film. My sweet family helped us update the cabinets by adding trim to the doors, paint, and create open shelving for dishes.
We also removed the wallpaper and chair rail, and painted the walls white.
The other side of the room had a dining space and a pantry (which actually housed the washing machine).
I painted the pantry door glossy black, made some floral curtains using a vintage sheet, added art and plate collection. We also brought in a new jute rug and some refinished craigslist chairs to go with the table we already had.
We did the entire kitchen transformation for about $500! You can see the full reveal here.
Utility Room
There's a little room off of the kitchen that was once a small back porch, but it was enclosed at one point. I called this room the utility room because it has the electrical panel, but it also had our dryer and was basically our mini garage.
I painted all the paneling white to brighten the space, refinished the shelves, and added coordinating storage containers from the Dollar Store.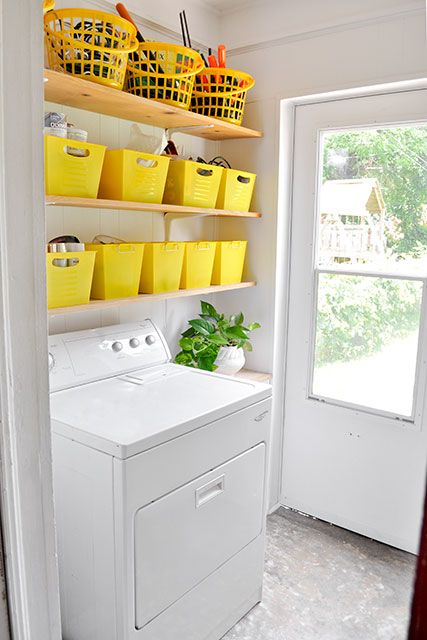 Here's the other side –
I also removed the old ripped linoleum and left the floor as the exposed concrete.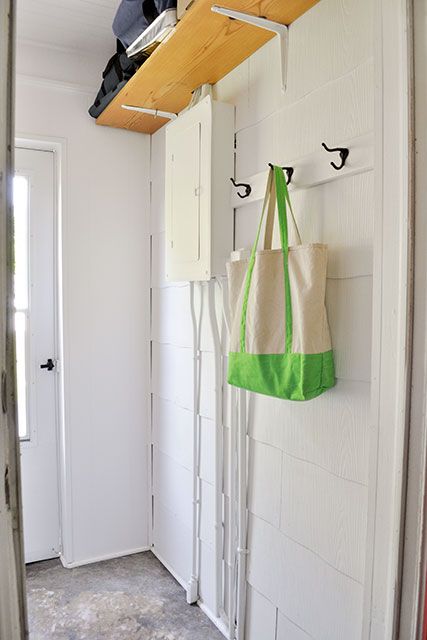 Backyard
Though it wasn't all that attractive, we knew the fenced backyard would be perfect for dogs someday (and it was perfect once we adopted Leo and Jaida!). There was also a large storage shed with electric, which I would've loved to paint, but I never got around to it.
Phil dug out the old rusted clothesline (and then, true story – someone stole them out of our yard. They actually did us a favor by getting rid of them, haha). We added the stone border around the patio, which we dug up out of the front yard & repurposed here. I painted the patio set I bought from craigslist for a new look. This space got a lot of use, especially in the beautiful North Carolina spring & fall seasons!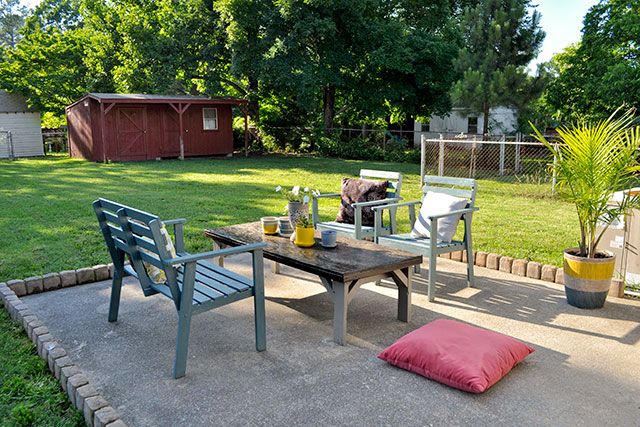 That's the tour of our first home! I really loved the space it came to be, and the memories made there in our first few years of marriage. The house is now up for sale and we moved to the Montgomery, Alabama area as Phil is now a Public Health Officer at Maxwell Air Force Base.