Next to the living room is the dining room!
If you can see past the cornflower blue, gold metallic paint, matte brown trim, and dated wallpaper, you'll notice that this room is an awesome size and actually has really pretty picture frame moldings covering the walls!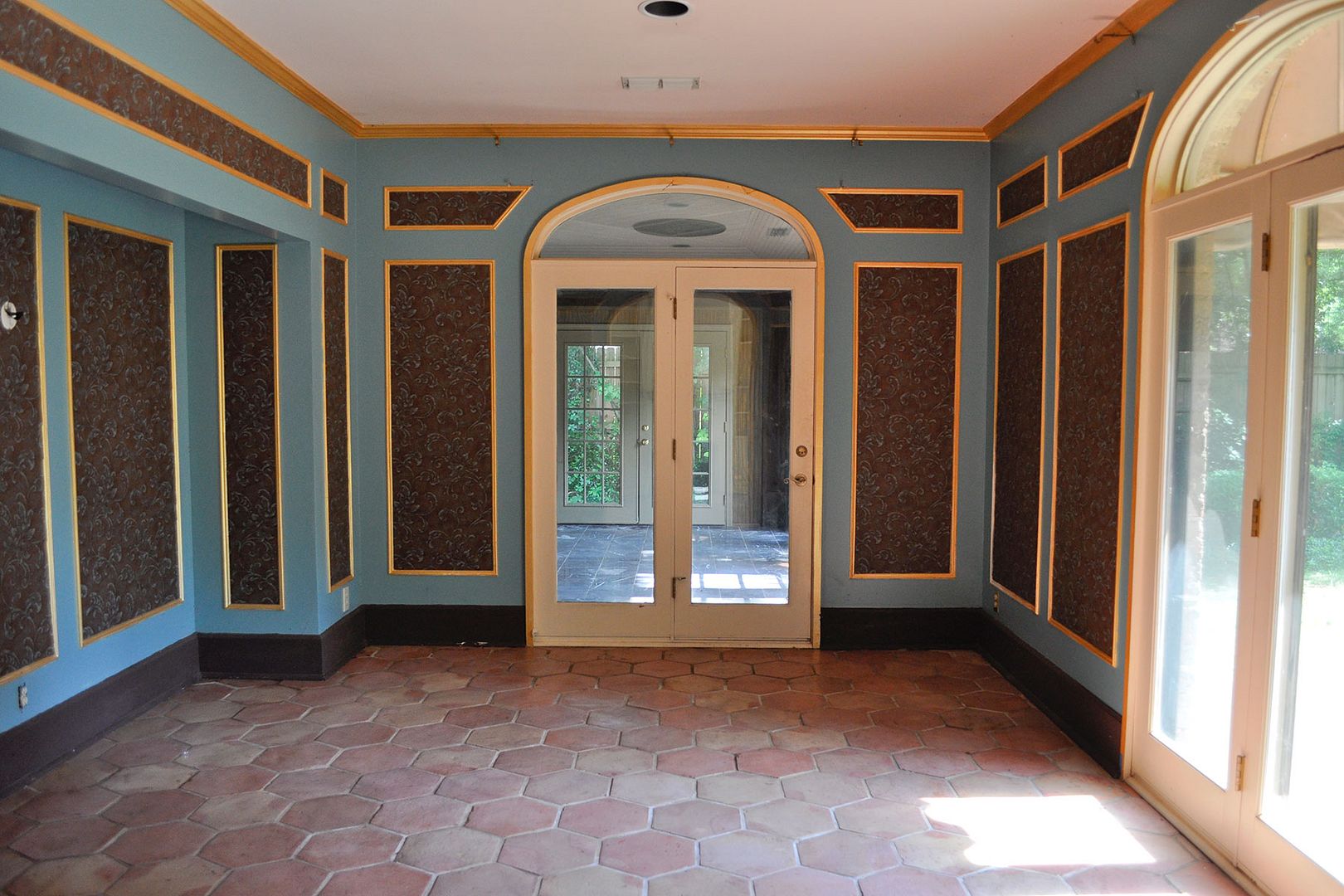 This was one of the easiest transformations of this house, because all it really needed was a coat of paint and some light fixtures. My Pappy primed over everything first, wallpaper and all. He painted the ceiling for me too – he's the best! 🙂
Then we followed with a solid color over everything to modernize the wall treatment. Check out how the floor refinishing improved the grout and brought out that beautiful terracotta color and shine!
A vintage crystal chandelier and some cute shaded walls sconces (the same ones as the master bathroom) were all that were needed to finish the room.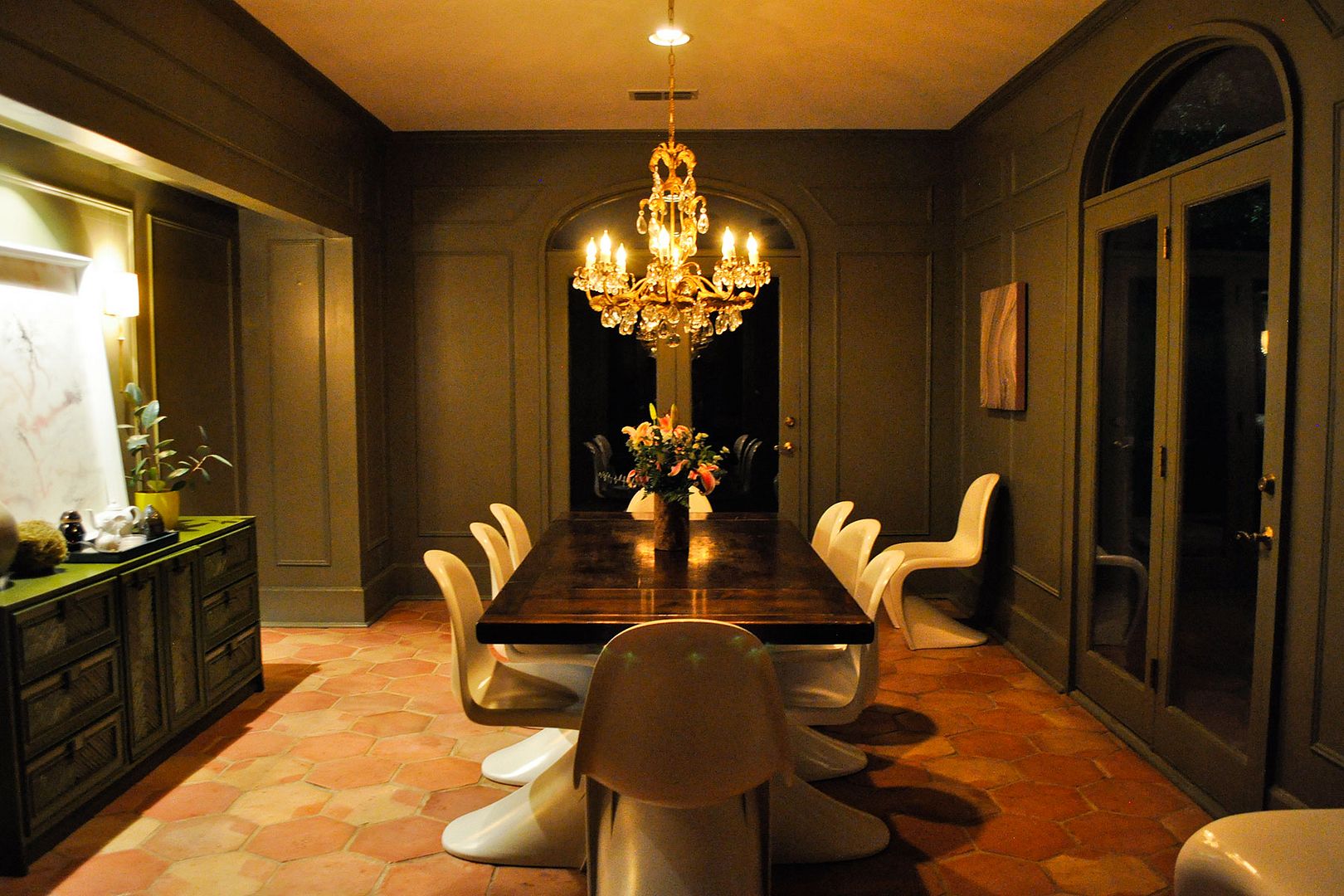 I love how she turned out!
Shout out to my white "s" chairs helping me out with that vintage/modern mix that I love! 🙌 I've wanted these chairs for awhile and lucky for me a nearby California Yogurt shop was selling their old ones on craigslist! When you find a deal like this at $15/chair, you obviously buy 12 of them! They're not perfect condition and I did have to scrub off a multitude of yogurt and syrup spills, but it was worth it to get 12 for about the price of 1! One day I'll actually refinish that table like I've been saying for years now…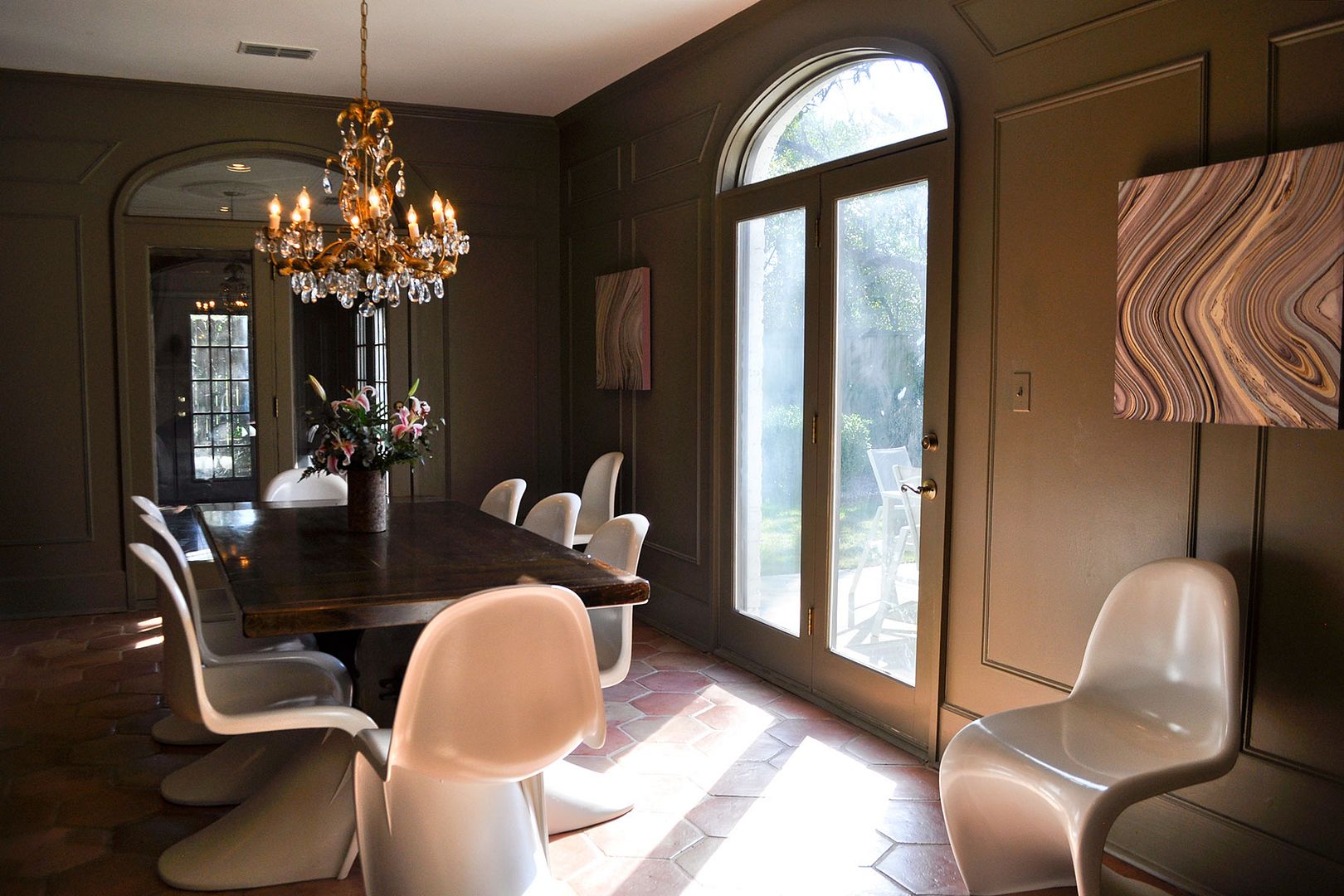 I love the chandelier I found on eBay! It coordinates well with the kitchen chandelier (which you'll see in a few posts!). I thought that the leaf design was a nice little nod to the fireplace motif in the next room.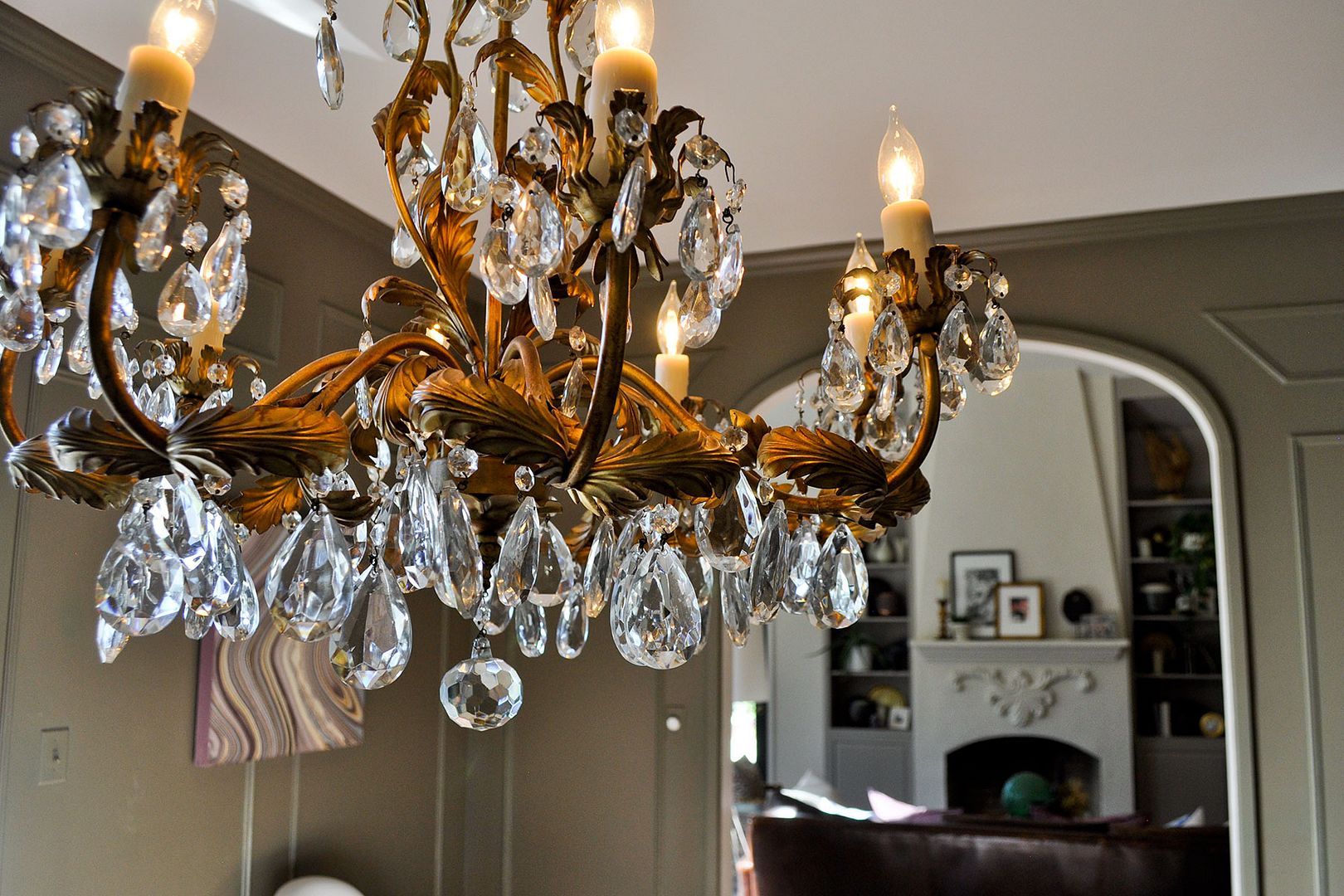 In hindsight, the one thing I'm wishing that I had done differently would be to completely remove the wall between this room and the living room, separating them just by a reclaimed wood lintel overhead (like seen in the living room, foyer and kitchen). I think the openness would be better for entertaining, but also it would help the living room feel wider – which is the one drawback to that room! There would be room to put a console table behind the sofa (or provide more options to arrange it differently altogether). So I'm kind of kicking myself for not thinking of it sooner, and hoping that the new homeowner might do it!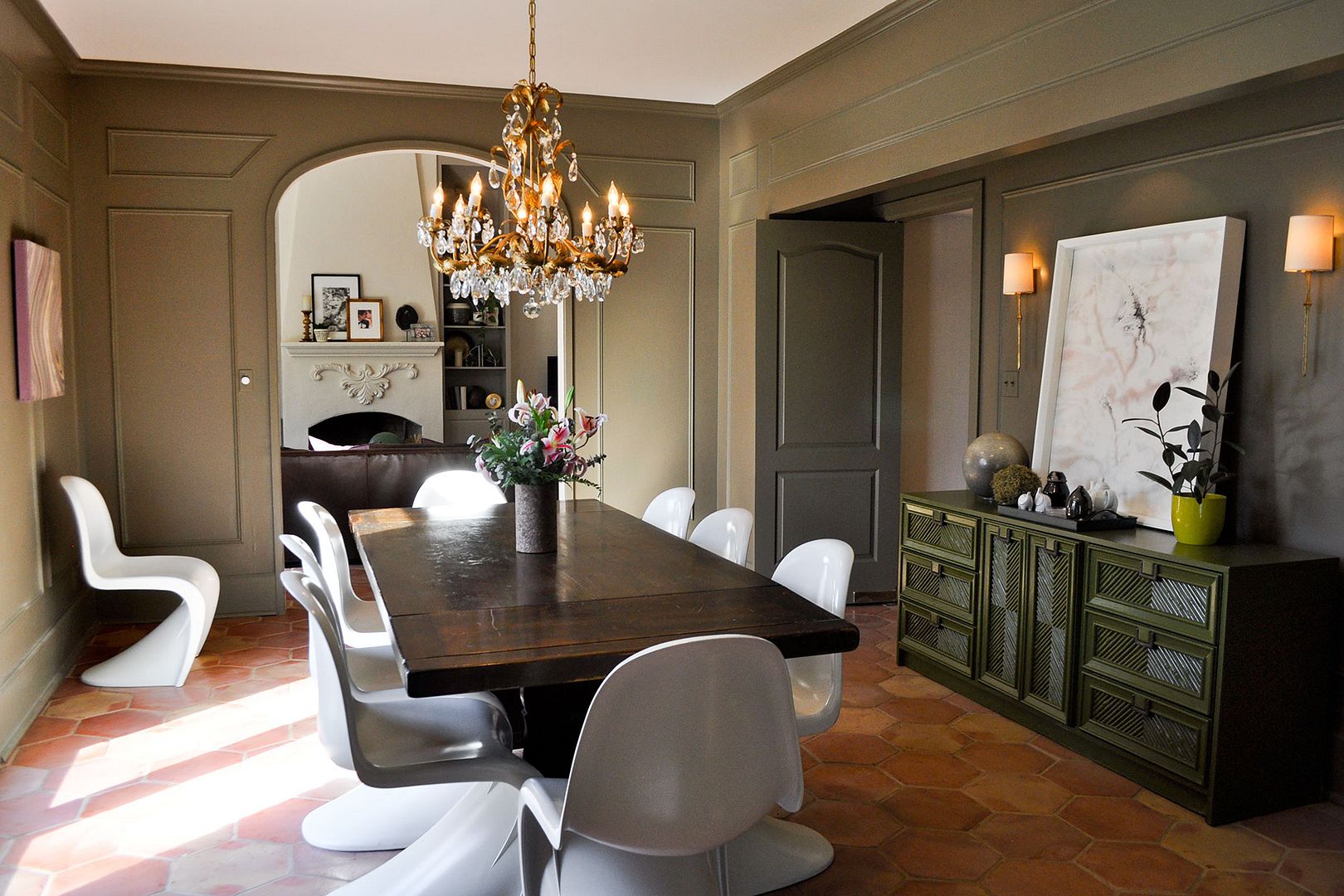 I probably shouldn't divulge this home's SECRET CLOSET but it's too exciting not to share! How cool is that?!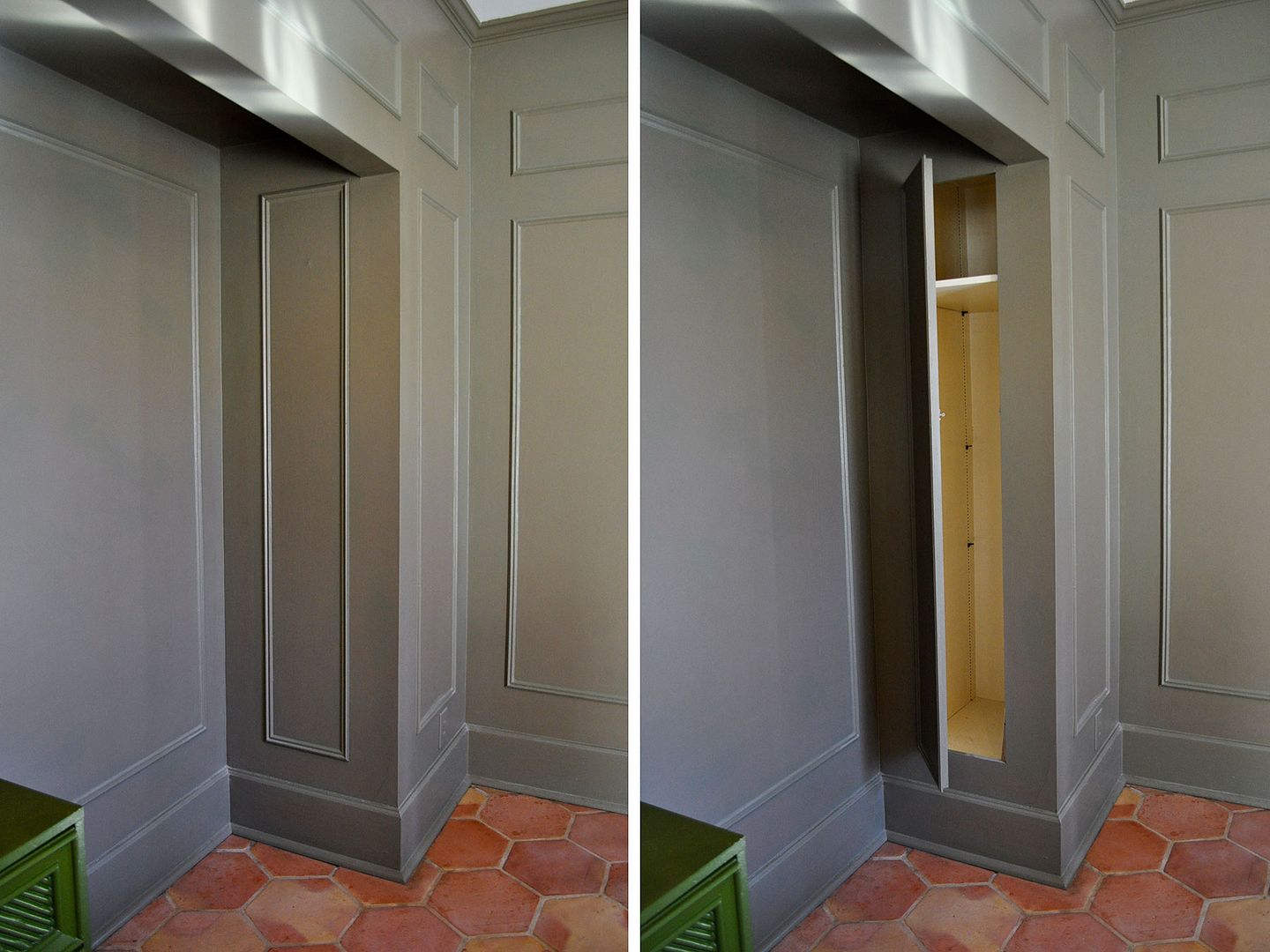 We barely got to use this room for actual dining, since it was purely tool/supply storage for 90% of our time here, and we didn't have a kitchen or a remotely civilized life until the last 2 months in this house…but it was fun to be able to enjoy it at the end for Friendsgiving!
What an example of the power of paint, right?!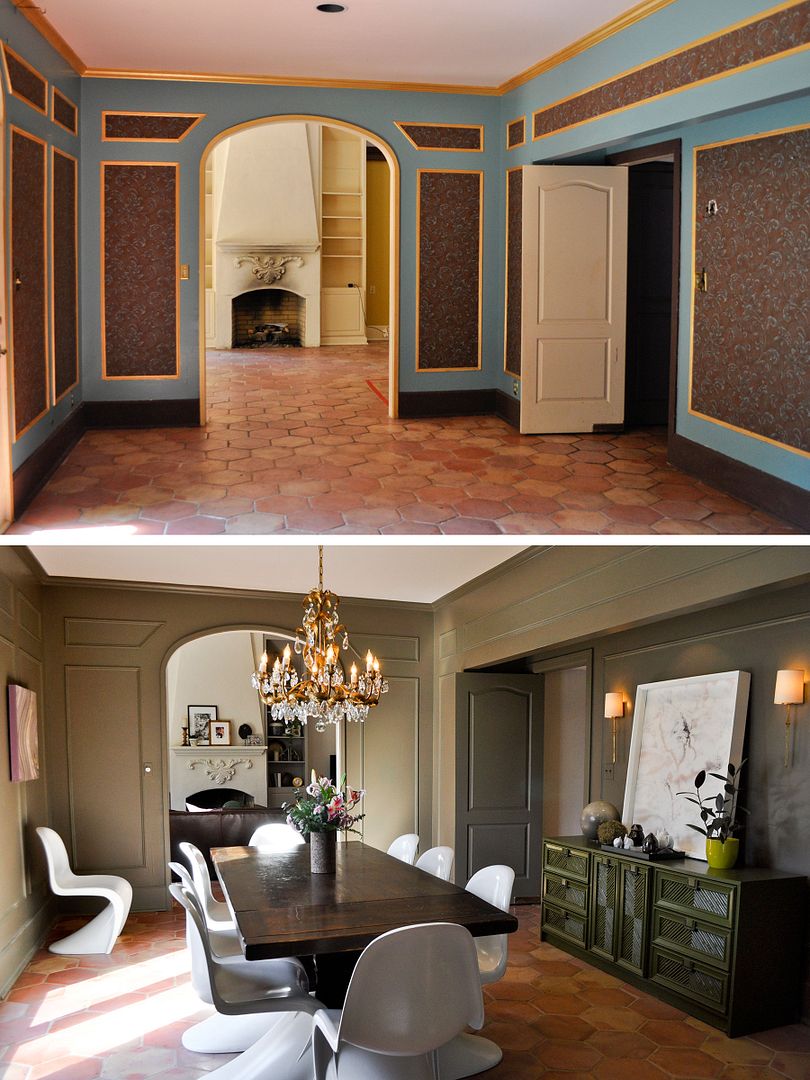 Paint: Sherwin Williams Foothills
Chandelier: eBay, antique
Wall Sconces: Circa Lighting, Dauphine
Check out other posts about our Montgomery flip here!
Related posts: