I'll finish up the upstairs with the two bathrooms serving the upstairs bedrooms. I'll be honest – the upstairs has the least exciting reveals of this renovation, because this is the part that we kept more basic so we could afford to make the downstairs really glamorous and special. BUT it still was greatly improved without having to make drastic changes.
This is the attached bathroom for the bedroom on the left. It was in decent shape – just tired looking and very yellow!
The bathroom for the bedroom on the right was in a similar condition (and also very yellow!). That other door there leads to the attic.
Both bathrooms were in okay shape without any offensive finishes. Though we allocated most of the renovation money to the downstairs and exterior, we still needed to improve these upstairs bathrooms as best as we could so it wasn't a drastic clash from the updates elsewhere. This proved to be harder to accomplish, because things like this tend to snowball, as you often can't change one thing without changing another thing. The design-lover in me really wanted to make it fabulous, but in this case I had to reign it in to work with what was existing and only update what was truly necessary. The first thing I did was cover the butter-colored walls with a fresh coat of ivory paint that better matched the white tiled floors. I went with a contrasting dark color on the upper portions of the wall and ceiling. This would've been a great opportunity to bring in a soft color, but this shade won because I had that paint leftover from a downstairs room 🙂 We kept the vanity cabinets but repainted them a greige color.
The wood 1 x 2's on the wall seemed like an odd wall treatment to me. It didn't look like paneling – it just looked like random pieces of wood attached to the wall kind of haphazardly. Instead of removing them or replacing them with another material, I thought I could add to them to really make it more obvious that it was board & batten paneled walls. I also liked this idea because it allows the white tub surround to be part of the board & batten, keeping a clean horizontal line around the room of white paneling below and contrasting paint above.
This required adding more 1 x 2's throughout the room –
Then I framed in each of the rectangles with mitered quarter round molding to make it more dimensional. It also gave the paneling a more formal look that better matched the rest of the house. I did the same wall treatment in the other bathroom as well.
The countertops were old and discolored so we choose to replace them with a white quartz slab with a rectangular under-mount sink and a new single hole faucet.
Instead of tiling the tub surrounds, we had a tub refinishing company reglaze the original tubs and surrounds. This was an interesting experiment for me, because I have refinished a tub myself before, and I was surprised that I was just as happy with how my DIY version turned out, if not more. So that should encourage the DIYers out there!
The refinishers had this big tube pulled out the front door for ventilation, which was kind of fascinating.
The floor tile would not have been my first choice, but since it was in good shape we decided to keep it. The discolored grout needed to be addressed though, so after a thorough cleaning, I used a small paint brush to coat the old grout with Polyblend Grout Renew product. It looked so much better to have it all one solid color again. I would really recommend this inexpensive solution for anyone in a similar situation – but be warned – this is a very tedious task, and you will need Netflix to get through!
Though we didn't do anything terribly crazy to these bathrooms, they cleaned up really well!
I was especially happy with how much better the wall paneling looked with a more intentional application and more dimension.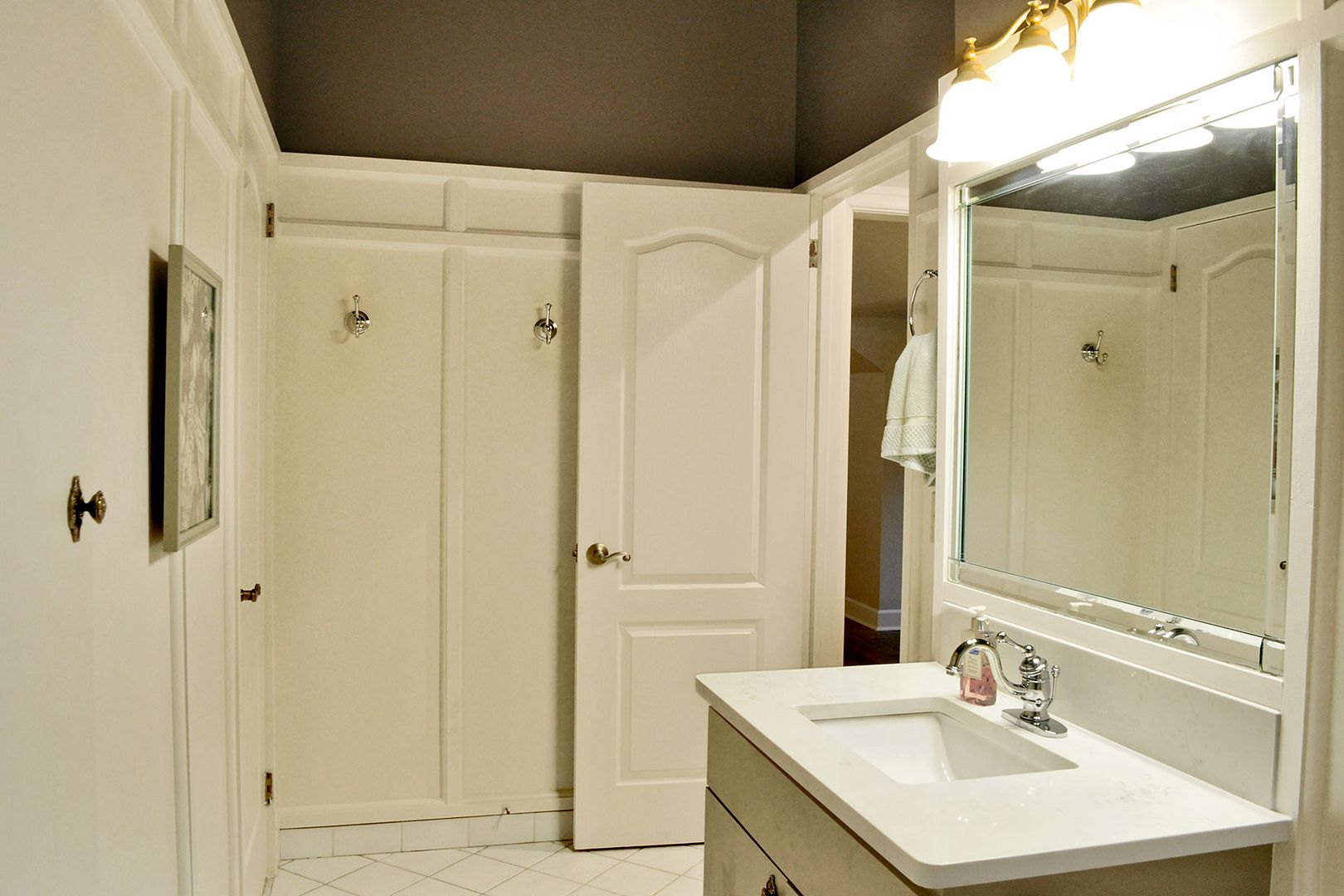 It required a LOT of spackling and caulking, but somehow even these subtle changes to the wall treatment made a big difference, especially in how it felt in person.
Paint colors used:
Bathroom Walls: Sherwin Williams Foothills
Bathroom Paneling: Behr 75% White Mocha
Bathroom Vanities: Sherwin Williams Perfect Greige
Materials Used:
Bathroom Grout: Polyblend Grout Renew Oyster Gray
Bathroom Countertops: Kitchen Creations Aspen Quartz
Bathroom Sink Faucets: Kingston Brass Polished Chrome Victorian Bathroom Faucet
Related posts: