Heading back downstairs now to the study. This door off of the foyer leads to the bedroom portion of the first floor. We called it the bedroom "wing" to fully embrace the fanciness of this house, haha!
From this little hall, the master suite is to the left, this bedroom or study is straight ahead, and there is a bathroom to the right.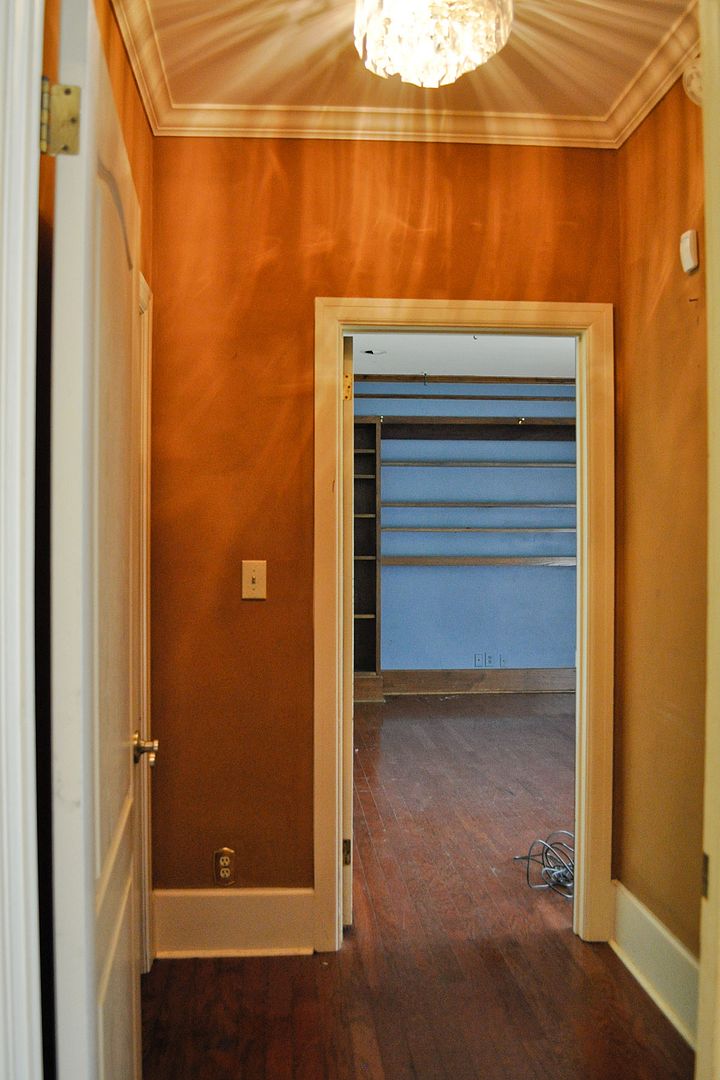 The bookshelves immediately make you see this room as a study, but it would also make a great guest bedroom. I can picture a bed set up between those bookshelves with room to spare if you wanted it to have a dual purpose as an office. It had a very mysterious large hole in the wall on the right with what appeared to also be water damage? I have no idea how this situation might've occurred, but luckily it was an easy fix for our drywaller.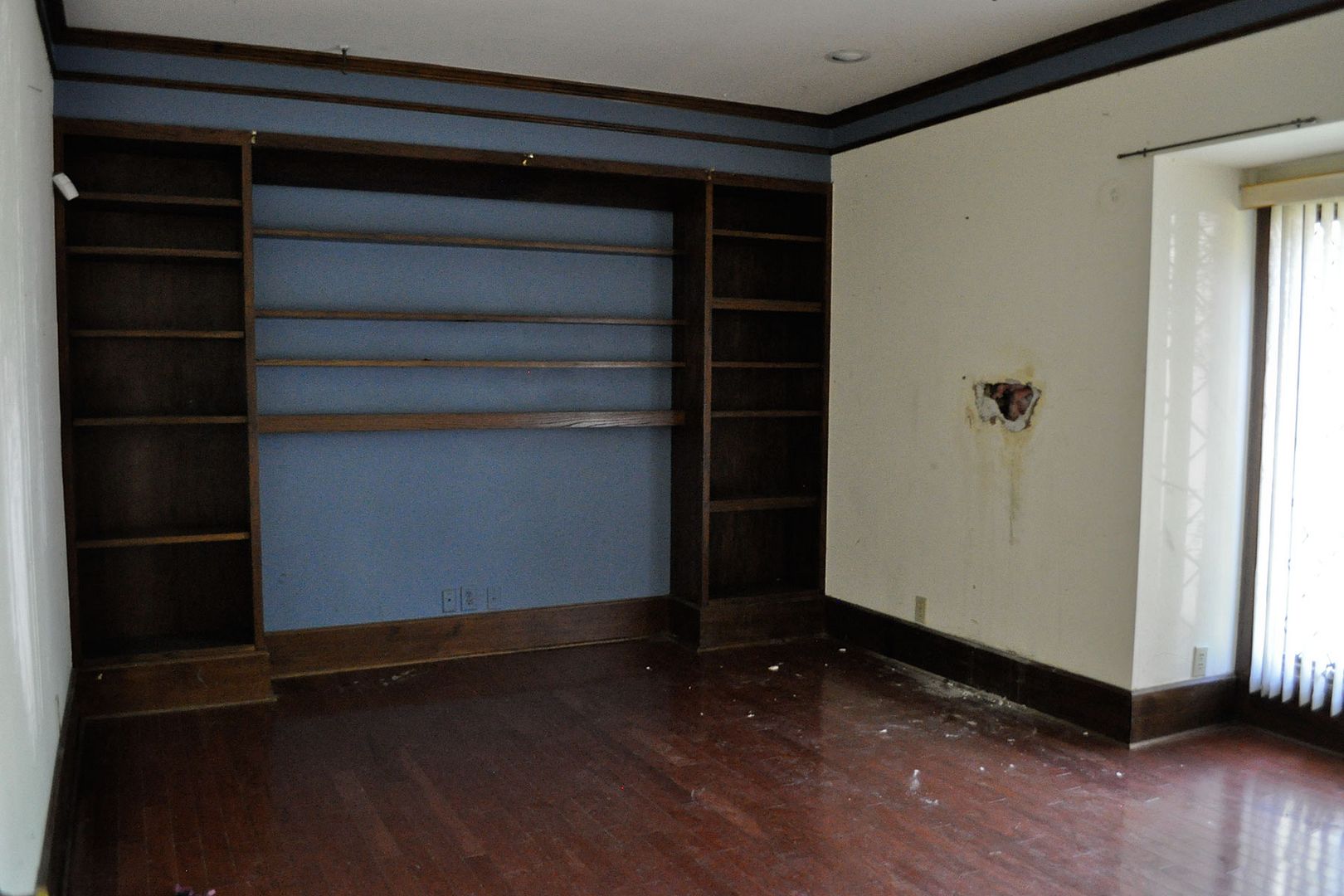 The built-in bookshelves were lovely though.
And it had a beautiful leaded glass picture window that faced the front yard.
We were originally planning on trying to refinish the floors, but we ended up having to replace them because of the master. We made some more major changes in the master bedroom and bathroom that would've required a lot of patching, but we couldn't find a matching engineered wood to piece in, even if we were to refinish them to match. So we ended up needing to replace them altogether and carry that flooring throughout this side of the house (rather than starting and stopping different flooring). It was kind of a bummer because we weren't planning on that expense, but I like the new flooring better anyways so I tried to focus on the positives. So Phil ripped up the flooring and scraped up the glue as best as possible.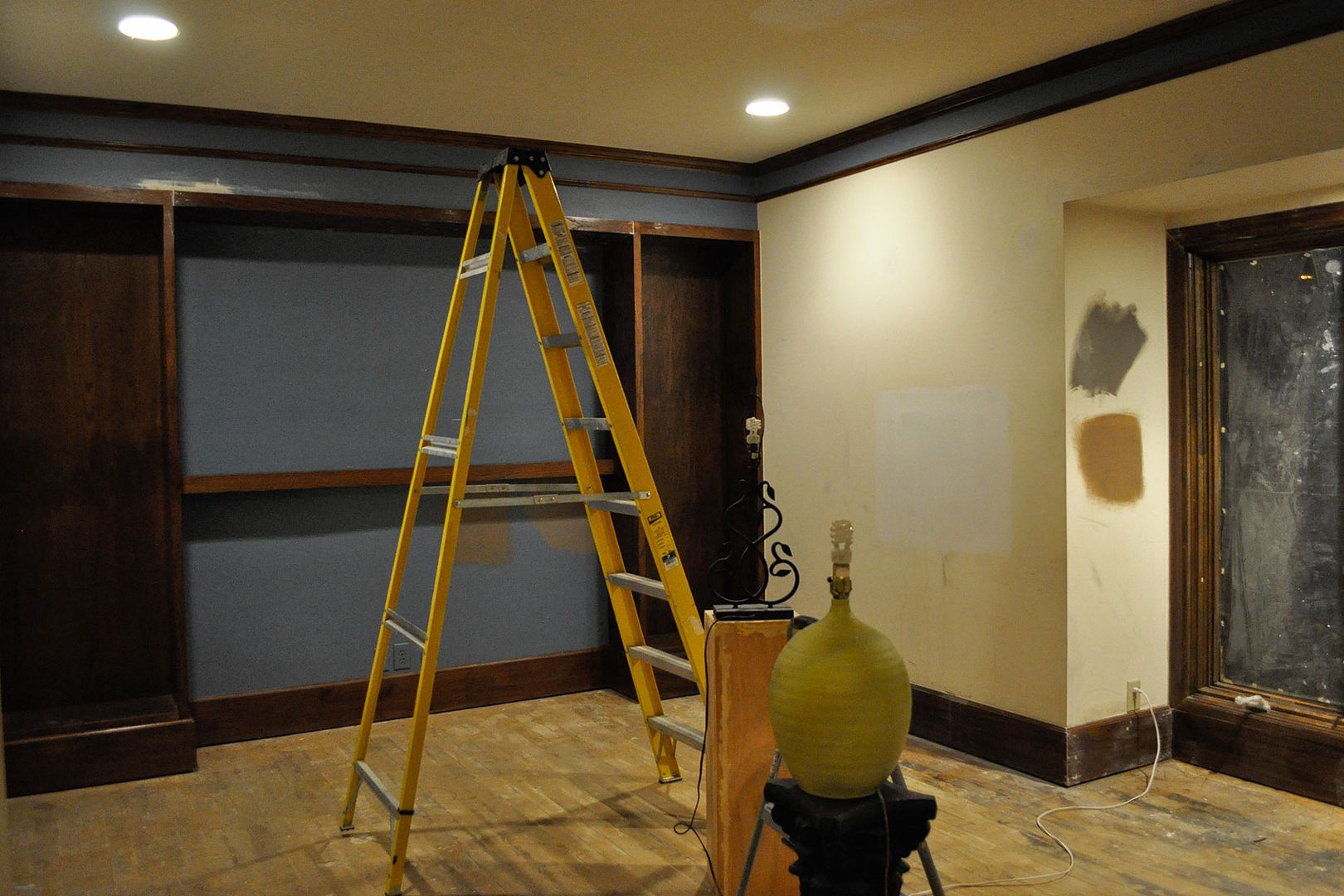 We used the opportunity while the flooring was removed to do the painting for this room. I wanted to do a modern paint treatment here with the walls, trim, and bookshelves all painted the same color. With the mysterious wall holes patched and other imperfections spackled, puttied and caulked, we used our paint sprayer to first coat the wood bookcases with an oil-based primer, tinted gray.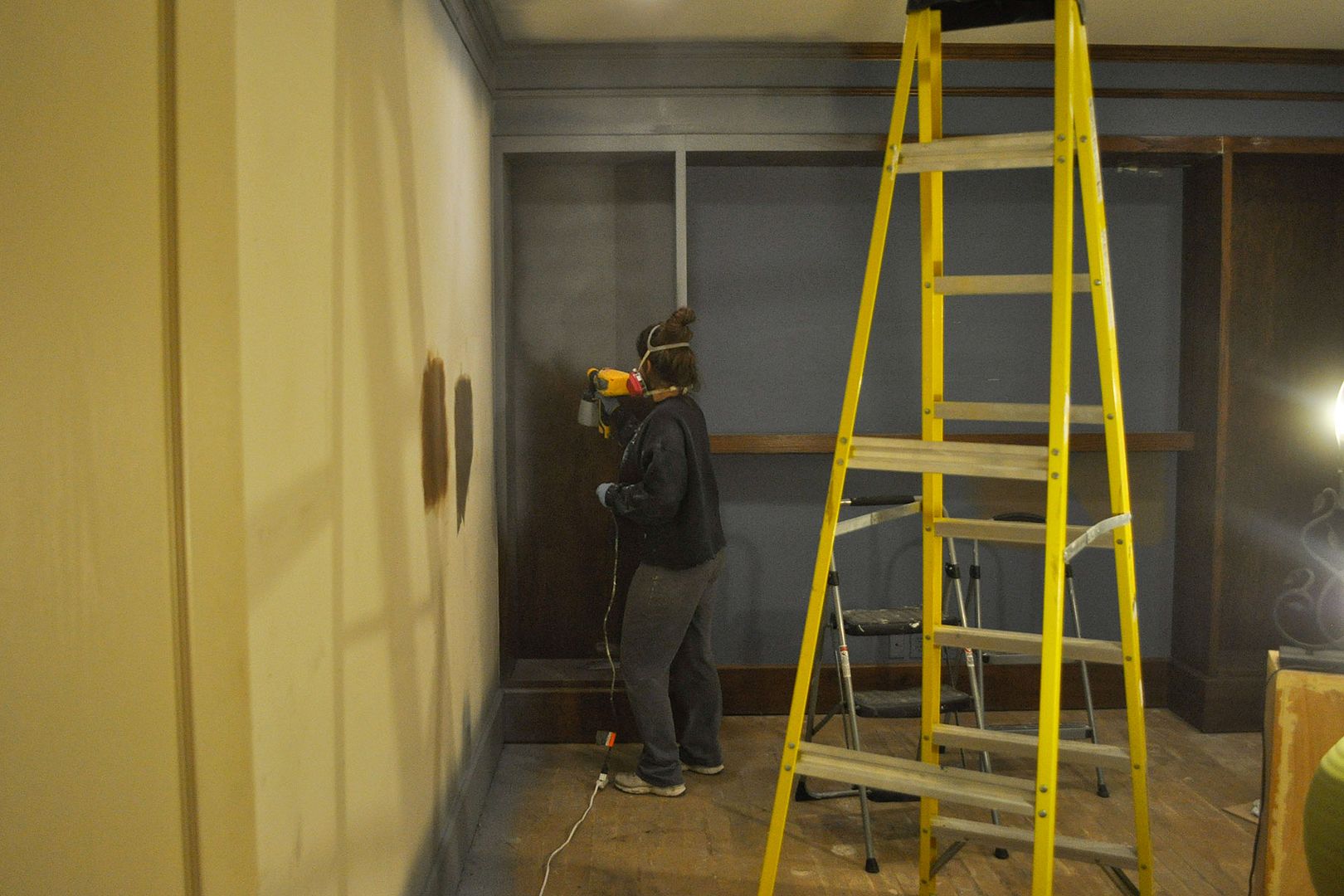 We also sprayed all of the shelves and trim with the same primer.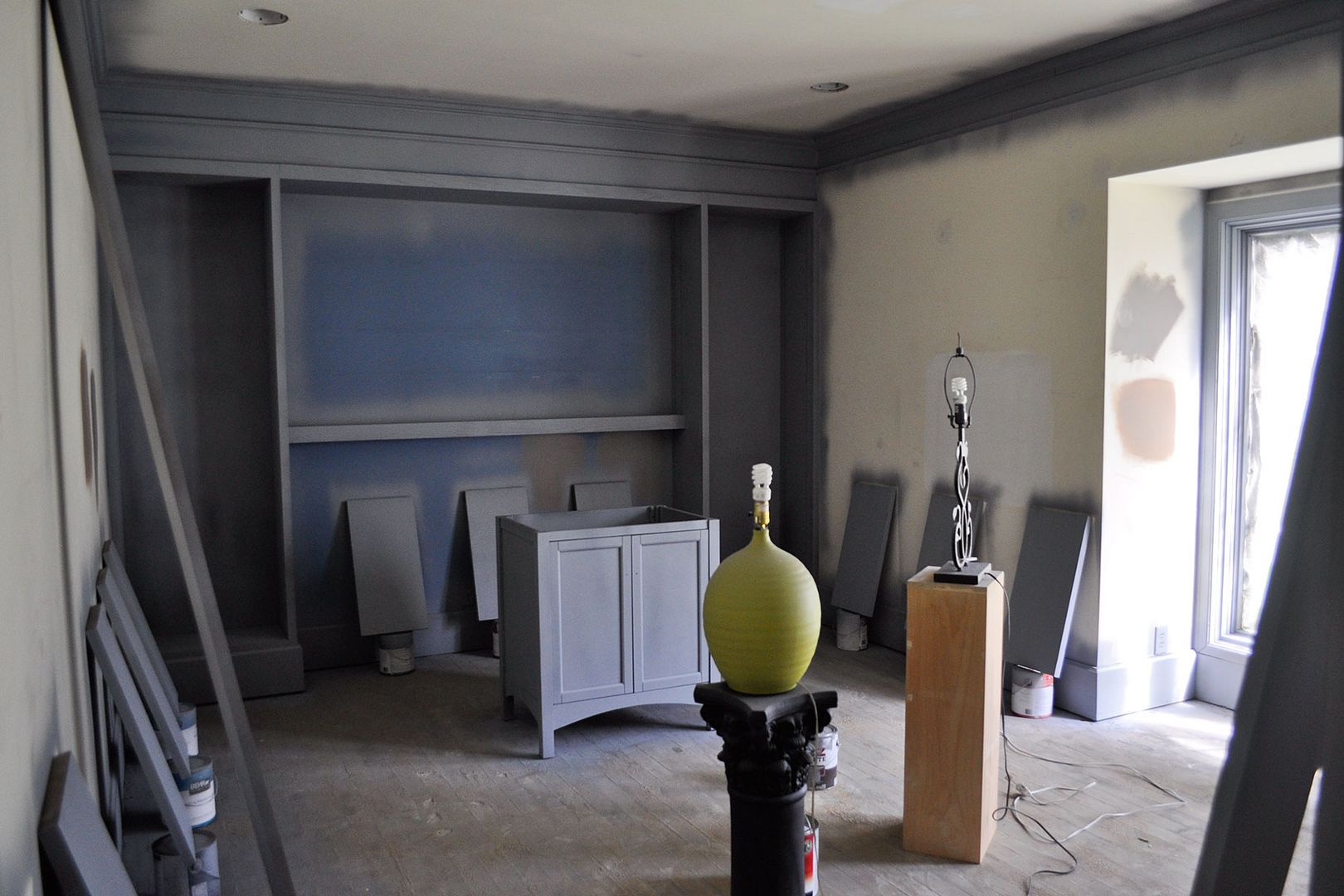 I made the very careless decision of not covering my hair before using the paint sprayer indoors…which resulted in oil-based primer overspray coating my hair. Which as you might imagine, is not exactly fun to remove! After many scrubs with vegetable oil and dish soap, I certainly learned my lesson the hard way and made sure to cover my head in the future! Let this be a warning to any other indoor paint sprayers out there!
Next, Phil and I took turns spraying the ceiling. This was my first time using a paint sprayer on a ceiling. I thought that this method would be easier and faster, but I think it's equally as miserable as rolling a ceiling so unfortunately there doesn't seem to be a better solution out there for painting ceilings!
We sprayed the bookcases, shelves, and trim with a durable paint before rolling rolling the walls and brushing the crown.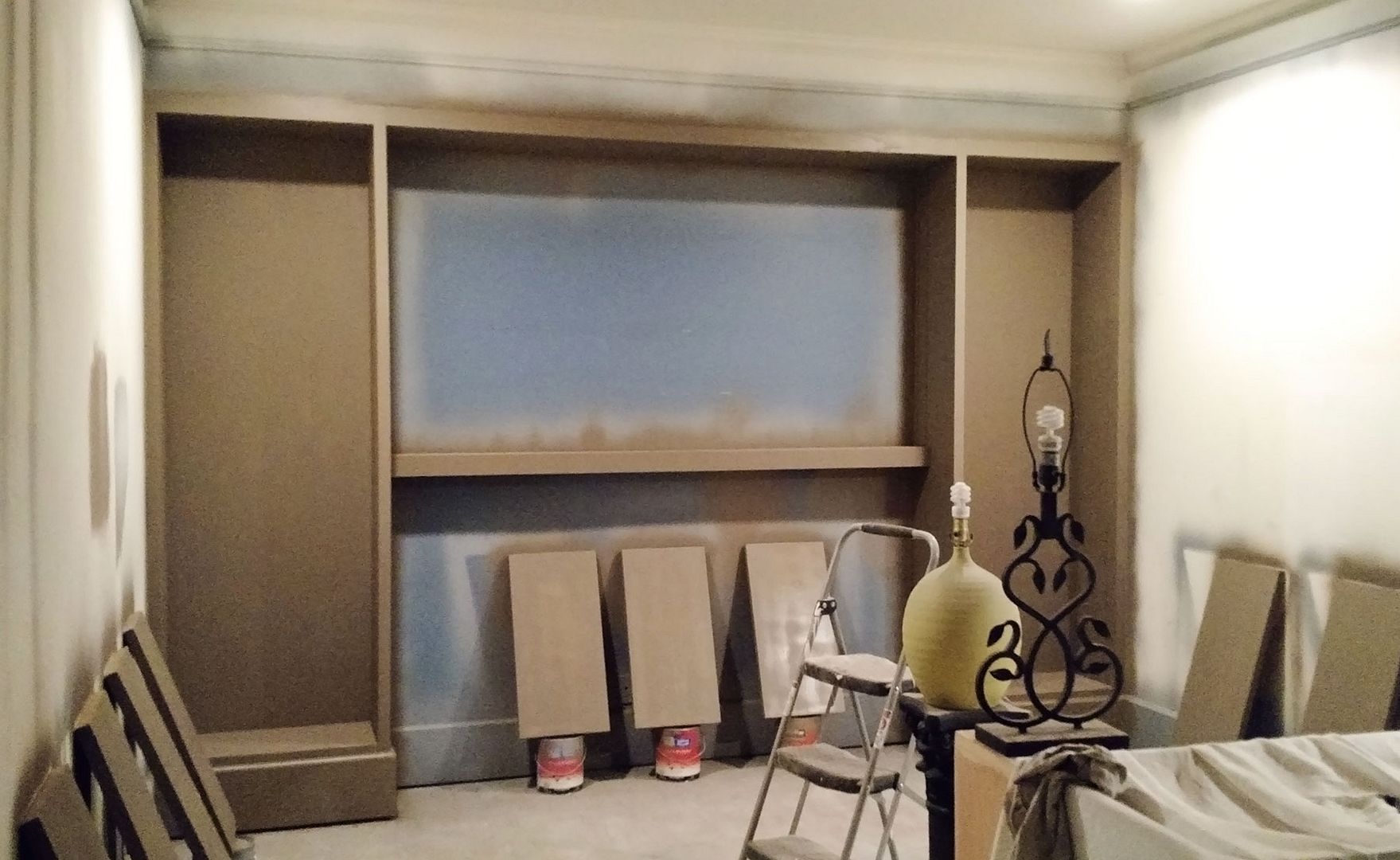 When we finally got the floors installed, it was a glorious day! Due to the concrete slab, we had to go with an engineered hardwood, so I picked one that I thought coordinated well with the one I choose for upstairs so there was some continuity throughout the house.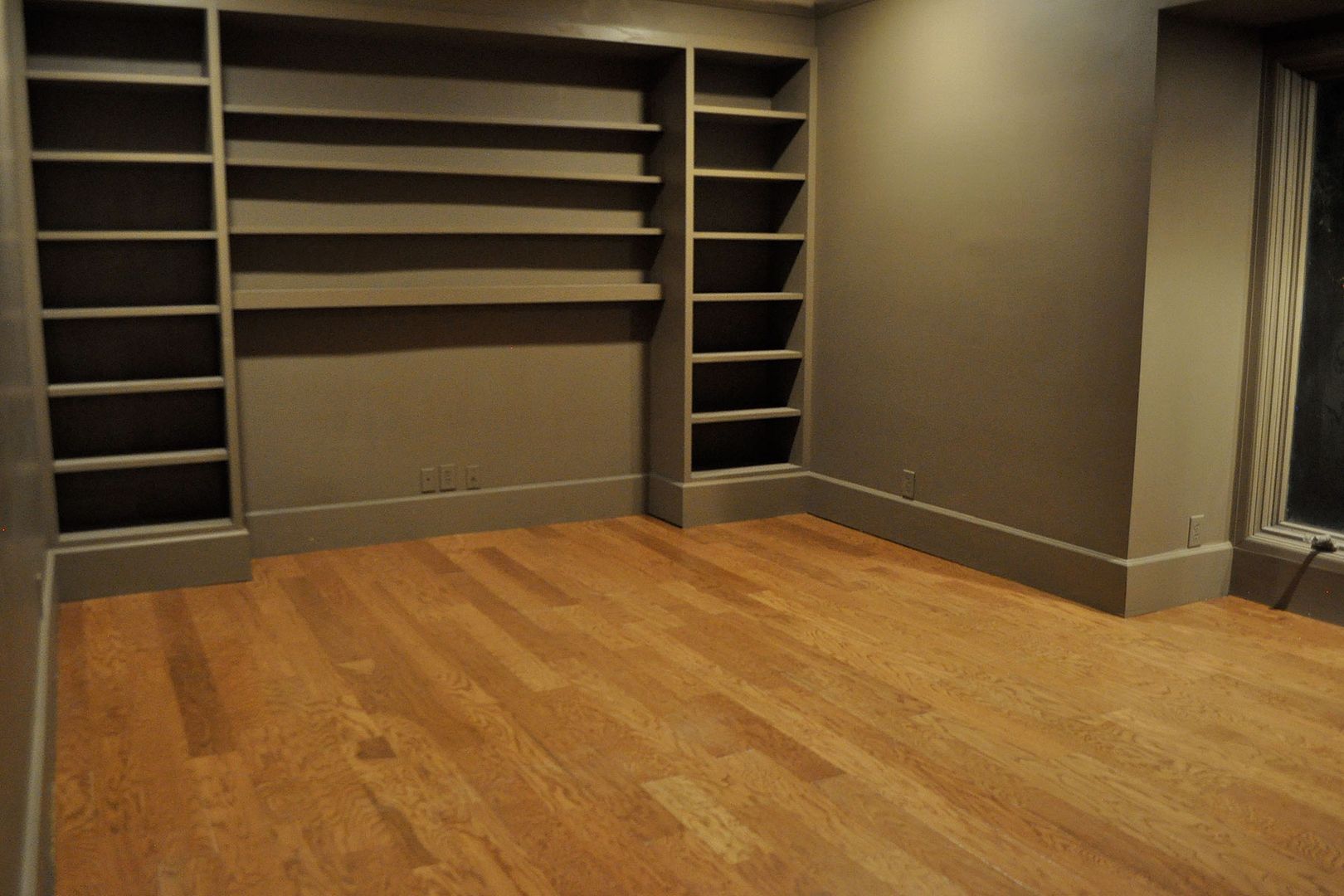 We even set it up as our living room for a few months, which was a VERY welcome change after living exclusively in the upstairs bedroom for a loooong time! We didn't have quarter round installed yet, or the crown painted yet, but I couldn't wait a day longer and began manically pulling out furniture and decor from our storage areas. I was just a wee bit excited to have 1 normal, functional part of our house!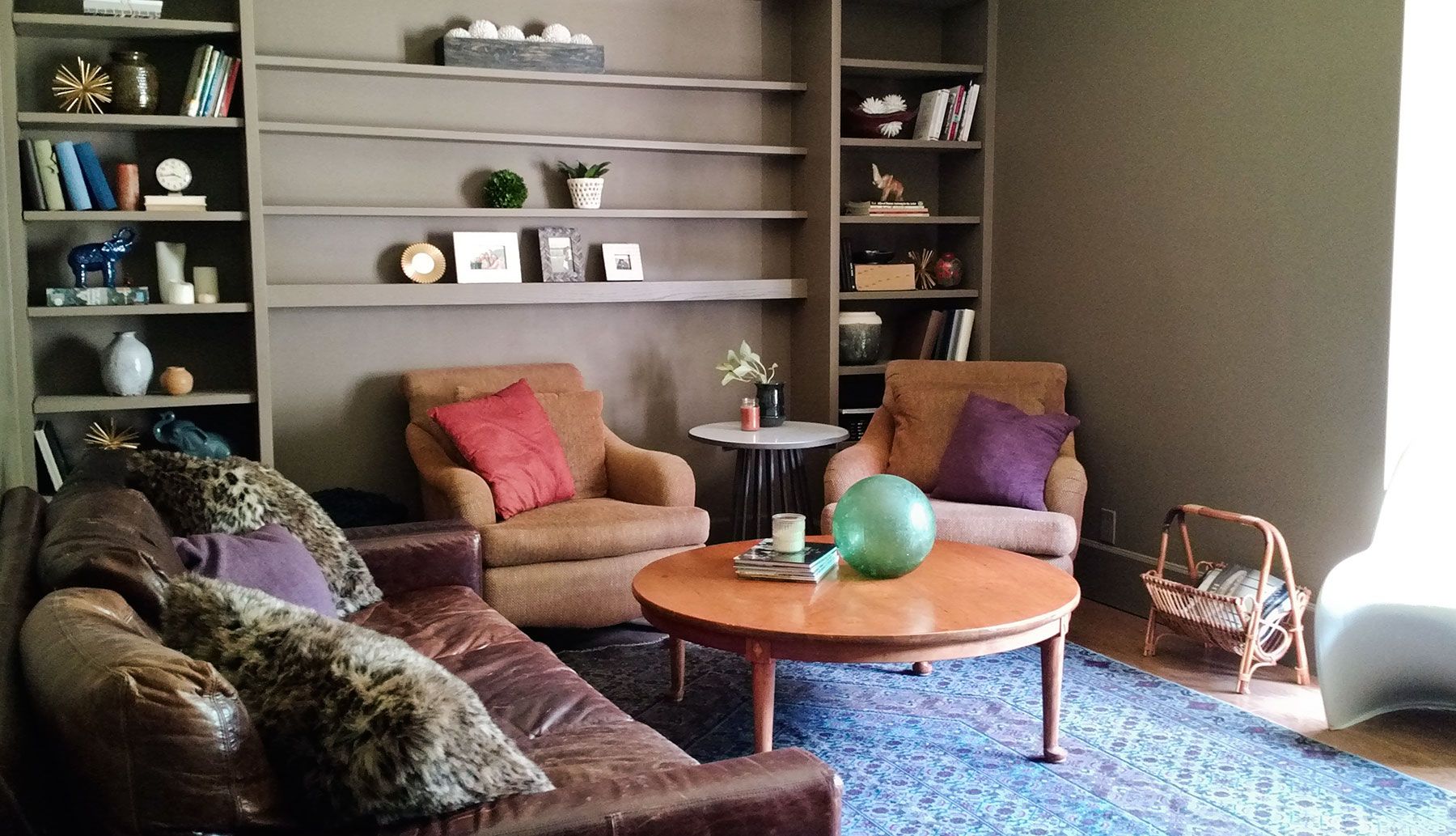 But this room was destined to be a study, and I actually got to enjoy it as my home office for a short time before moving. I am very fortunate to be able to keep my job from Alabama even now in California, so I worked here for a little while during the transition period before moving into my office at our current house. It was a beautiful place to work and I'm not sure if/when I'll get to enjoy a workplace like this again!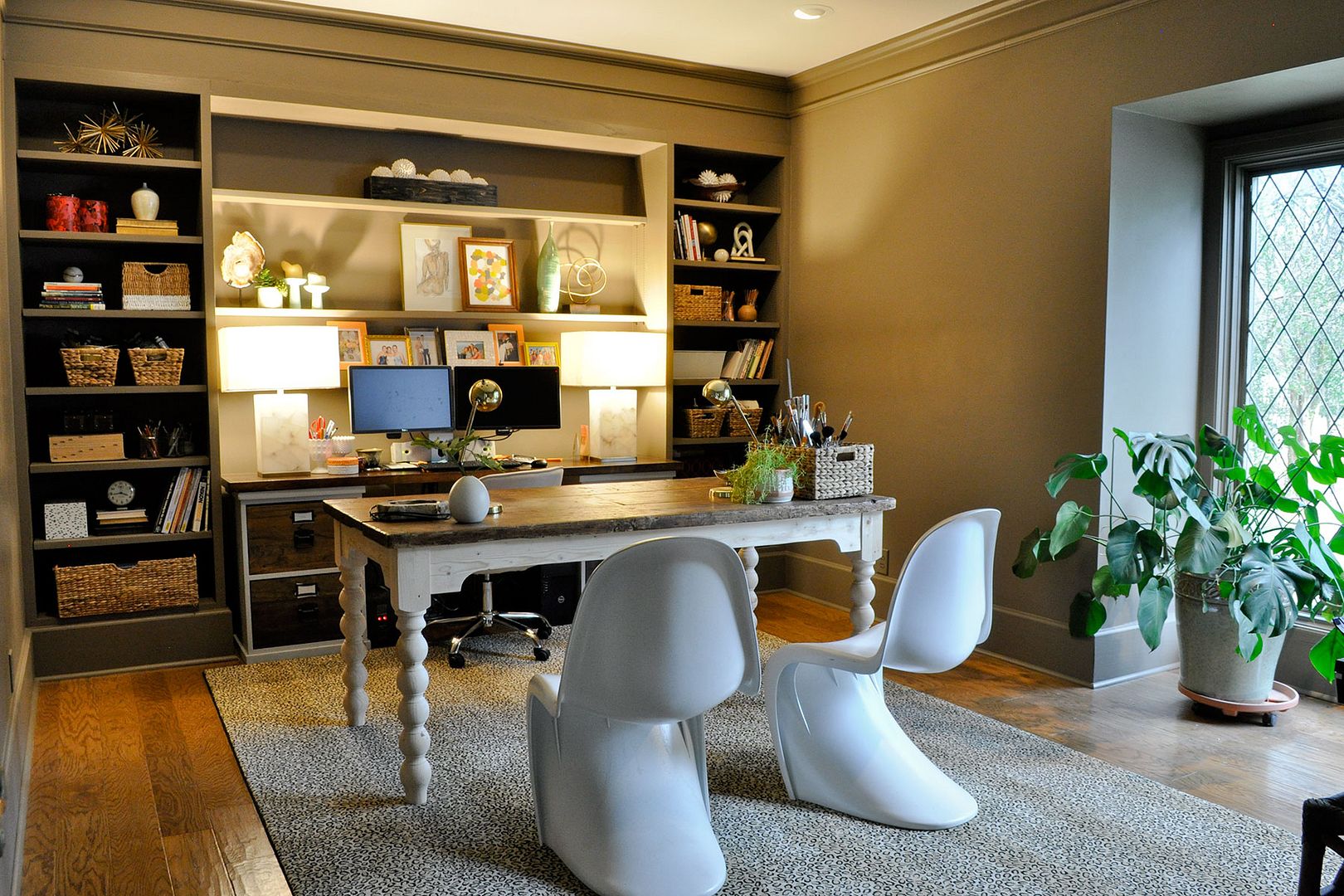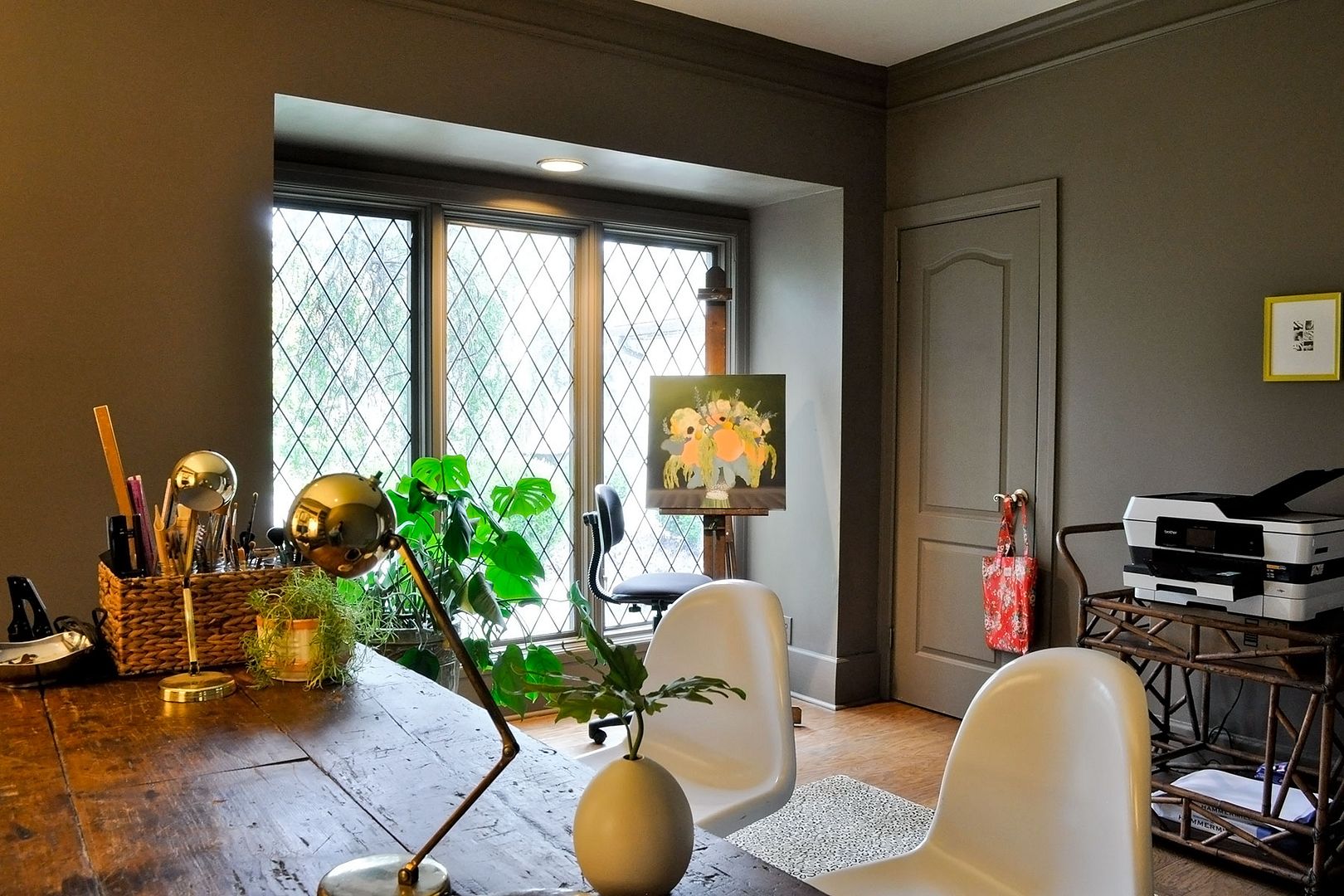 This room had great features to begin with, but I'm really loving the moody, cozy study where it ended up!
Materials used:
Walls and trim: Sherwin Williams Foothills
Flooring: Home Depot Bruce Tawny Oak Scrape
Related posts: