Welcome to our first finished flip!
Technically I don't know if we should even call it a flip, given that it took us a year and a half to finish and it was also our home during the time…BUT that was the intention all along, so that's what we call it.  Now that we have survived the experience, sold the house and it ultimately ended well for us (though it was QUITE the adventure getting here), I can finally stop panicking and start writing about it!
Let me remind you how the house looked when we first laid eyes on it. It was an absolute charmer with lots of unique details, but it had clearly seen better days and needed a lot help.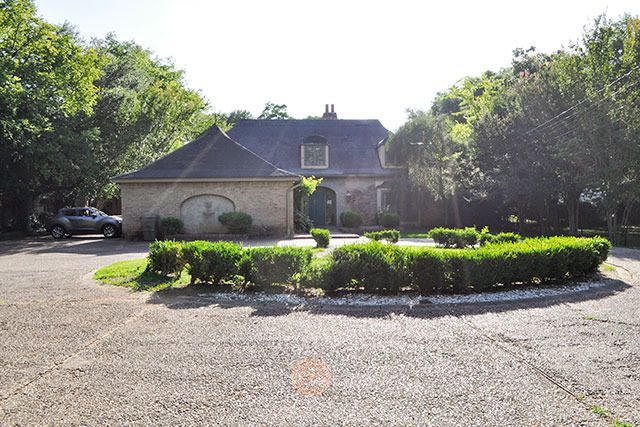 I had every intention of blogging along the way as we renovated, but there were a number of reasons why that didn't happen. First…we got off to a slower start because our contractor couldn't fit us in right away. We were fine with that at first because there was still plenty for us to do.  However that also meant that we were working on a lot of different projects at once and nothing was at a state that was worthy of a blog post for a looonnnng time.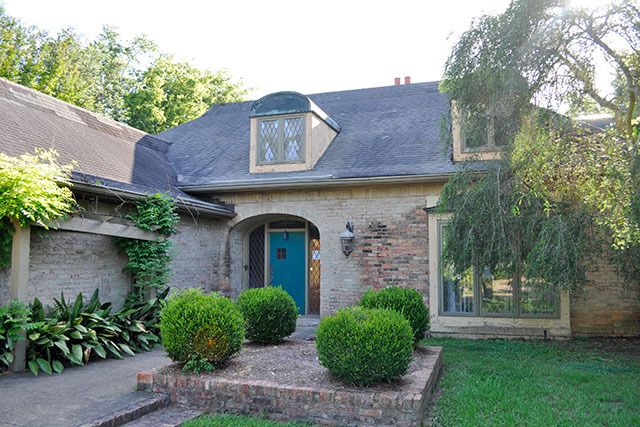 Then once the renovation had just really started progressing, Phil unexpectedly got orders to transfer from Maxwell Air Force Base to Edwards AFB in California. We were not anticipating facing that decision for at least another year and it really rocked us for a number of reasons – but especially because of this tiny little project we had just gotten ourselves into here in Montgomery, Alabama. But ultimately we decided that it was best for him to accept the orders, even though that meant that we only had a few months left to work on the renovation together (and we were not even remotely close to finishing).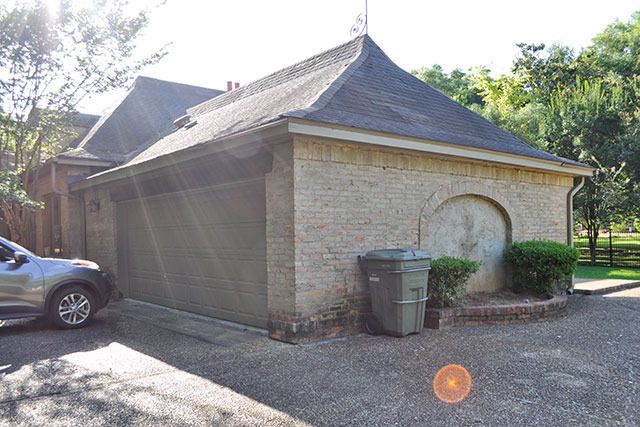 We had only budgeted to hire some of the work out, and the rest we had planned to do on our own to earn some sweat equity, so contracting out the remainder of the renovation out was not really an option for the size of house and scale of the work needed to be done (think, huge!). That meant that we were in absolute panic mode at that point and worked on the house constantly – pretty much every single night and every weekend until the moment that Phil had to leave for California in June 2016.
From that point on it was up to me to finish the renovation, get it ready to put it on the market, and sell it so I could move out and finally join him in California. Phil did everything that he could from across the country, but that still left me with an overwhelming amount of work to face on my own.  We were so extremely fortunate to have so many of our loved ones volunteer their time to help us fulfill this dream we had.  Both of our families made multiple trips down here to help out so that Phil and I could be together sooner. We had amazing friends near and far who pitched in.  My grandparents spent two separate month-long visits with me to help manage the contractors and work on the house – they even did house projects while I was away at work!  They completely rescued me, especially near the end of this experience when the stress of it all was becoming pretty overwhelming.  Not just the decision making, planning, budgeting, and managing aspects of the renovation, but everything compiled too – the physical exhaustion of working full time and then coming home and continuing to work into the night and all through the weekend, LIVING in the filthy construction zone for over a year, struggling with some contractor drama, feeling alone in this big house because my husband, flipping partner, and co-bearer of the responsibility and stress was stuck across the country, and THEN the fiasco that is listing and showing your house…my grandparents were just there for me at the point when I really needed it.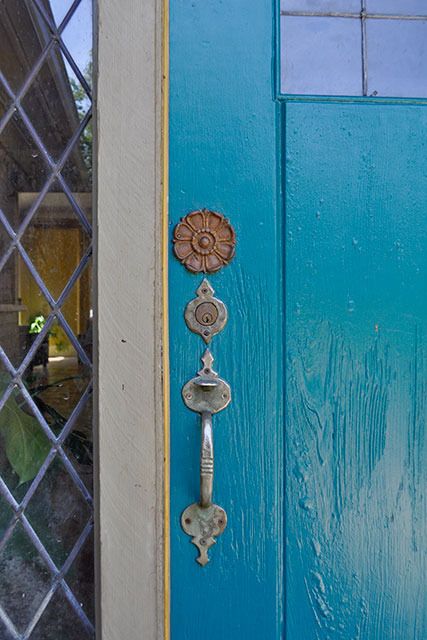 Did you catch that I said that we were living in this flip the entire time? After we closed on the house, we immediately replaced the carpet upstairs with hardwood and moved our necessities up there like a little studio apartment. The entire downstairs was absolutely destroyed for the majority of our time there…a whole year… including the kitchen…not exactly ideal! We could've planned things better from the beginning, but there were a lot of other factors that resulted in things going much differently than we had planned.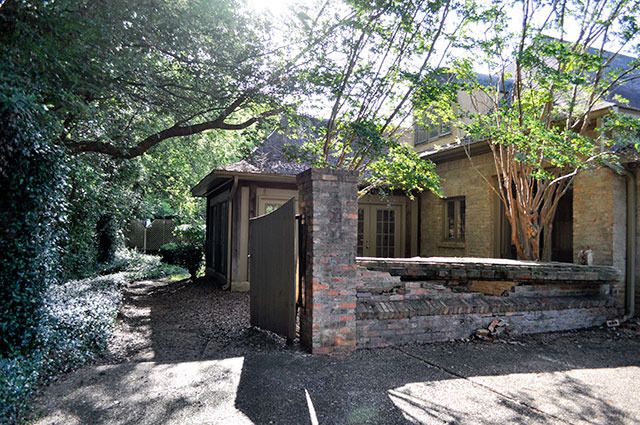 But let me take you back to where it started and show you how we spruced up the front exterior of the house. We were under contract on the house for a few months because of foreclosure stuff, and closed on the purchase in August of 2015. That following week we had a lot of urgent matters taken care of before we could move in (new roof, water heater, electrical stuff, etc.).  While that was going on, Phil and I knocked down the smashed brick wall by the garage (which was leaning on those crape myrtles!) and broke it into more manageable pieces. The bottom portion of the wall was salvageable, so we had a brick mason use the original bricks to create a flattened, level top where we could add wood fencing above.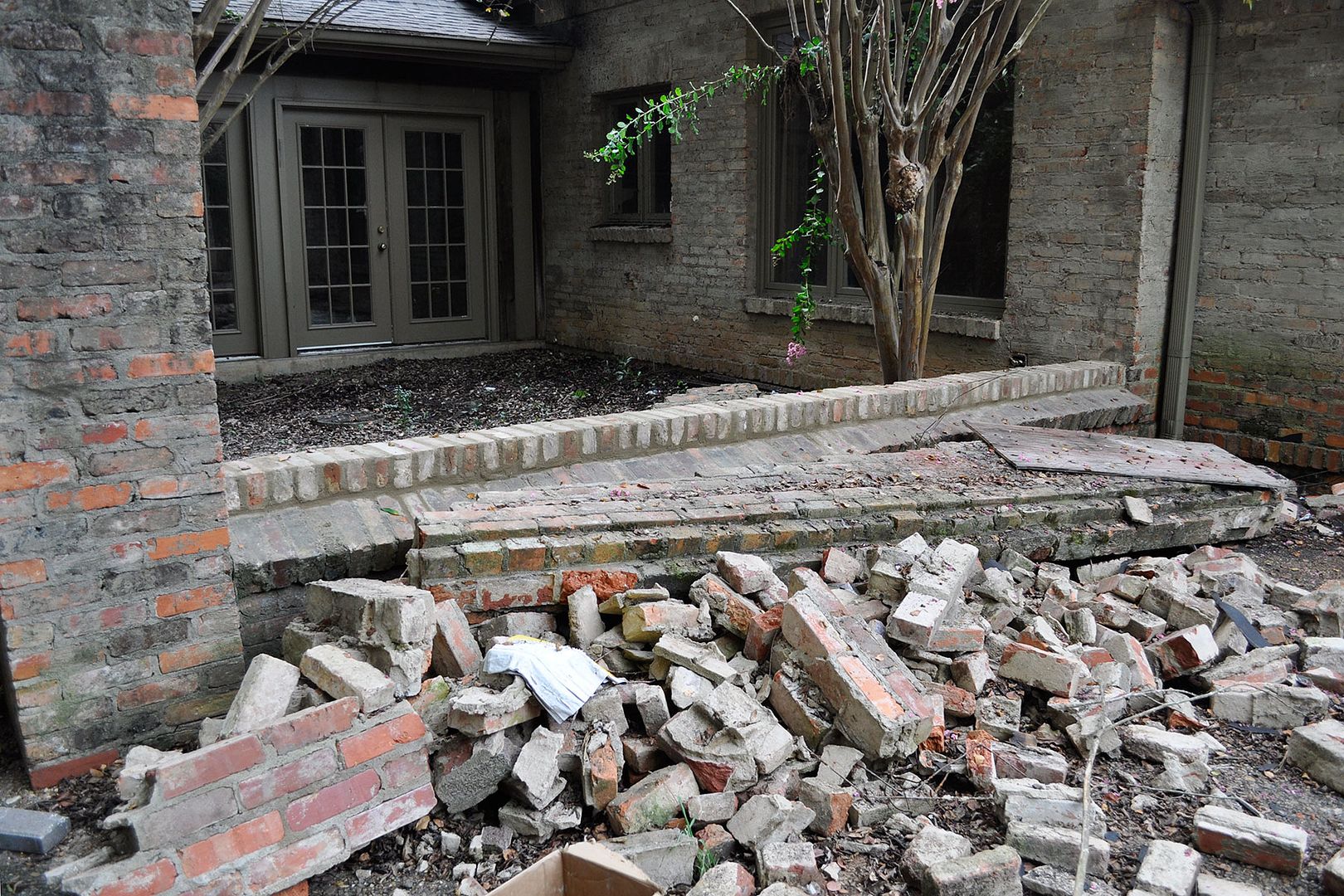 My family helped us move into the house a week or so after closing. While they were here, my dad and Pappy battled the heat and humidity of Alabama in August to build us the wood fencing to span across the top.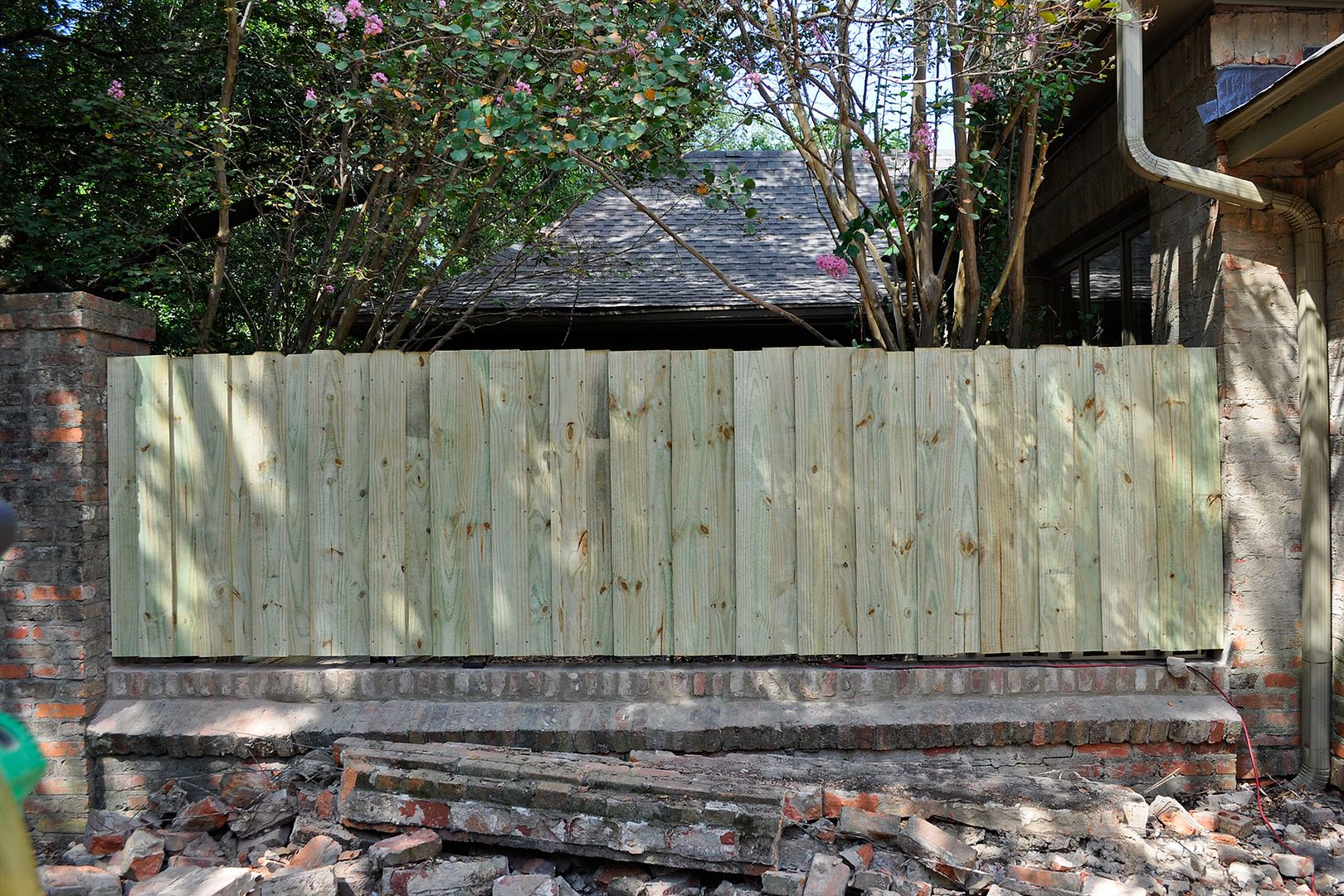 We were missing one side of the original gates.  The existing one had a metal frame to support the fencing, so we were able to find a guy who could create a matching metal frame for the other side.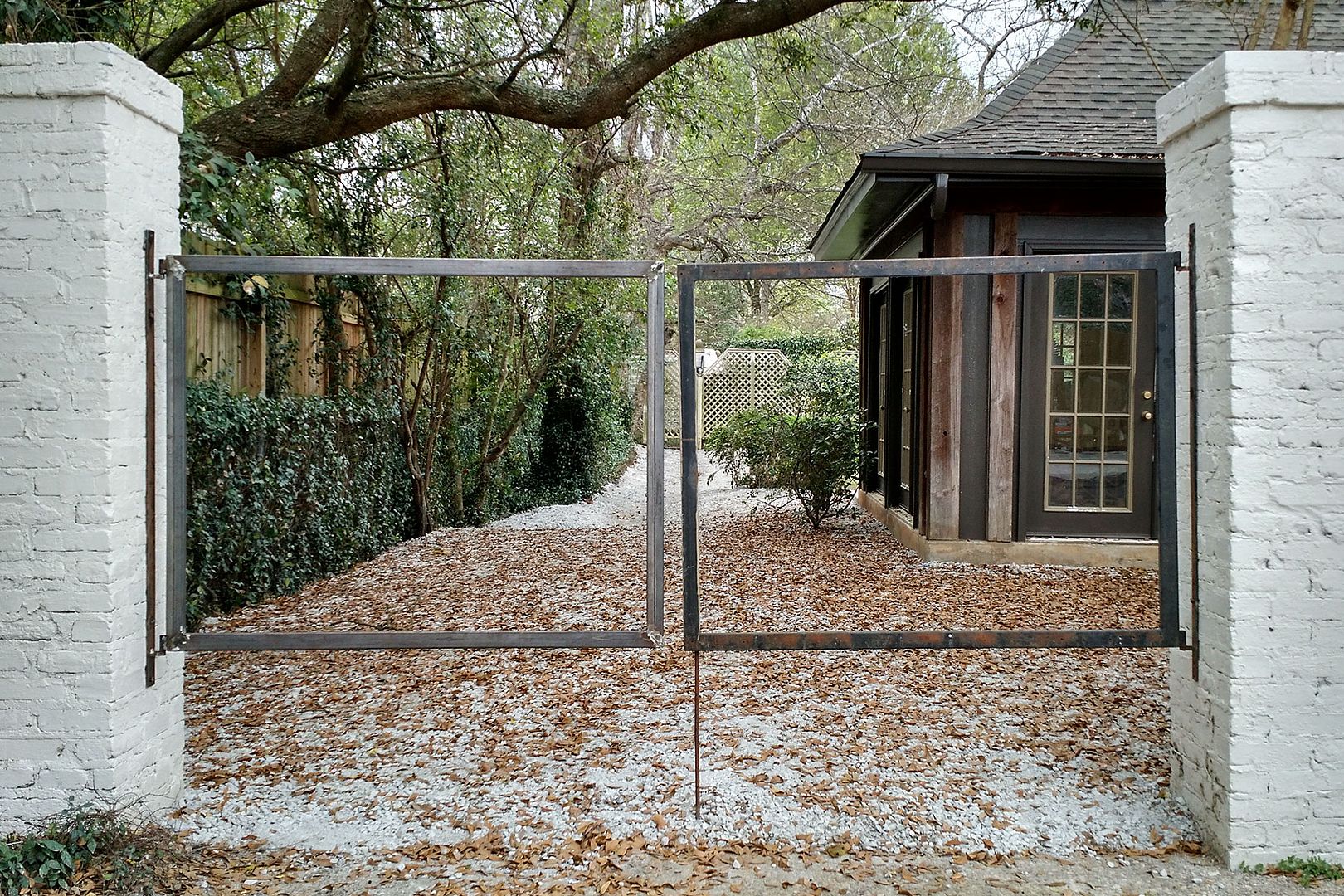 After that, on another visit from my family, my dad and my uncle built the gates to match the fence. I'm not sure how Phil and I got ourselves out of fence building BOTH times, but clearly we did something right 😉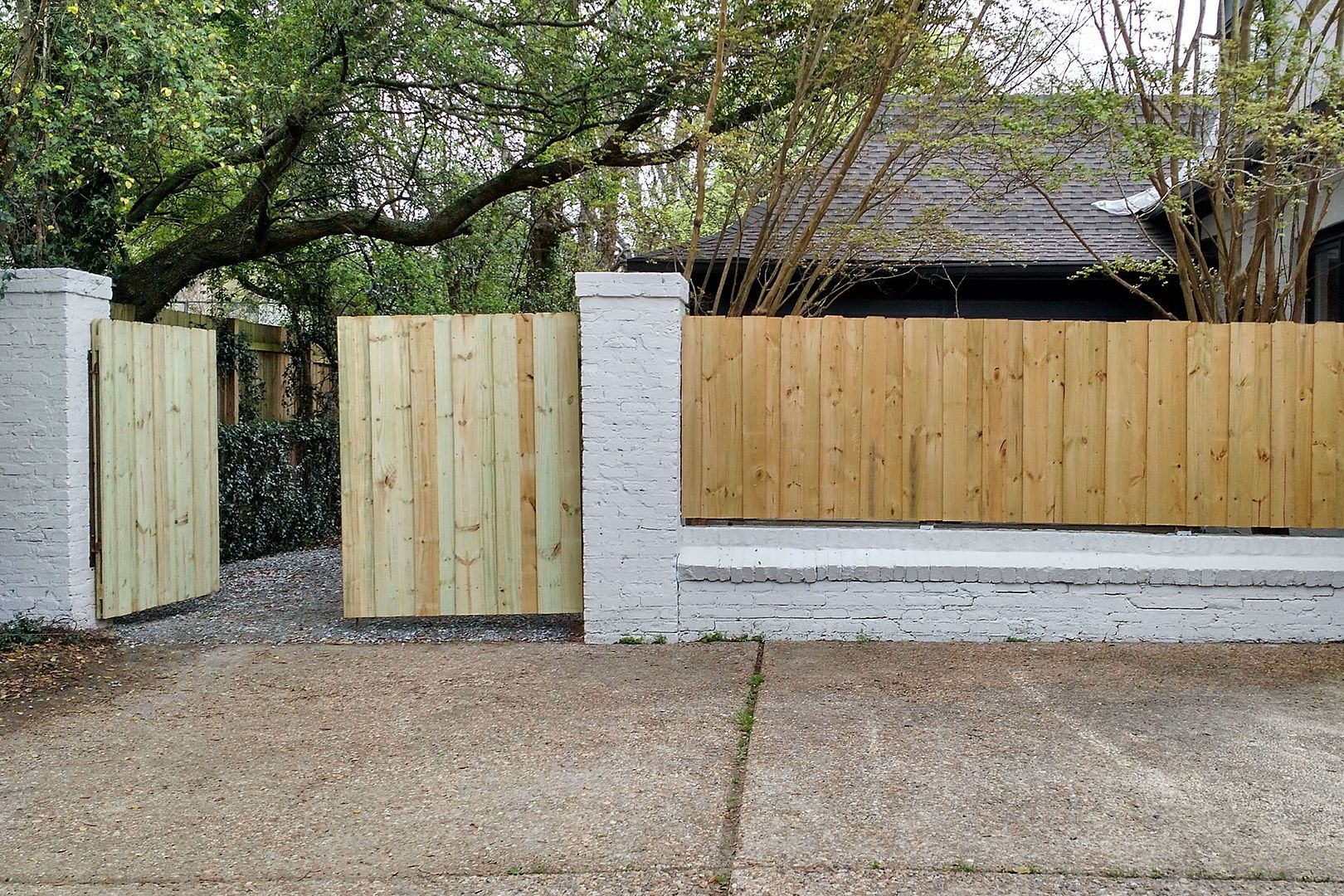 The plan was to make the fence and gate match the fencing that was in the backyard, and they did an awesome job. We later had our contractor complete the finishing touches with the trim pieces at the top and bottom (there was no way we could transport boards that long on our own!) I did plan on staining the fencing to match the other wood around the house exterior, but that was one of the items I had to scrap off of my to-do list as I was desperately trying to get the house done "enough" at the end. Even so, it looks great and obviously is a big improvement over a crumbled brick wall!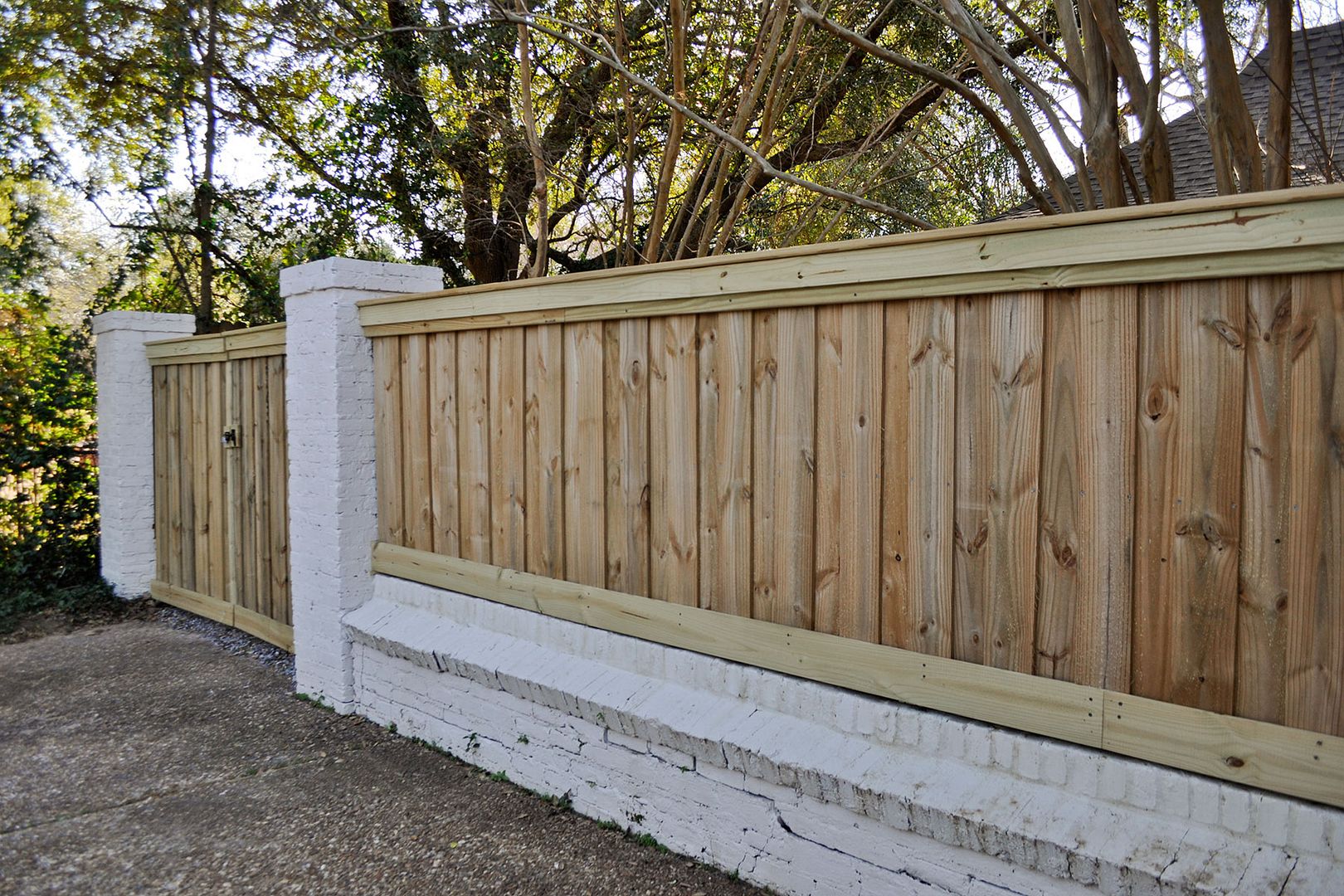 You probably noticed that we painted the brick during this time too! This was the job that we most grossly underestimated. I think this is the task that, looking back, would've made more sense for us to hire out, because we spent MONTHS painting the exterior. It's not a bad job to do – it's kind of relaxing actually if you have nice weather and some good music on. But for the two of us to prime and paint every bit of a house this size…not just the brick, but the trim, windows, gutters, etc., it's just a really time intensive job to tackle during weekend daylight hours only. Anyways, we followed the advice from one of the builders at my job about exactly how to paint the brick. After power washing everything and removing as many obstructions as possible, we started with a coat of primer (specifically, Sherwin Williams Loxon Concrete and Masonry Primer). Phil used a sprayer to get good coverage into the crevices and textured areas.
Then, I would immediately follow with the roller (using the paint already on the bricks) to make sure everything was covered fairly evenly and catch any runs or drips.  The edges had to be done with a brush, just like cutting in a wall.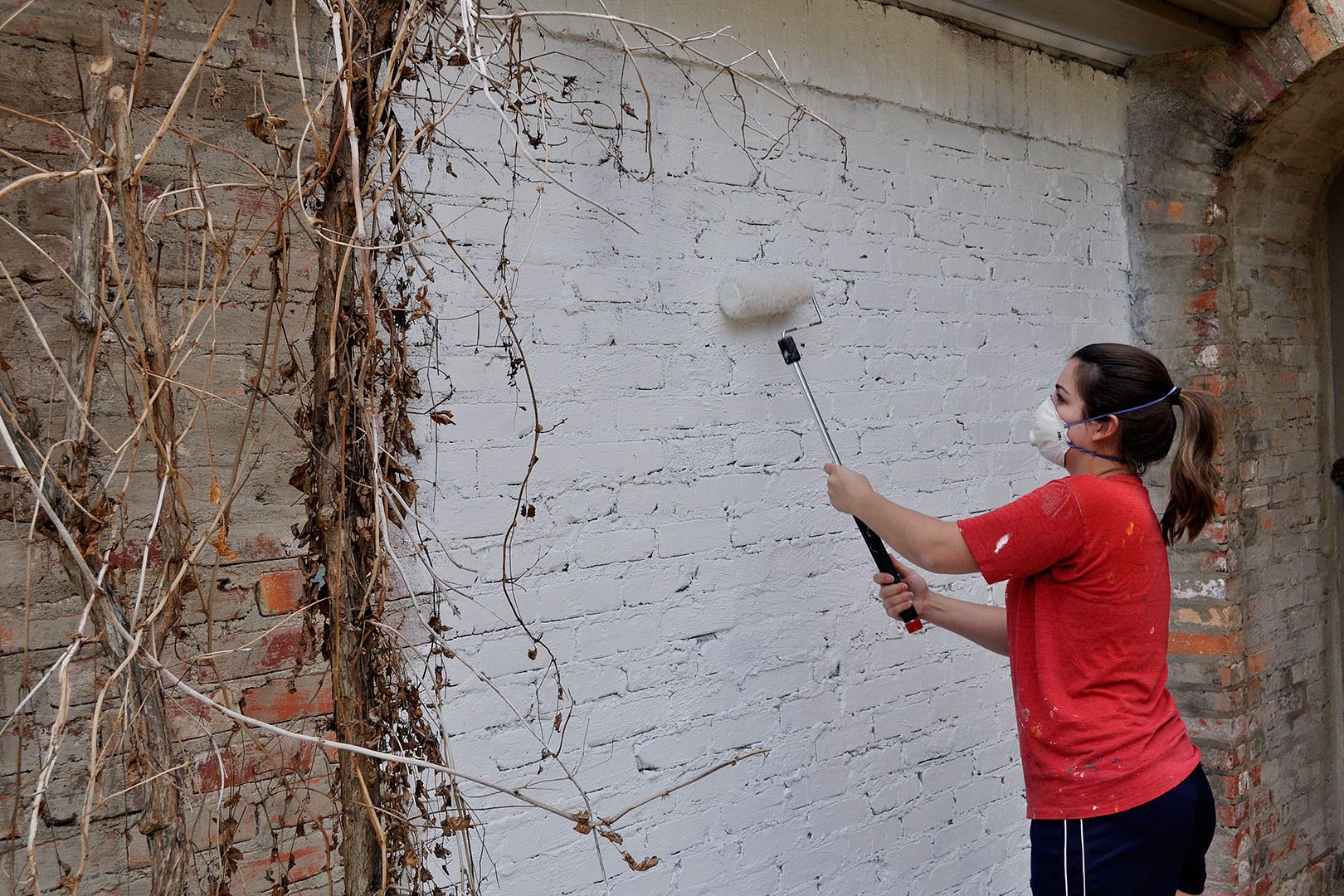 We used the same primer to brush the stucco areas by hand.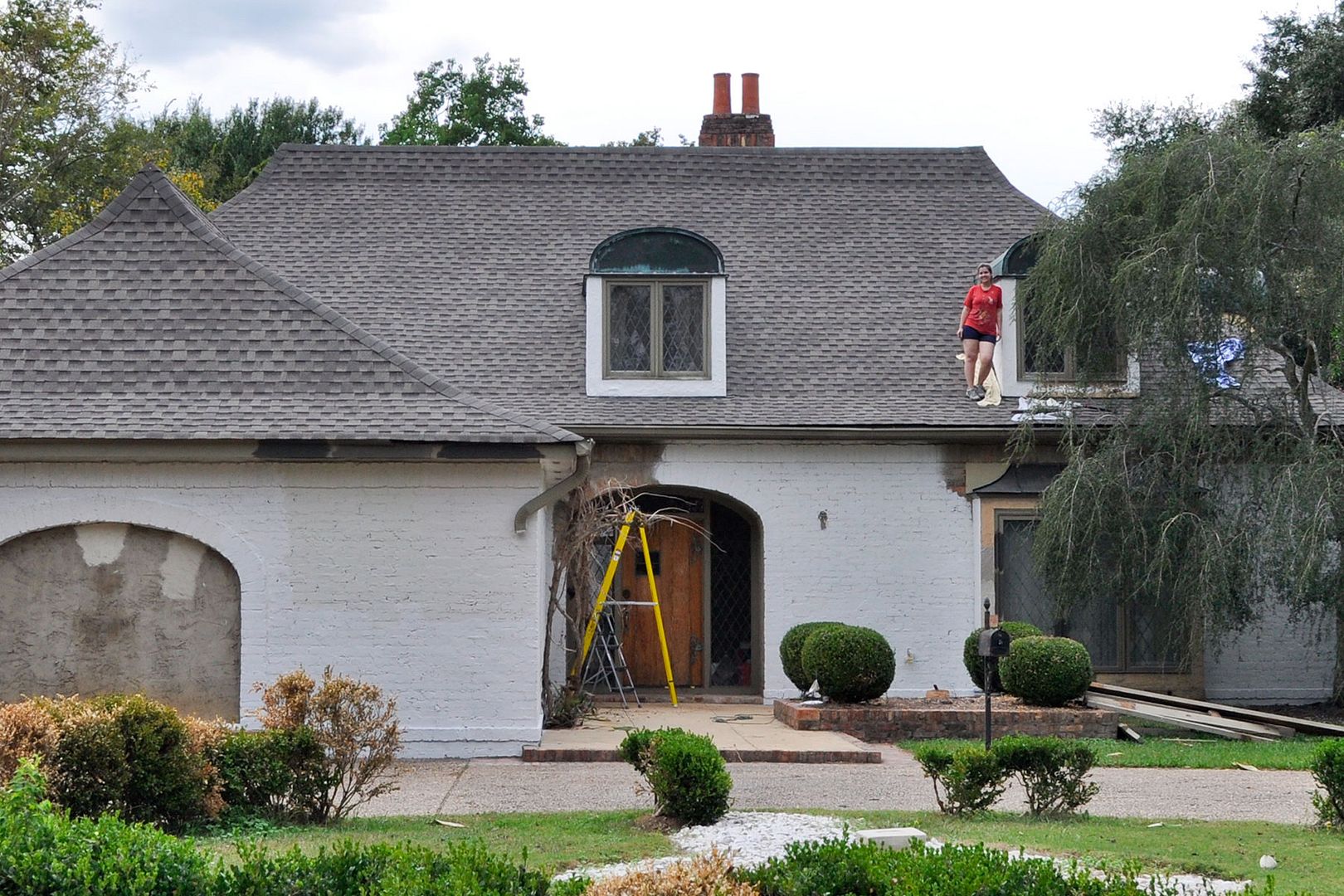 We also used the same spraying/rolling process with the actual paint color.  Taking the first paint brush to the mortar washed brick was really scary, but once I saw how that gorgeous texture was just as evident, if not more, when painted a solid color, I was just so excited to see the vision come together.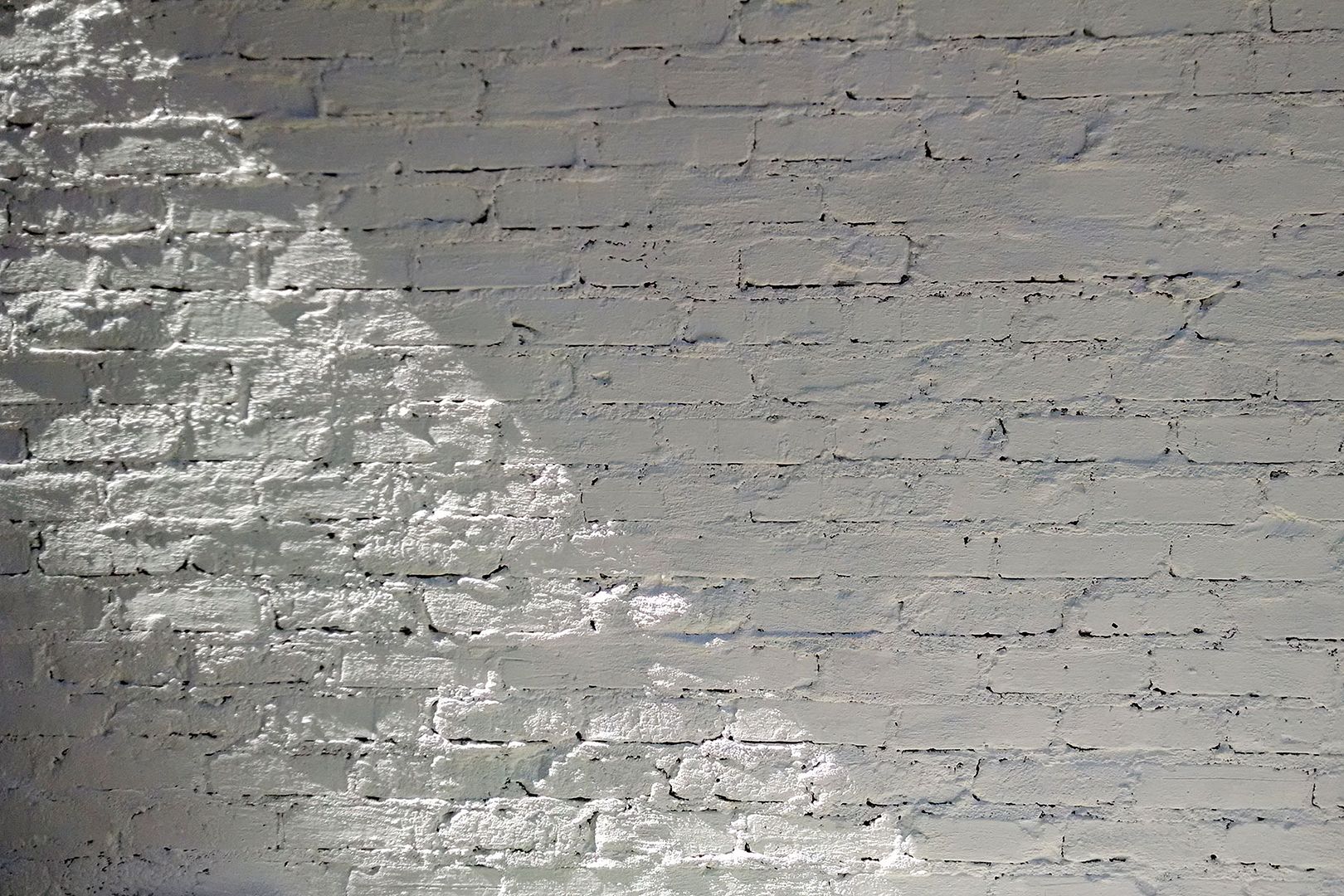 The front door was all Phil. He actually used a power washer to remove most of the teal paint first, then sanded it lightly before following with the stain color. He boiled the hardware to easily remove the paint from those pretty decorative pieces.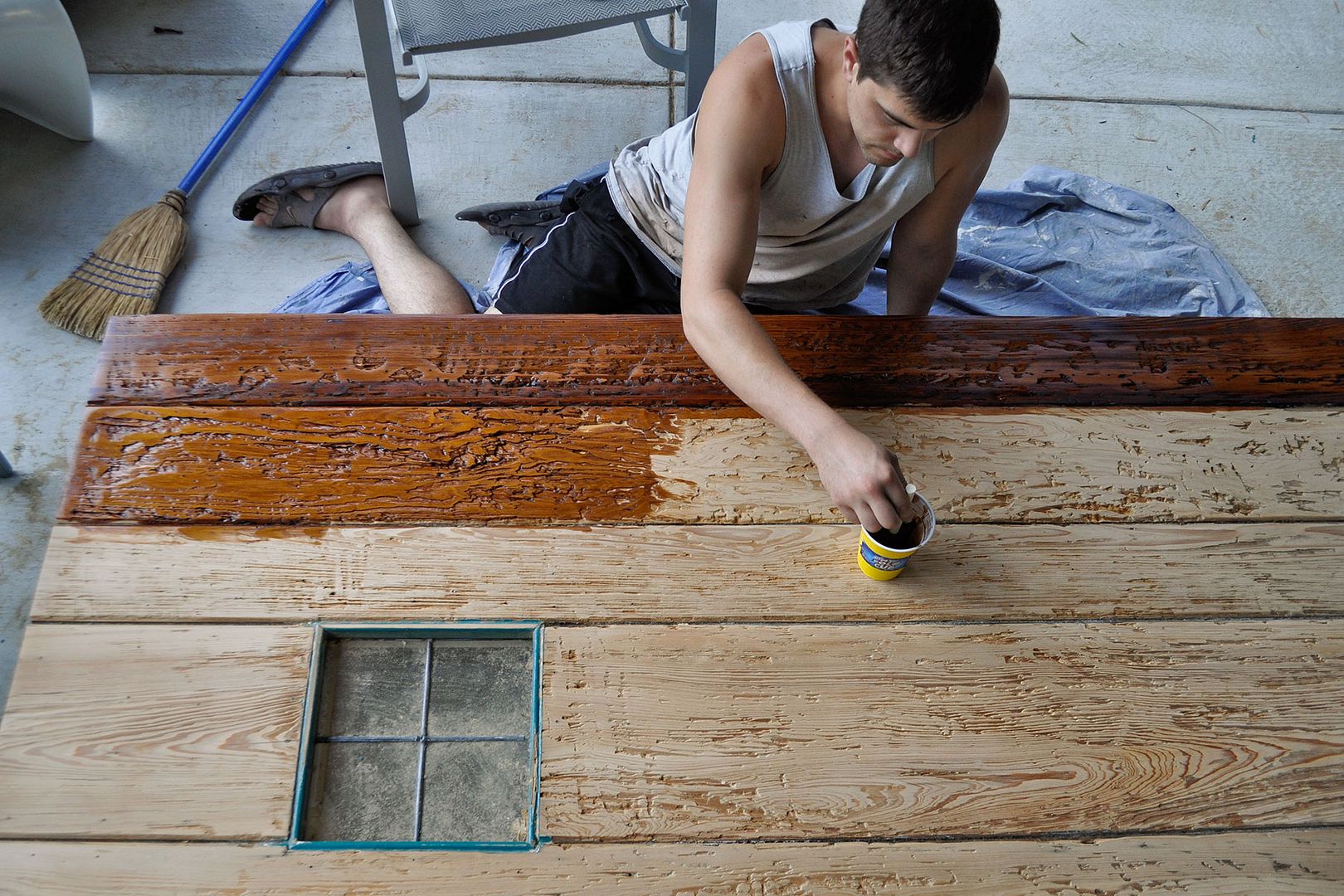 How could anyone paint a wood door that pretty?!?!  The surrounding wood is painted Sherwin Williams Black Fox, which I picked for all of the exterior doors, windows and trim, specifically to coordinate with the pretty leaded glass details.
The front gate was bent from what looked like a car bumper backing into it, but we had that removed and repaired by an ironworker and you wouldn't have a clue that anything ever happened to it!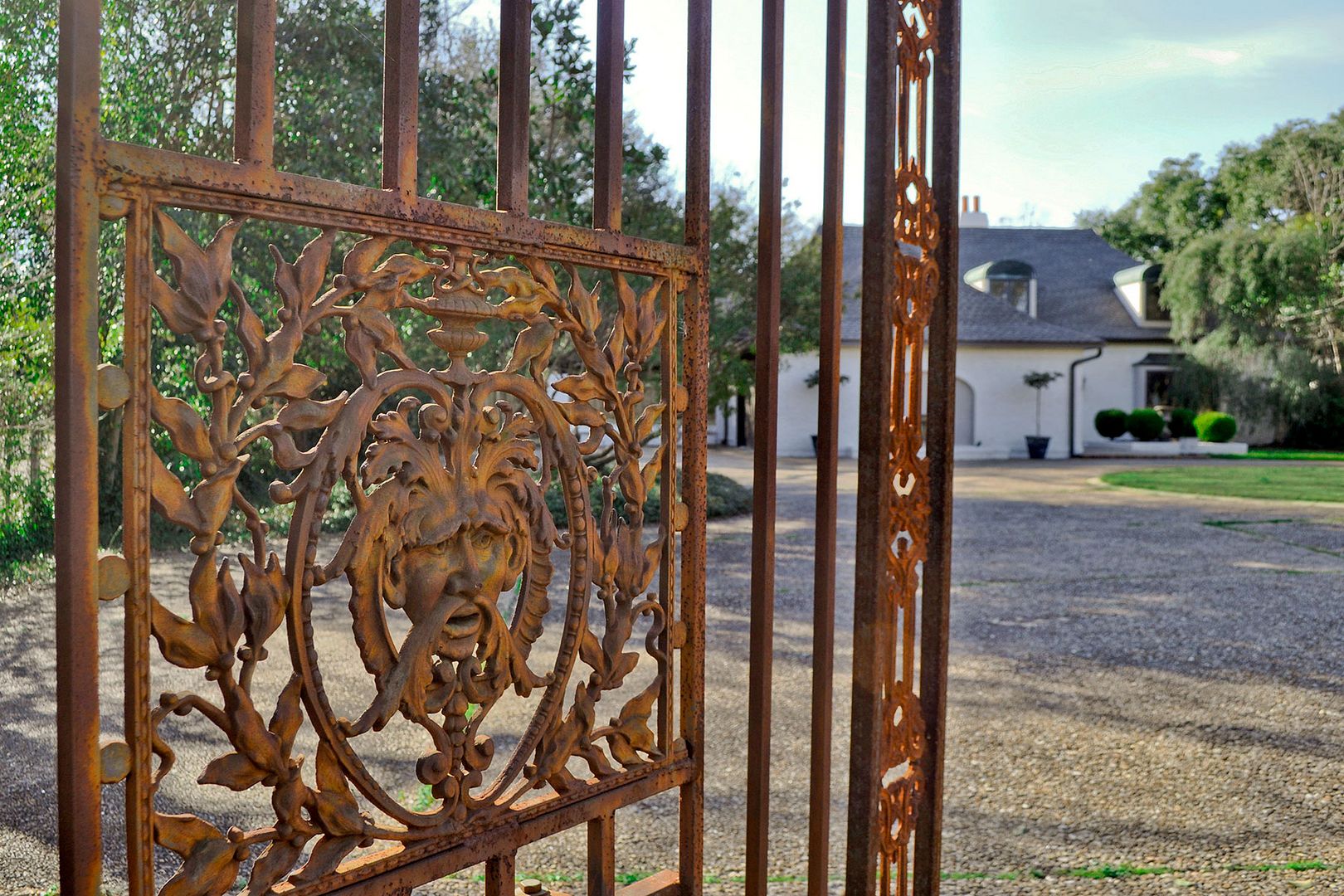 We had a landscaper redo the front circle sod and shrubs and install a fountain by the garage. It works from a switch in the foyer and is pretty lovely!
We went to a local nursery and found these azalea shrubs shaped like topiaries to put in antique planters on opposite sides of the fountain.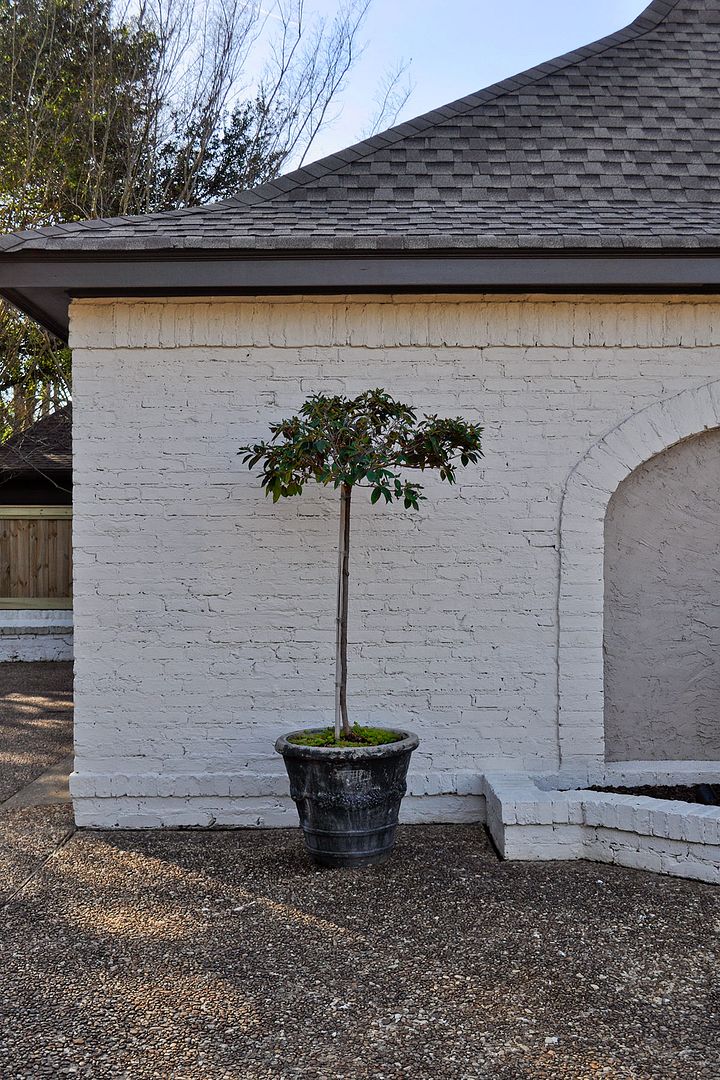 Somehow I never took a photo of them actually blooming (I'm ASHAMED!) – except as a pretty backdrop last spring when my friend, Kelly was here to visit, so I have to include it just so you can see how gorgeous they are in their full glory.
I had a few more landscaping projects planned for the front yard that we ran out of time for, but overall I couldn't be happier with how pretty she turned out!  It's too bad that we had to move before getting the chance to see the finished product with those crape myrtle trees on the right showing off!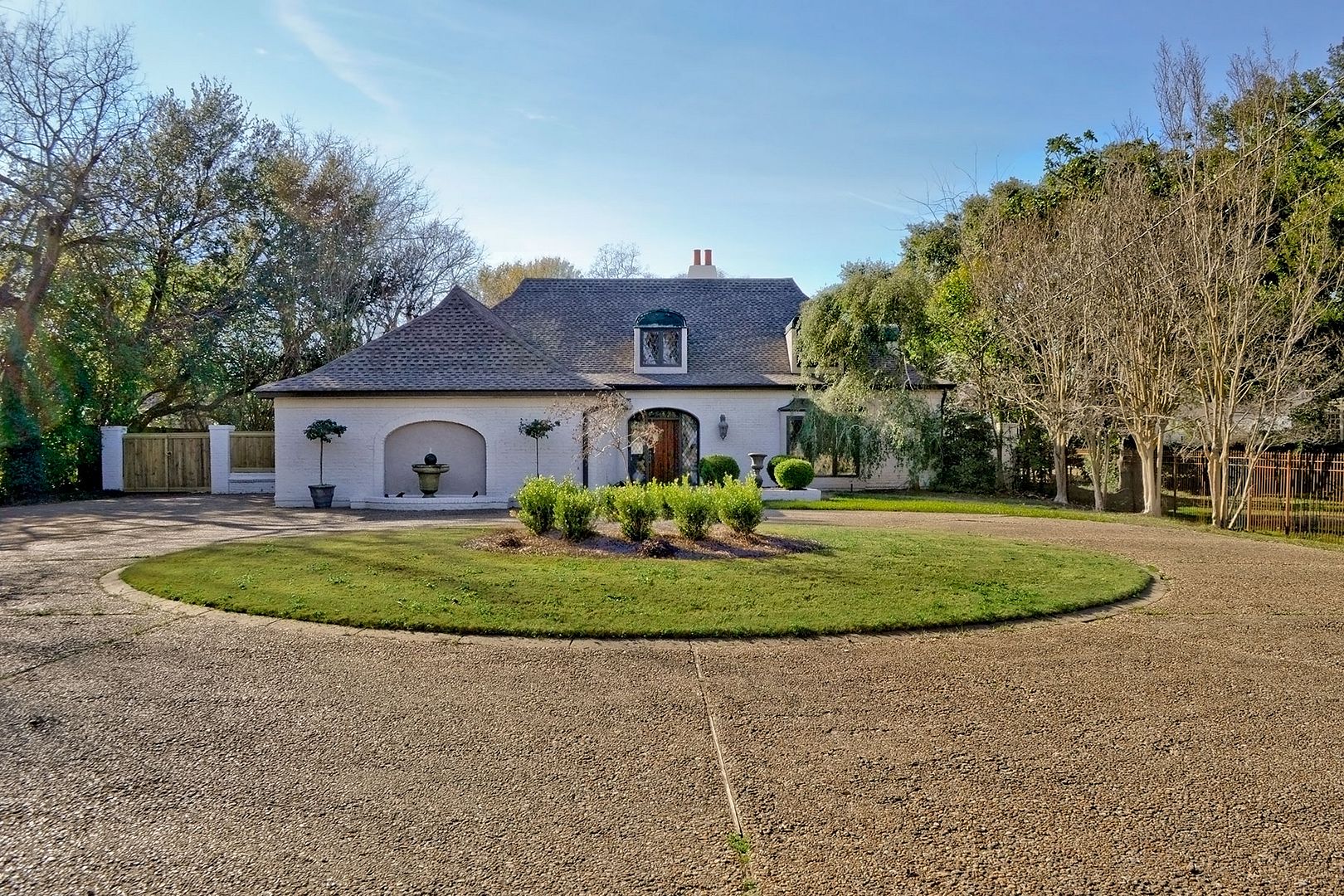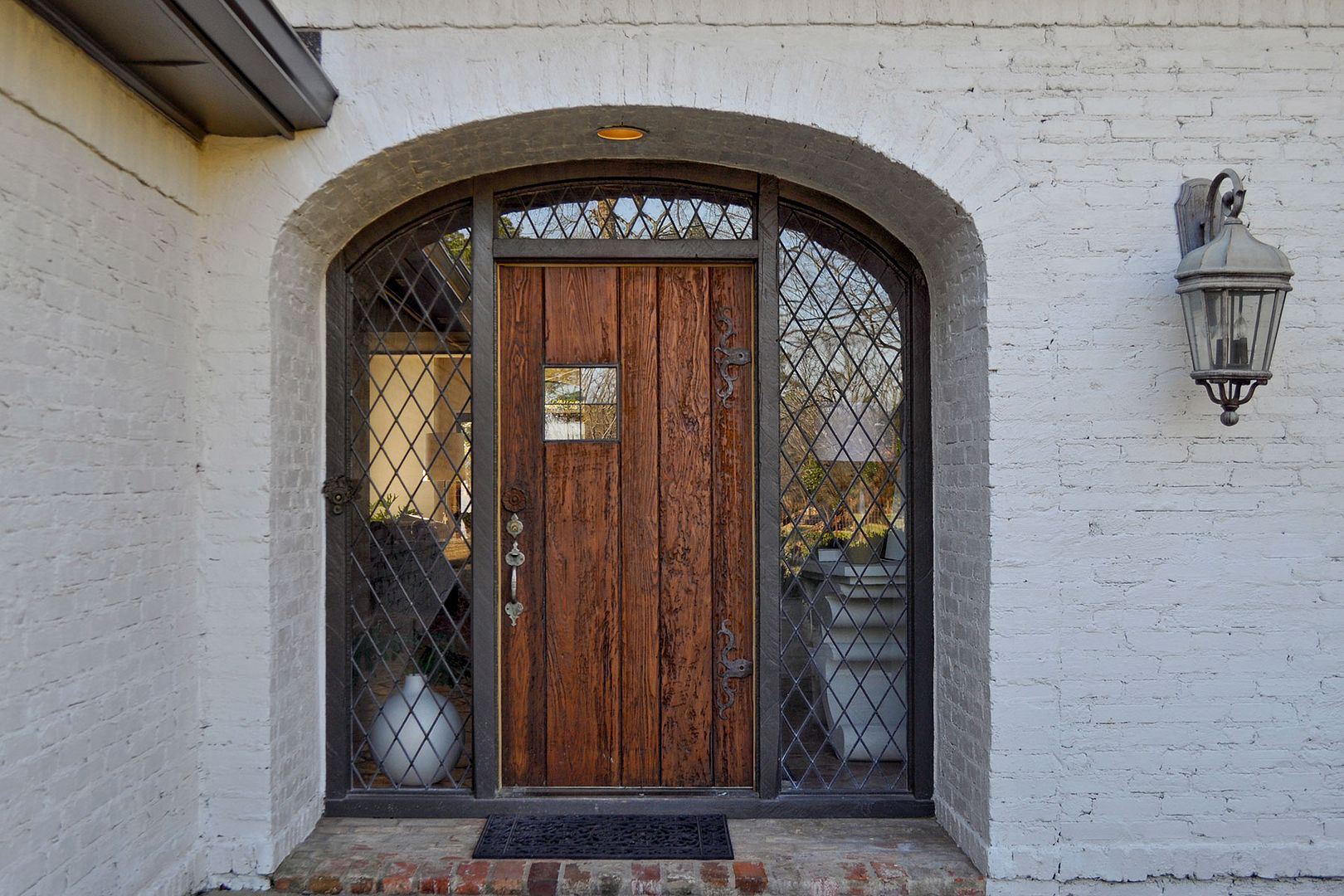 We felt like such imposters pulling in and out of this house every day, but even so it put a smile on my face every single time.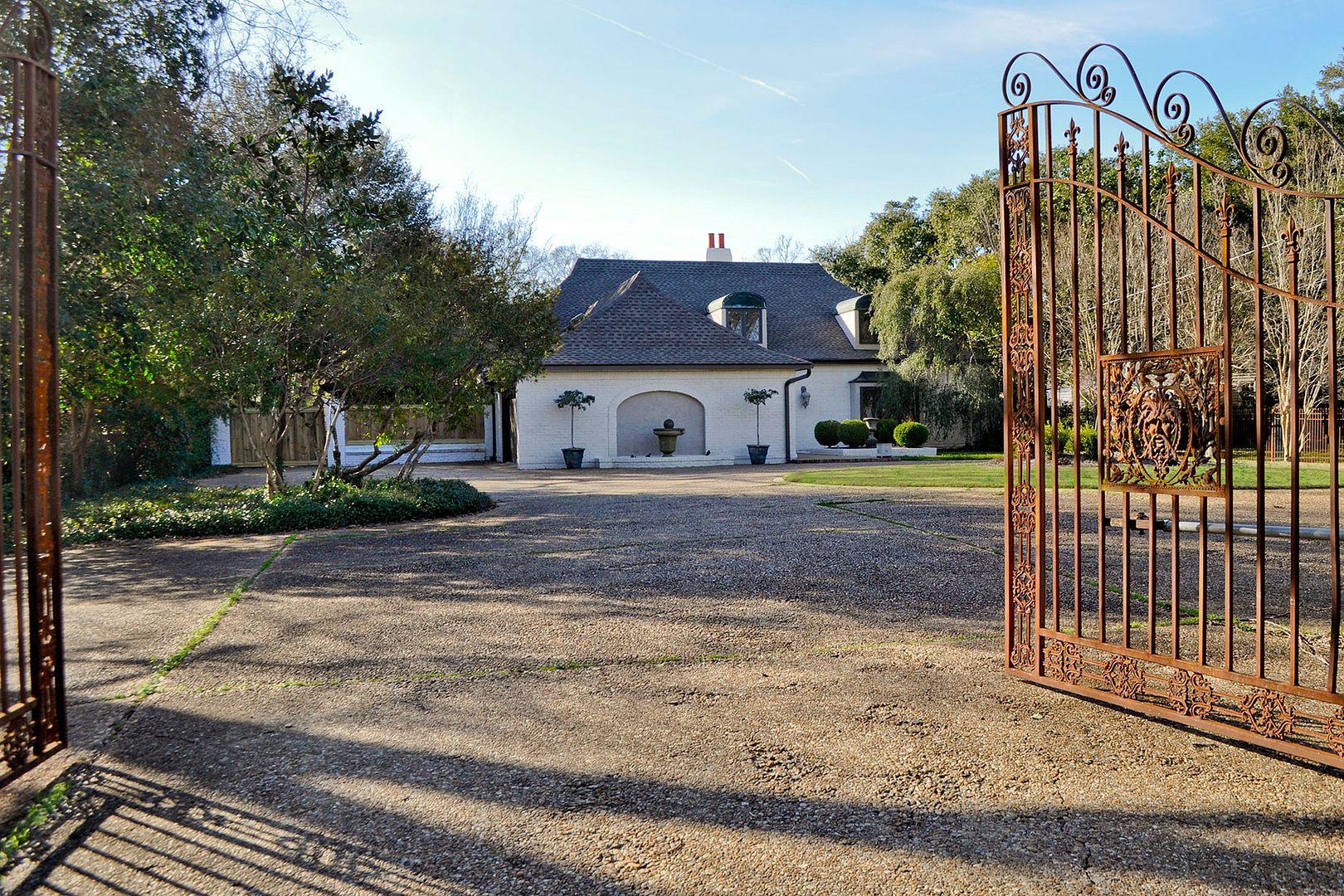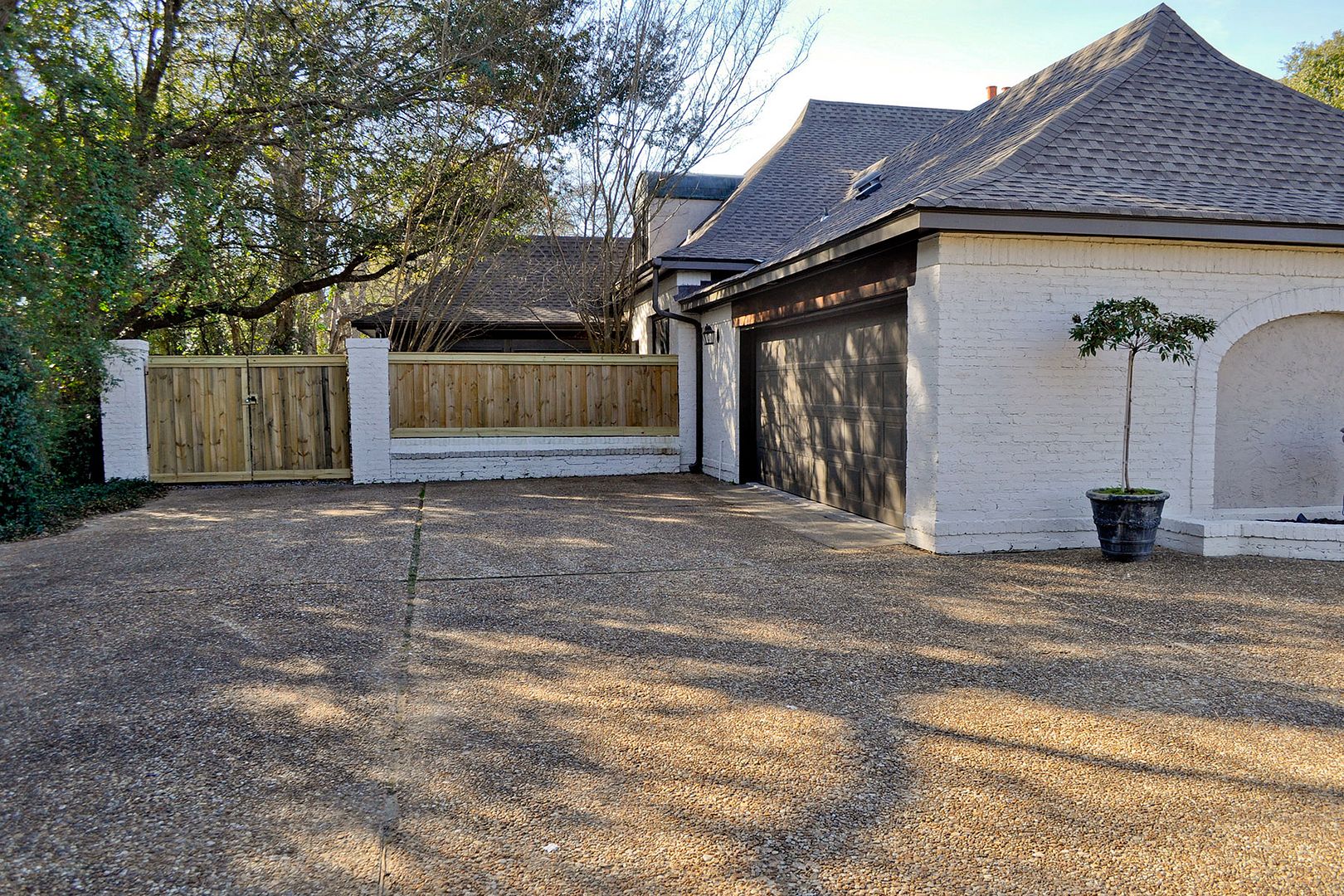 It was certainly a labor of love!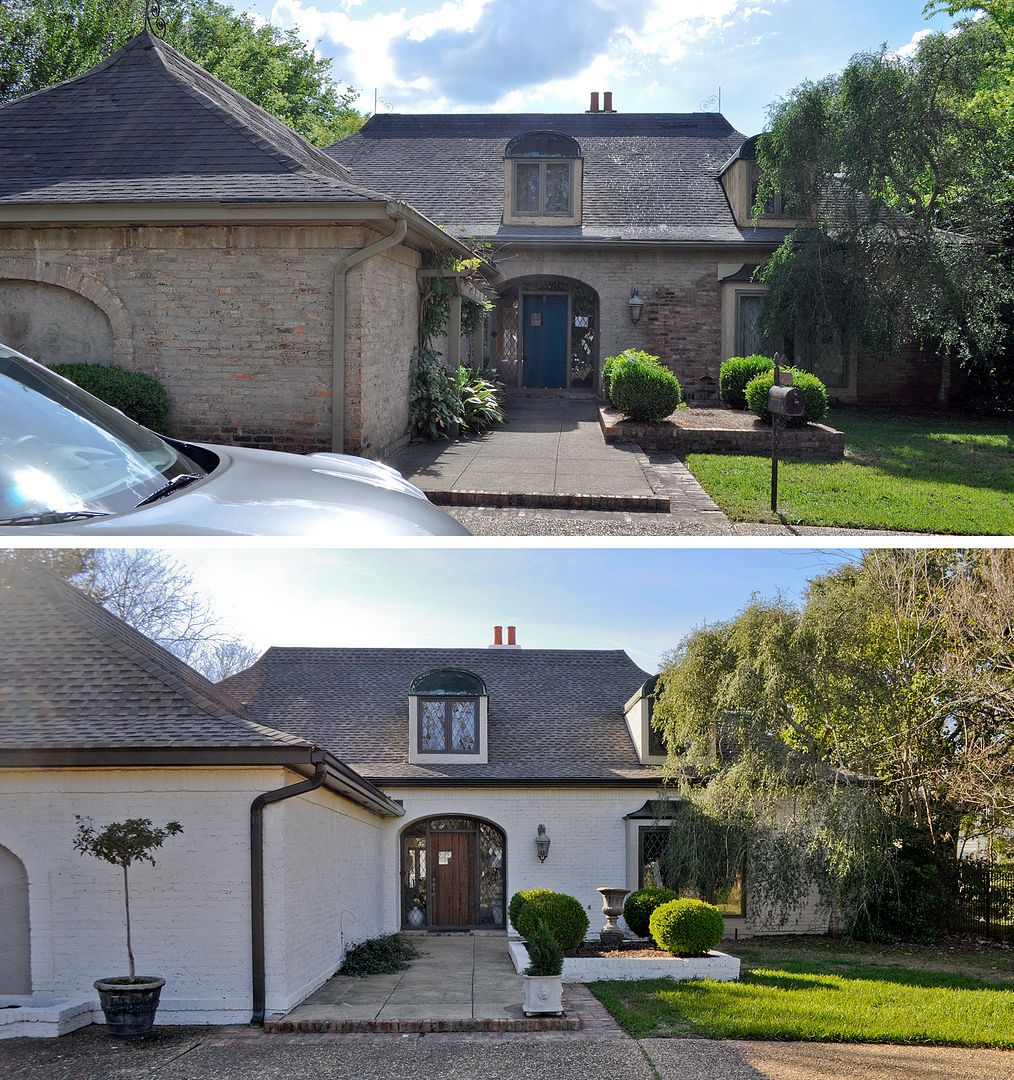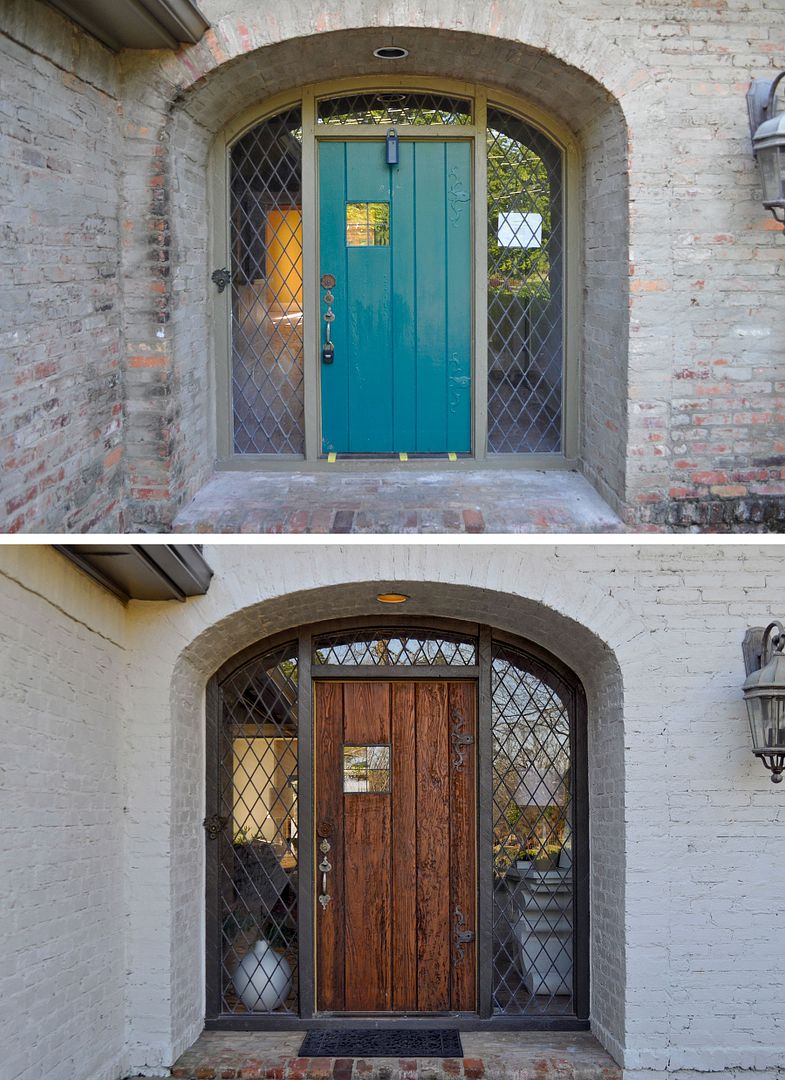 I became quite attached as you could imagine – they should really warn you not to flip a dream house or else you won't want to ever let it go! But that's okay – despite some of the difficulties I mentioned earlier, it was definitely so fun to call this home for a year and a half and we will certainly never forget the experience.
I'll cover the backyard next and then we'll head inside!
Exterior paint colors we used:
Brick – SW Aesthetic White
Stucco – SW Perfect Greige
Trim – SW Black Fox
Related posts: