Now that you've seen how the front of the house turned out, let's check out the backyard. You saw a glimpse in that post of this courtyard in between the garage and the sunroom.
I love the location of the sunroom on this side of the house – it's quiet and shaded and surrounded by lots of greenery.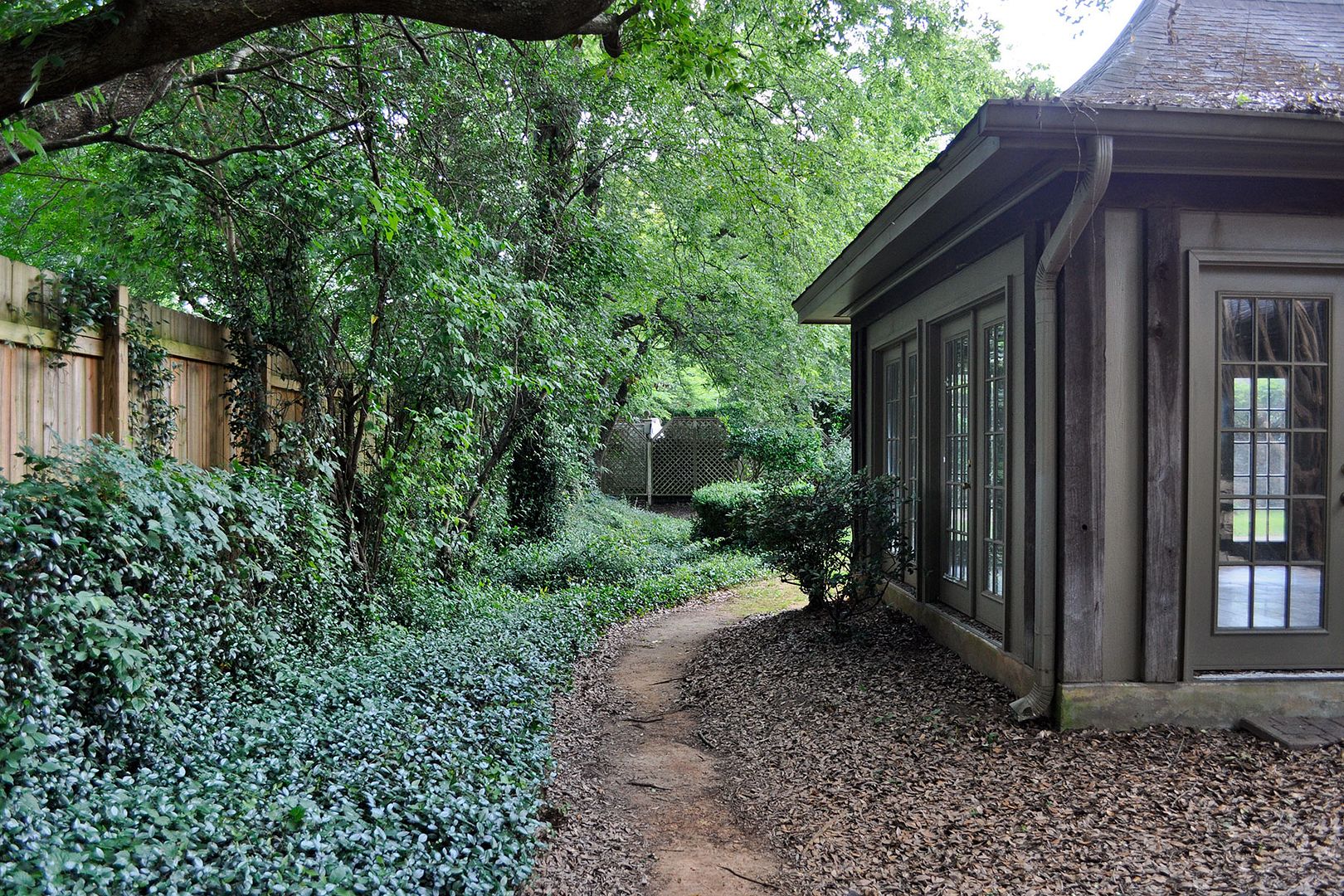 The new shingles made a huge difference compared to the old, right?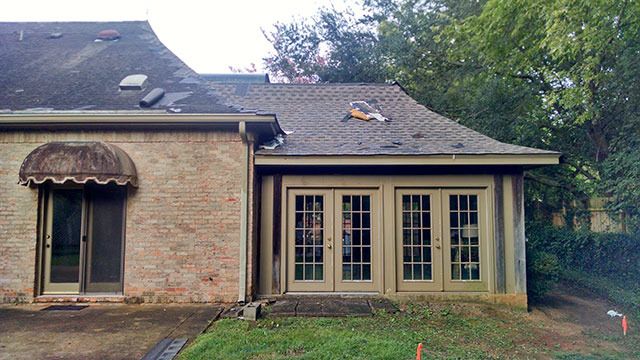 The pool we inherited was super tiny, cracked, quite green, and filled with mating toads! The bank put this temporary safety cover over it before we bought the house.
We thought it was kind of funny that there was a slide as big as the pool itself! The pool was not remotely salvageable, and we ended up deciding to replace it with a new and improved pool – rather than just dig it up and replace it with grass or landscaping. A lot of people advised us against adding a pool, which we totally understood since it's a gamble for resale purposes, but we decided to take the risk anyways. The house is near a somewhat busy road but from the start we felt like the backyard made up for it – it felt like a private retreat and a pool just seemed to complete the oasis. It's probably also because having a pool is a novelty to us, but it just seemed like such a shame to spend so much money to have the old pool removed that we might as well spend some more and get to have a beautiful sparkling pool to show for it. Most of the neighboring homes also had pools, so that helped to put our worries more at ease. Okay and selfishly…we wanted to enjoy it during our time there too 🙂
We chopped down a cluster of little trees to make room for the bigger and better pool. I wish I had measured the old pool because it was comically tiny – we always called it an oversized hot tub! Near that tree was a small pond which had to go as well. It would've been a cute feature if it were cleaned up, but it just held stagnant water…which, in Alabama equals a nightmare of a mosquito infestation.
We were originally hoping to put the pool right off of the main living area, centered in front of this brick structure.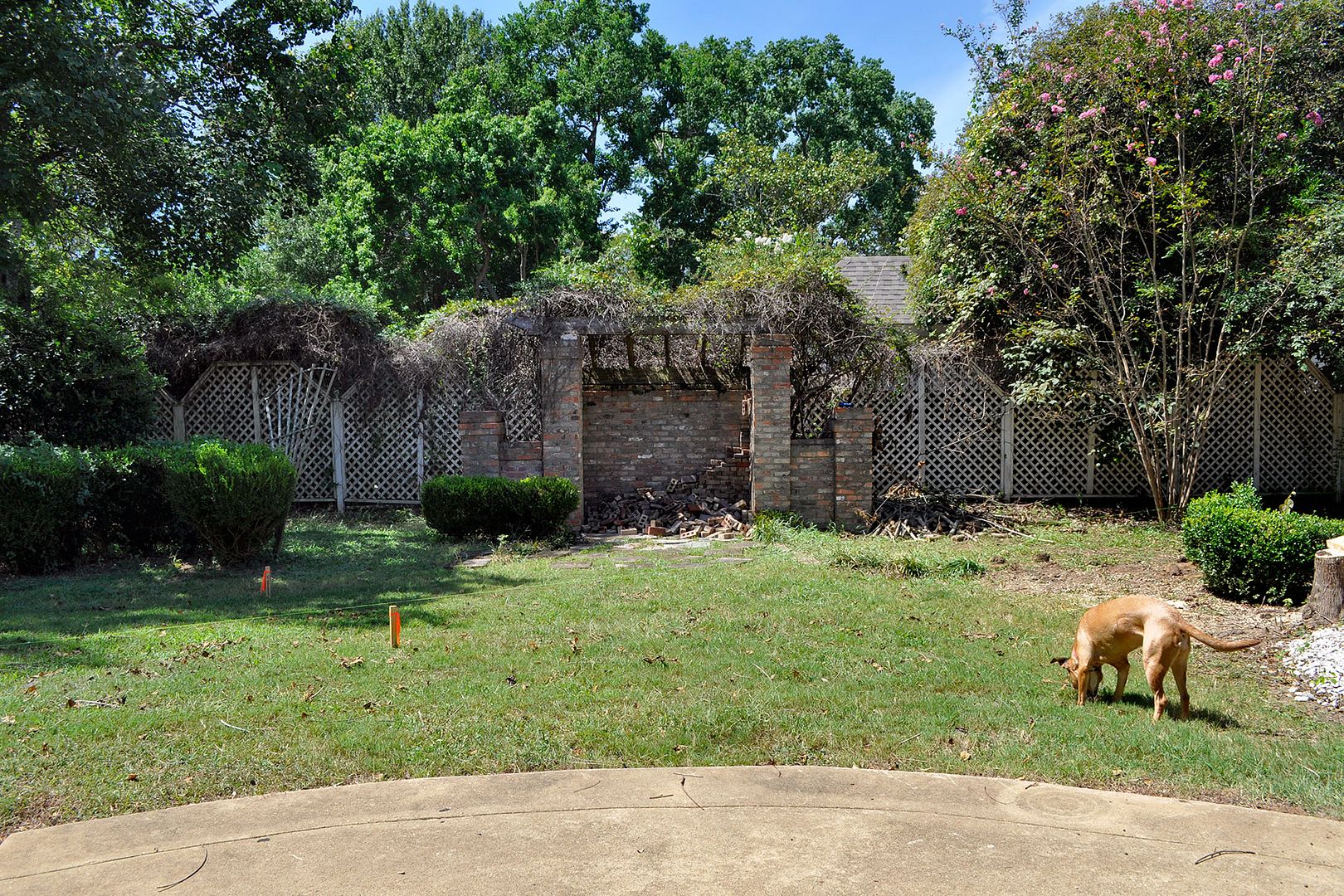 Kind of like this. We'd paint the brick structure to match the house and put a hanging swing there like a dreamy little poolside cabana.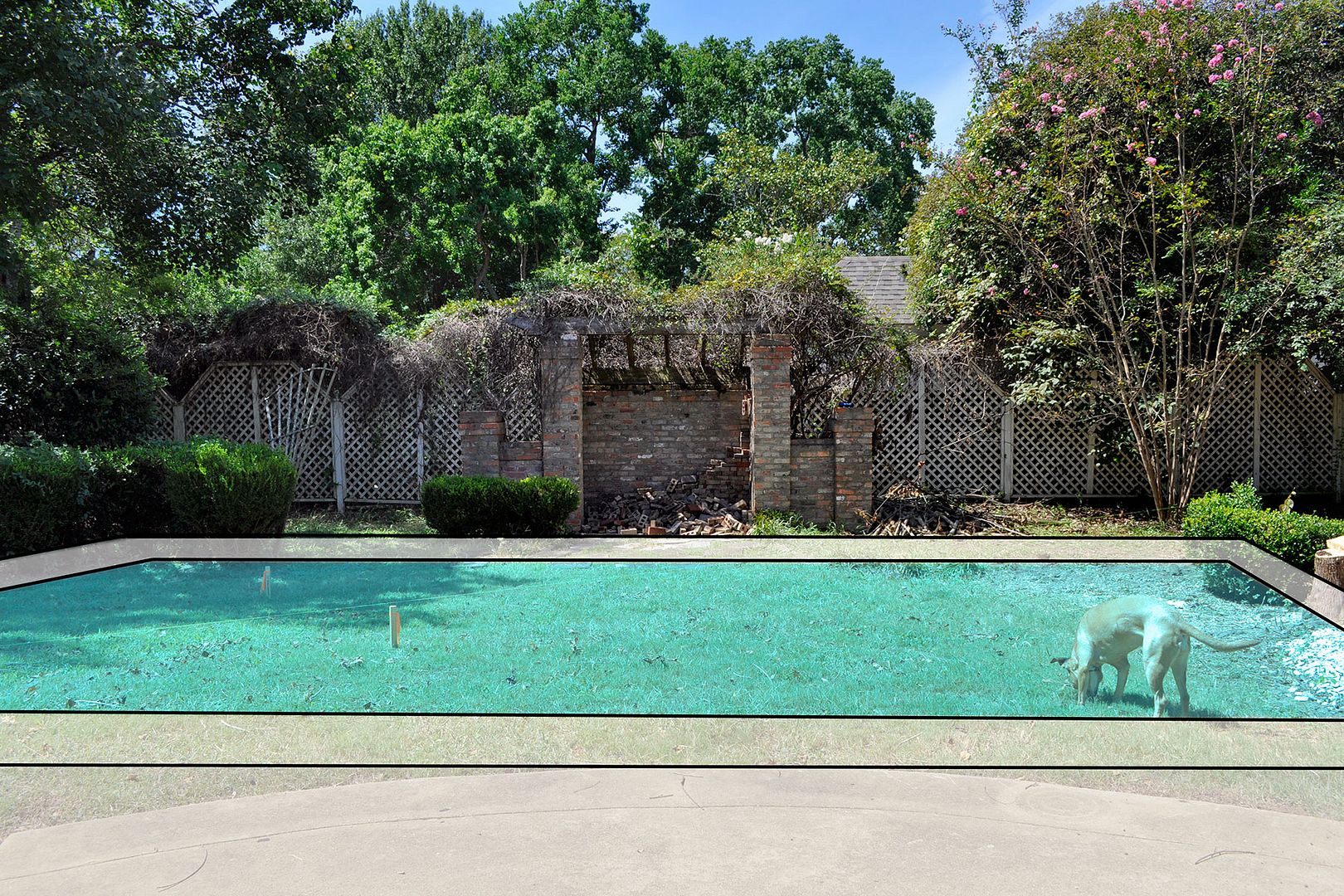 But unfortunately, that dream was crushed once we discovered that there was a large pipe easement running diagonally through the backyard, meaning that the pool had to stay put on that side of the yard.
So onward we went! This was a terrifying but exhilarating way to kick off the renovations. We were absolutely at the point of no return!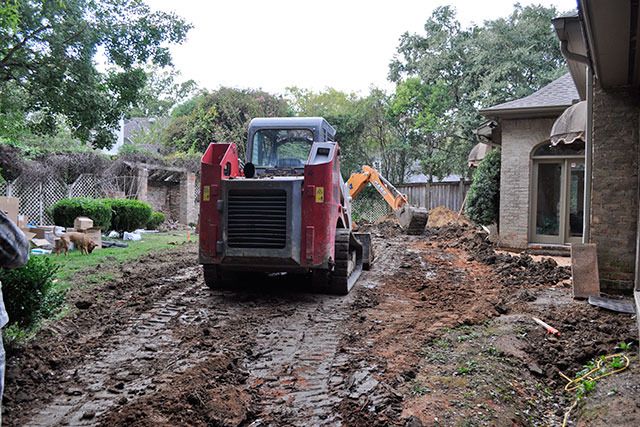 We made the pool as big as the space allowed, taking it up to the edge of the easement. I think what we ended up with was a 16′ x 36′ salt water pool.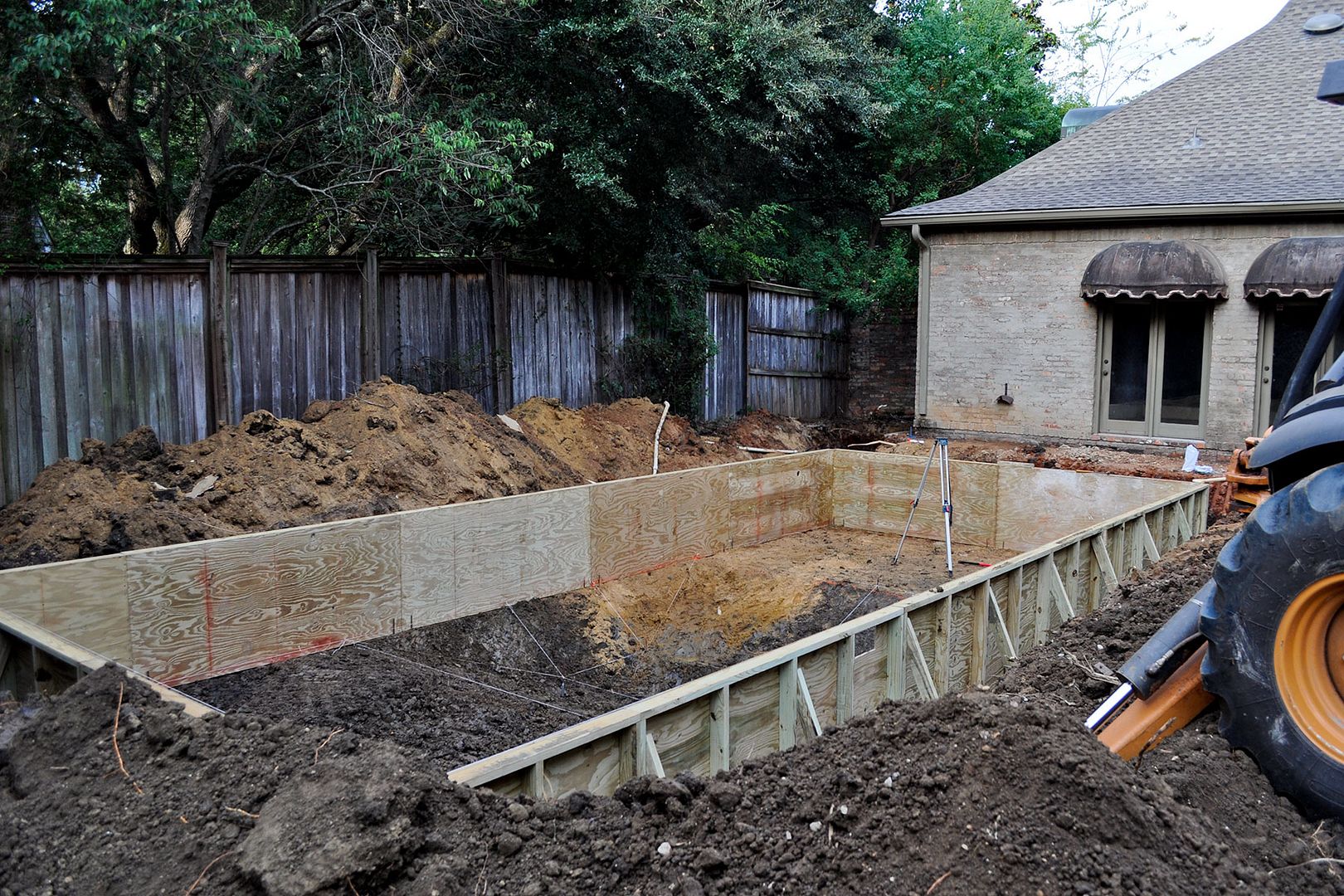 We decided on a "sports pool" setup with the deep area in the middle and shallow areas on either side – perfect for water volleyball! I also liked that it gave you more shallow area than the standard setup, which I think is more useful space anyways.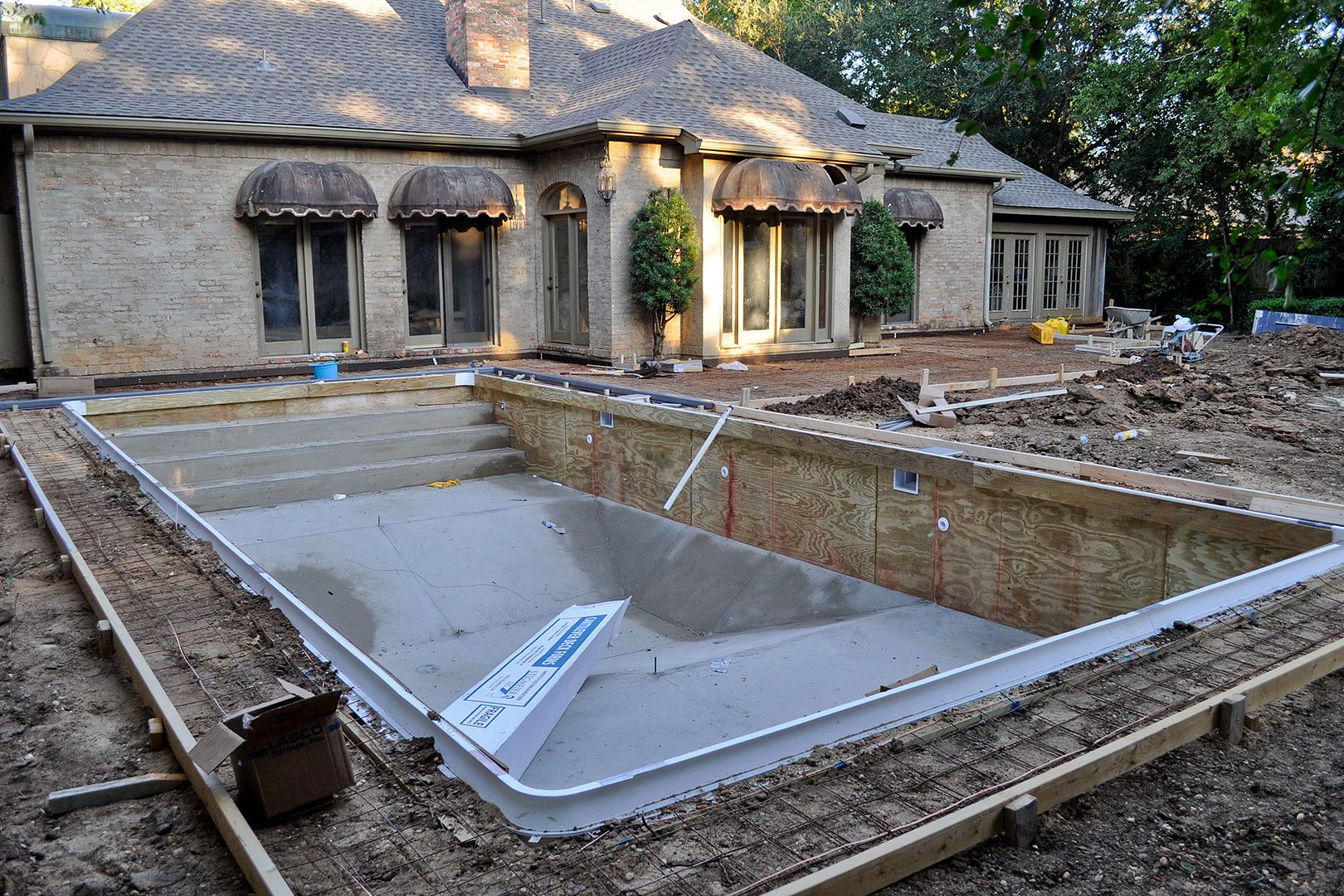 We put a long bench seat on the far side.
On the opposite end we put the steps that went across the entire side. I loved this because it was perfect for more places for people to sit and hangout.
We had the pool company replace the concrete patio as well since it wasn't really able to be saved throughout this messy process, but also so there wouldn't be any awkward transitions between the old and new concrete.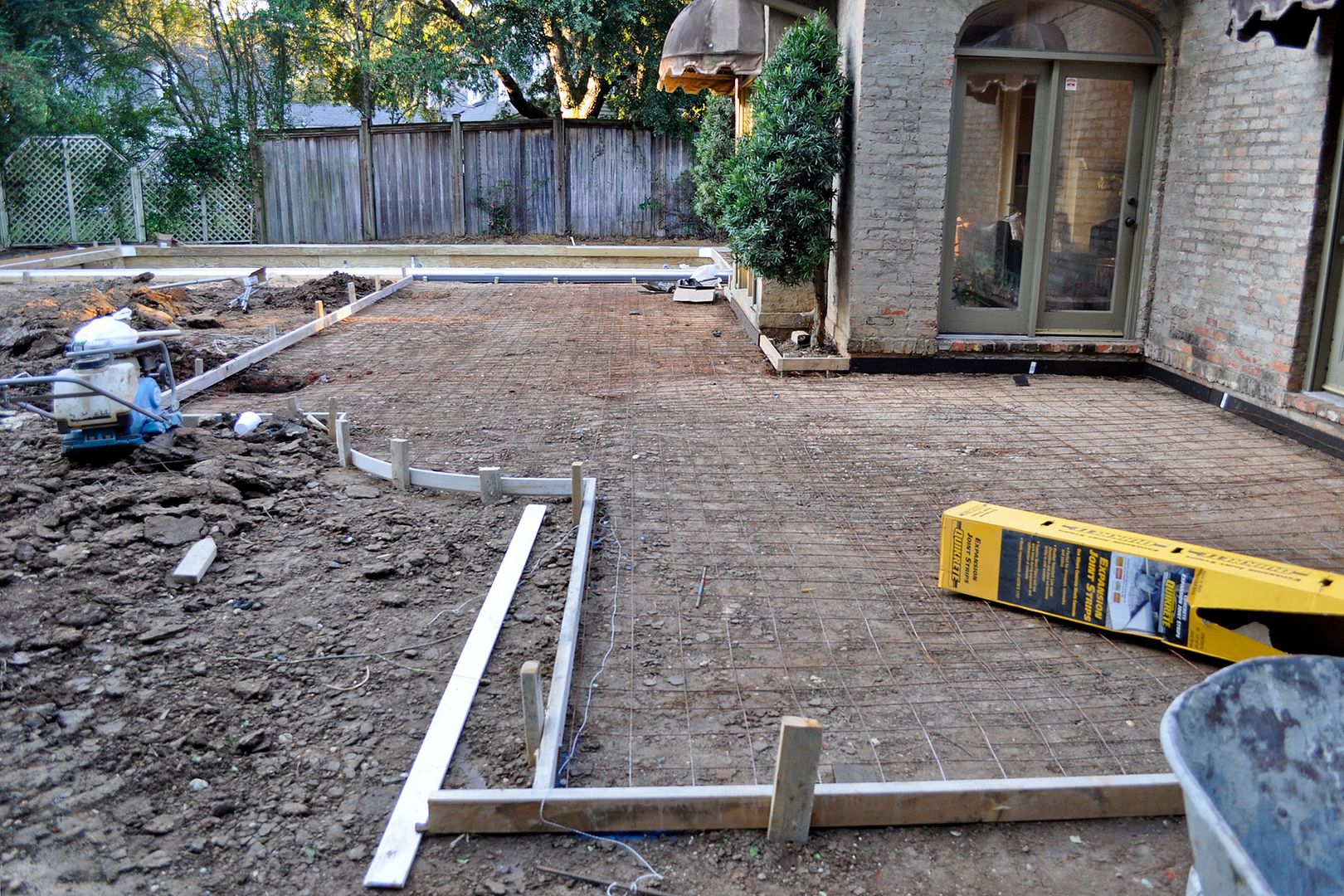 We added concrete where there wasn't any previously right outside of the sunroom. We also had them pour footings for a potential future covered porch.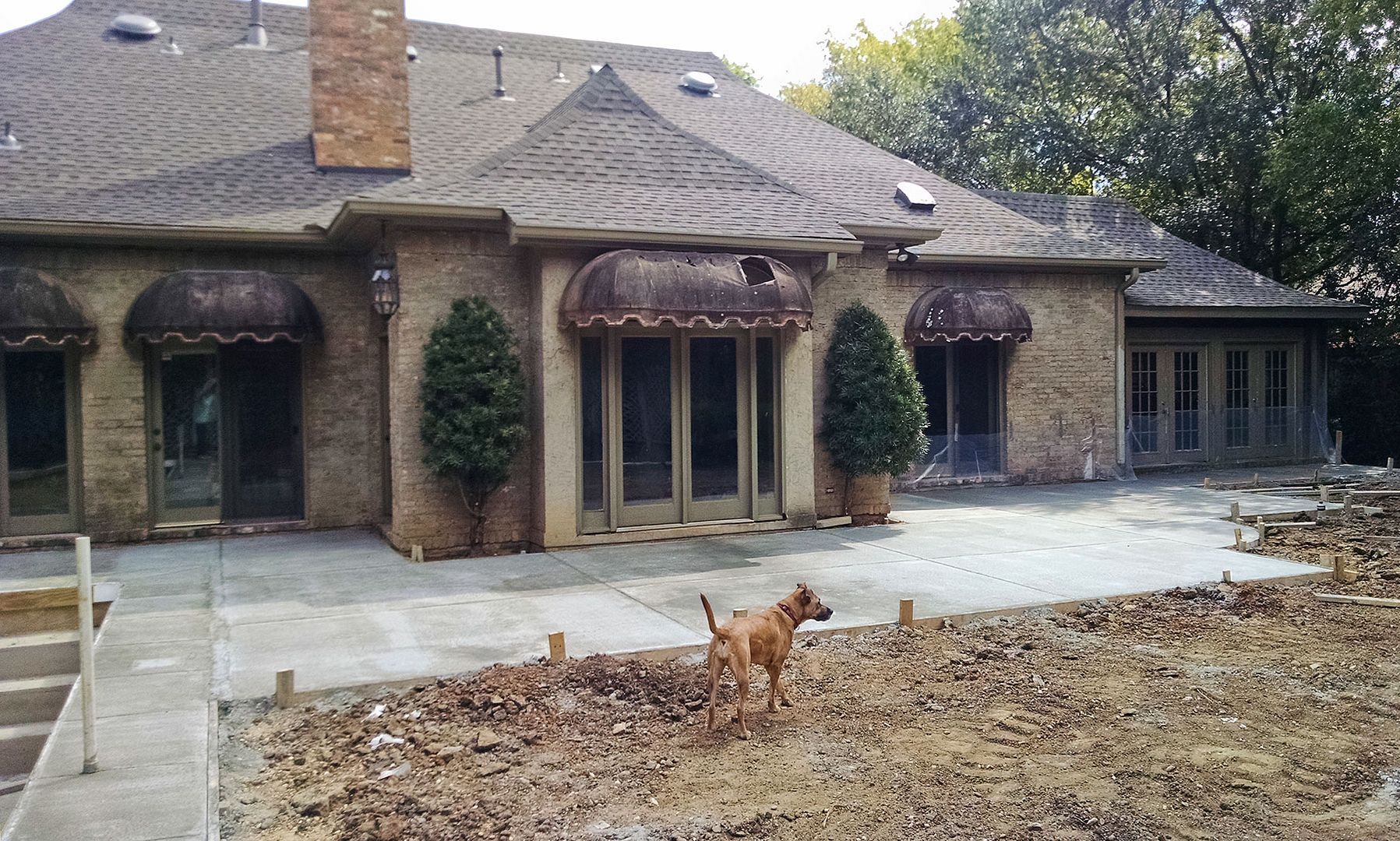 We chose this pool company not just because they came highly recommended, but because they did these concrete copings rather than a plastic rim. Combined with this light pebbled liner, I loved that it looked almost like a gunite pool even though it was a less expensive vinyl option. Phil and I added a crushed stone area off the side of the pool, with pavers separating spots for 5 lounge chairs. The fence cleaned up nicely with a power washer and is a pretty backdrop for the new plants.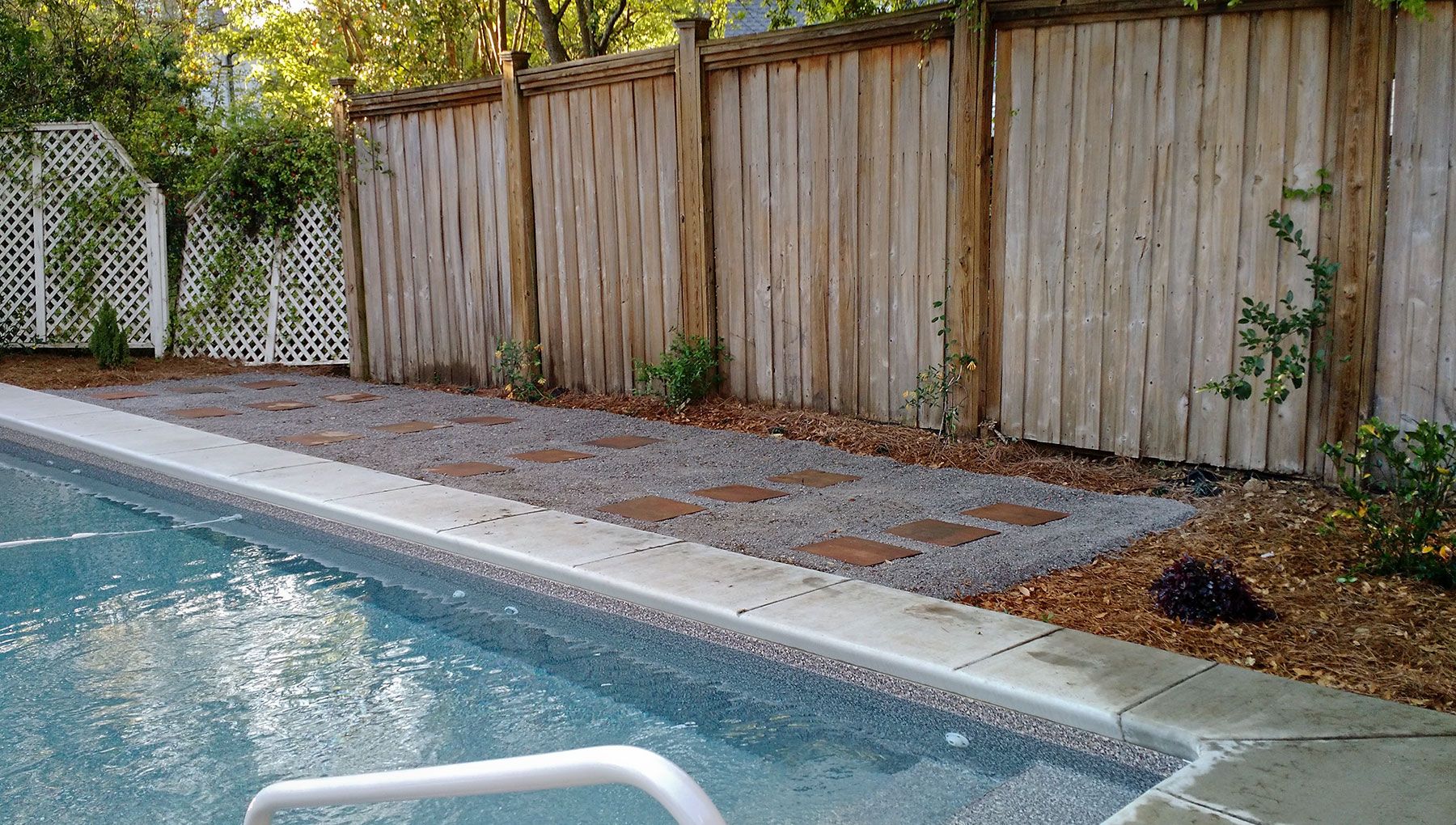 The pool and patio combined with the new paint (minus the chimney at that point) had it looking like a completely different house back here! The clay mud pit was slowly replaced by a weed haven for a time.
Later we had a landscaper lay new sod and it was oddly satisfying to see this dormant carpet!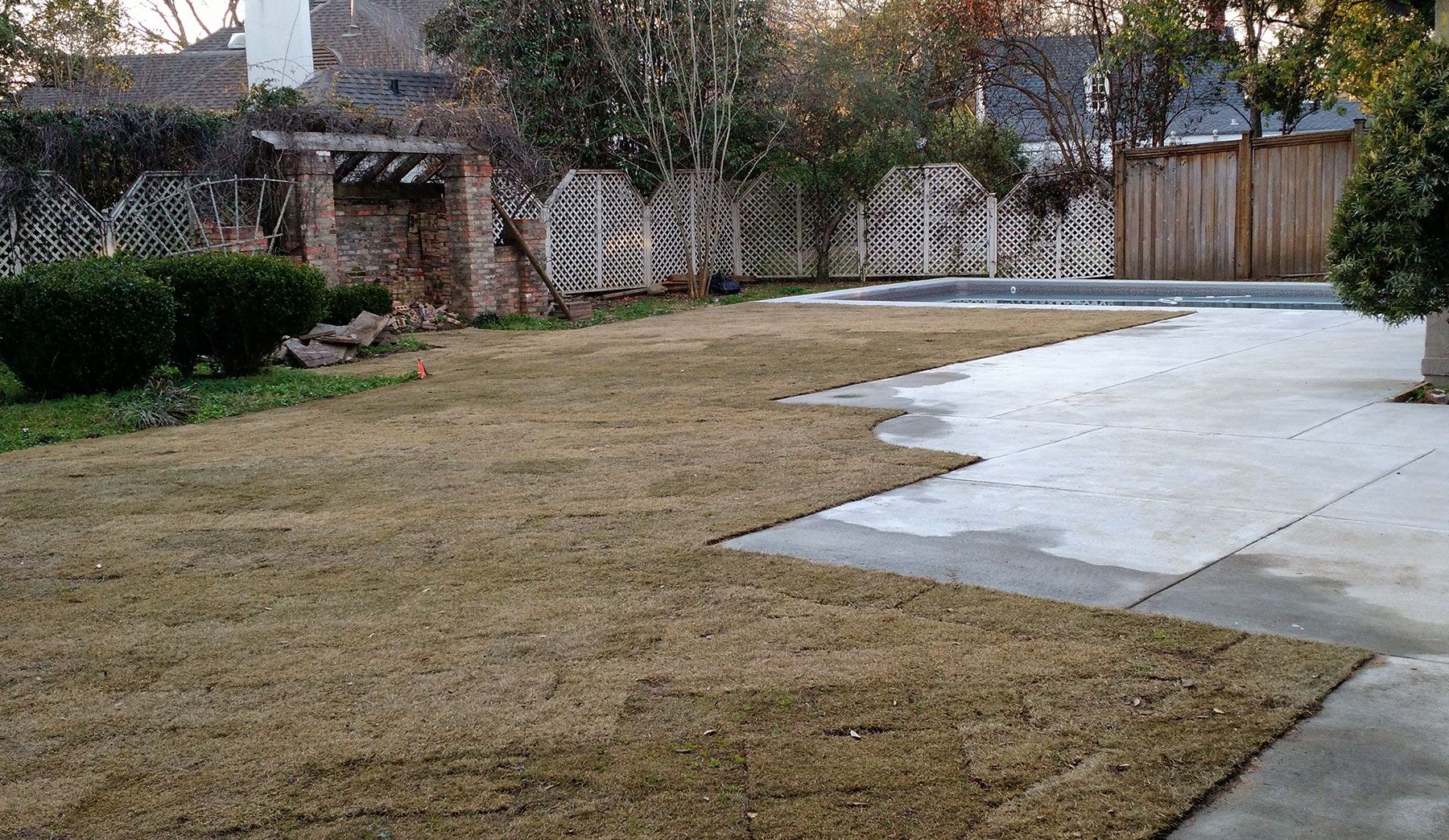 The side yard was also destroyed by the pool installation, so we had the landscapers fill it with gravel rather than sod because it's a wet and shady area that slopes to a storm drain. Over time that jasmine by the fence will grow back out over the gravel and be a beautiful and green ground cover again.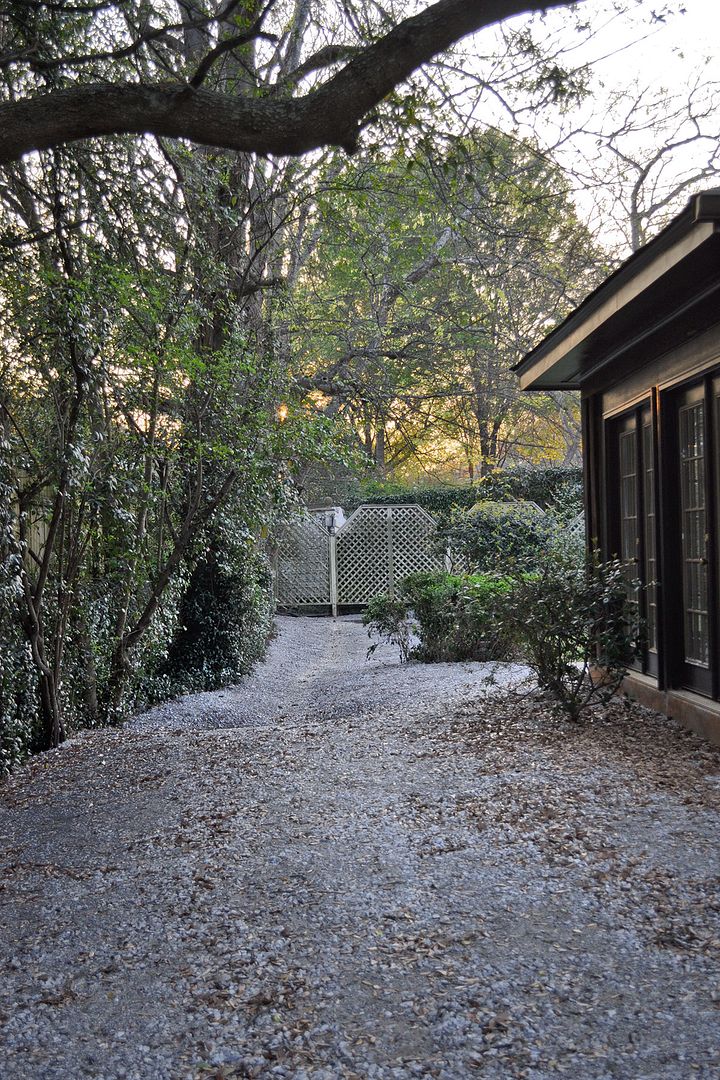 I dreamed of putting a deck in this courtyard off of the kitchen, spanning from the sunroom to the brick/wood fence, with pretty globe lights strung across, but I had to scrap that idea pretty quickly as we got into the renovation. Instead we had them carry the gravel throughout this area as well. We didn't get to do much else here beyond the new paint, but we left it as a freshened up blank space for the buyer to use as they desire.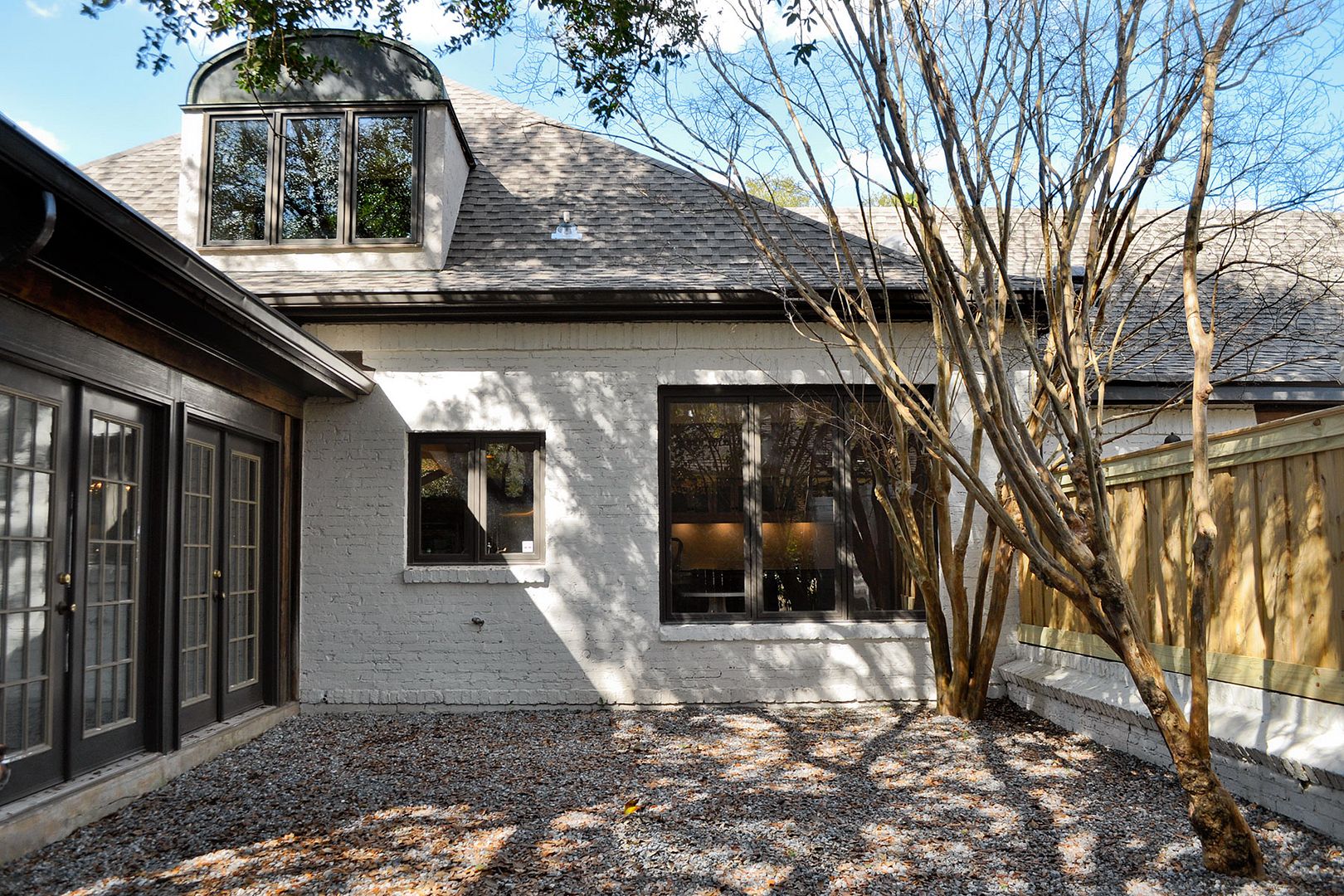 I do really like how that sunroom looks with the dark paint against that pretty white brick 🙂 If only I could show it to you with those pink crape myrtles blooms!
I added a some flagstone pavers by the brick structure in the back using stones we found scattered throughout the yard. The concrete bench was also already in the yard so that worked out perfectly to not spend any extra money in ONE area!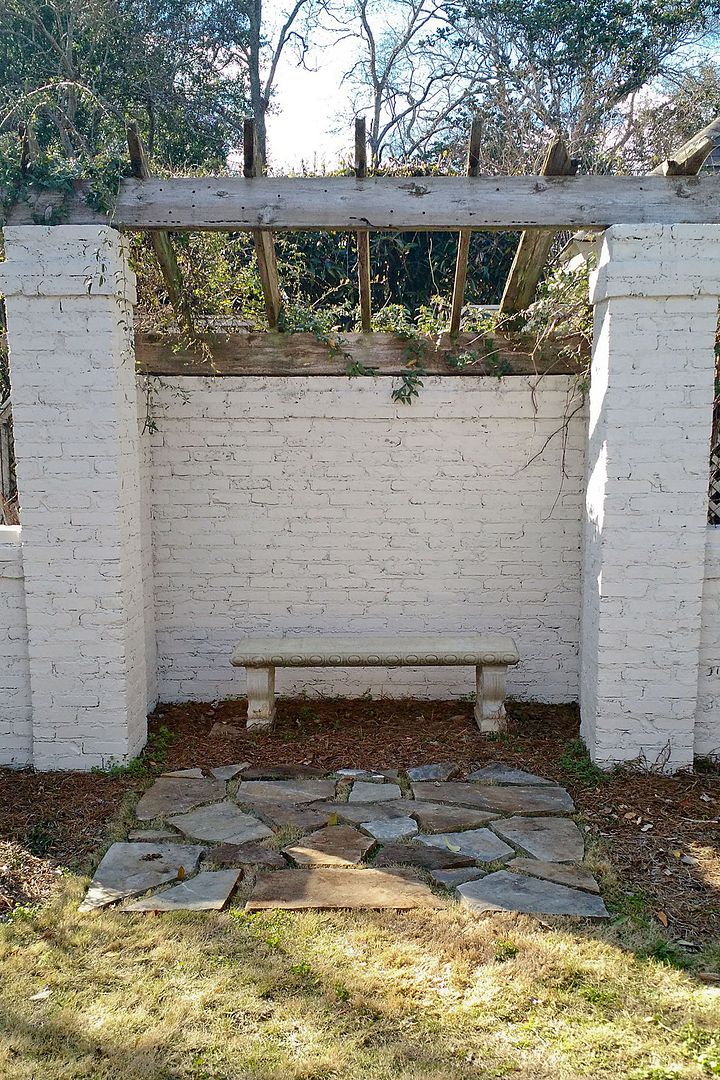 Then came the most exciting part of the backyard improvements! We originally wanted to add a covered porch off of the house, but we were unsure if we should allocate additional money to do so with how much we were already borrowing. So we cut that from our original renovation proposal, figuring that we could always add it later on. The patio is in full sun for the vast majority of the day, and Alabama heat is no joke, so we quickly realized that it was almost impossible to enjoy the outdoors without it. It was tricky for us to figure out what to spend money on and what not to, but at this point we had already invested the money into the pool and it felt like a waste without also adding a covered area to enjoy it – so we decided to go for it. This area that sticks out past the rest of the house is part of the living room, so we had our contractor extend it even further to create the covered porch.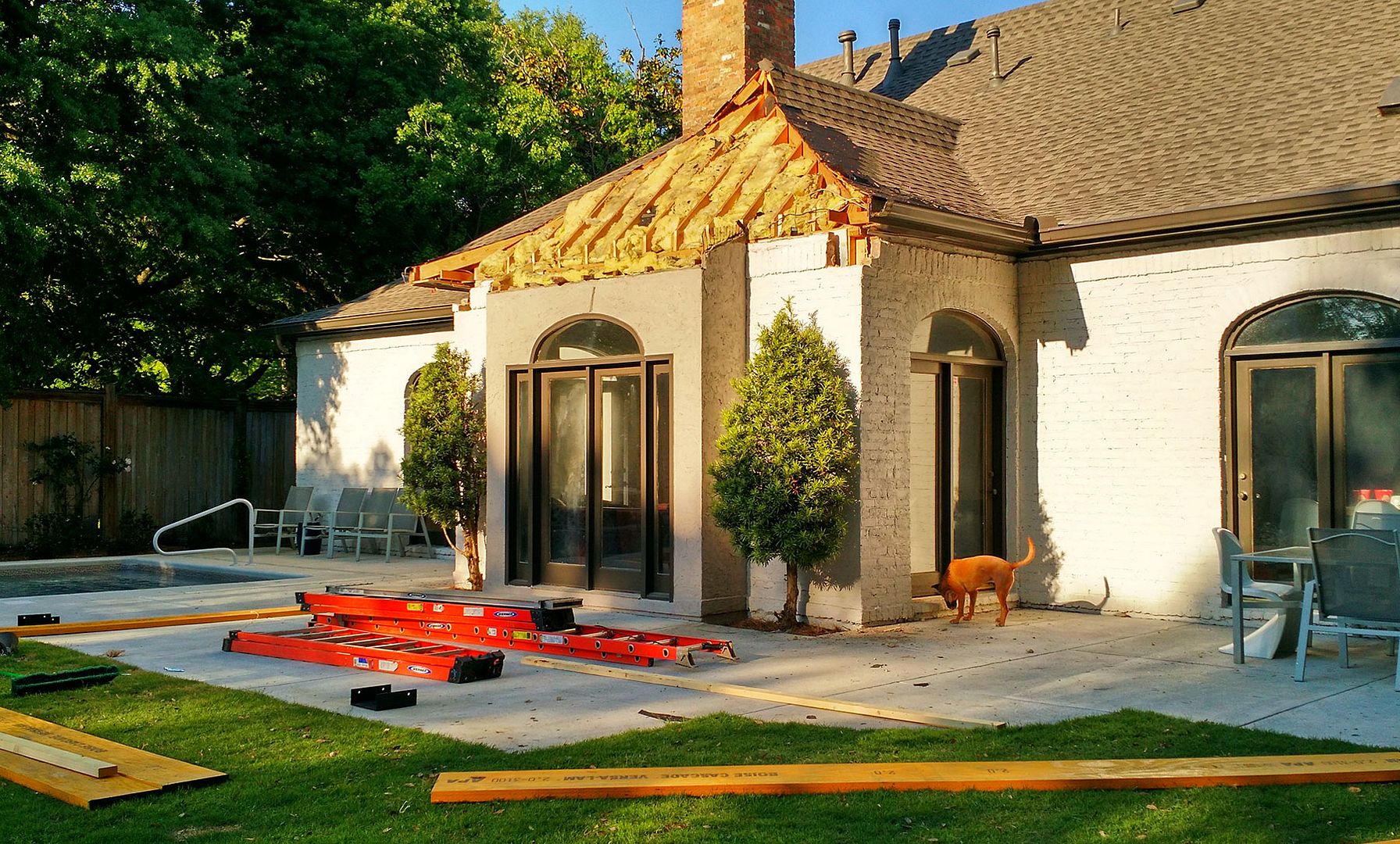 We went with 10″ chunky cedar posts that matched the scale of the house. The footings to support them were already there because we had the pool company pour them along with the patio – just in case we decided to add the porch later on, and I'm so glad that we did!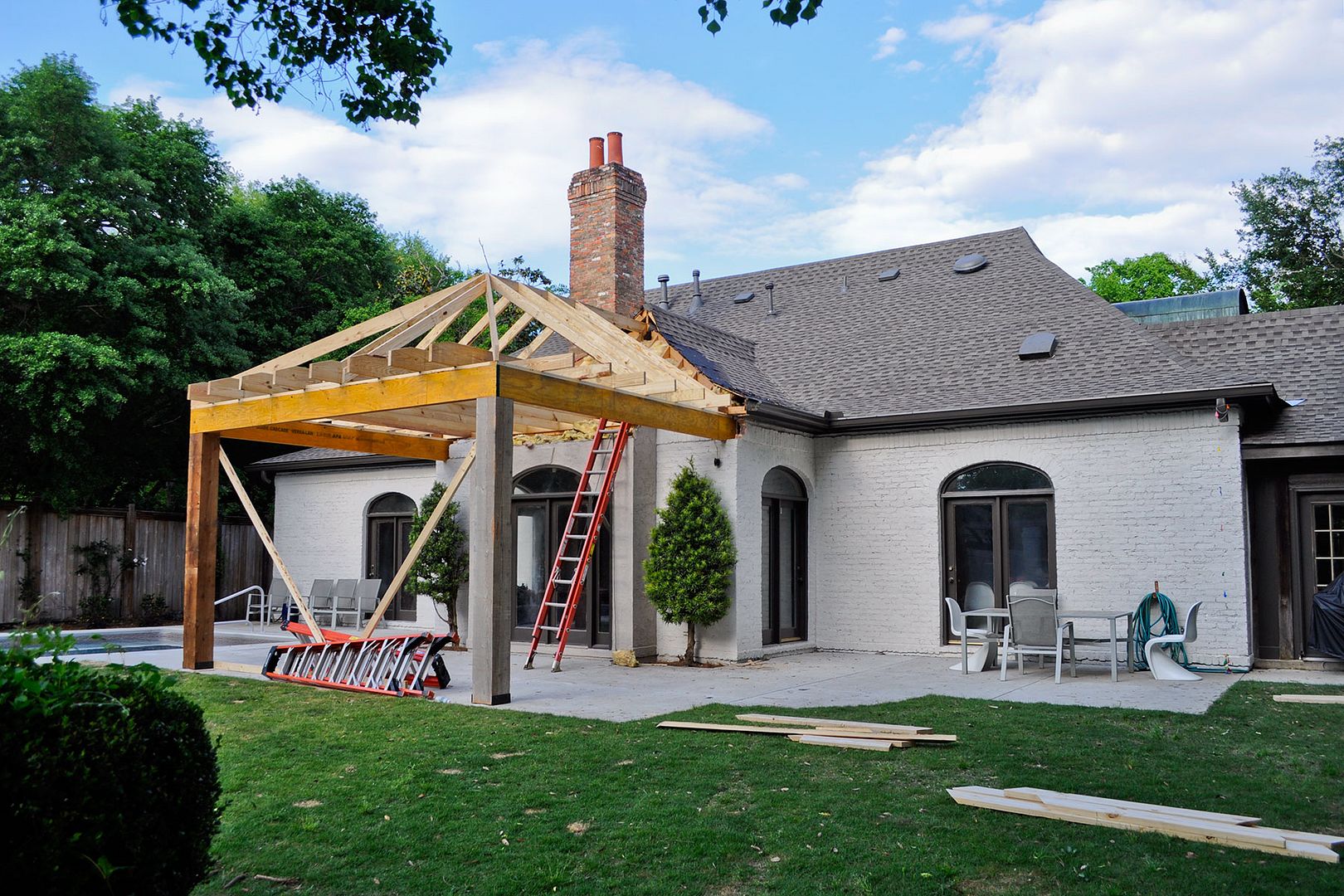 The contractor did a great job matching the original roofline so it wasn't obvious that it was an addition.
We had them install flood lights on the outside corners, 4 recessed cans underneath, as well as a ceiling fan. Phil used a light blue semi-transparent stain to coat the beadboard ceiling.
We had 4 of these large weathered iron pieces that were originally adorning the roof ridges –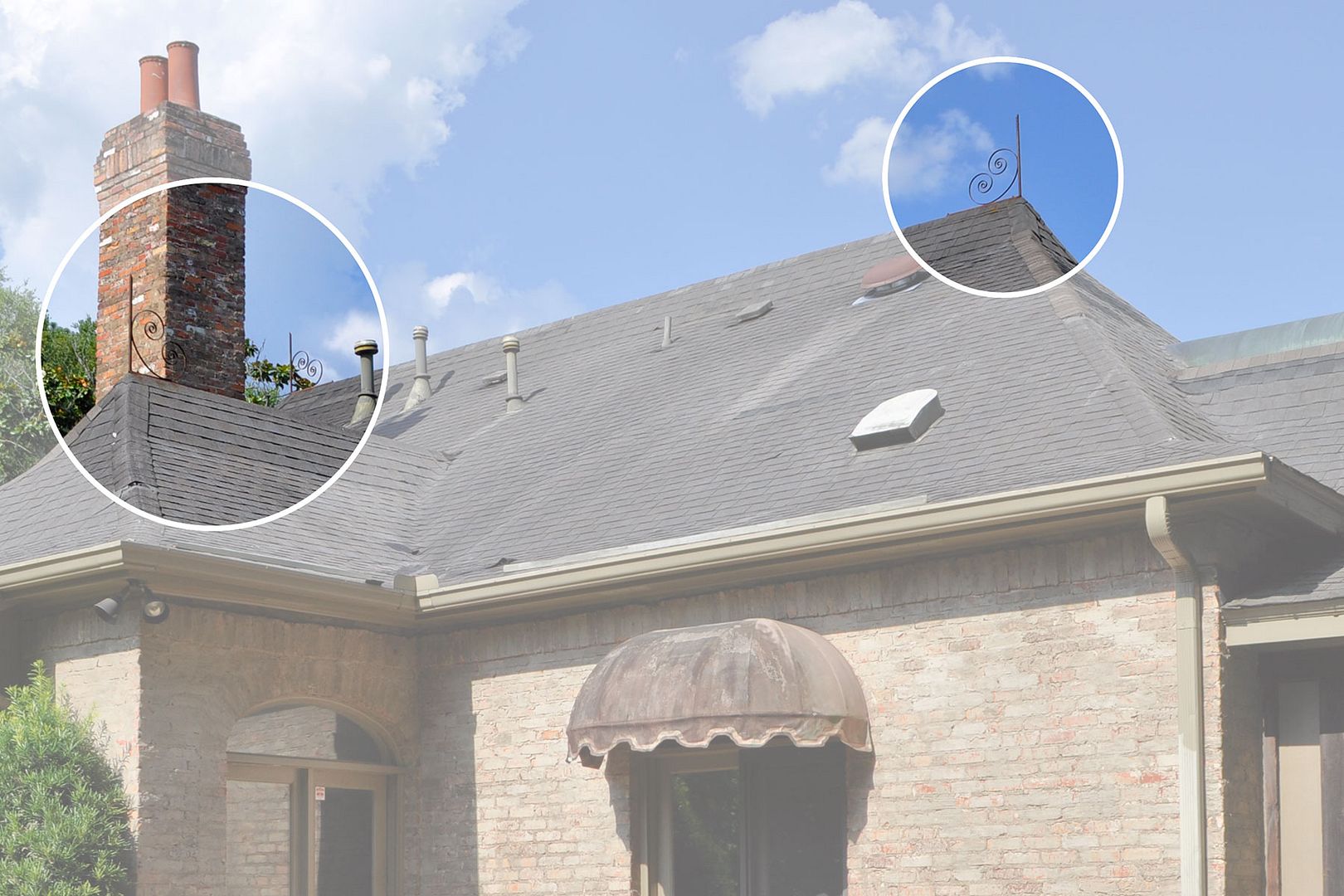 – but we thought they looked perfect here as decorative corbels.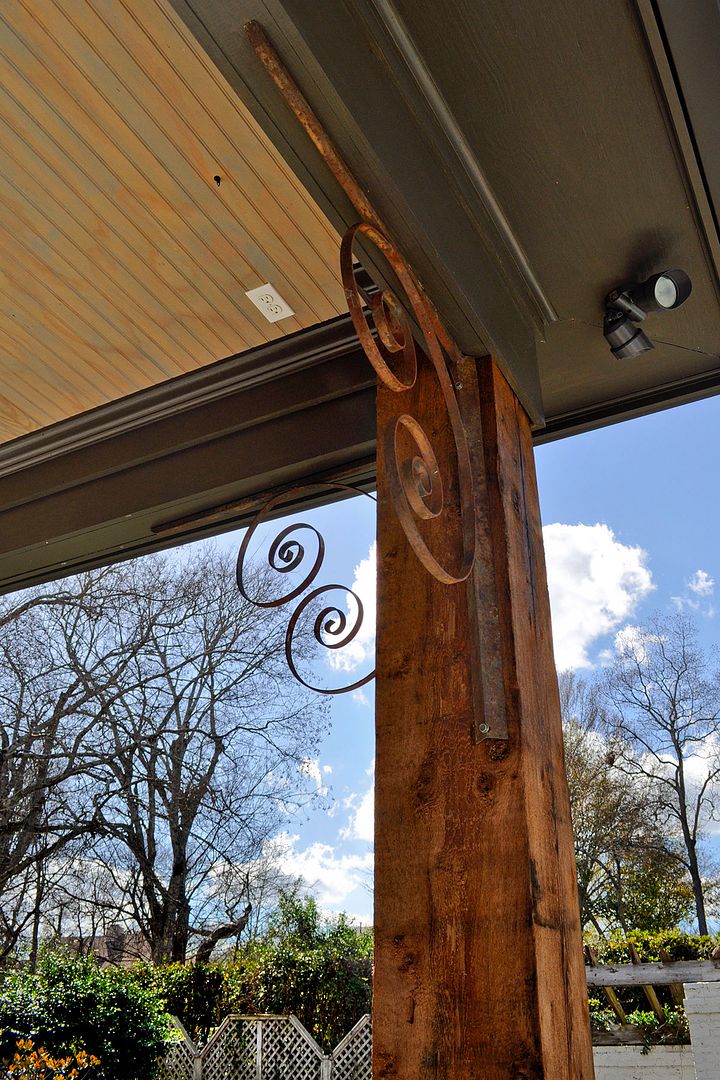 Funny side story about the porch addition…one evening as we were meeting outside with our contractor, both of our dogs somehow just appeared ON THE ROOF. They were trotting along, happy as could be, and paying no attention to the shrieking and nervous laughter down below. The contractor seemed surprised at our reactions – he said they had spent the whole day up there just sunbathing or chilling in the shade and watching the crew as they worked on our back porch. The dogs were so casual about it that he said he thought we must always let them up there (?!?!). One of the upstairs windows was broken and while we were waiting for a custom one to be made to replace it, apparently the dogs had learned to climb out during the day while we were at work, but came back inside before we got home – like sneaky little teenagers!
But back to the project – the final task to complete back here was painting that pesky chimney! We left it for last because I was hoping to hire that part out…but Phil is a typical man who was determined to complete it himself. I can't believe he did this!! Kids, don't try this at home.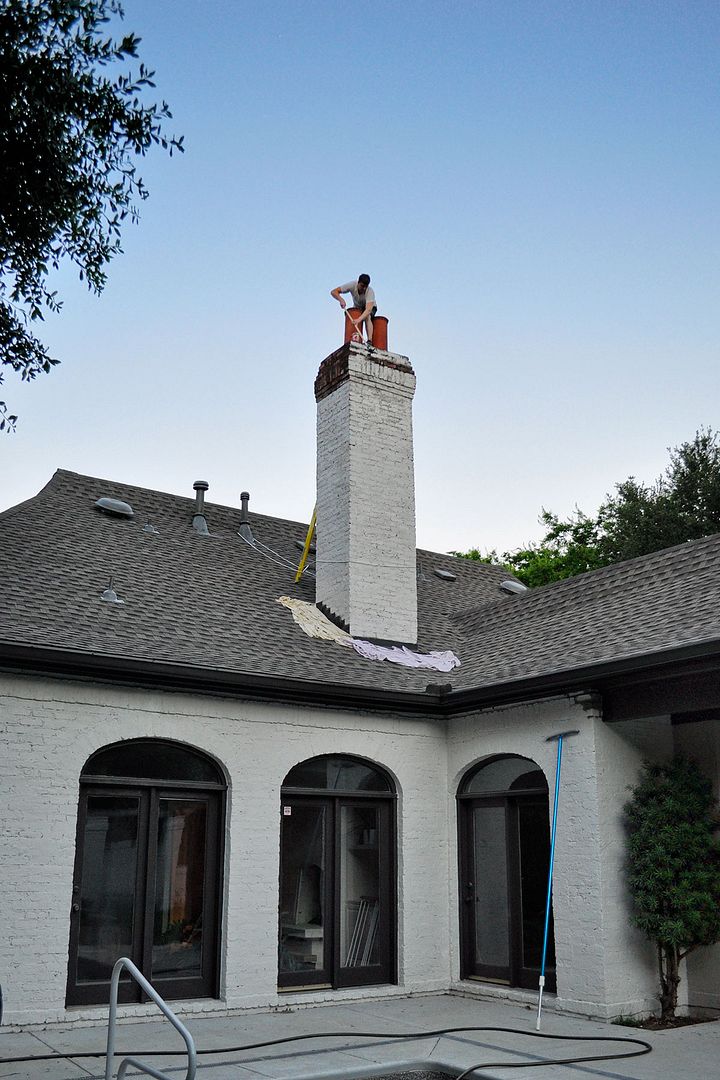 And here's how everything turned out!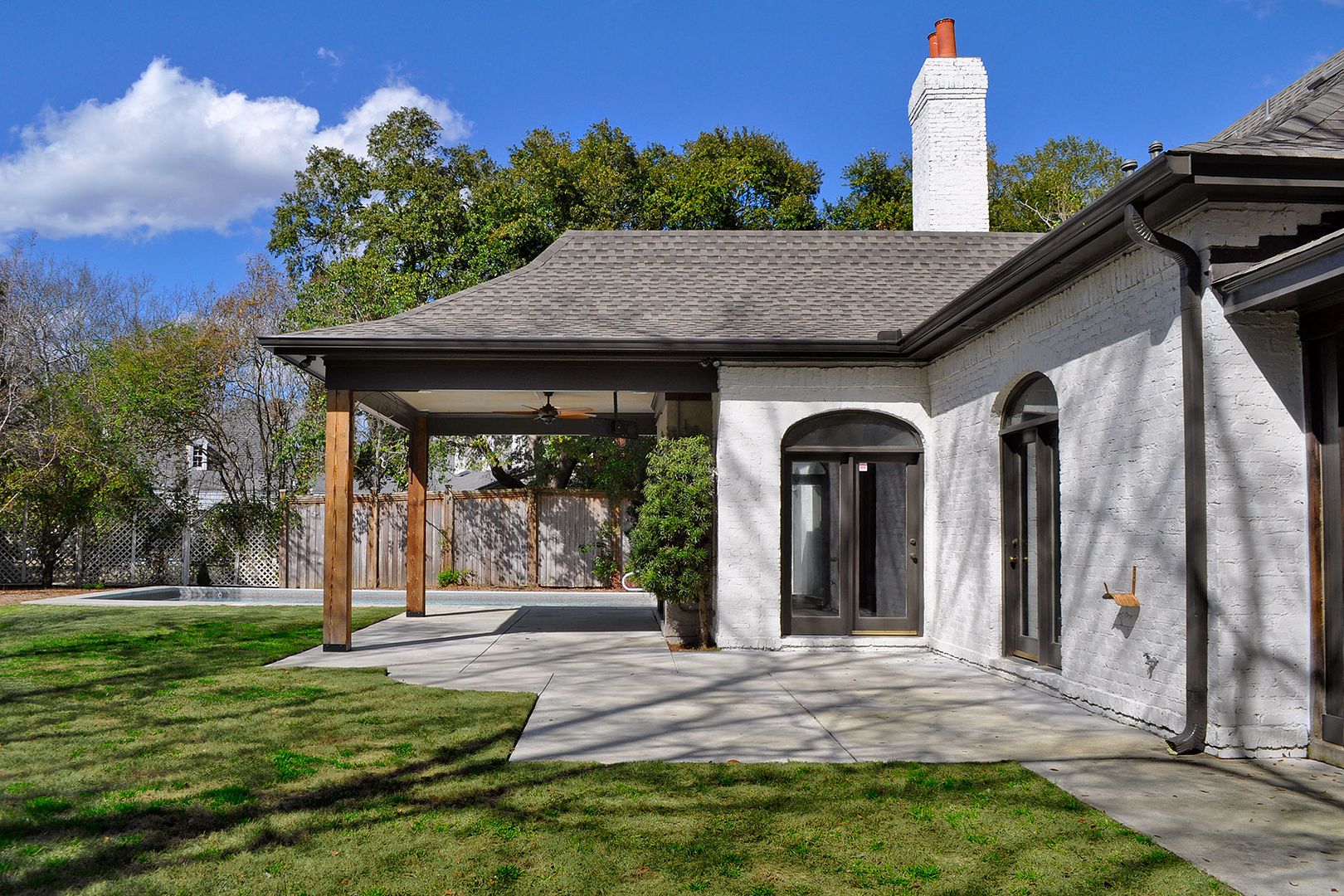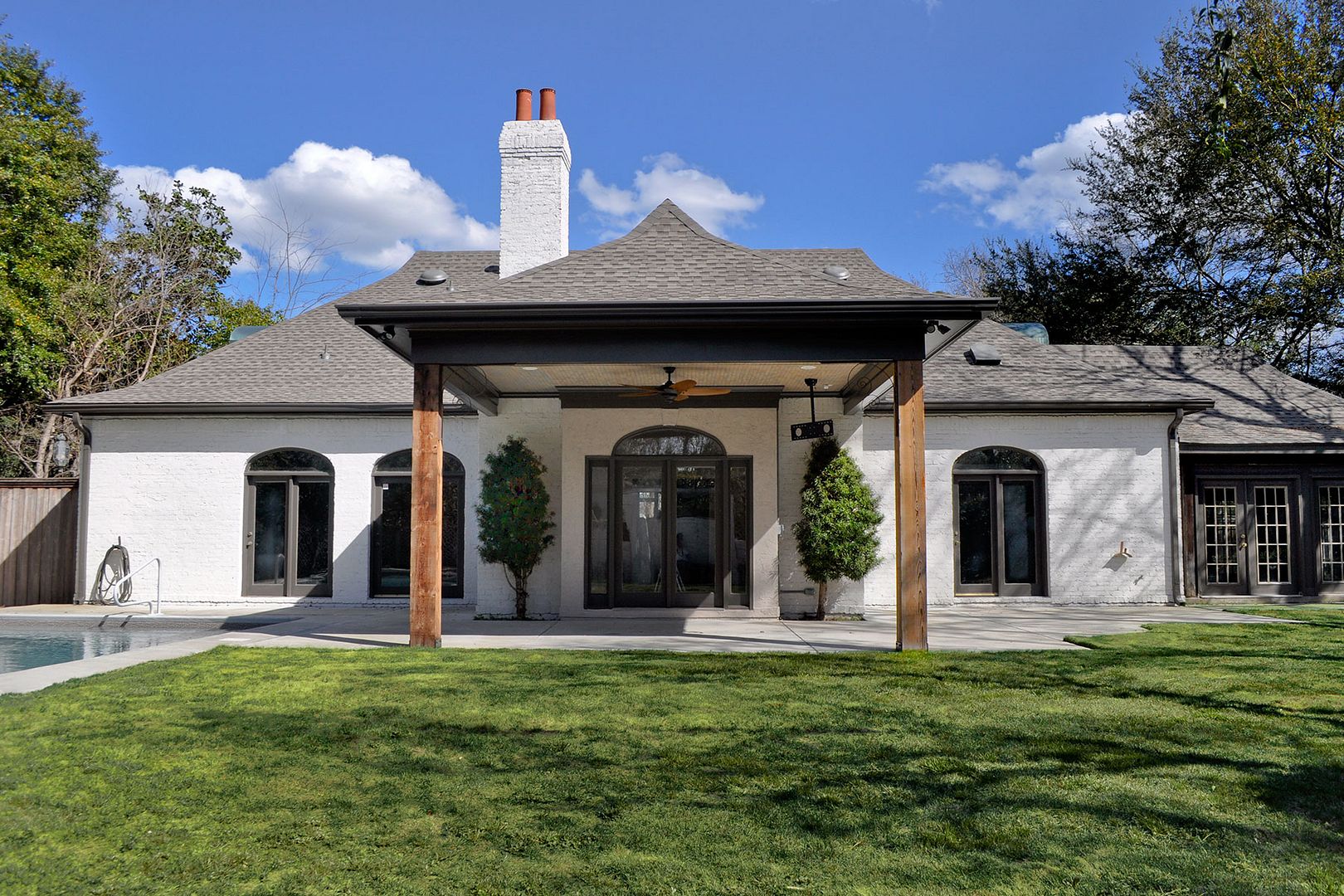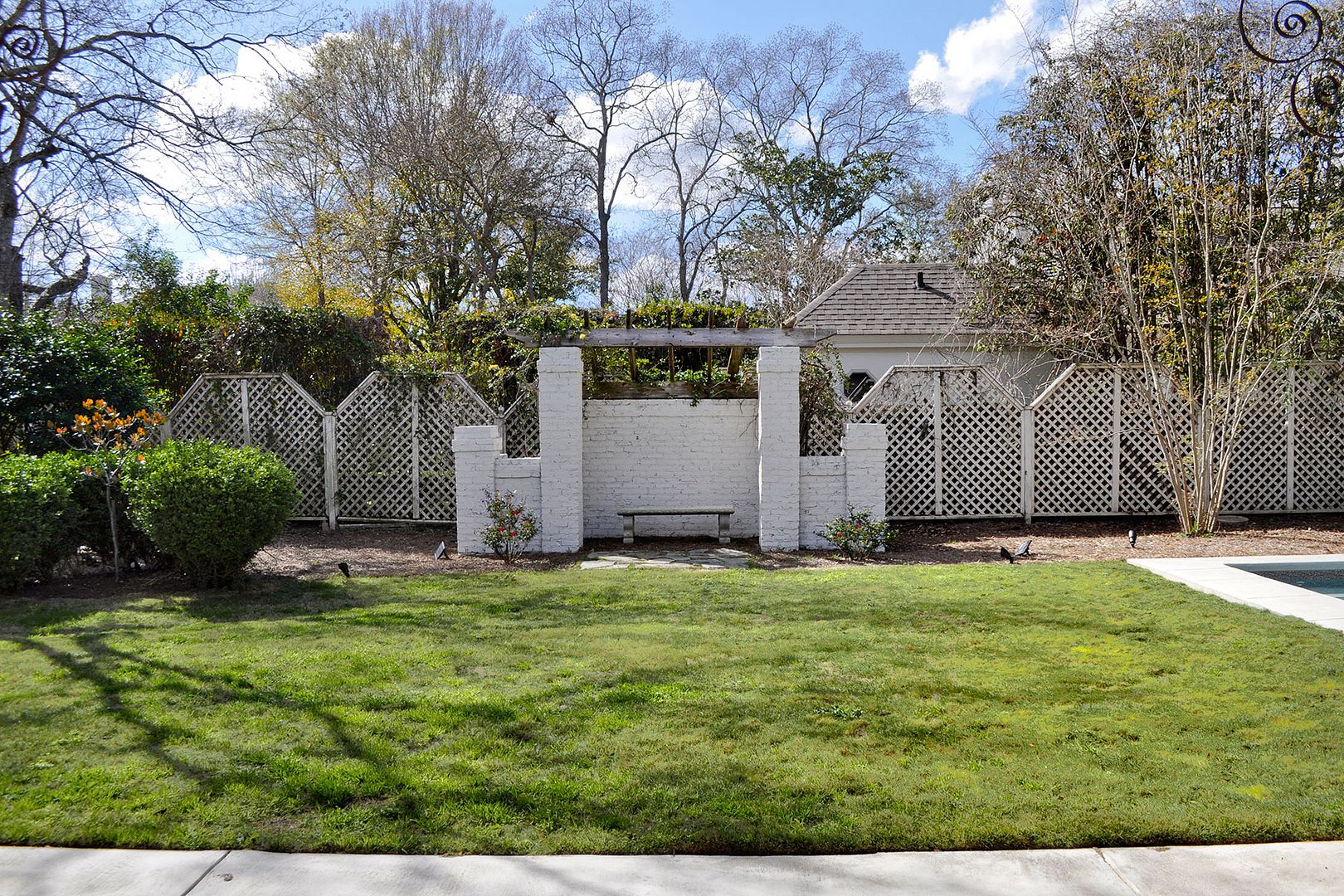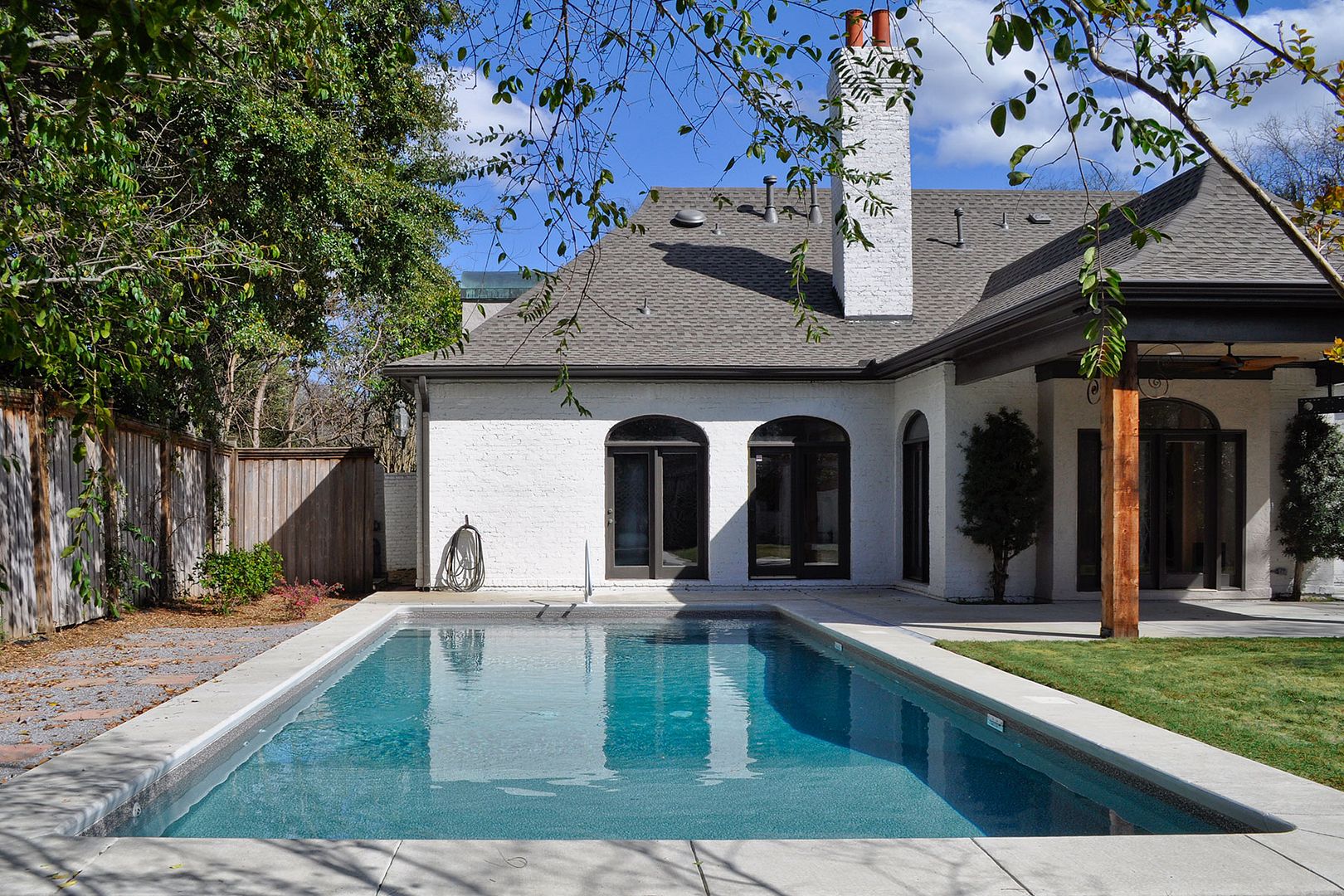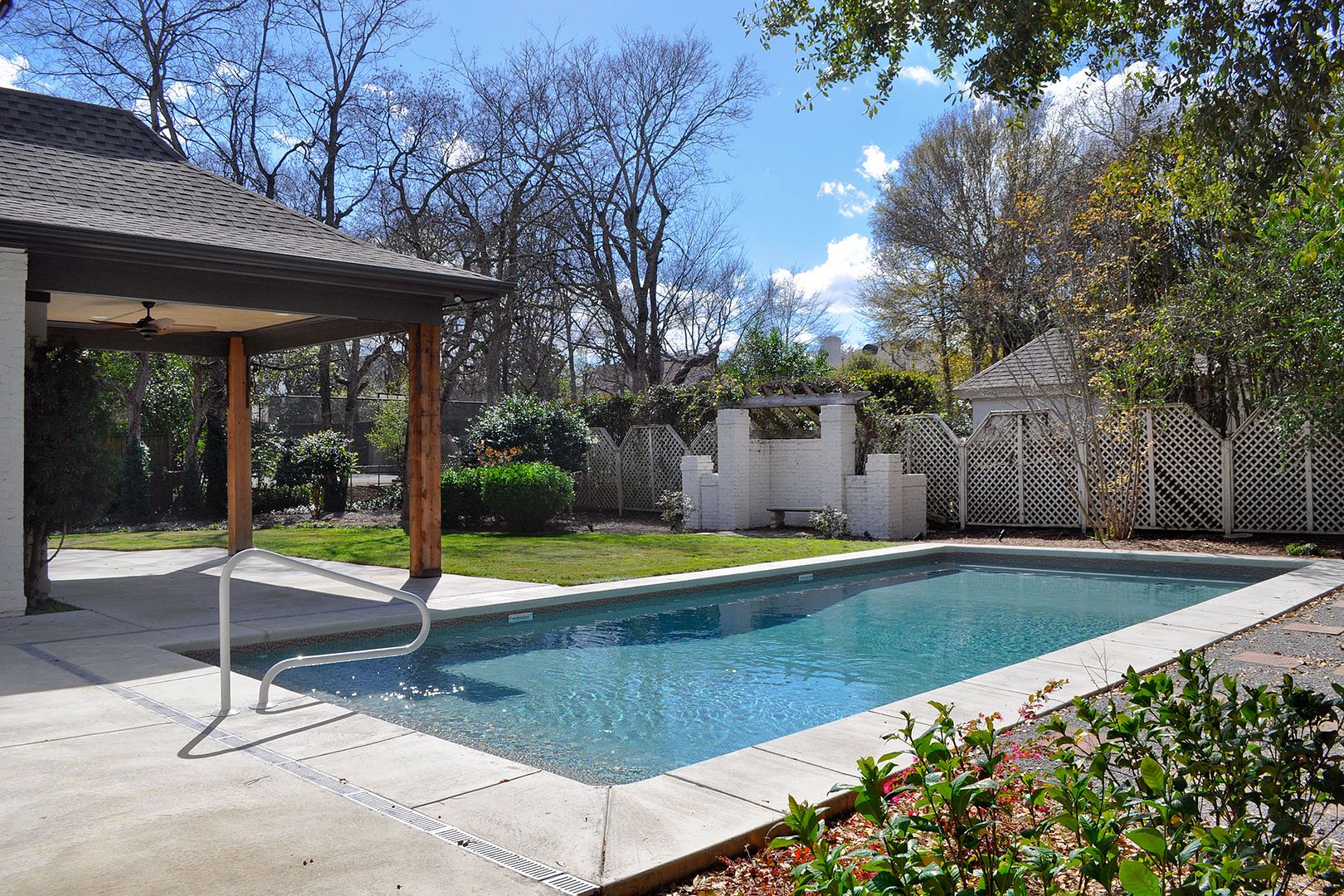 Now how did I get this far into the post without mentioning the best part about the pool…the color-changing LIGHTS!!!!!!
We wanted the pool to have one special feature, so we were deciding between in-pool lighting and some sort of fountain/water feature (which also would've been SO cool) – but decided that the lighting would be more useful since there are so many warm Alabama nights to spend out here. I think we made the right choice and it was COMPLETELY worth every penny. You can choose just a solid color, or different combinations of colors, different transition timings, etc. At night it suddenly transformed the backyard into a fancy hotel and was just so fun!
Sometimes I would turn the lights on just to enjoy the the pretty glow from inside.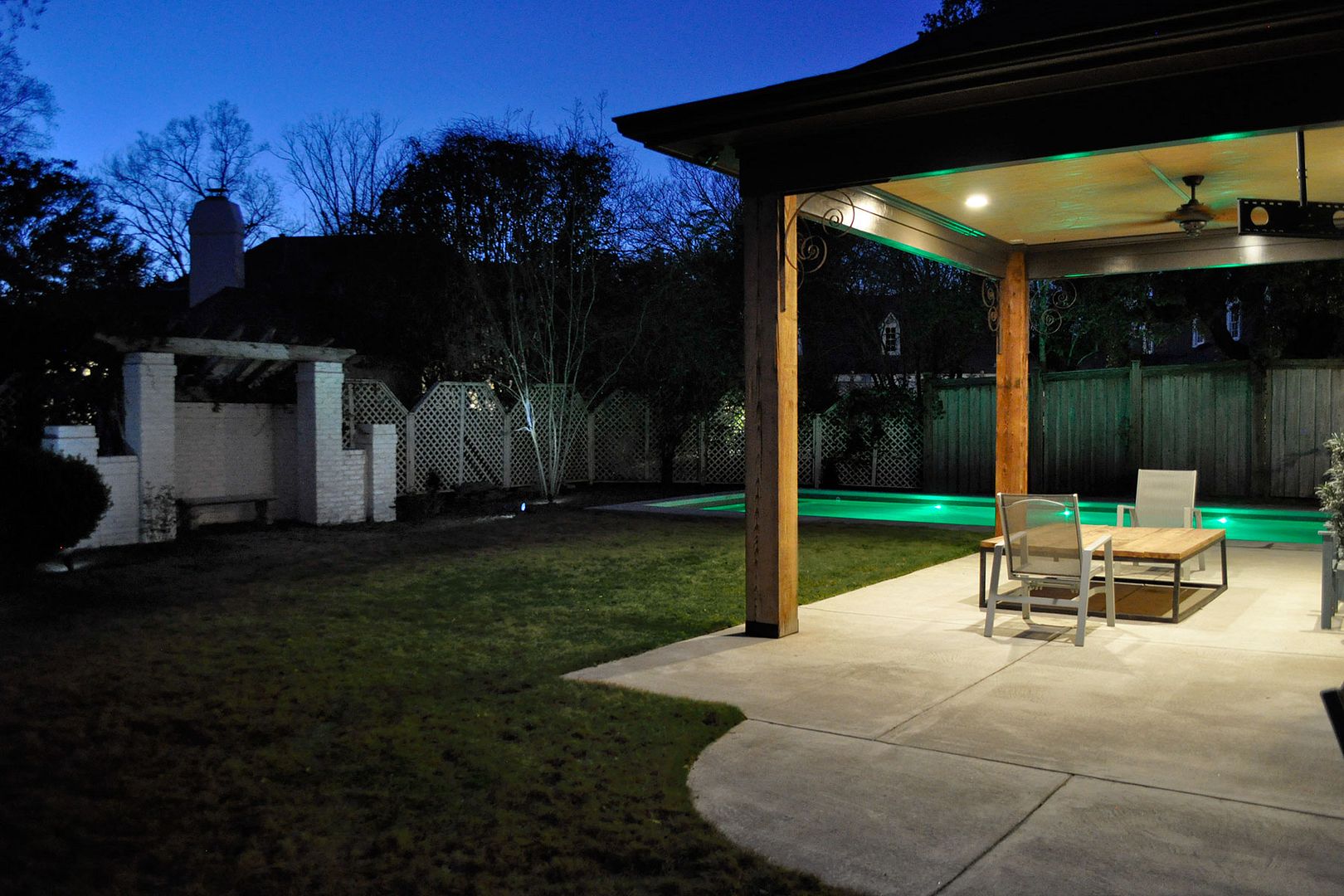 So fancy, right?!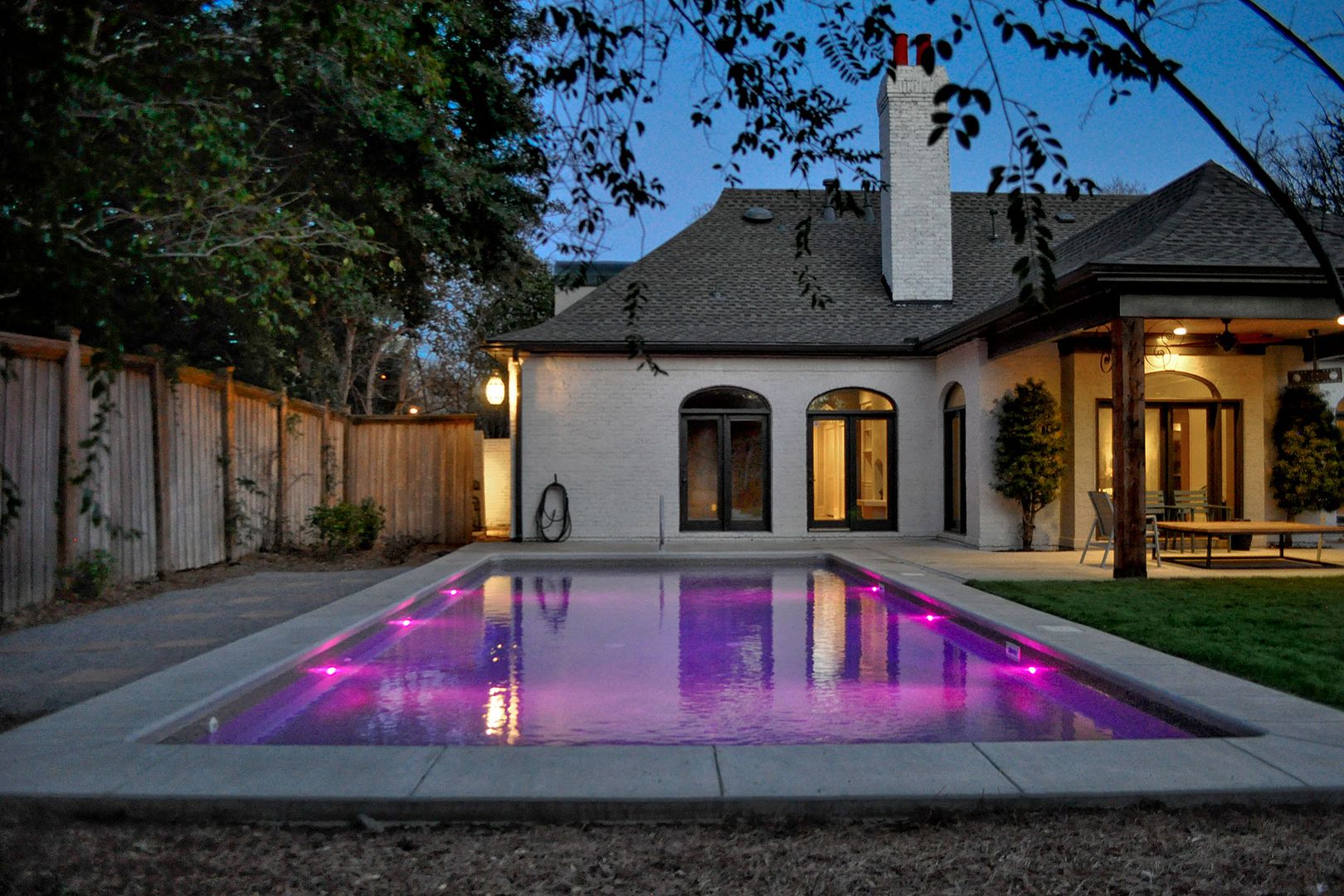 I am more than a little obsessed with it, if you can't tell!
A little action shot for you –
If you read through the whole post about the front of the house, you might remember me whining about how difficult this entire renovation was. Believe me, that was not an exaggeration, BUT that doesn't paint the entire picture either. We also had some of the best times here and this backyard was one reason why this house was so hard to leave. We took full advantage of the fancy hotel pool whenever possible, whether that was a quick dip on Sunday night after a long weekend working on the house, or a fun party with the best friends & family – who looked past the horrifying conditions inside and helped us create some amazing memories here.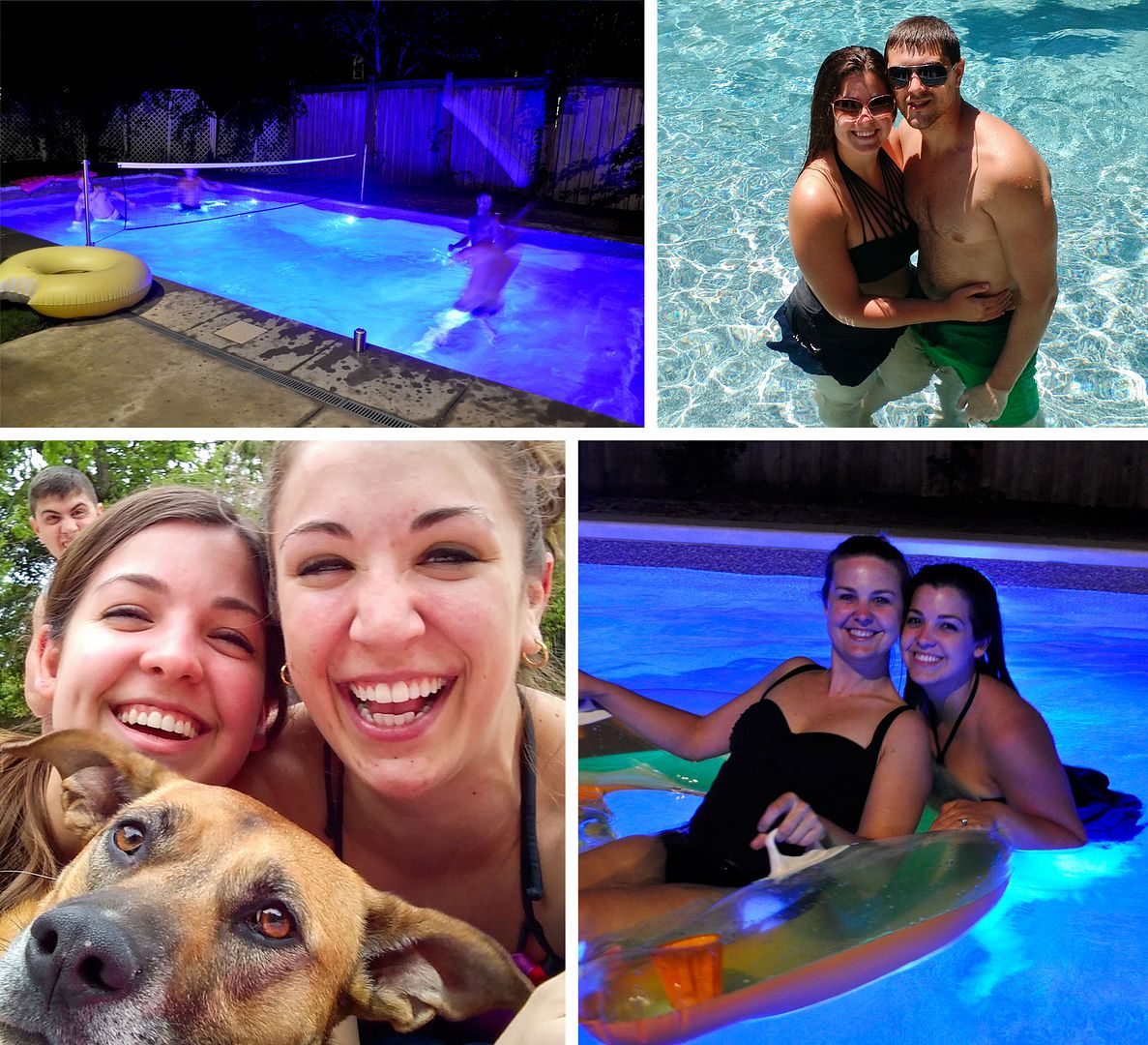 We are pretty pleased with how far the backyard came, especially on our crunched timeline!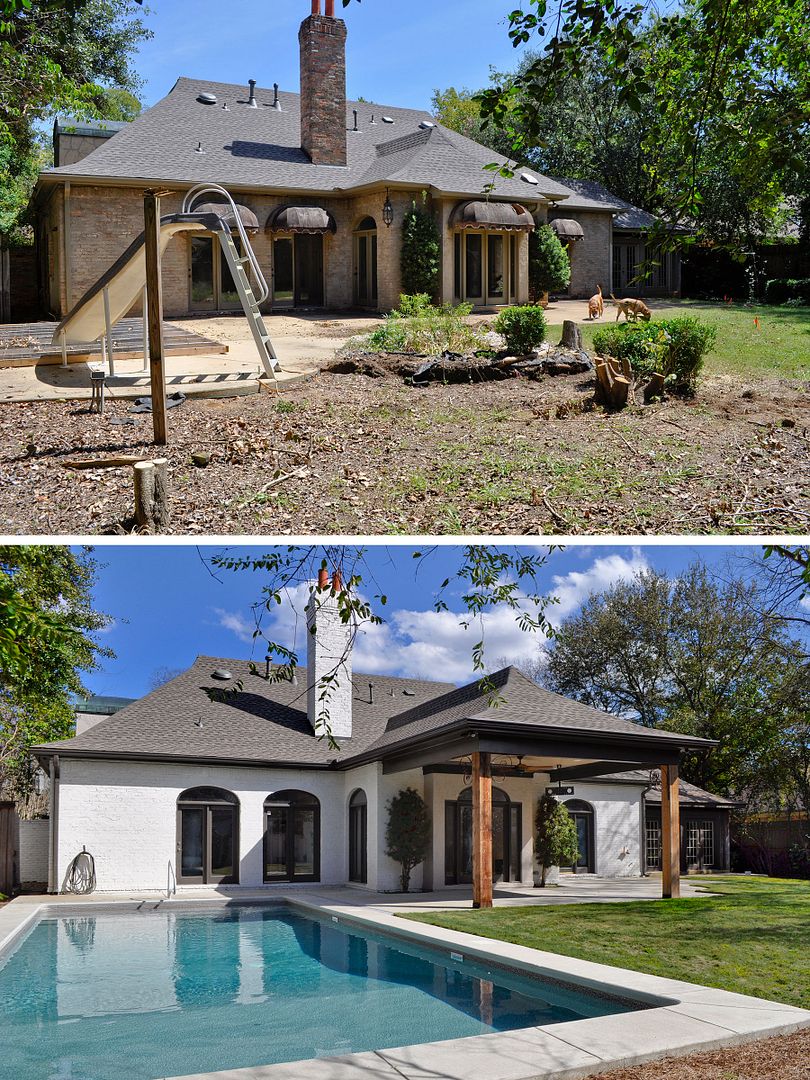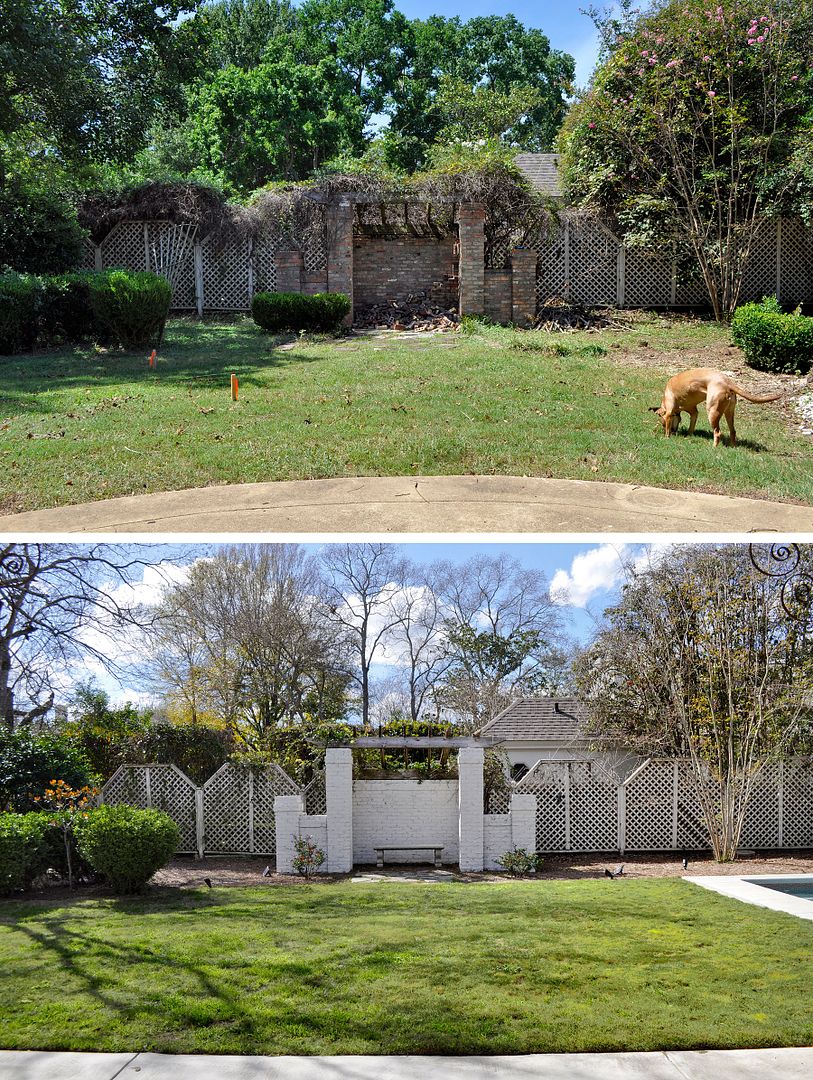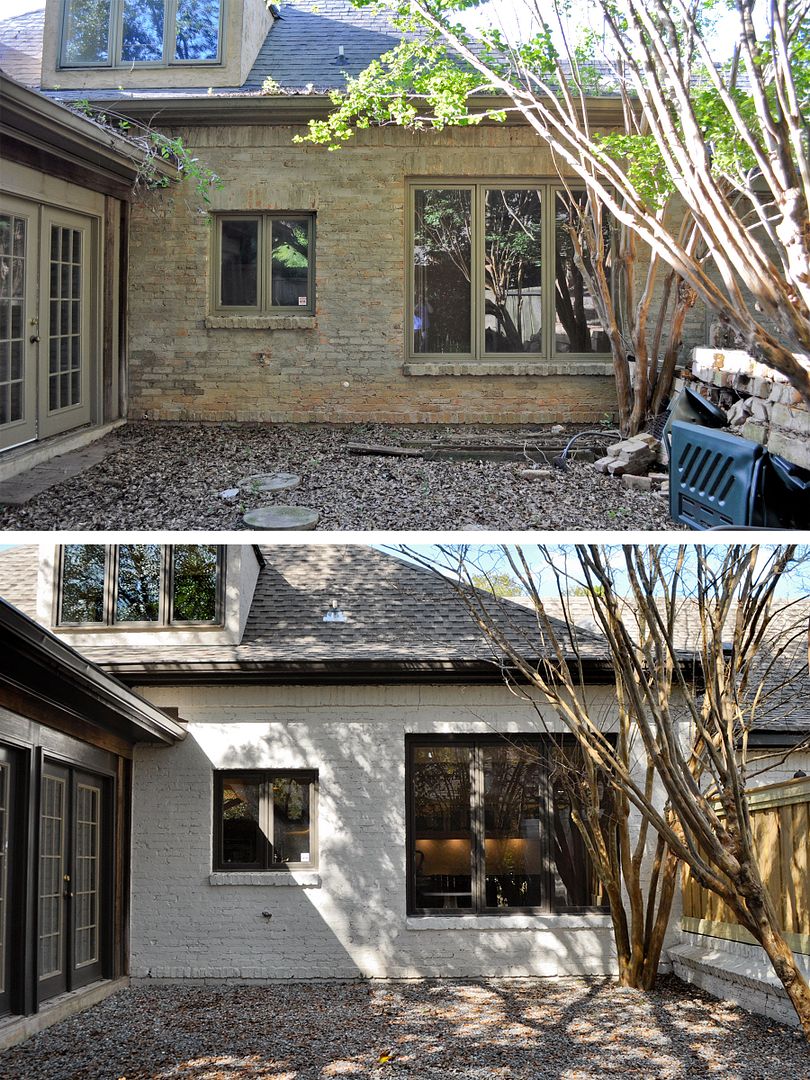 Next let's head inside! I've got to tease you…the kitchen is kind of mind blowing so I might have to save the best for last 🙂
Exterior paint colors we used:
Brick – Sherwin Williams Aesthetic White
Stucco – SW Perfect Greige
Trim – SW Black Fox
Related posts: