I don't think I could be any more excited about our new adventure – we bought our next house!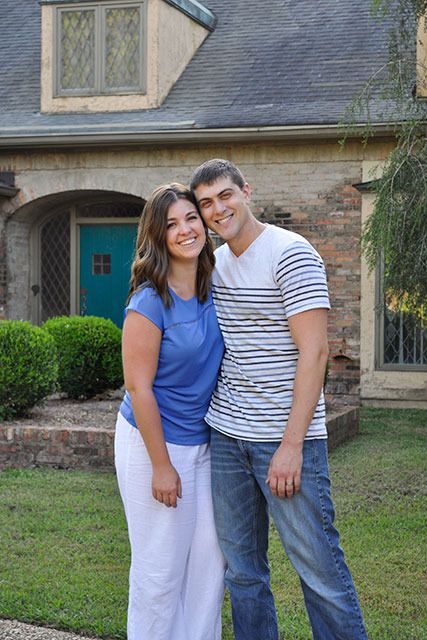 We had been wanting to buy a fixer upper for awhile, and we stumbled upon this amazing foreclosure with tons of unique architectural details. It was right after I started my new job (drafting for a home building company – love it!) and we were eager to move closer, so the timing was right and we just decided to go for it! The house wasn't at all what we were looking for – it's a complete 180 from our 900 sq. ft. first home that we loved! It's WAY more house than we want or need right now, but we're looking at it as an investment opportunity. It's an incredible house, Phil was excited about the business side of it, I was thrilled to have such a big design project, it was in the location we wanted, and surprisingly doable within our budget…so we thought, why not?!
It's a big house with LOTS to renovate – that means LOTS to blog about! Yay! Let's start with a tour of the outside!
The front entry has brick columns and an iron gate (I know! fancy pants!). We have to have it repaired but it will definitely be a cool feature once it's fully functional.
The front circle driveway is HUGE which is great for parking – and Phil is especially excited that more concrete = less grass to mow, haha.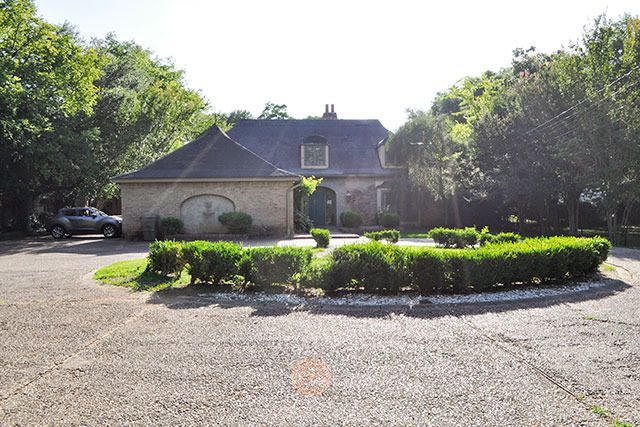 Copper dormers, leaded glass windows…dreamy!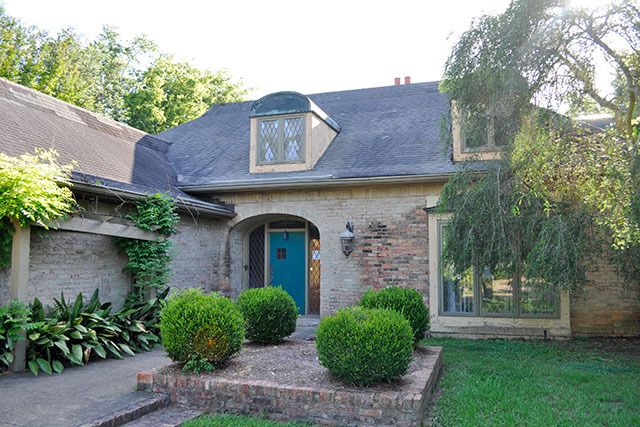 It has a beautiful front door with more leaded glass sidelights and transom. Love! We're hoping to refinish the door back to solid wood and restore the hardware that was painted.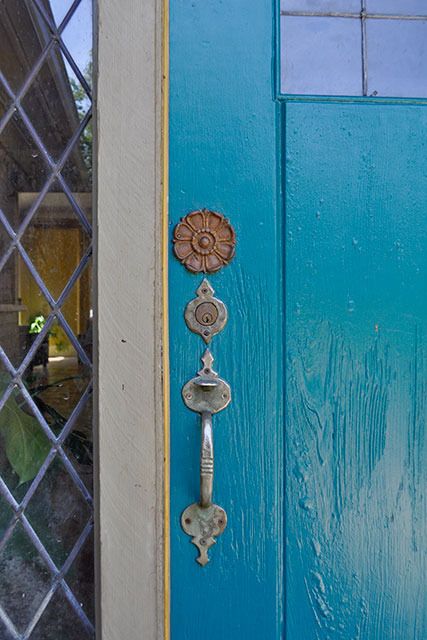 It also has the most hilariously fancy and frilly doorbell cover I've ever seen! I was not even aware that these things existed!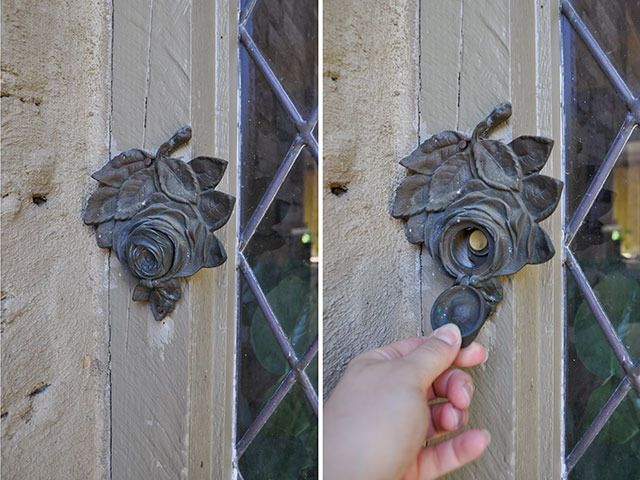 On the left is the side entry garage. The front wall has a brick planter bed that I think is begging to be a fountain! I love the big wooden beam across the garage door.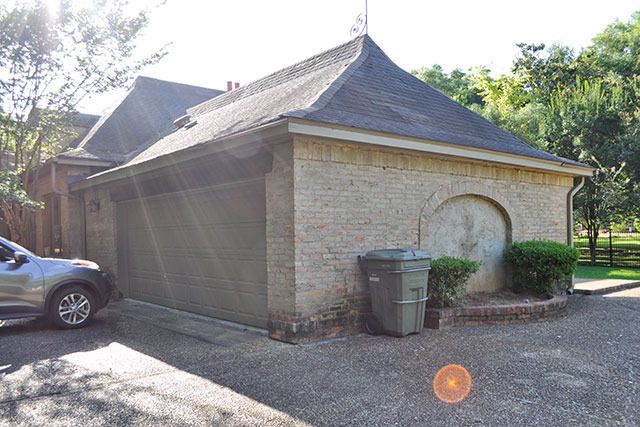 There was a brick privacy wall and a gate next to the garage, but sadly something backed into the brick and demolished that! Plans are already in the works to repair the bottom half of the brick wall and add a fence along the top that matches a new gate.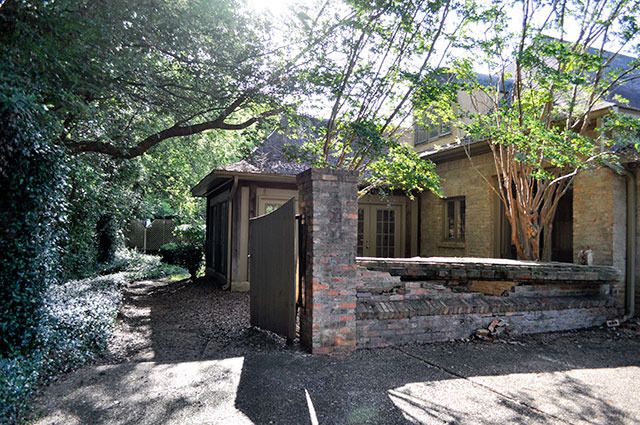 On the other side is a courtyard that I'm obsessed with! It's one of my favorite aspects of this house. Those windows go to the kitchen and the view is so private and peaceful. It's easy to picture it cleaned up with some globe lights strung across – can't wait!
The sunroom separates the courtyard from the rest of the yard.
The living room bumps out the back with a set of french doors on all 3 sides. We're planning on bumping it out even further to include a covered porch area. The awnings are coming down, but how cute is that french country roofline?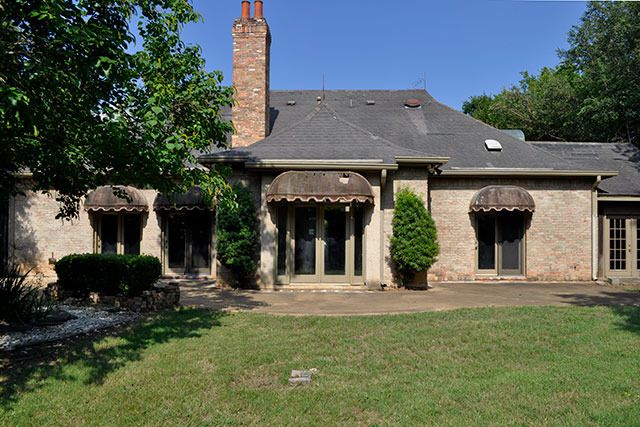 Straight out those center living room doors is this brick structure. After some landscaping and painting the brick (probably), I think this would be a great spot for a hanging swing. And another fountain in front of that, haha. A girl can dream!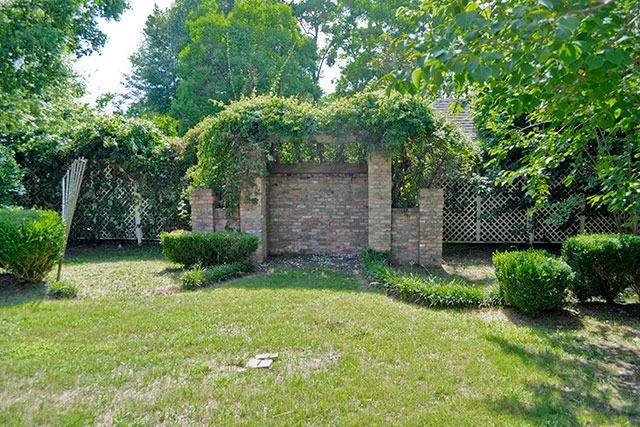 On the other side of the yard there is (WAS!) a tiny pool.
We lovingly referred to it as our swamp. At any given time, you could count at least 10 pairs of mating toads…aw.
On the other side of the house there's a bricked in private courtyard off the master bathroom (again…fancy pants!).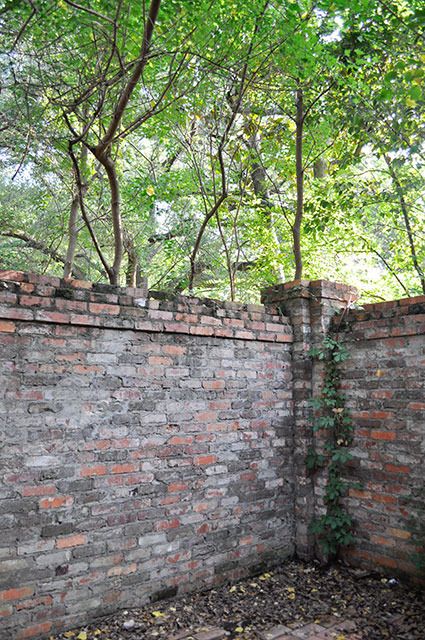 That concludes the "before" tour of the outside! It has a ways to go to get where I envision it, but it clearly already has some incredible features! The new roof started the day after we closed on the house. It made a huge difference, especially in person.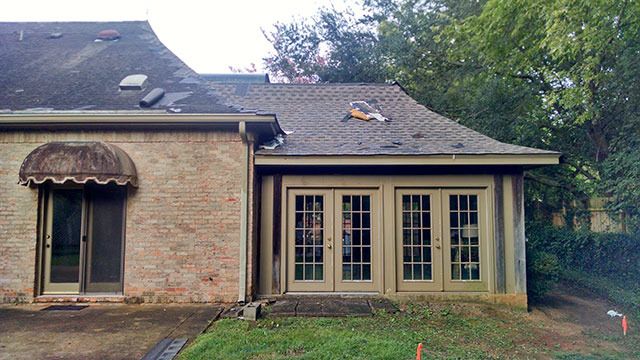 Now that the roof is done, we're pretty sure that we're going to want to paint the brick, but we're going to wait until we powerwash it to make that final decision.
If you're curious (because I was), we're doing a construction loan to afford the renovations, which will all be refinanced into the mortgage in a few months. Our contractor is taking care of all the major items, but trust me there will still be PLENTY left for us to DIY along the way. This is definitely a new experience for us, but it's exciting to see things happen so quickly. This is what it looks like when your contractor is awesome and so many things are happening at once that you can't even fit all their vehicles in one picture!

And I'll just leave you with this photo I took today in the backyard…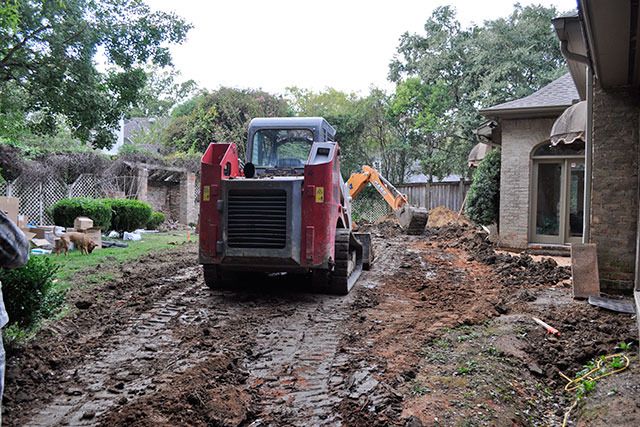 To be continued!
Related posts: