Hello again! I'm crawling out from under my rock to share a project I finished recently. This is an old lamp I had that I wanted to make more interesting and appealing. I was looking through a bunch of paper clay projects on pinterest and was inspired to experiment with that material to create a new lamp base.
I wanted a different shape for the base of the lamp, so I formed a cone around the existing lamp using a frozen pizza box and hot glued that to the post and to the bottom edge.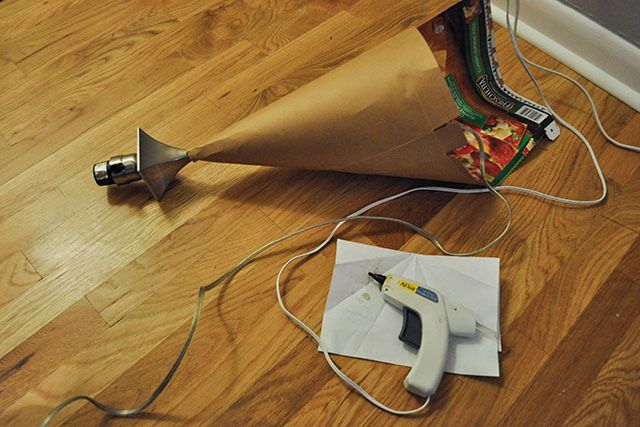 Then I trimmed the cardboard around the bottom. Doesn't it have a cute retro flare?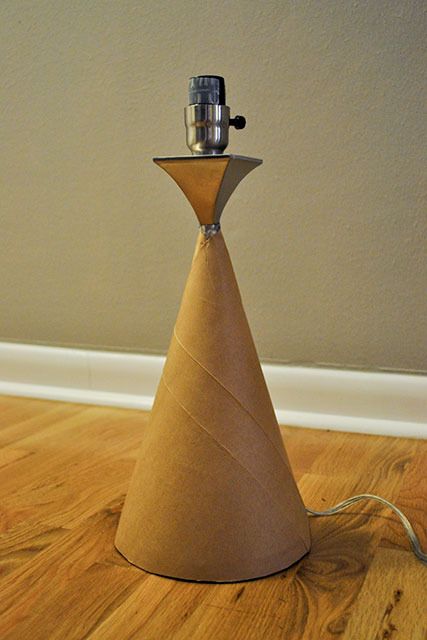 This was my first time making anything with paper clay so I wasn't totally sure what to expect. I followed tutorial for a guideline. [Update: the link I posted for the tutorial isn't showing up for some reason! It's from Design*Sponge if you want to search for it.] The recipe I used was:
1 roll toilet paper
2 cups water
1 cup joint compound
3/4 cup flour
3/4 cup white glue
salt
All you have to do is pour the water over a roll of toilet paper, remove the cardboard tube, and use a hand mixer to shred it.
Then add the rest of the "ingredients" until it's blended smooth and you're ready to go! (The mixture cleans up easily, even after it's dried, so no worries there.)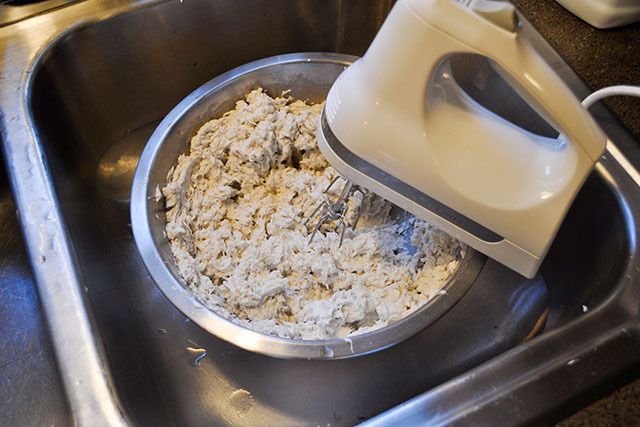 I turned the lamp upside down and applied the paper clay over the bottom first and let that dry. (You can cover the rest of the mixture with saran wrap to keep it for a couple days. If it dries out significantly, just add more water and remix it.)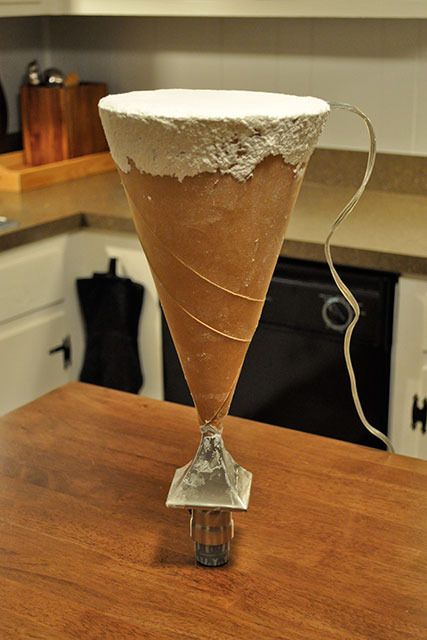 Then I flipped it over and covered the rest of the cone base.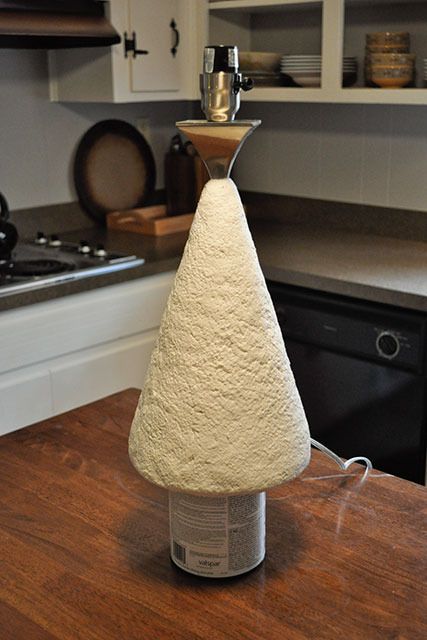 Once it was partly dry (no longer sticky, but still workable) I added texture/pattern to the paper clay by pressing the handle from a pair of pliers into the surface.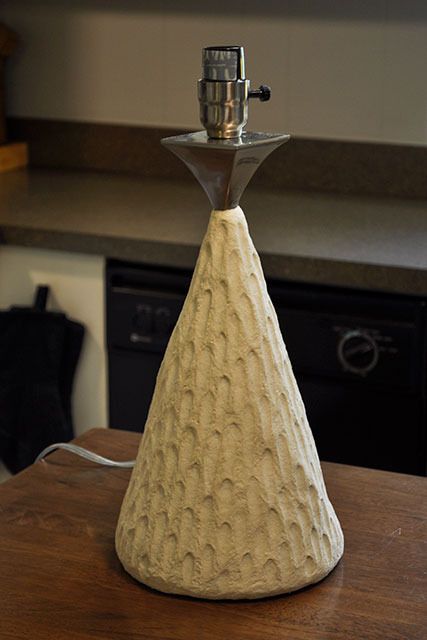 After it was completely dry, I used some watered down paint to add color.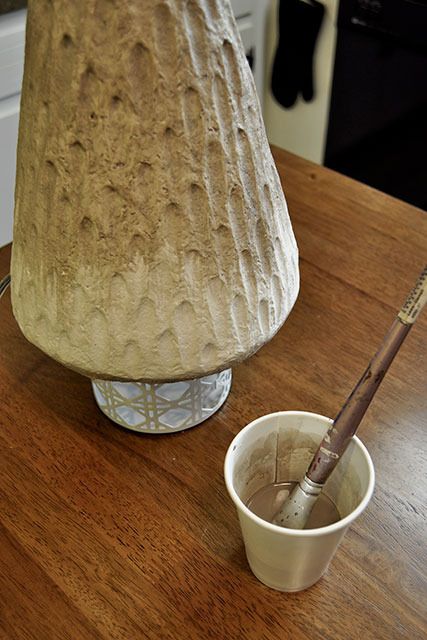 I also used added a little darker paint to enhance the imprinted areas and I painted the metal lamp parts matte black. If you're reading this on the desktop version, you might notice a similar looking lamp in my new blog header 😉
If I could do it over again, I think I would've left the paper clay white and painted the metal parts gold. BUT, I'm still happy with how it turned out!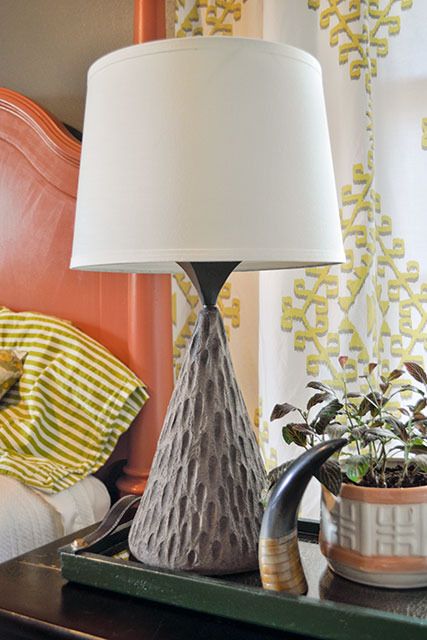 And I'm especially glad to make use of this lamp that was previously banished to a closet! I think I see more paper clay lamps in my future 🙂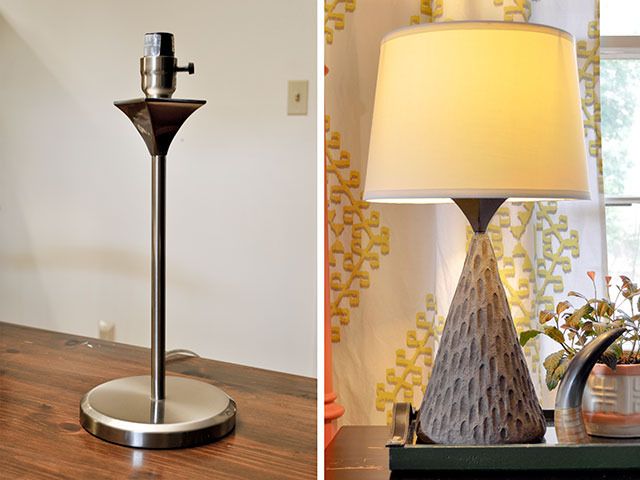 If you're into this project, you're in luck! I actually made a bunch of different items using paper clay, so I'll throw the rest at you in another post!
Related posts: