Today I wanted to share with you how I made this textured wood shim plant stand!
I started by building the base with 4 pieces of plywood assembled into a simple box shape. I used an inexpensive 1/4″ x 2 x 4 aspen plywood panel and had them cut it there at Lowe's down to 4 8″ x 24″ pieces. You'll have 16″ leftover. To avoid leftover, you could buy the even cheaper 2 x 2 panels and make your sides 6″ x 24″ and just make a skinnier plant stand. I probably would've done that if I had thought of it sooner, haha. Your call!
I added the black lines in this photo to show you how I overlapped the corners so it would still form a perfect square. I used wood glue and nail gun to attach the pieces.
Then I wanted to add the texture of the wood shims on the faces. I used a miter saw to cut my pieces and attached it with wood glue. You can see in the photo how I overlapped the corners and alternated the directions of the shims to get the textured look.
This is a good project for recovering perfectionists (like me). With the shims, it's completely impossible for it to be perfect, no matter how hard you try, so you have to just embrace imperfection and run with it. Although you do have to check that the pieces are somewhat level as you build them up, even if that means leaving gaps. I learned that if you stack the shims directly on top of each other, they get really skewed and it'll be a nightmare to finish the top. Luckily the wood glue doesn't dry immediately so you can wiggle them around until things look right. Just make sure to wipe off any excess glue you see.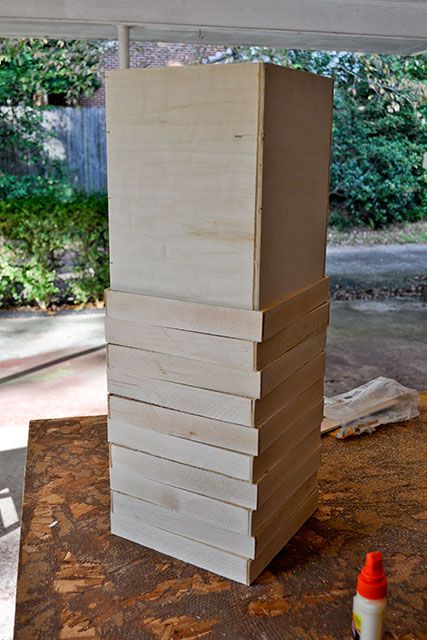 When the sides were done, I cut down a piece of scrap wood to add the top.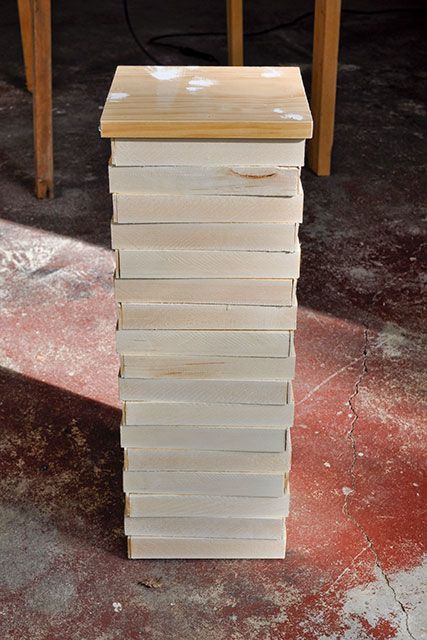 Then I stained the shims with Minwax Dark Walnut. The raw wood soaked up the stain almost immediately so there was no wiping needed. I decided not to bother with adding wax or poly because I thought the matte/raw look suited the imperfect and rustic shims better, but you could definitely brush on a sealer if you wanted!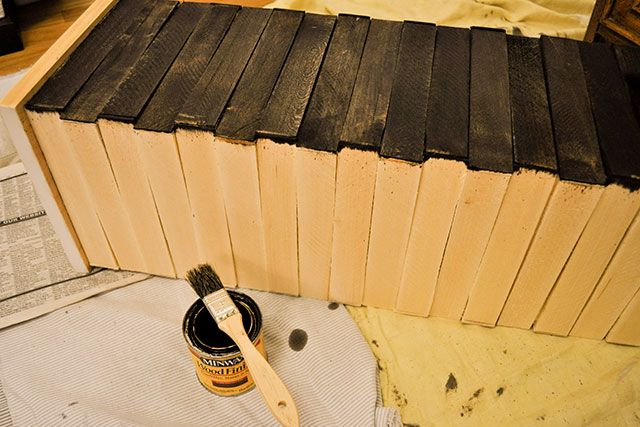 For the top, I took a gamble with a $2 quart of "oops" paint at Lowe's and love it. It's a great warm-neutral with green undertones.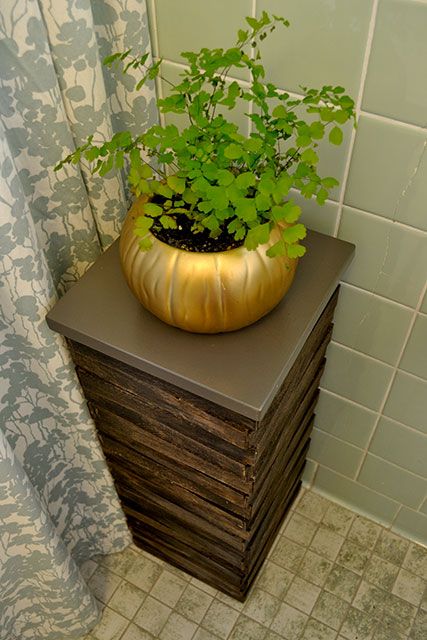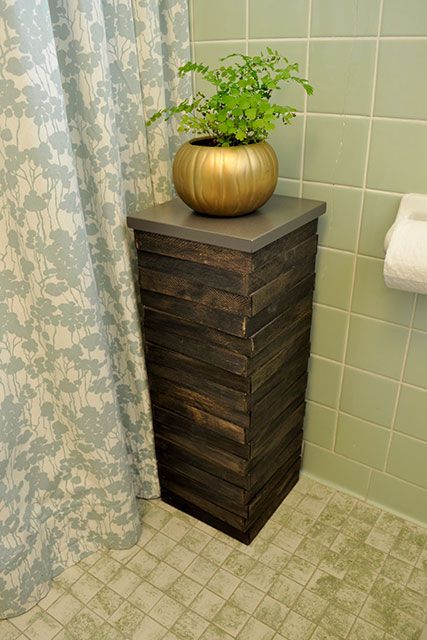 It may seem like a time consuming project, but it can actually be done in a little over an hour! It took me 5 minutes to build the base, 45 minutes to add the shims, 5 minutes to attach/spackle/sand the top, 10 minutes to stain the shims, and 5 minutes to prime and paint the top (with some drying time thrown in there). It's an inexpensive project too, especially if you have some supplies on hand like I did (like wood glue, nails, stain, and scrap wood for the top). I spent $8 on the plywood, $8 on 2 packs of large shims, and $2 on the paint. Not bad for $18! If you make the skinnier version with the smaller $4 plywood panel (like I mentioned at the beginning of the post), I bet you you could also buy the smaller (and cheaper) shims and make this for $8!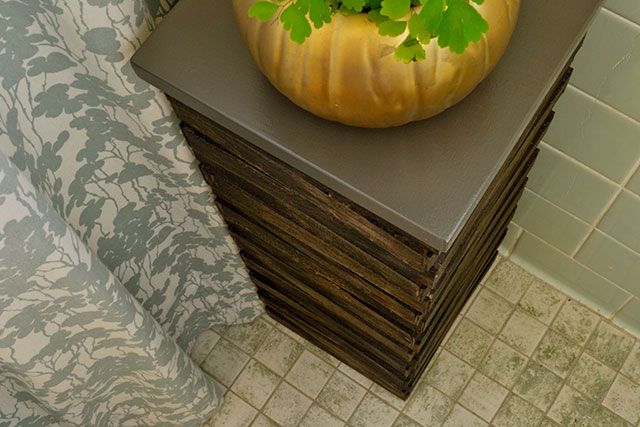 As you can see, I'm using the plant stand in our bathroom. I don't think I've shown any pictures of it since the before tour when we first moved in.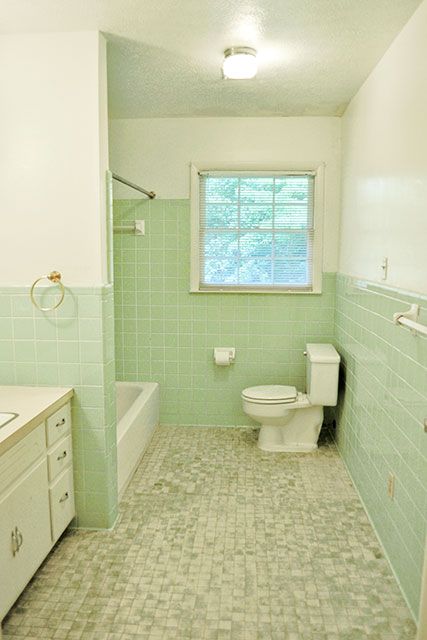 But here's how it looks today!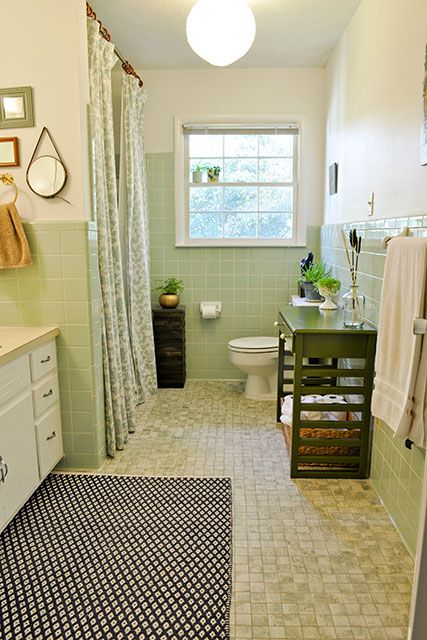 I added the navy rug (from Overstock), a collection of small mirrors by the sink, and clipped another paper lantern over the existing ceiling fixture.
Can I also mention how awesome it is that the double shower curtain from our last home's bathroom reno happened to match the mint green bathroom in this house perfectly?!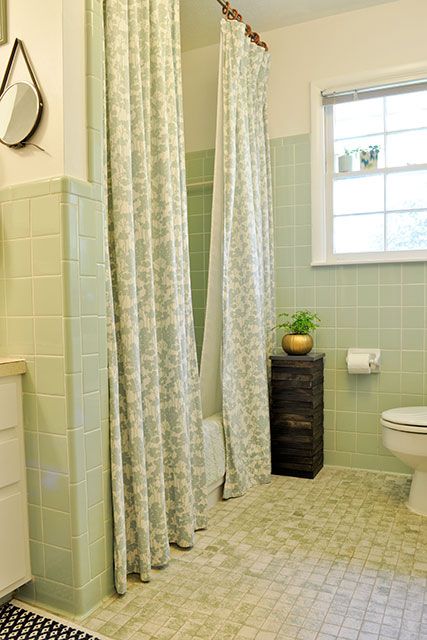 I actually have a second project to show you today – this console/vanity. Bonus!
I bought this small console table for $20 on craigslist about a year ago. We used it a little while as a nightstand in our bedroom, and then as a desk in our family room. It wasn't really working in either scenario, but I thought it'd make a great makeup vanity in the bathroom (since we have the space!). It was totally fine to begin with, and it's made with actual wood, so it has that going for it, but I was bored with it so I wanted to give it a more modern and dramatic look.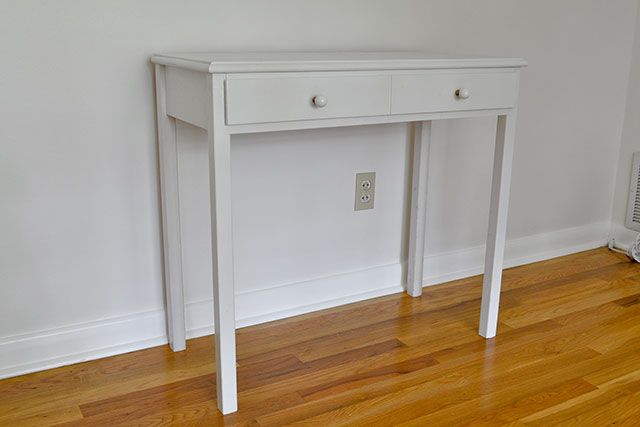 I happened to have a bunch of wood pieces that were the exact size of the legs. The previous owners of our first home left some random stuff in our attic and shed. I hoarded some of the stuff (like these wood pieces!) and got rid of the rest. After moving my hoard to this house, I was happy that I could put those pieces to good use with this project! I cut them down and glued and nailed them horizontally in between the side legs.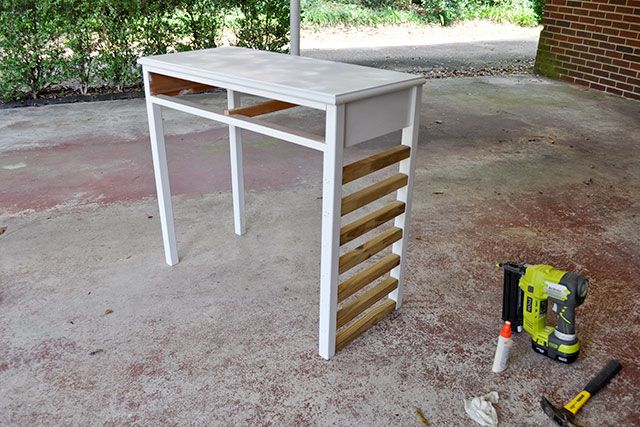 I primed the new wood pieces and put two coats of glossy olive green enamel paint over everything. I actually got this paint for another project I'm working on (I'll show you soon!) so it was technically free too 🙂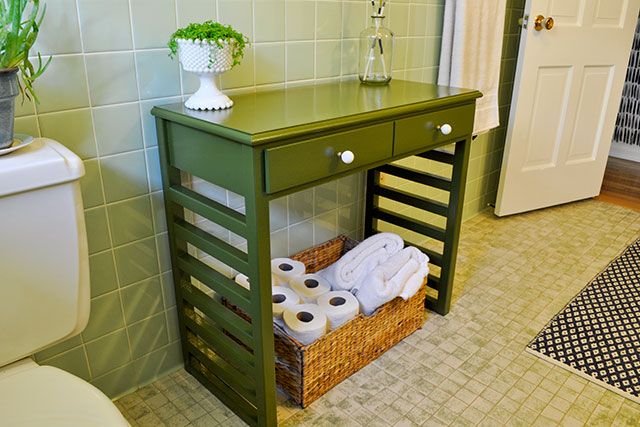 It was annoying to paint around all the pieces, but I love the added detail and the glossy finish turned out really nice, so I think it was worth it!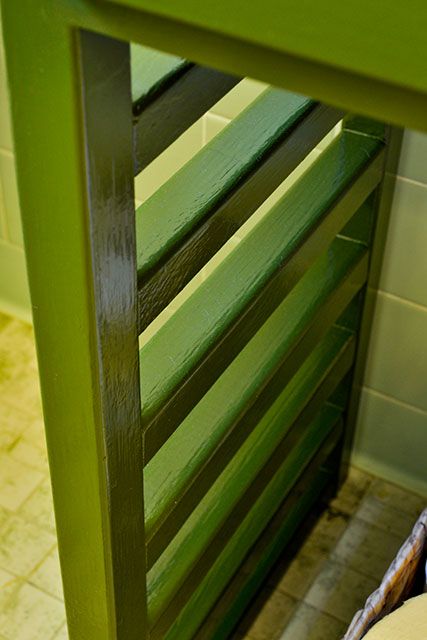 I thought about getting different drawer pulls, but with the dark paint finish, I don't mind the original ones at all. Maybe I'll replace them someday, but I think they look kind of charming for now!
Obviously it's not functioning as a makeup vanity just yet. I'll need to lean a big mirror here, find a stool to scoot under the table, and add a lamp or maybe a wall sconce or two.
I love the new look! What do you think of it?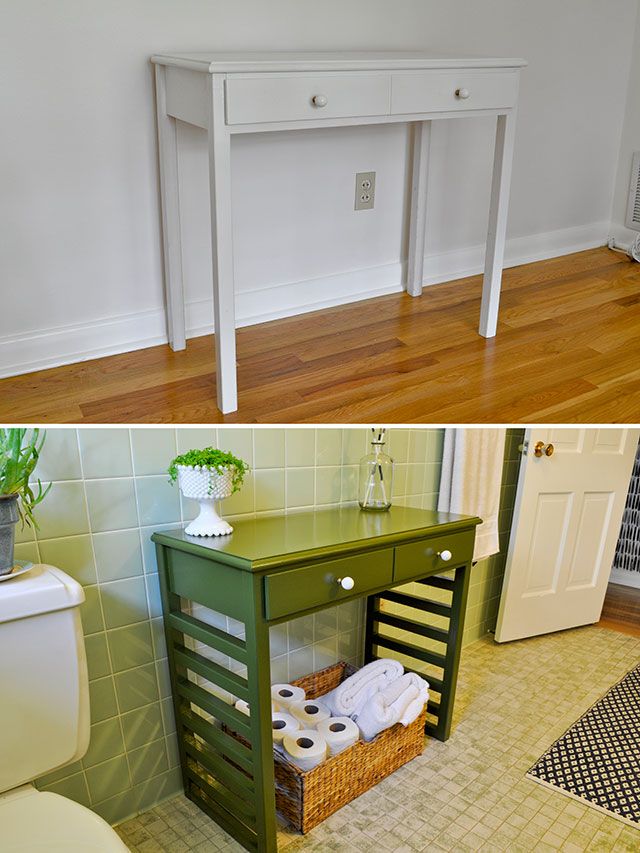 It's definitely a luxury to have a bathroom large enough for a piece of furniture, and I am enjoying it!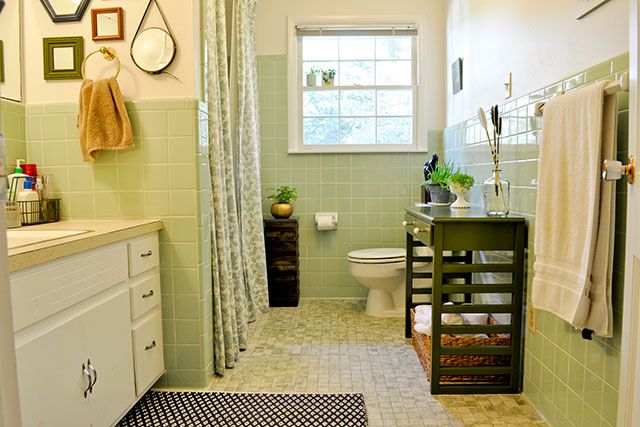 It's been fun to inject some personality into our rental home's bathroom!
Related posts: