I've had these old storage cubes for a long time now.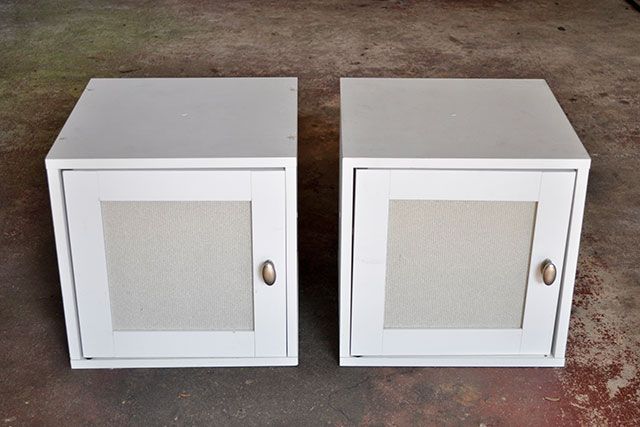 They were actually floating nightstands from my childhood bedroom. My parents let me pick out those nightstands on a trip to IKEA when I was redoing my bedroom in middle school and I thought they were the coolest.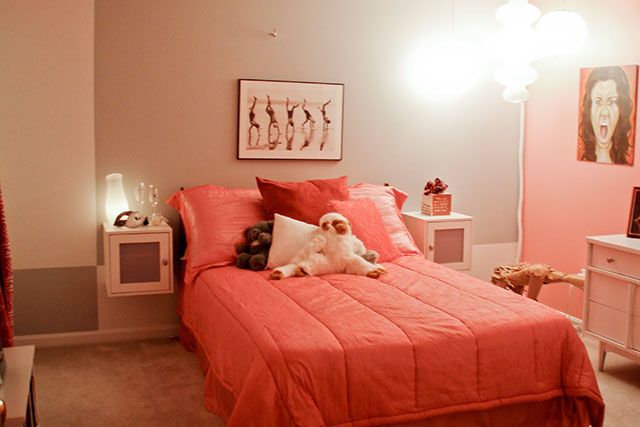 Aww, my old room.
So yes, they've been around for quite awhile! Now, they're not really my style anymore, and the cheap IKEA finish has seen better days.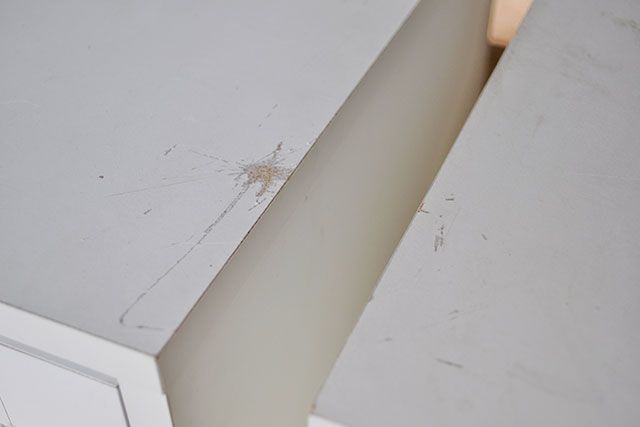 I've been using them just as extra storage in closets, but they're not all that useful that way and I wanted to see if I could give them a second life. I had this idea to add legs, trim, and different hardware to transform them into nightstands for our guest room. I tried to come up with a design that was sort of had a modern/Asian look, because I've recently discovered that Phil prefers that style, and I can definitely agree with that! (Wohoo!!! A style we both like! This is like a major marital breakthrough, haha.) So my new house mission is to start to blend what we already have with some more modern pieces and some Asian influences to start to move more towards that vibe.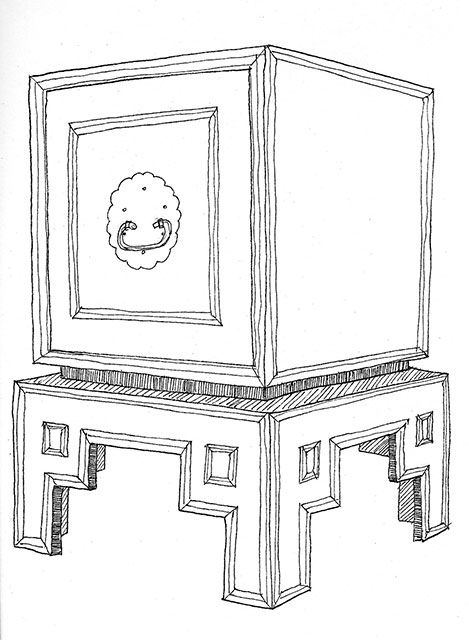 I won't get too detailed on the tutorial since I made the dimensions to fit those IKEA cubes, but I will give a basic rundown in case anyone wants to build something similar (the cubes are just a simple box construction with a hinged door, and the rest would be the same). It's still a mega-post though, sorry!
To get started, I bought some 1/2″ plywood at Lowe's and had them cut it down to the basic sizes for me there (ya know, since we don't have a table saw).
Then I drew out my design for the legs and cut each one out with a jigsaw.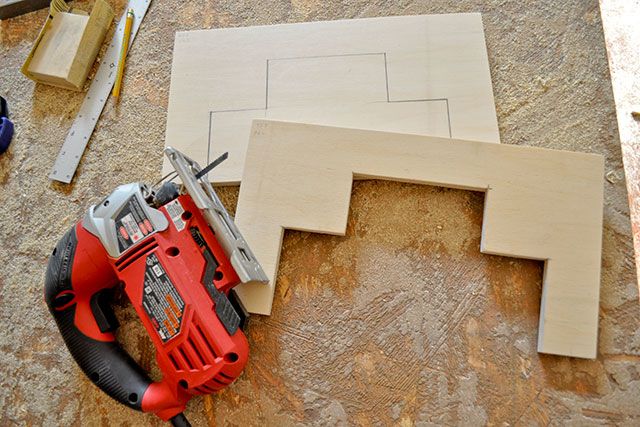 Two of the legs on each nightstand were a 1/2″ shorter on each side, so that the four pieces could fit together with simple butt joints and still form a perfect square once built. I used wood glue and nails to assemble them.
It took a lot of spackle and sanding to make them look decently smooth (especially the leg cut-outs), but that made it look so much nicer once it came to painting.
The cube doors had these inset grooved panels made of plastic, which wouldn't work for the hardware that I wanted to attach right in the center of the door faces. So I cut down some scrap wood and used Liquid Nails to glue the pieces on top of both sides of the door. I also spackled over the old hardware holes and any other imperfections on the cubes' finish.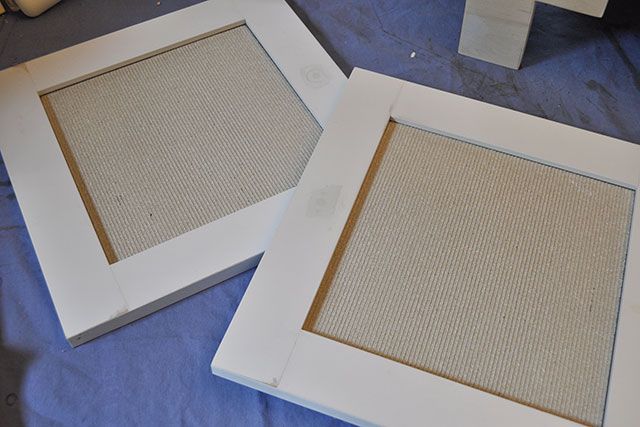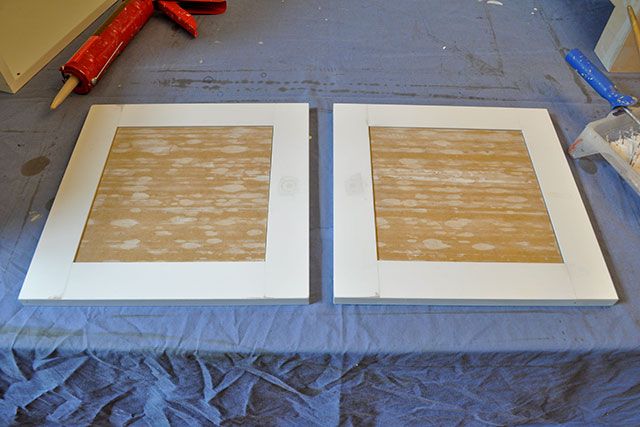 Then I applied two coats of primer (I used some Kilz primer that I already had) and gave it another quick sanding to make sure the paint finish would be smooth.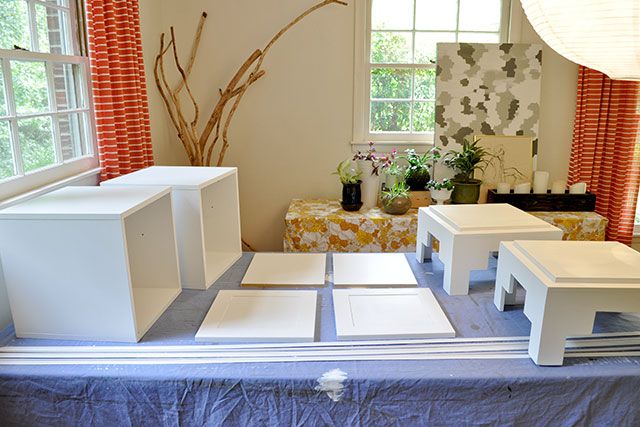 The trim pieces I got were the teeniest ones I could find at Lowe's. I ended up needing 9 of these 8′ pieces and I pre-primed these too.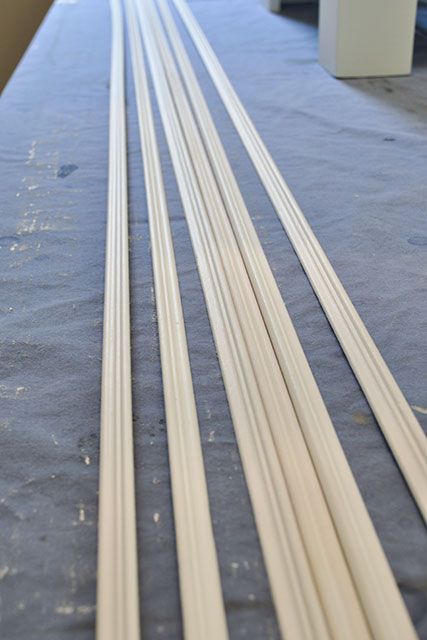 Then I cut down and attached trim on the doors and on the front and sides of the cubes. This was my idea to sort of disguise where the seams are and also just to give them more dimension and interest.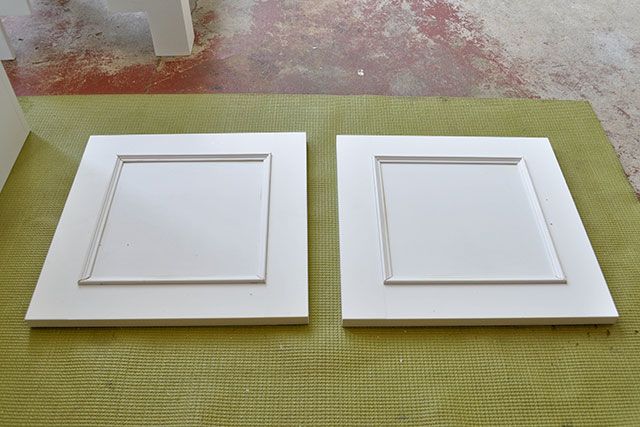 Adding trim around the leg shapes was definitely more time consuming with all the little cuts, but you can see here how much of a difference it made in making them look way more legit. And it definitely worked to hide where all the plywood joints/seams were, so I was very happy that worked out!
To attach them, I just used some more Liquid Nails. I hoped it would be alright to avoid using any brad nails or whatnot, but it definitely feels like they're on there for good.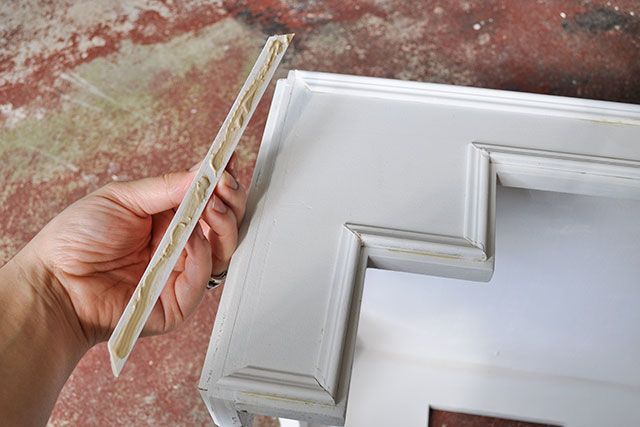 In my original design plan, I had two of these little squares of trim that were supposed to go on each leg, which I wanted to mimic the square of trim on the door. But I ended up nixing that idea once I got to the trim stage because I thought it looked too crowded. I think that was the right call, but I wish I would've realized it sooner because I might've made the leg shape proportions a little different – but oh well, I still love them!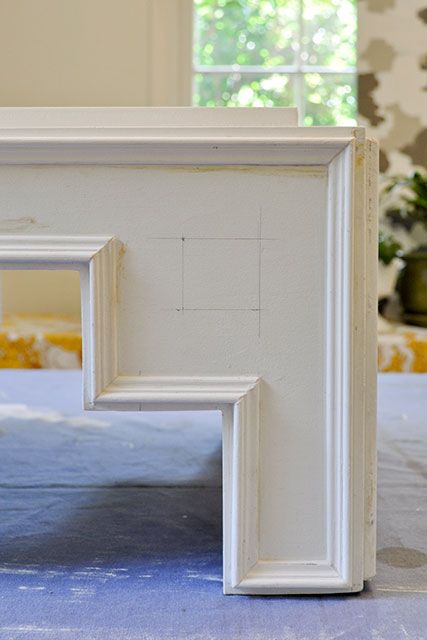 With all the trim done, I caulked the seams and was ready for paint!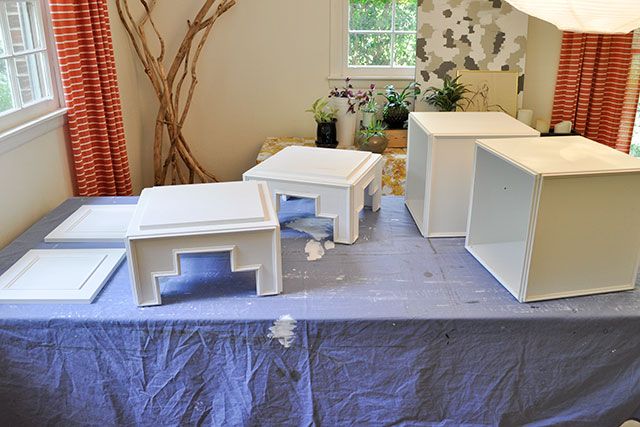 I was having trouble deciding what color to paint the nightstands. When I originally came up with the design, I had pictured them being a medium to dark gray-blue-green or gray-blue-violet. But after bringing in the faux leather armchairs, it seemed like it would be too dark with the dark rug and bed too. I couldn't think of what would look right with the colors already going on in the room, and I wasn't really feeling white for some reason. I asked my sister Alyssa to ask her opinion, and she suggested a light pink like the curtains – as a tone-on-tone effect. BRILLIANT.
I grabbed some paint chips from my stash and texted her this picture. I had to laugh when one of my favorite shades was named "Alyssa," so obviously I had to choose that one! Thanks, sista 🙂
I used another oil-based enamel for this project (like with the dresser I did last) and the hard, durable finish is totally worth the extra dry time.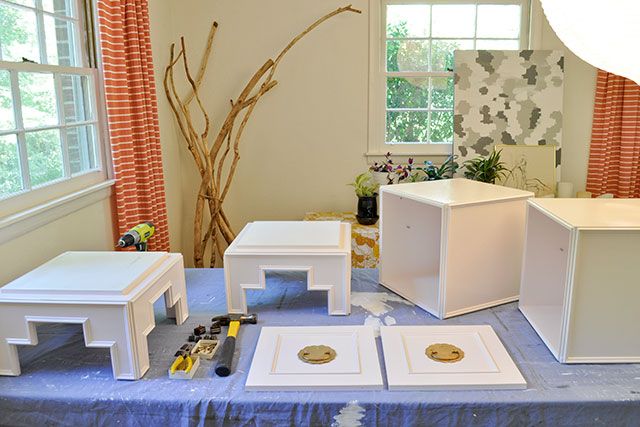 While that was drying, I turned my attention to my hardware! I bought this pair of antique Chinese brass pulls on ebay for about $12 total. I really liked the aged look, but the tarnish was so bad that you couldn't really see the cool engraved designs (They actually look much cooler in this photo than in person – the next shots are more accurate).
I saw a post on Centsational Girl about polishing brass hardware, so I tried out her tip to use a natural mixture of lemon juice and salt. You just mix 1/4 cup of salt with the juice of 1/2 a lemon or so and use that paste to scrub away the tarnish. I used cheesecloth for this but I don't know if that made a difference or not.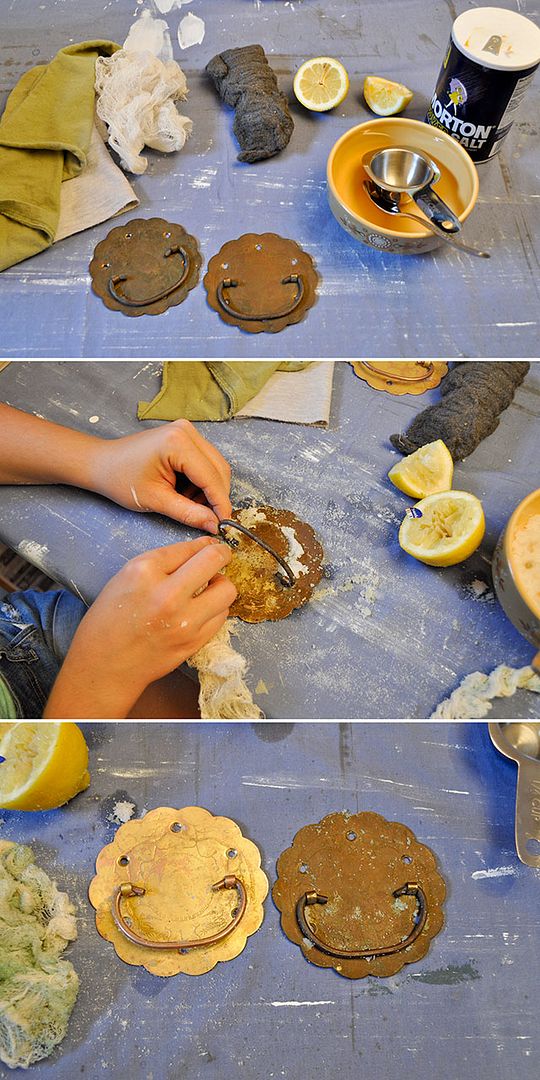 The concoction definitely worked though!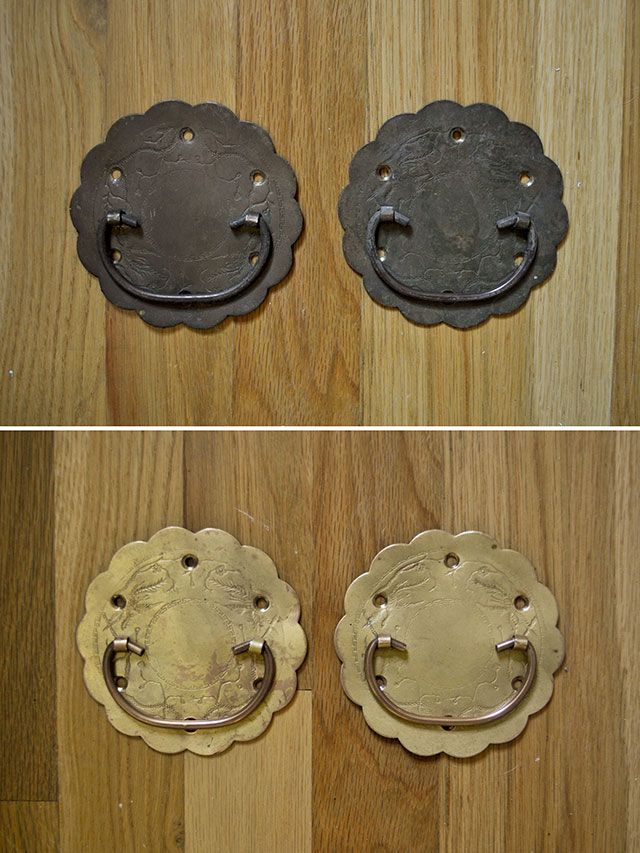 One of the backplates revealed these random pink/purple streaks. I have no idea what that is or what it's from!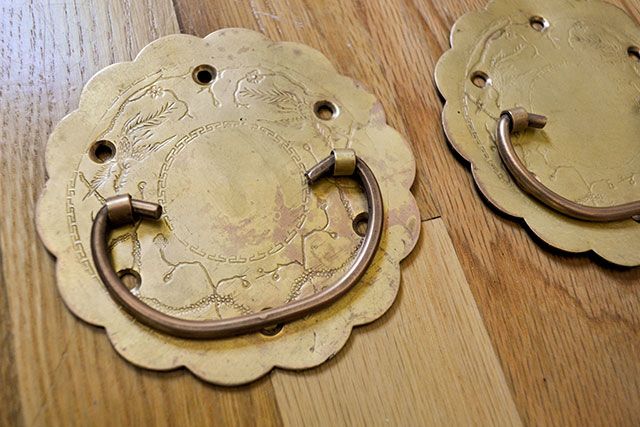 I failed to notice before that the screws that came with the hardware were way too long and would've poked out the other side of the door, so instead I just hammered in some brass tacks and it actually worked out great. Plus I think it's a nice touch!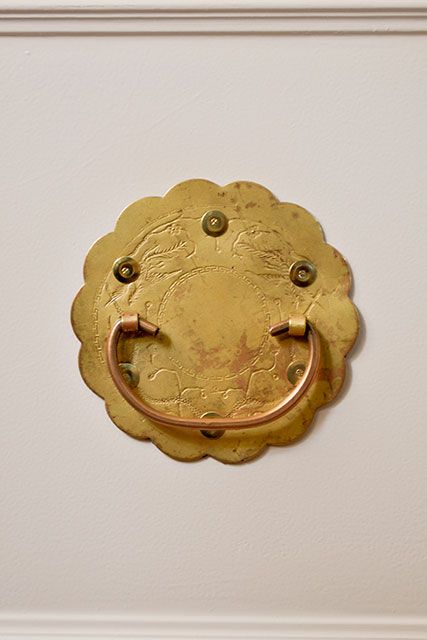 Here's the finished product! I'm so happy with how they turned out!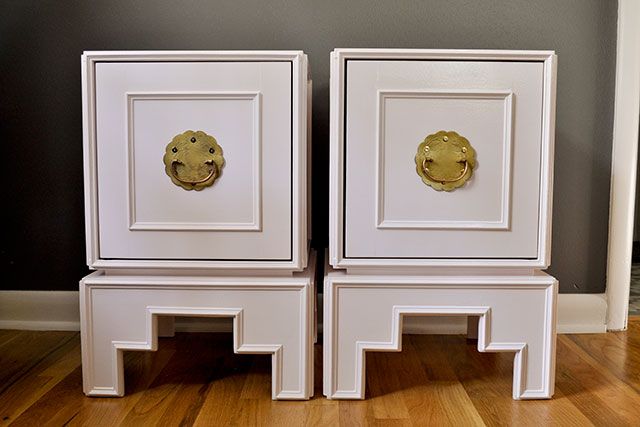 I'm kind of in love with these legs.
After I finished the nightstands, I suddenly noticed that their shape kind of reminds me of little robots! Phil said he thought that before too, but didn't want to say anything. Haha, smart man. Furniture that looks like robots sounds like a horrible thing to me but surprisingly, I think it makes these nightstands cute.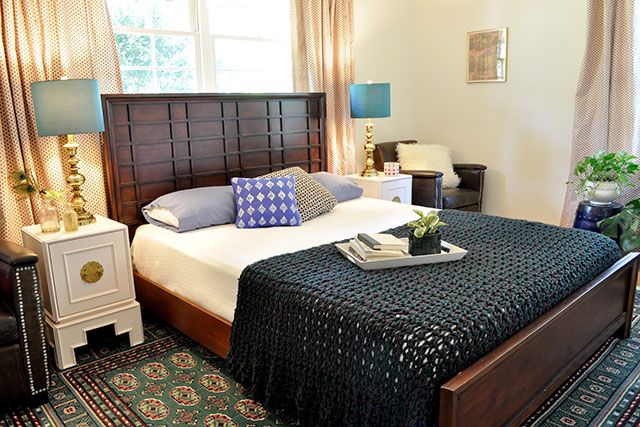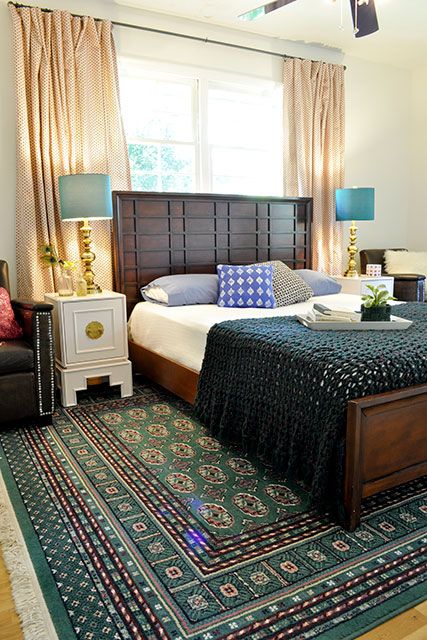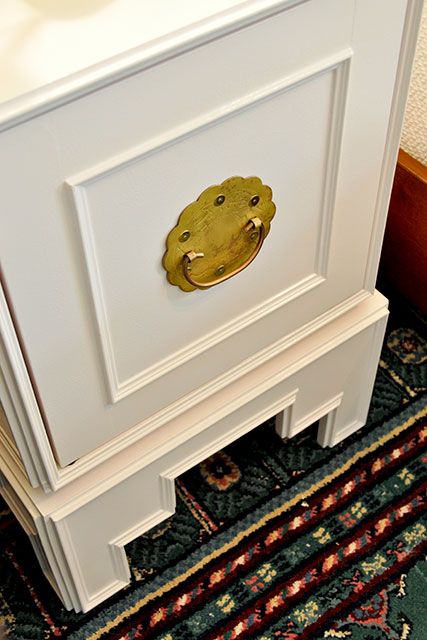 This room is almost complete! It just needs a few finishing touches and tweaks but that's it. But that makes this room the most finished part of the house!… Which is kind of sad, since we've been here awhile now, and I feel like the guest room should be the last on your project list, but you gotta take inspiration (and motivation) when it strikes, I guess!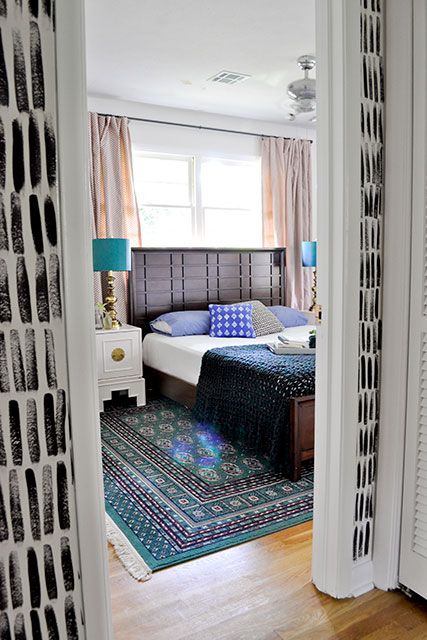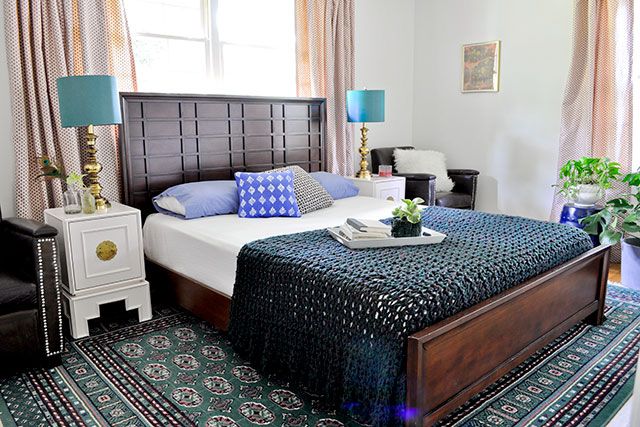 If you're curious about the cost breakdown for a project like this – I spent roughly $18 on the plywood, $28 on the trim, $12 on the paint, and $12 on the pair of antique drawer pulls – which comes to about $70 for the two nightstands. The trim was really the budget buster here, which I could've skipped, but it was worth it to me because that's what I think really takes it up a notch and makes it look more professional and less DIY (at least I hope). And $70 is still not bad for two totally unique pieces that I hope to keep for a long time!
What do you think?
Related posts: