The last time I mentioned the guest room, I said I was trying to decide between these two vintage fabrics for curtains.
I couldn't make a decision, and so I didn't for awhile, probably because the room was still just a hot mess and I didn't really have anything to plan the room around.
That is, until I found THE RUG.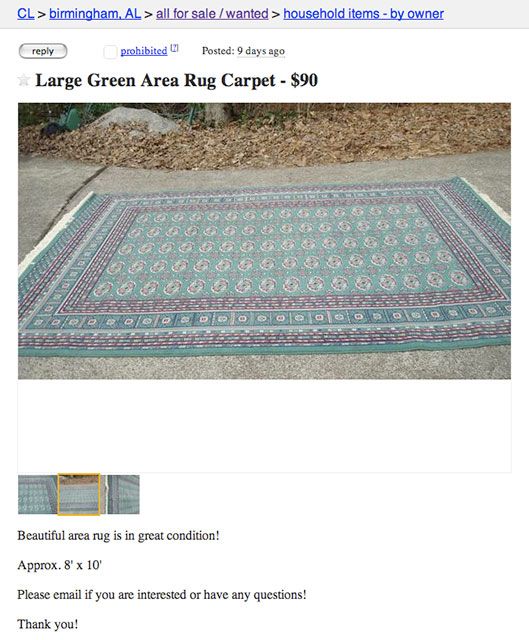 The sun was really blowing out the colors in the craigslist ad, but I still loved it, and Phil really liked it too (it's a MIRACLE!), so of course I snatched that right up! I discovered after I got home that it's not actually an antique woven wool rug – it's just a synthetic reproduction, but I'm okay with that because it was only $90 for a large 8′ x 10′ size and I love how it looks.
With that decision made, I felt like I could finally forge ahead with the design. That made it easy to choose the light pink fabric with the little teal and gray/purple designs, which looked so great with the rug colors and design. (The other fabric was more of a peach than a light pink, and I actually don't think that there wasn't enough of it anyways). It was in the clearance section at the back of a local fabric store, amongst all the other hilariously 80's and 90's designs. But that meant I got for $5/yd!
I wanted 6 curtain panels – 2 for the single window, and 4 for the large double window so that they could be pulled shut at night and still keep some fullness. I bought 18 yards – 6 pieces at 3 yards. I wanted them to be a little thicker and heavier than some of the other curtains I've made, so this time I experimented with lining them with inexpensive canvas drop clothes. In this post I have a more detailed explanation of my curtain-making process if you're interested in that, but I'll do a quick recap here in case anyone in interested specifically in using drop cloth canvas as curtain lining. But otherwise, feel free to scroll to the bottom to the pretty "after" photos 🙂
My fabric was already cut into 3 yard sections, which I then washed & dried (to pre-shrink), and ironed. As I was ironing, I noticed the information printed on the side. 1985 baby! I had already assumed the fabric was from around this time, but thought nothing more of it, but at this point it really sunk in that I was designing a teal and light pink room, which is DEFINITELY an 80's color scheme. Oh my, what have I done?! But it's too late to turn back, hopefully this room ends up looking decent and not at all like the 1980's!
For the canvas lining – I tried to make this as cost effective as possible, so I bought one large 12′ x 15′ drop cloth to cut into 6 panels. It cost about $30 for the whole thing, which is $5 per curtain panel at less than $2/yd. Not bad!
First I cut the drop cloth in half at 7.5′, then cut each half into thirds at 4′. So I had 6 pieces of about 4′ x 7.5′ canvas (although my drop cloth was actually a little shy of 12′ x 15′, so the pieces were slightly smaller, but that's okay). Oh, and this brand had a big seam running right down the middle, so two panels do have that seam on the back. Not a huge deal…but if that bothers you, you might want to try a different brand (this was the kind from Lowe's but I don't know about the ones from Home Depot). Then I washed, dried, and ironed those panels as well. Ironing is the WORST, don't you think?
Then I spread out one panel (face down) with the drop cloth lining placed on top. Since the canvas pieces were unfortunately slightly smaller than the curtain material, I kept a 4″ gap on the sides and at the top.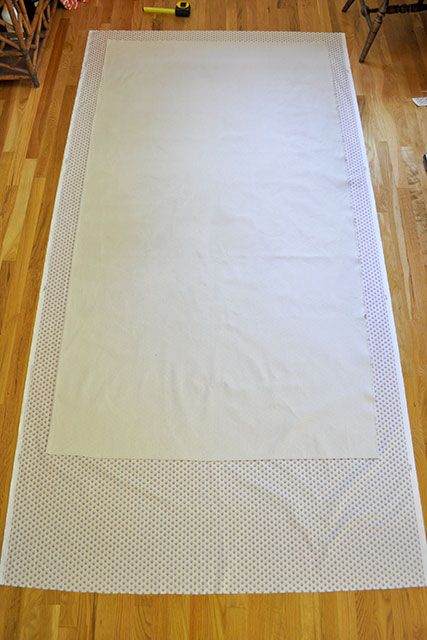 Then, I would fold and pin the sides so they overlap the canvas.
I did the same at the top, then sewed those 3 sides down.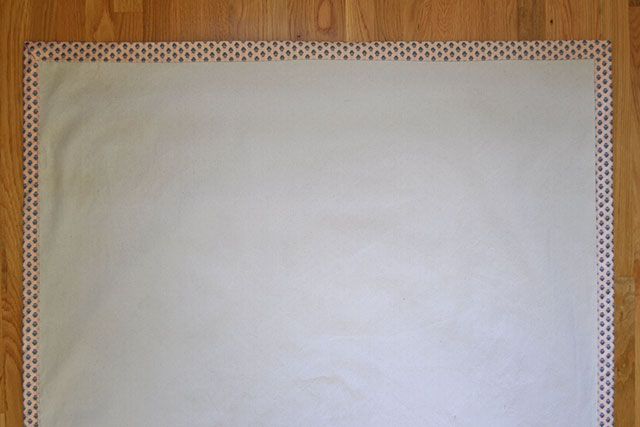 Then, I folded up the extra material at the bottom and pinned it at 90″ exactly, checking to measure it at many spots.
I had enough excess fabric to fold it up 3 times to create a 5″ hem. Sometimes the seam would just barely overlap the drop cloth lining, but luckily the triple-folded fabric was thick enough that it didn't look weird once it was all done.
Since I wanted to double up the curtains for the large windows with two panels on each side, I hand-sewed those pairs together with really long stitches (so that they'll be really easy to snip and undo, since we'll inevitably be moving and need to reuse these again in a different configuration). But this way, when you go to close the drapes, they'll function just as one extra wide panel, not as individual ones to fuss with.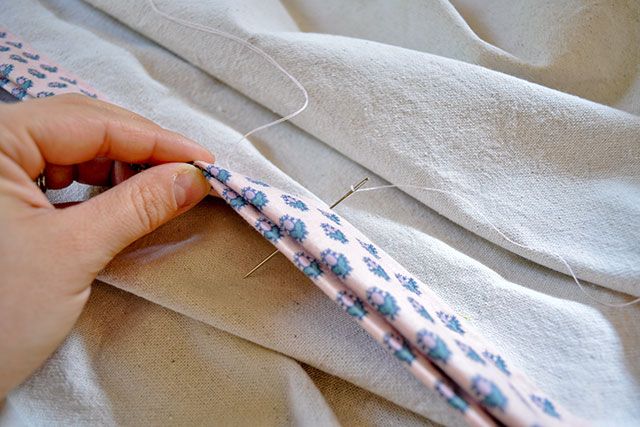 Instead of creating back-tabs like I have before, this time I clipped some curtain rings to the back of the panels. When hanging, you can just barely see the rings peeking up above the material. I like this look better when using curtain rings, instead of there being a gap between the curtain panels and the rod – do you know what I mean?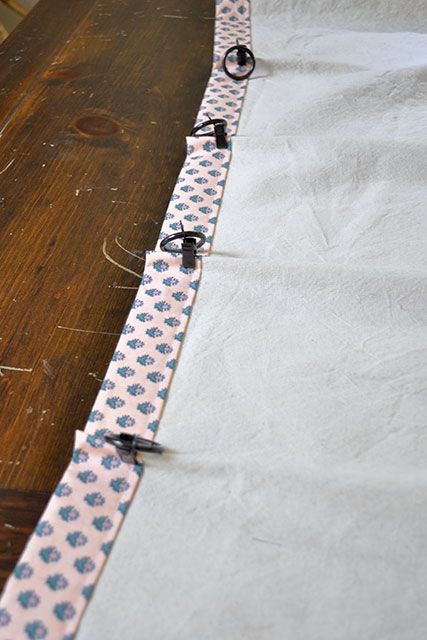 I hung them from more spray-painted electrical conduit rods (like I described here) and I think they look fab! They're very thick and heavy, they drape really nicely, and they slide open and shut like a breeze. I'll definitely be using drop cloth canvas as curtain lining again!
If you're wondering about cost, I spent $90 for 18 yards of fabric + $30 for the 12′ x 15′ drop cloth and $5 for a spool of thread, coming to $125 for 6 panels, or about $21 per panel. Not my least expensive work, considering my track record of $11/panel duvet cover curtains in our bedroom or $3.25/panel vintage sheet curtains in our old kitchen. But these are definitely the nicest in quality, and that's still a great price for custom, lined, 90″ curtain panels, so I still feel like it's a win!
This is weird to say after I bought 18 yards of fabric and spend all this time making these panels, but the curtain pattern actually wasn't really something that jumped out at me as something that I really loved. I mean, I definitely liked it, and the price was especially appealing, but I wasn't really sold on it until I found the rug. After seeing how great they look together, it makes me like the curtains even more!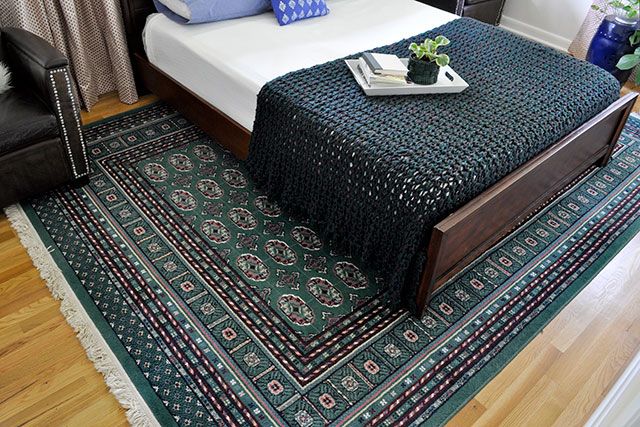 The throw blanket on the bed was a magical thrift store discovery. Super soft, dark teal with flecks of magenta and navy (EXACTLY the colors in the rug), and it was $3! I think I was destined to walk into that thrift store that day and find it.
Oh, and it probably looks like the tray on the bed is my lame attempt at "styling", but it's actually serves a real purpose. The dogs have free reign of the whole house except they're not allowed on the beds, and it was never a problem until we got this guest room bed. I think since it's much lower to the ground than ours, Mr. Leonardo thinks it's just for him. He KNOWS he's not allowed on it, but relentlessly tries to get away with it. I'll be walking down the hallway, and hear that little weasel jump off the bed and run out of the room, and just look at me like "what?…I was just…taking a walk…," meanwhile, the bedding is all rumpled and covered in dog hair. He's lucky he's so cute and I adore him 🙂 You just can't be mad at this face –
So ANYWAYS, keeping this tray here is my new experiment to see if it deters this defiant fur baby of ours. It's been 3 days and so far, it seems to be working…
Continuing the tour, I'm really loving the jungle situation we have going on in front of this window.
Soon I'll have to figure out some art for this room. I need something for the wall opposite the bed, and I'd like to build a huge leaning floor mirror for another side, but for now, all I have up is this framed piece of marbled paper that I made a few years ago. It just happened to be the perfect colors for this room!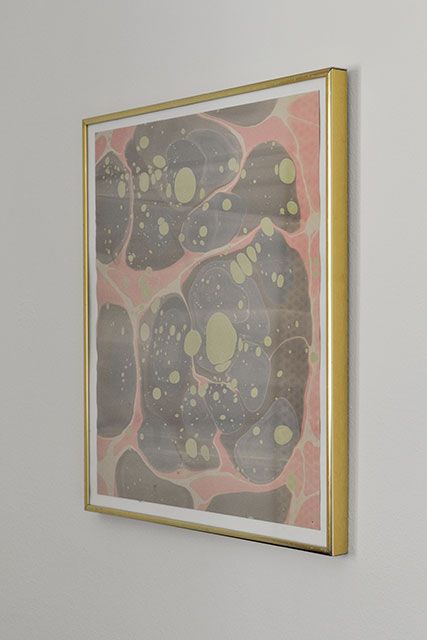 Since we don't really need dressers in here, I brought in our distressed club chairs.
If you were wondering about the lack-of-nightstands-and-lamps-situation, I already have the lamps that I'll be using and I happen to be building the nightstands right now! So far, they are looking GOOD. Can't wait to show you how they turn out!
Related posts: