Hello again! Let's skip past the awkward apology about another disappearance…okay? 🙂
(Though I will say sorry to anyone who just got my draft post in their inbox, that's super embarrassing. I think the "preview" button is a little too close to the "publish" button…whoops!)
So anyways, I have this antique steamer trunk. It's been in my family for awhile but I'm not sure of the exact history on it. It's not a precious heirloom or anything, but I think it's pretty cool and I intend on keeping it!
I like mixing in some older items in a room to give it some character, but I was having a hard time making this piece work. It was just a little too old looking. You see where this is going.
I wanted to leave the wood pieces unpainted but they were looking pretty sad and thirsty. There was a lot of discoloration, especially on the top edges of each board. I thought some stain would even out the color and bring them back to life a bit.
I lightly sanded the wood pieces, mostly in the discolored areas, before applying a coat of Minwax Provincial and a coat of satin Polycrylic.
I was a little hesitant about using stain since I didn't want to mess with removing any hardware, but it was completely fine. It absorbed into the wood really quickly so I was able to wipe it with a cloth after only a few minutes and it came right off the hardware. The stain made a huge difference though!
Pinterest browsing confirmed that I like the look of painted steamer trunks, so I went with that for canvas areas. I wanted a dark shade for a high contrast, more modern look. It was between these three – Valspar Antique Burgundy (purple), Valspar Lincoln Cottage Black (navy), and plain off-the-shelf black.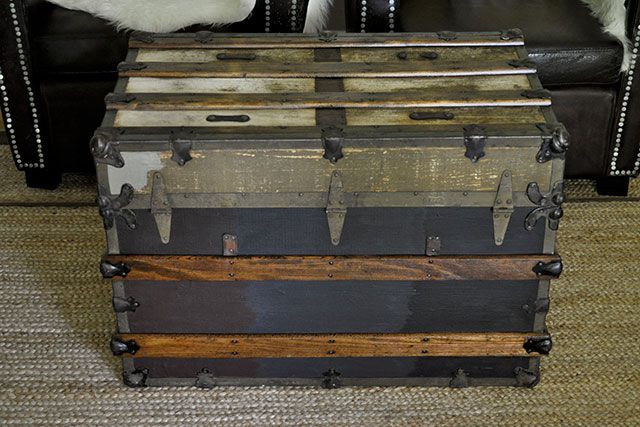 The purple was speaking to me, and Phil actually liked that one best too. WIN! I didn't think it was quite dark enough, so I mixed up a 1:1 ratio of purple and black. I only needed one coat of paint plus a few touch-ups. I cut in with a tiny craft brush and then filled in the rest with a larger one.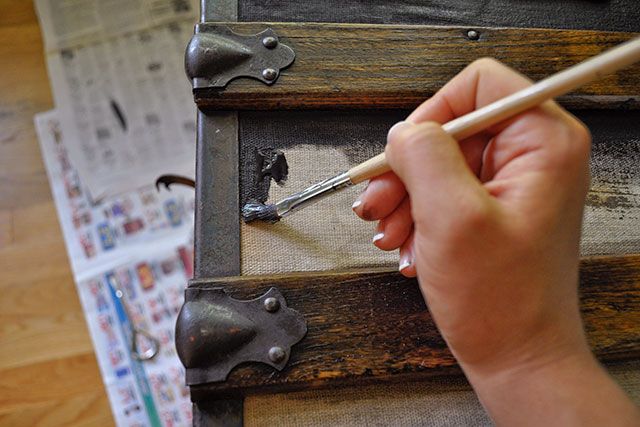 The black paint I mixed it with had some blue undertones so the final result actually looks like a combo of all three shades, which I love. It looks more navy in some lights, more purple in others. I like that in a color – it has a lot of depth. Here's how it turned out!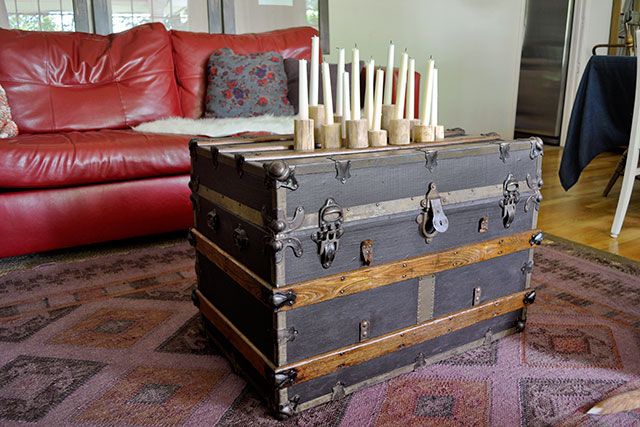 I think a clear lucite tray would be the perfect compliment for this piece to blend my love of vintage and modern. I'm going to keep my eye out for one.
As you can see, I have it set up in our living/dining combo room, which I totally changed from my last post about my plans for the room. No surprise there 🙂 The rug and couch were both in the studio, but I basically stripped that room bare and I'm starting over, so I found new homes for my studio pieces.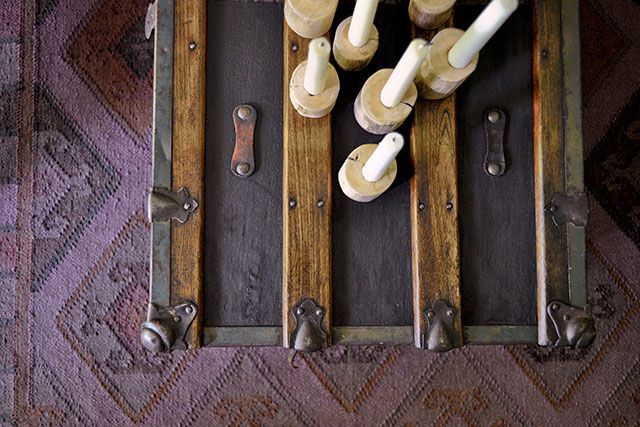 I'm pretty happy with the result! I think it fits my style much better now and I can really see it working in a bunch of rooms.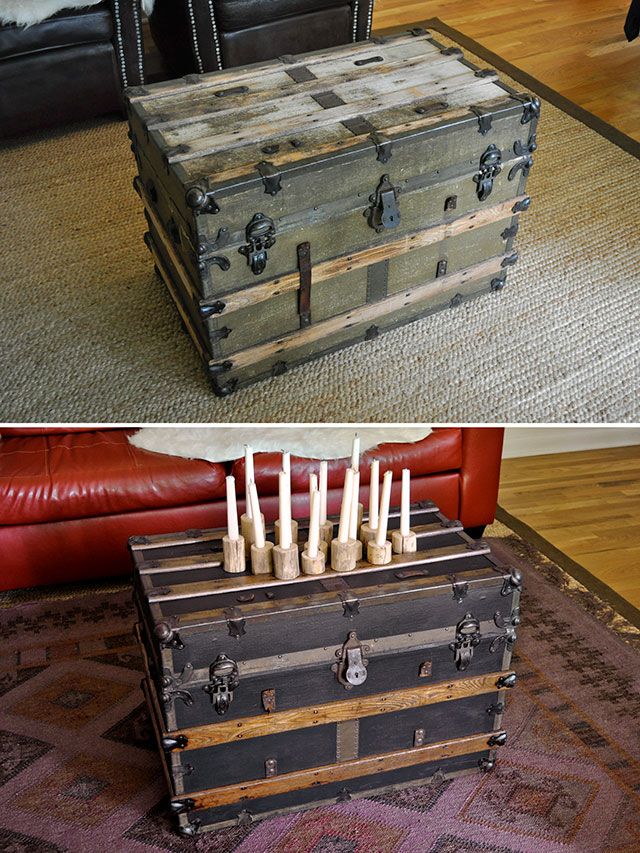 What do you think? Any other antique trunk owners out there?
Related posts: