When I last showed you our bedroom I mentioned how badly we needed to get some dressers for this room. Overflowing suitcases in a closet is not exactly ideal! I was looking on craigslist but hadn't found a good fit yet. Lucky for me, my parents said we could have on of their old dressers, so my sweet grandparents offered to bring it down with them when they came to visit recently!


As I've mentioned before, we have a pretty great family 🙂 We're so thankful that both sets of our parents, my grandparents, and my sisters all have made trips out here from Pennsylvania to visit. It's been awesome!
But onto the dresser.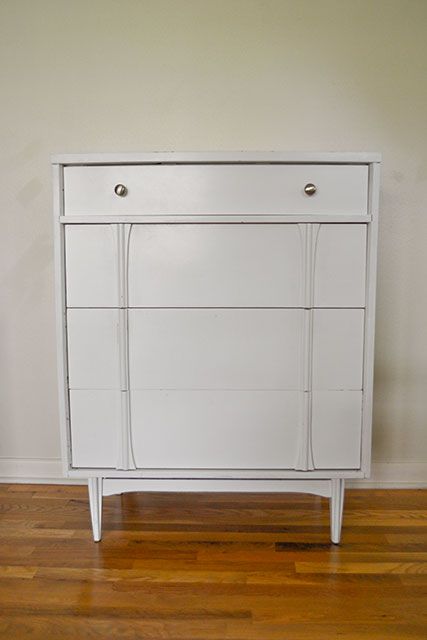 It's a really cute mid-century piece with a surprising amount of storage. It was actually my grandparents' before my parents had it. They bought it around the time that my mom was born. It makes me wonder which of my things my future grandkids will have one day 🙂
We painted the dresser white at some point while I was growing up, but the finish was pretty bad so it at least needed a new coat of paint. I wanted to try to strip it and refinish it instead (spoiler alert: that didn't happen!). I applied Citristrip and then used a scraper to get as much paint off as possible.
After the first round, it wasn't looking too hot.
I think I probably didn't let it sit long enough after I applied it. I let the second application sit longer and it had much better peeling, which I took as a good sign.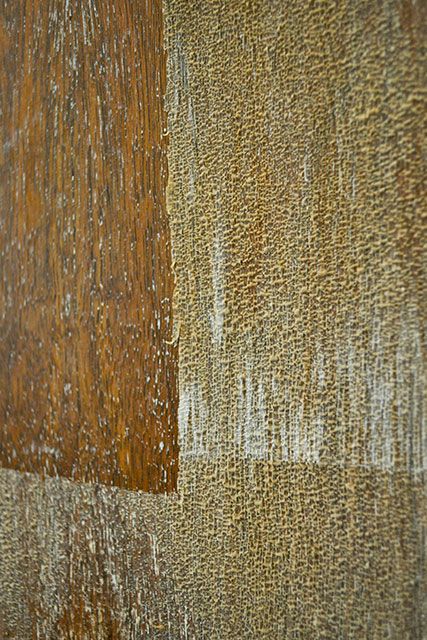 Even after the second application, there was still a bit of paint left.
In hindsight, I realize that I should've used some sort of brush or scratchy pad to try to get more paint out of the wood grain. But I didn't think of that at the time, so I got to sanding.
Afterwards there was still little flecks of paint stuck in the grain. There were also some gouges and places that the veneer was chipped or worn down, but I thought that maybe a coat of stain would even everything out. That would be false. SO false.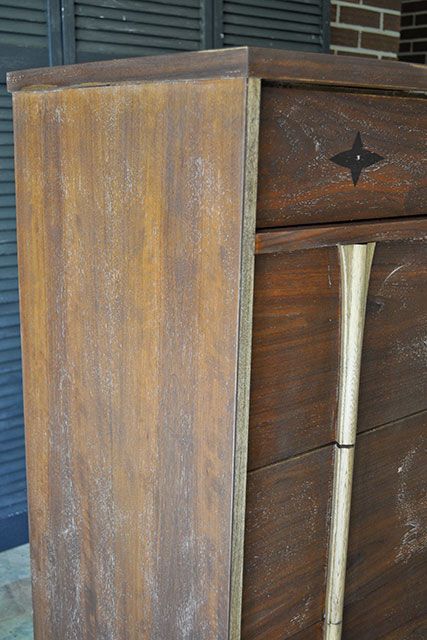 Besides the fact that it looked awful and made the white paint flecks even more obvious, for whatever reason, the handles stained a completely different shade.
I tried applying both a darker stain and a more red stain over top, but it didn't make a bit of a difference.
At this point I knew I would have to go back to painting it, but I didn't want to cover it completely. The legs refinished great so I wanted those to stay as they were. Everything else looked horrible and needed to change. I had an idea to paint the exterior of the dresser and the handles, and then paint or stencil some sort of pattern/design on the drawer fronts so that it would disguise my bad refinishing job but still show some of the wood tones. As much as it pained me to be rolling on white primer after all the effort to remove white paint, I was excited about my new plan.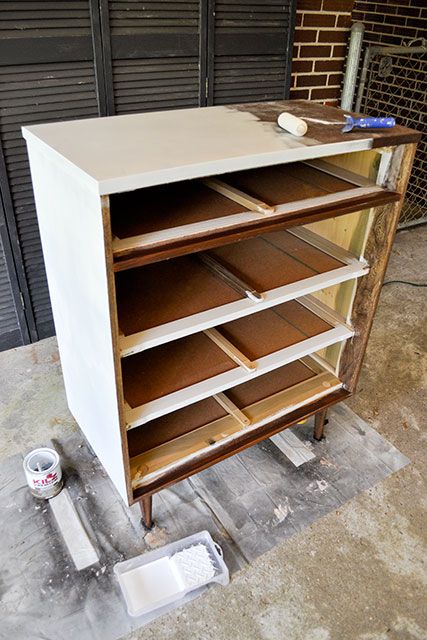 I decided that at this point, I might as well finish the insides of the drawers too, so I stained them and primed the drawer bottoms.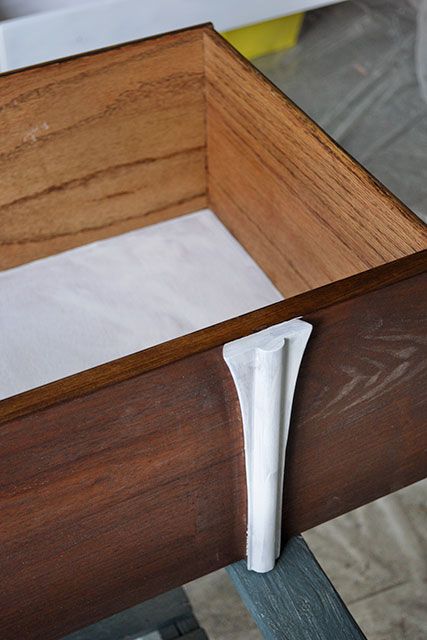 I photoshopped a ton of different combinations of colors and patterns but landed on this one. It's kind of a mid-century-meets-global look, I think. A light peach color for the paint, and this tribal-ish stencil for the drawers.
I ended up deciding to paint the design on the drawers by hand instead of stenciling it. I knew it would drive me crazy if the pattern wasn't centered or symmetrical, and I thought it would be annoying trying to use a stencil around the handles. It took me longer than I thought it would (though I should've expected that), about 4 hours I think, but it wasn't all that difficult actually. I just measured and marked out the mid points on each drawer and then used dabs of a small paint brush to fill in the design. Of course it's not as good as the stencil would've been, but I love how it turned out!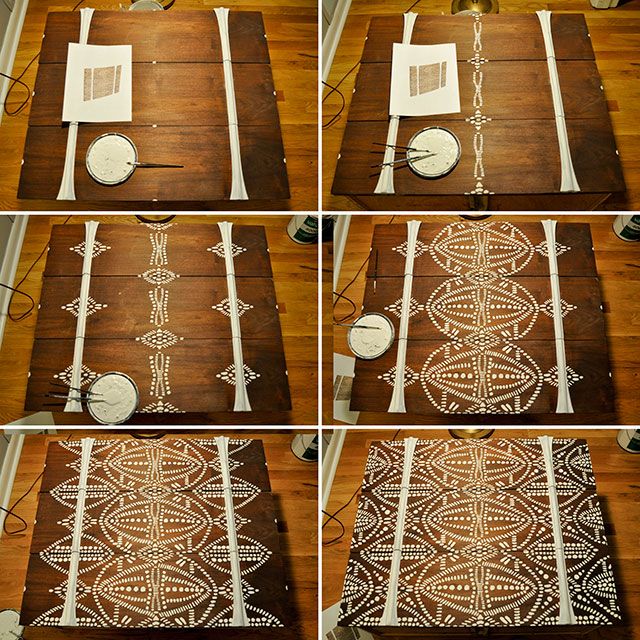 Next I sanded the pattern lightly to make it a little more subtle and blend with the paint flecks that I was originally trying to disguise. Then I brushed on two coats of satin Polycrylic over the drawer fronts and the stained legs.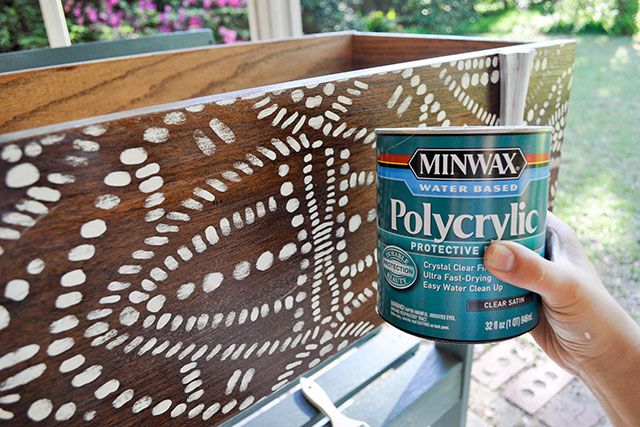 For paint, I wanted to do an oil-based enamel so it would be really durable finish. This was the only kind I could get at Lowe's in a quart size, and I was happy with it. The color is Valspar Peach Encounter.
It was somewhat tacky to work with, but all the brush and roller marks smoothed out so nicely. Since it's oil-based, I had to leave it dry for 1-2 days before the second coat, and another 2-3 days before I brought it back inside. I think it's worth the wait, though, for a durable finish.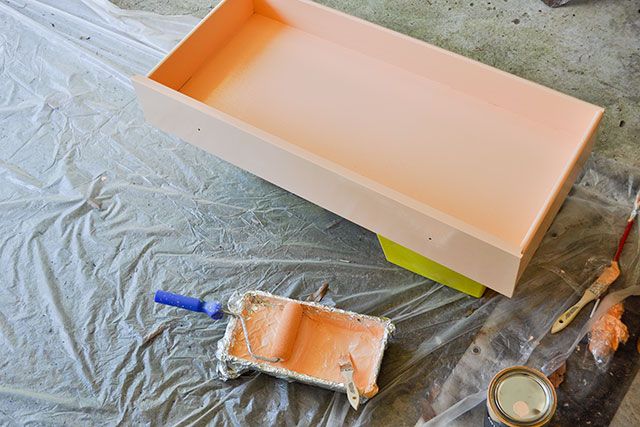 And now for the "after" photos!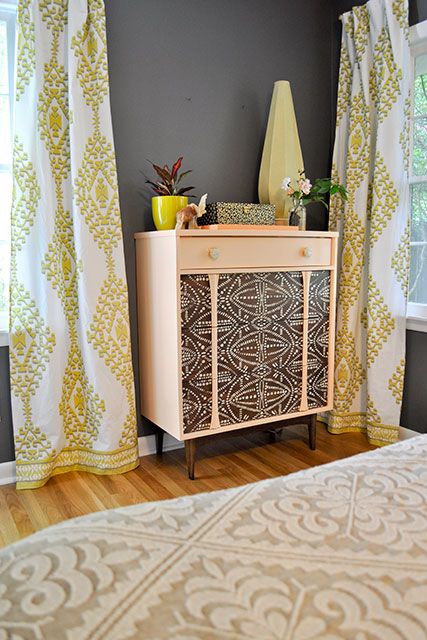 I love these mid-century legs. I'm glad at least one little part of this dresser was able to be refinished!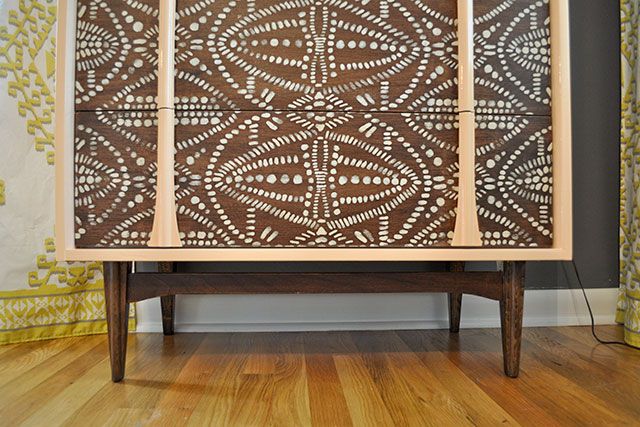 I didn't think about this before, but I think the drawer pattern kind of looks like a bone inlay design, which I'm loving…
…especially because it relates so well to the oversized bone & brass knobs. They're the Callisto knobs from Anthropologie. I gave myself permission to splurge a little on the hardware since the dresser was free 🙂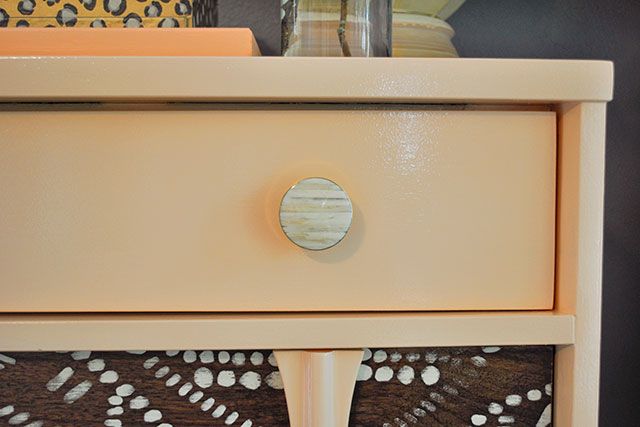 I'm really happy with the finish of the glossy oil-based enamel. It's a very hard finish and I can tell it will hold up beautifully.
I can't even tell you how fancypants I feel having these finished drawer interiors! It seems like it's a small detail, but it really takes it up a notch.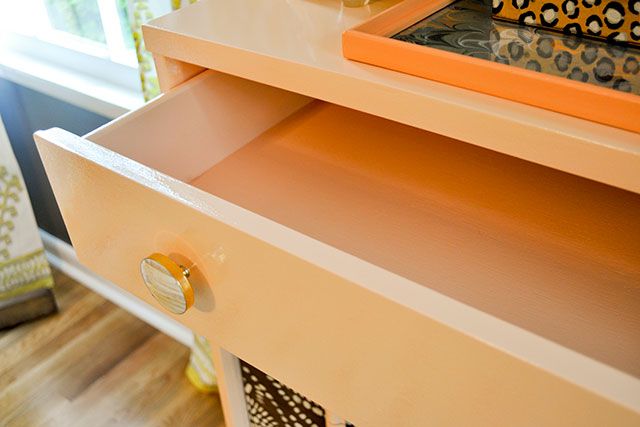 Even though this refinishing job didn't go as I had planned, I'm very happy with where it ended up! What do you think?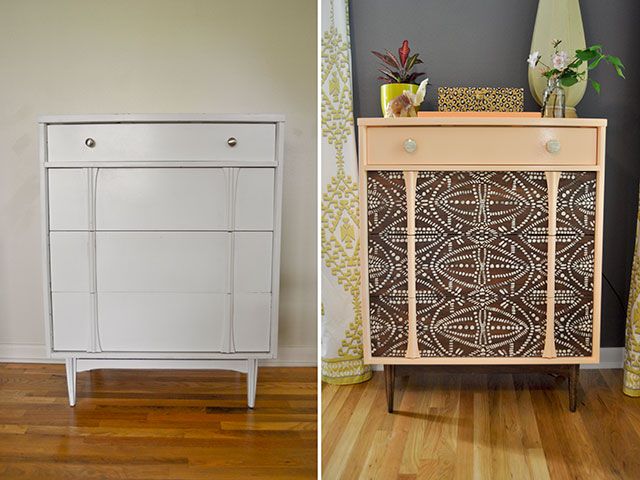 The only problem now that this is finished is that I think I want to repaint the bed and the walls. I know that may make me sound crazy since I recently painted both, but I think I came up with a way to bring this all together in a not-so-feminine way. But that's a story for another day!
Related posts: