The only time I've shown you our dining/living combo room was in the empty before tour –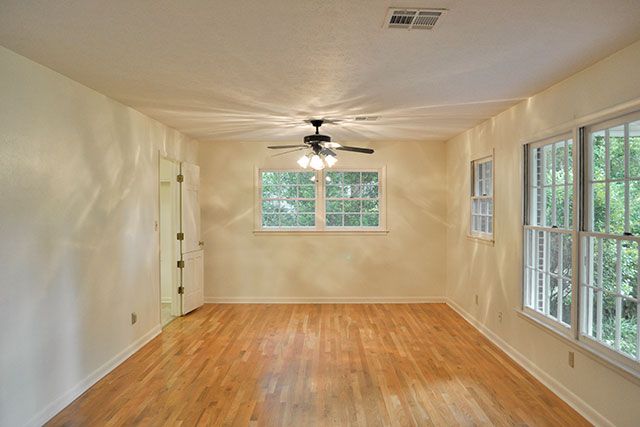 I love how bright and spacious this room is. The problem is that, with a separate family room, we don't have enough furniture to fill this space yet! It's still looking pretty sparse and not at all pinterest-worthy, but I thought it was about time for a progress update along with sharing my plans for the room.
The curtains are IKEA's white MERETE panels, which I bought off of ebay. I don't think they'll stay here forever – I may end up using them for my studio or the family room. Once we moved in, I just wanted to get curtains up ASAP but didn't have the slightest plan for this space. I figured plain white curtains would be a safe bet – I could always stencil them or add trim at some point, wherever they end up.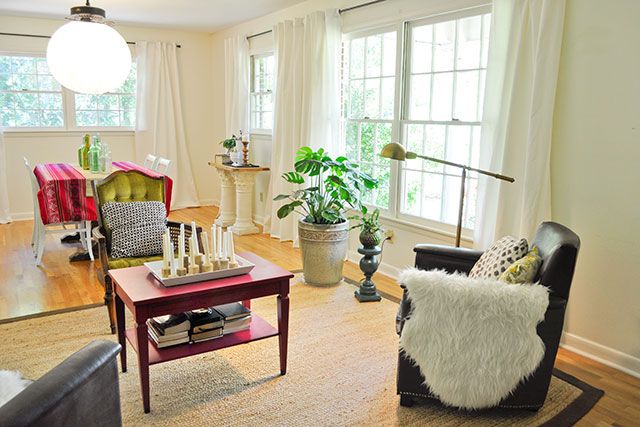 I'm totally in love with my new philodendron! Plants are so addictive. I feel like I'm always buying them and yet I NEED MORE. You can relate, right?
We bought this coffee table off of craigslist three years ago, I think? I planned on redoing it the day I bought it, but but then could never decide how I wanted it to look.
Years later, I thought I'd better at least make it look presentable if it's going to be sitting in my house. It's mostly veneer and the finish is pretty bad. I don't know if it could be restored very nicely, but I don't think it'd be worth the time anyways. So, paint it is!
I ran over the top with an orbital sanded to try to smooth those imperfections, primed it, and painted it this vibrant shade of purple (Pantone's "Beaujolais") with just a sample pot of paint. And since I have commitment issues when it comes to paint, I didn't even bother to seal it so it would be easy to repaint – if I ever can make up my mind! I'm not planning on keeping it in here anyways – I'm scheming to make a coffee table out of a tree trunk slice and metal hairpin legs. It's on my to-do list!
I got this bamboo bar cart for $15 at a flea market, and it seemed much smaller in the store! As I was dragging it to my car, I realized that there was no way that this was fitting in my trunk or backseat as I had intended. So I had to come back with bungee cords and rope and put on a show for the other shoppers in the parking lot as I struggled to hoist it up on our roof by myself. Totally worth it though 🙂
I'm using the cart as a plant stand, but it's basically a place-holder right now. I'll probably move it to the guest room once we get a PIANO to put in its place! I haven't played for years but I'm so excited to pick it up again!
I threw together this sketch quickly in photoshop just so you can get a sense of what I'm envisioning for this room. I know – I have quite the wish list growing! It'll happen…eventually 🙂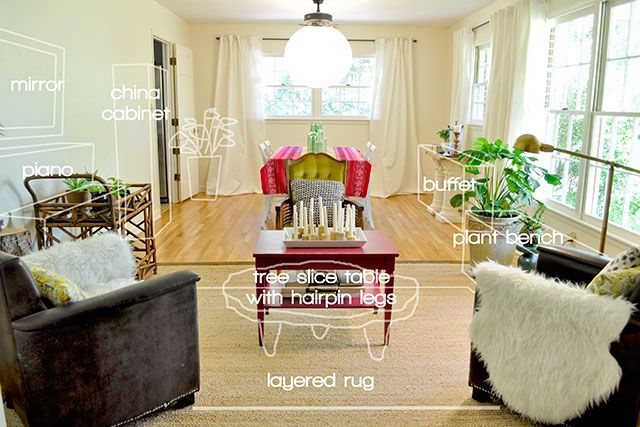 Moving on to the dining side –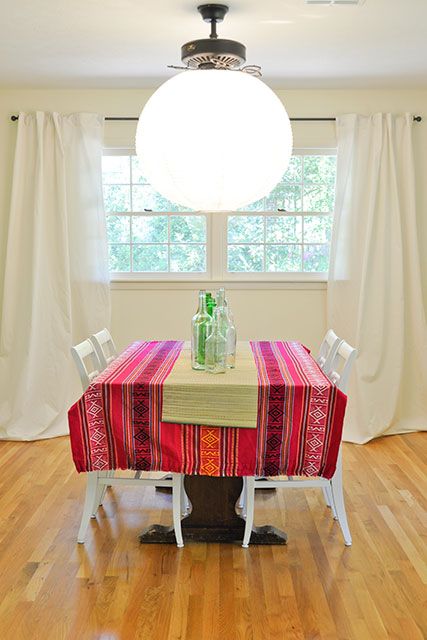 You probably noticed the massive light fixture! Since we're renters, I've been putting up paper lanterns all over the house over top of the existing flush mount lights (like in our hallway), just for something a little more interesting. I already had a ton of lanterns, so I didn't have to spend a dime, and it'll be easy to switch back whenever we have to leave. I got this giant (as in 2′ diameter giant) lantern for my dorm room one year, and now it lives on! I'm no longer a ceiling-fan-hater (now that we live in the south and appreciate them!), but we don't really use the fan in this room, and I wanted something more fun for a dining space. So I unscrewed the fan blades, slipped the lantern over top of the glass globes, and then used black twist ties to attach it. It definitely makes a statement now!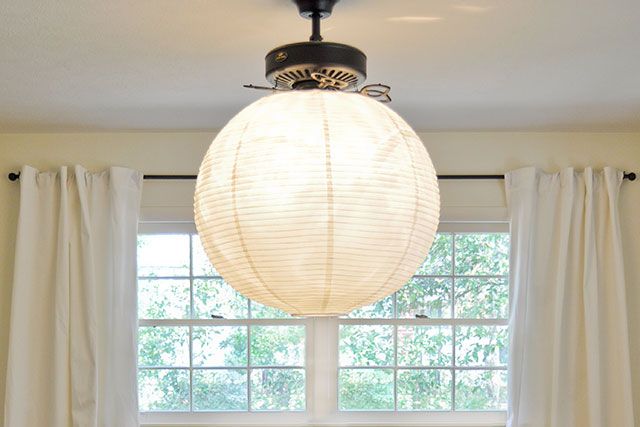 We still need some chairs for the head of the table, but I gave the other four [another] quick makeover. They're the ones I fixed up for our budget kitchen renovation in our last house, but I was ready for a new look. All it took was a few coats of my favorite white spray paint, and some $2/yd clearance fabric.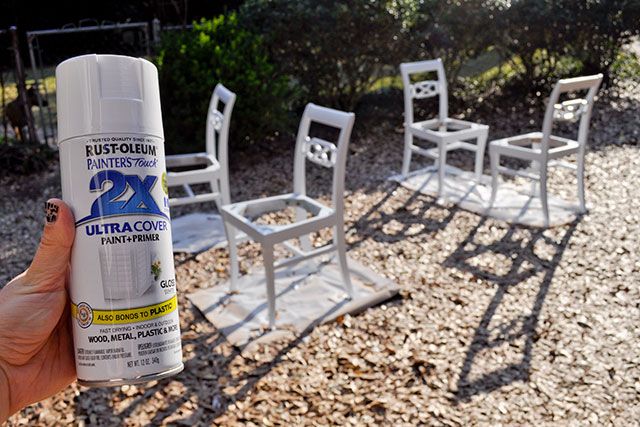 I still don't have a clear plan for this room as far as colors go, so I'll probably end up recovering the chairs yet again. But some $2 fabric is worth it to hold me over until I figure it out! (Because, really, who knows when that will be?)
Since you can see the entry in these shots, I might as well throw that in this mega-post too.
Here it is "before" –
So far I painted the walls (it's actually just what's left of the gallon I got to paint our kitchen and bathroom – Valspar Woodlawn Colonial Gray), added a some little mirrors by the door and a grouping of frames on the long wall. I think I will end up building a super long console table that extends the length of the frames. Possibly with space to slip some ottomans underneath?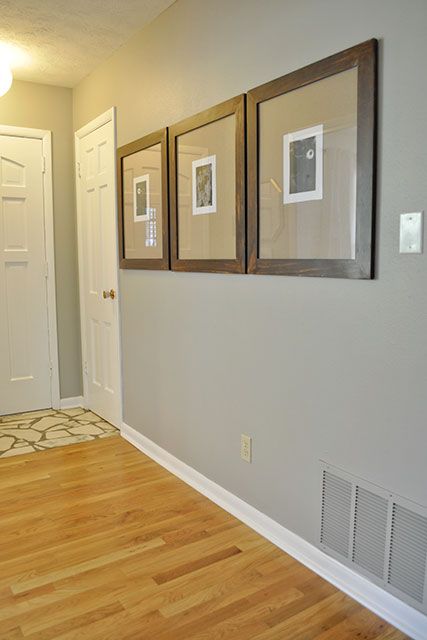 And here's my sketch of the plan for this side.
Sigh…lots to do, but we're making progress! What do you think so far? Any other ideas to throw in the mix?
Related posts: