When I showed you the duvet cover curtains I made for our master bedroom, it was looking like this –
But I hinted that the room was changing quite a bit, and it has! I loved the chartreuse that was in the curtains, and I wanted to pair it with salmon/coral hues. They've always been my favorite colors, but I never wanted to use pink tones in decorating before out of fear of it looking too girly. But I love them so much, I've decided now that I don't care 🙂 So first I painted our bed a salmon color and brought in the jute rug from our old living room. I replaced the trunk with a $25 craigslist side table and put the mirror up on my art easel. I'll admit, I kind of felt like a genius for that, haha. It'd be nice to get a more interesting mirror eventually…but you gotta work with whatcha got!
After painting the walls a charcoal gray and tweaking a few other things, here's how it's looking now –
I really liked the braided jute rug in here, but I had to switch it out with this one. I bought it for our family room and it ended up not looking right in there, but I think it works really well in our bedroom, so the jute rug is now in our living/dining room! It's been a case of musical rugs in this house.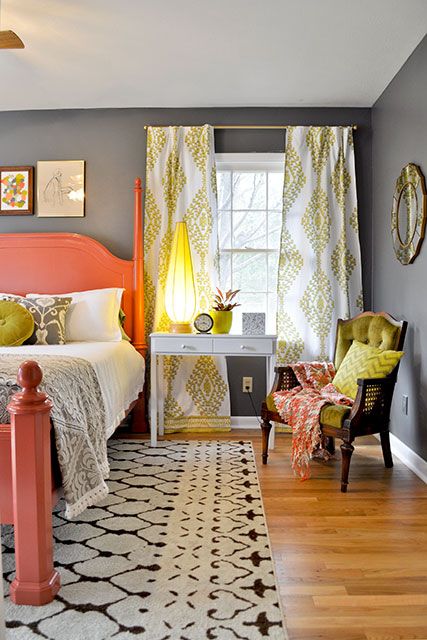 The beautiful throw blanket was an early birthday gift from my sister, and the mirror was a Christmas gift from my sister-in-law! They know me so well 🙂
This storage box was a thrift store find that I finally got around to painting. I spray painted it white, and then added a bunch of dabs of charcoal paint, holding the brush on an angle so that it made triangle-ish shapes. I gave it a coat of gloss spray lacquer to protect it and give it a little shine.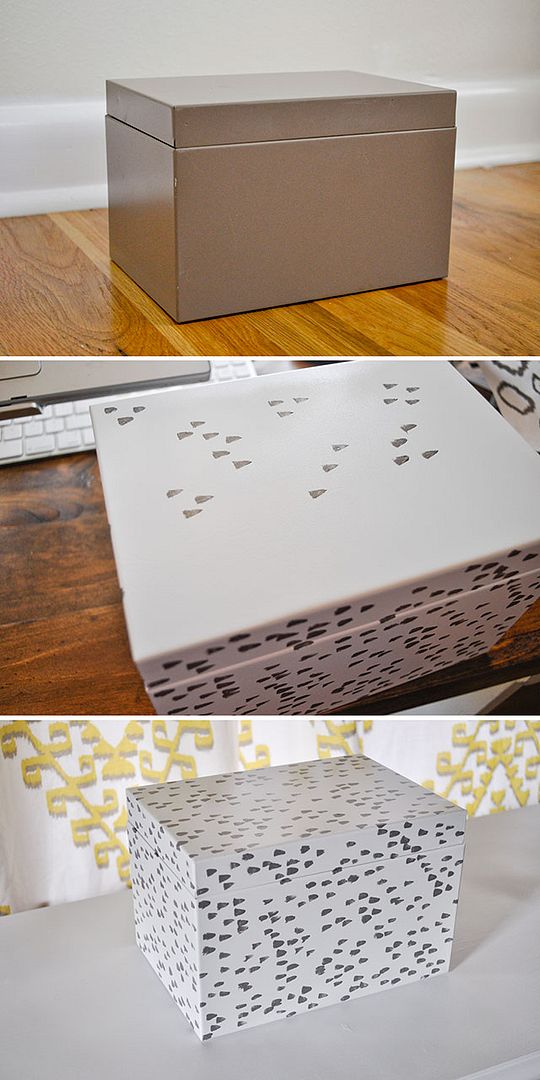 On the other side of the room, I have the old radio that we use as a hamper.
On that blank canvas, I'm planning on painting my wedding bouquet, kind of like this or this. I was a little worried that a big floral painting might take this already very feminine room over the edge, but I think I can tone it down a little if I brought in some cooler tones around the room – maybe slate blue accents? What do you think?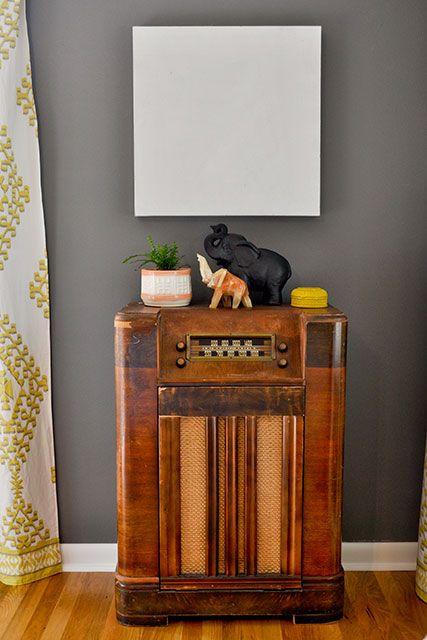 The thrift store gods have been so good to me lately! I'm completely obsessed with my marble elephant ($10) and planter ($3!). OBSESSED.
I need to get a table for my side of the bed, or maybe a matching pair for either side. I'm holding out right now until we figure out the storage for this room. Currently, all of our clothes are piled in suitcases in the closet. It's getting REALLY old! So I'm on the lookout for a dresser or chest of drawers first.
The round velvet pillow is a $6 thrifted find. Retro and cute!
The drawing of the woman is just a warm-up sketch from a figure drawing class, but it's one of my favorite pieces from college! That makes me feel even worse about all of the pieces that I lost so much sleep (and health) over! I made a quick abstract painting to hang next to it and I'm loving the combo right now.
On the opposite wall I put together a little collection of wedding photos.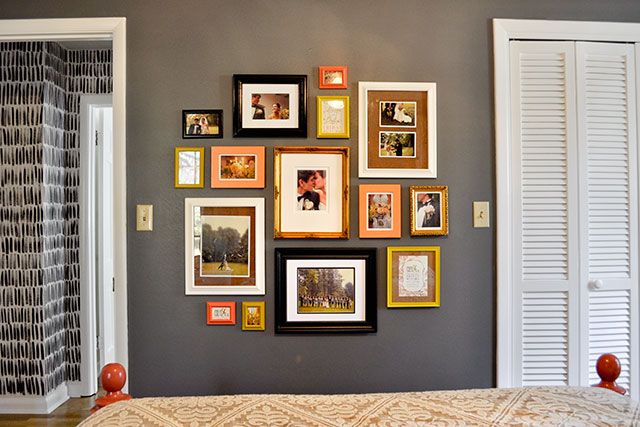 I added in some framed portions of our wedding invitations and programs too.
Behind the door I have my DIY jewelry frames sporting a fresh coat of peach paint.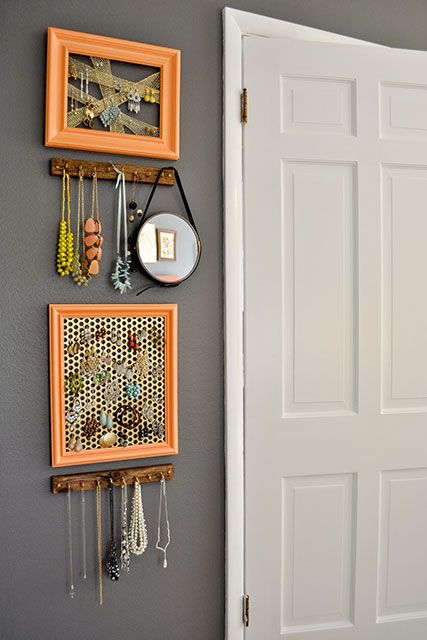 I'm totally loving the progress made in our room so far! What do you think?
Related posts: