Remember me? Worst blogger ever? Apparently the pattern of this blog in 2013 was long stretches of silence, then a random post filled with all sorts of excuses and well-meaning promises not to do it again, and then followed by me dropping off the face of the earth again. In my defense, it was a strange year. I'd like to say that I plan to do better in 2014, but we all know what happens when I make "bold" statements like that, so let's just hope for the best?
As for the latest stretch of silence, I will try to make my excuses brief. I was away from home for 3 months! Shortly after unpacking our moving boxes here in Alabama, we found out that Phil would be leaving right away for a 10 week training in Ohio. When I heard that, I decided that I was skipping town too. So after my sister's seriously beautiful September Outer Bank's wedding (photo by Cody Wanner),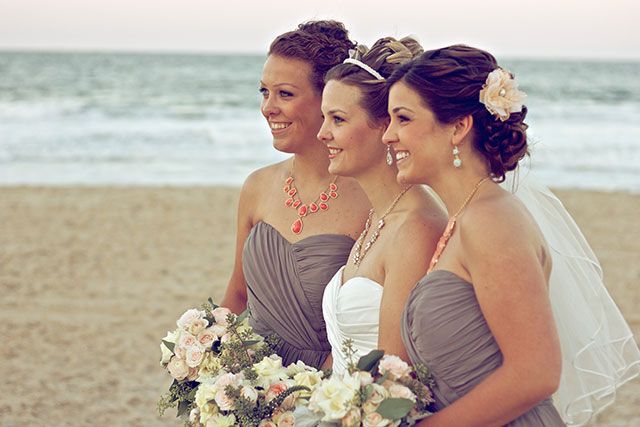 I put Phil on a plane to Ohio and drove to Canada to paint some murals at my brother-in-law's gym.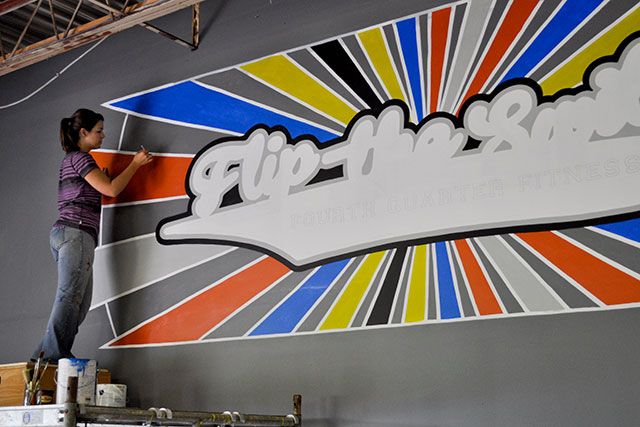 Then I spent the rest of my time working at my in-law's renovating their house, and painting house portraits!
When December rolled around, Phil finished his training, and we both moved back home with just enough time to celebrate Christmas in this house (before leaving again to celebrate the holidays in Pennsylvania!)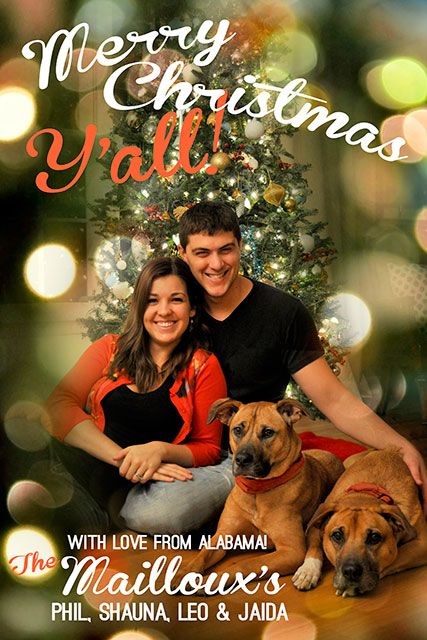 BUT, now we are both back in town and staying put for the foreseeable future, which is a welcome change to our very transient 2013.
Now, back to the "regular" programming…
I've been plugging away on the house whenever we have been here. I thought I'd share my studio with you first, since it's looking half decent. Here it is as the blank canvas that I showed you last.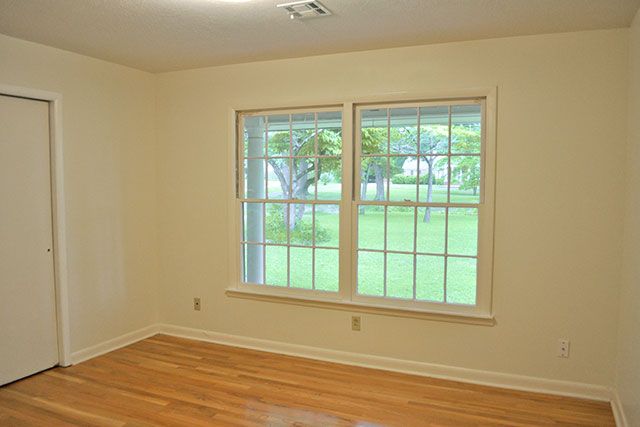 And right after we moved in and plopped down our stuff –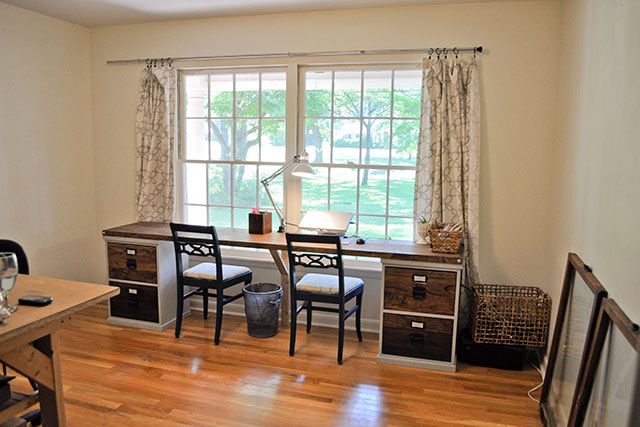 I absolutely love having our desk in front of the big window. It's a great view while I work! I've never seen so many chipmunks, lizards, or blue jays in my life! It's the little things I tell ya…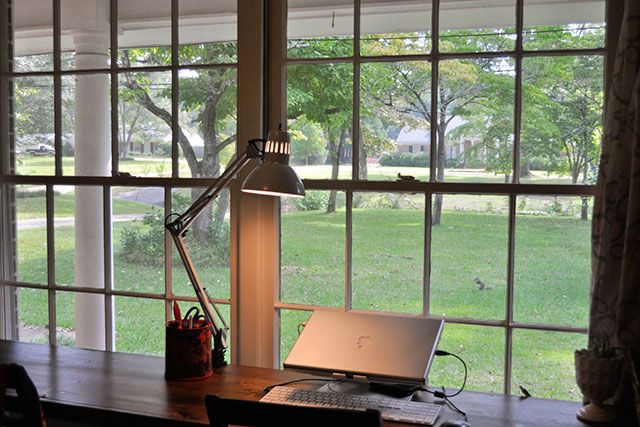 However, the view on the other side of the room was not so great.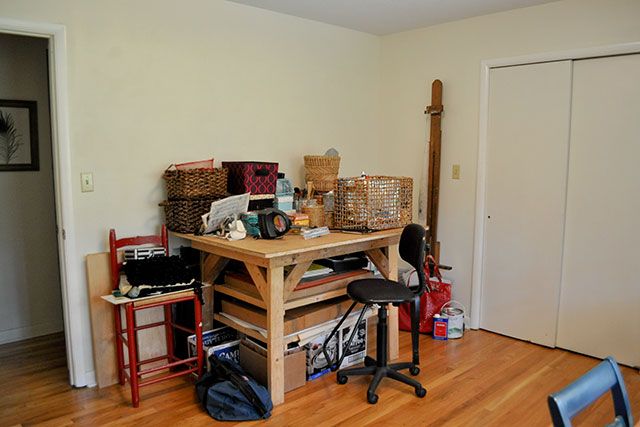 My first project in this house was creating a storage solutions for our workspace. I didn't want to hang up the shelves from our last home's studio, but I thought that the space on either side of our desk was begging for some bookshelves. Now, I don't have a table saw, router, or kreg jig, so I had to come up with a very primitive building plan that only used a miter saw and a drill. First, I had the nice folks at Lowe's cut down a thin sheet of plywood into the dimensions I wanted for each shelf. Then, I used 1 x 2's to build little box platforms for the plywood pieces so that the shelves would be very sturdy and also look more substantial. And then, the dreaded sanding.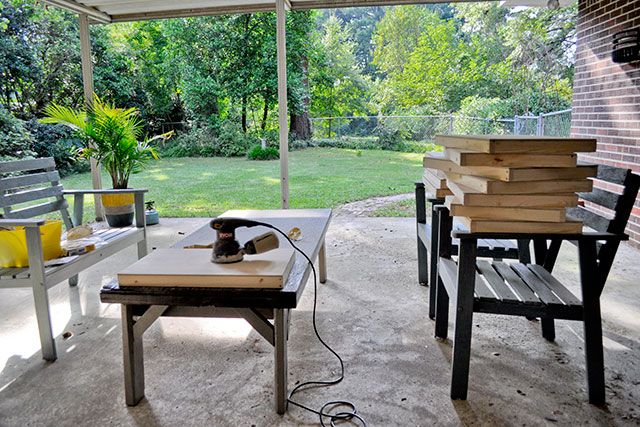 I stained them with Minwax Provincial to match our desktop –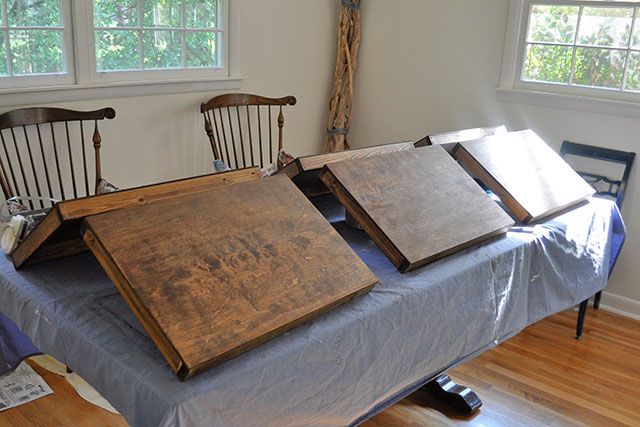 Then I attached the shelves to 1 x 2 supports with industrial looking bolts.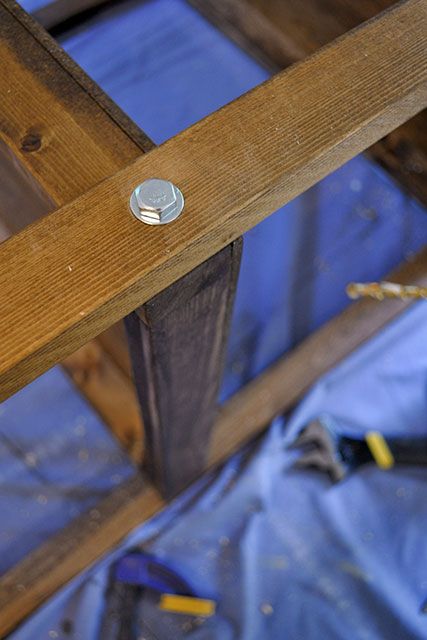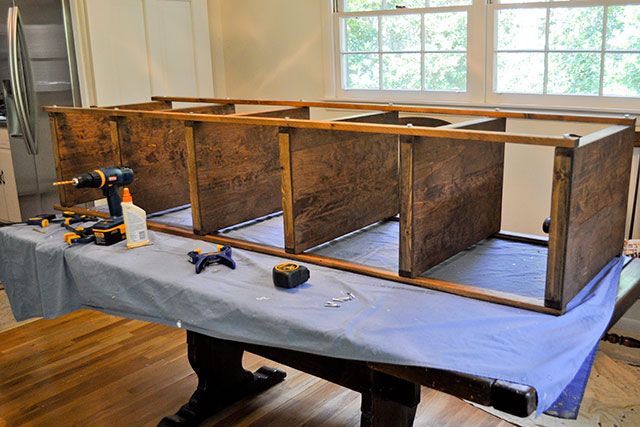 And here they are in all their glory!
I'll be the first to admit that this is absolutely NOT the correct way to build shelves. And I'll also admit that they do have a little wobble when the shelves are empty. But now that they're full of art supplies, they're totally sturdy. They were pretty inexpensive to make (it came out to $84 for the pair). I'm just happy to have this project done, get my things more organized, and move onto the next project on my list!
I attached these cheap IKEA FAS spotlights to the top shelves. I should take a picture at night – it has a really nice effect.
The colors for this room will be mainly shades of purple and poppy reds and salmon, which was inspired by my pencil holder (which is just a coffee container with mod-podged marbled paper).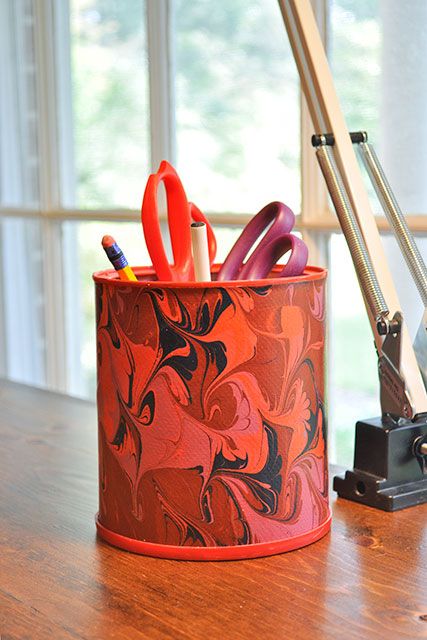 I still need to put a skirt or something on the work table. I plan to put something behind the glass of the old windows hanging on the wall and use them as white boards.
And maybe you noticed my new rug! It was a Christmas request that I love!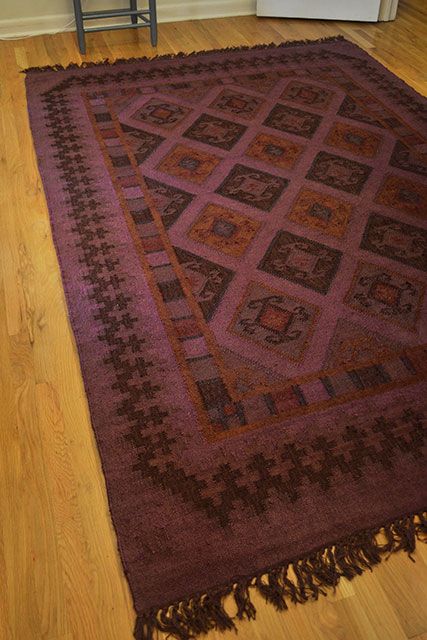 This stool got a makeover too.
It was one of the stools we used at our art table as kids, and hasn't been painted since.
I started out by spray painting the frame a glossy gray, and painting part of the rush seat white. That was all that I planned on doing to it, but I imagined it turning out cuter than it did…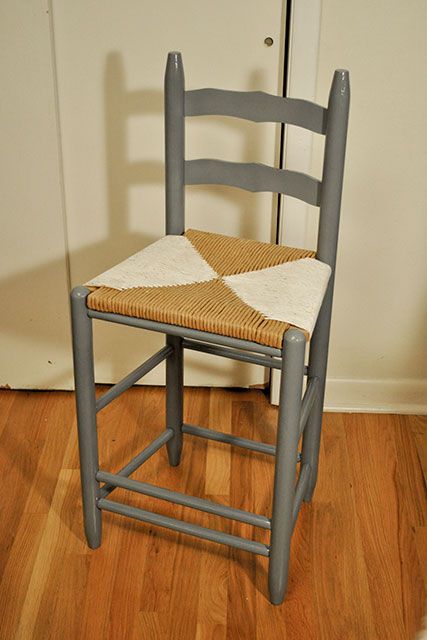 So I added some more stripes with gray and gold paint, and I must say, it is one good-looking stool now.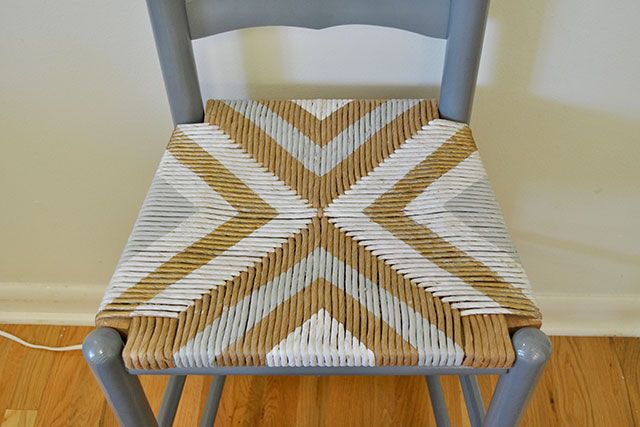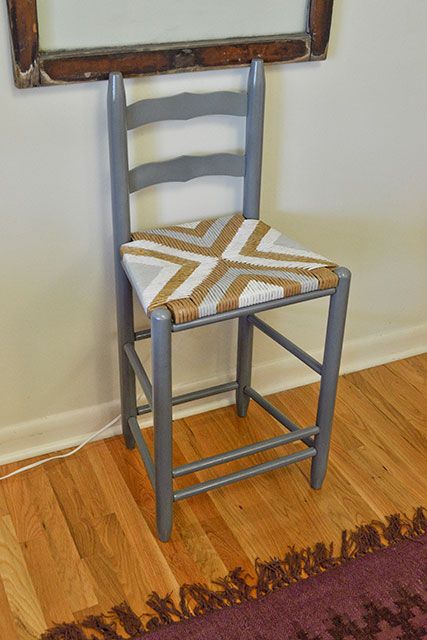 You like?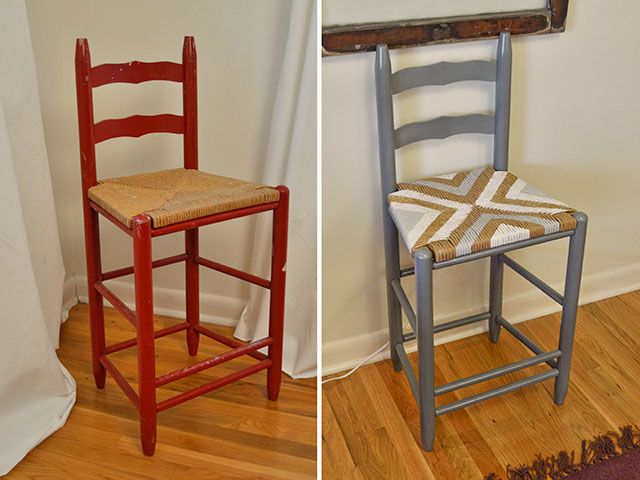 I'm thinking about some white knock-off Eames chairs for the desk eventually…and different curtains…and a rolling sewing cart…and painting the walls bright white…haha, it's getting there!
If there are any readers still out there…thanks for sticking with me! And though I missed my opportunity when this was relevant…I hope you all had Happy Holidays and a Happy New Year!
Related posts: