I think it's fun to experiment with bold colors or patterns in smaller spaces like hallways or powder rooms. It's easier to get away with louder choices in these rooms that have less going on & less to compete with. I loved our deep charcoal gray hallway and it's strong contrast against the crisp white trim at our last house.
I wanted to give our current hallway a similar bold look, but with pattern this time (and some of you caught a sneak peak in my studio post!). Yes, we are renters, but our landlords said we can paint the walls, as long as we paint them back to white before we leave. Right now it's looking like we'll be here a few years, so to me, it's totally worth repainting down the road to still have fun with this house now and make it ours. After all, I'm pretty sure my soul would crumple up and die if I couldn't tweak our home 🙂
Here's how the hallway looked when we moved in –
I started out by removing the door separating the hallway from the family room to open things up a bit, and then gave everything a fresh coat of white paint.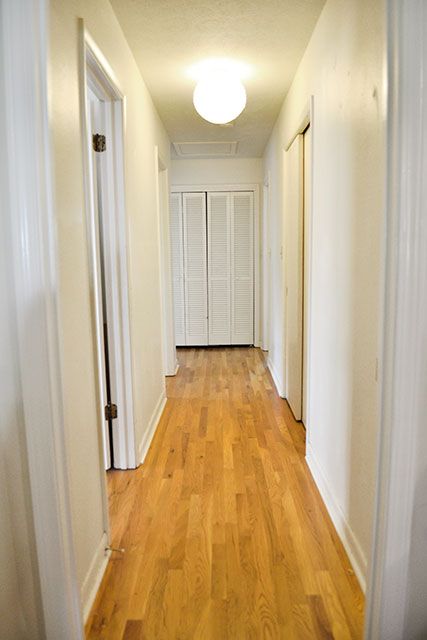 I had some ideas for a few different free-form, hand-painted patterns, but narrowed it down to these two. I painted them on two big pieces of paper and taped them up on the wall to picture how they would look floor-to-ceiling. I liked the diamonds, but I couldn't get over the other pattern! The little lines/slashes/tick marks?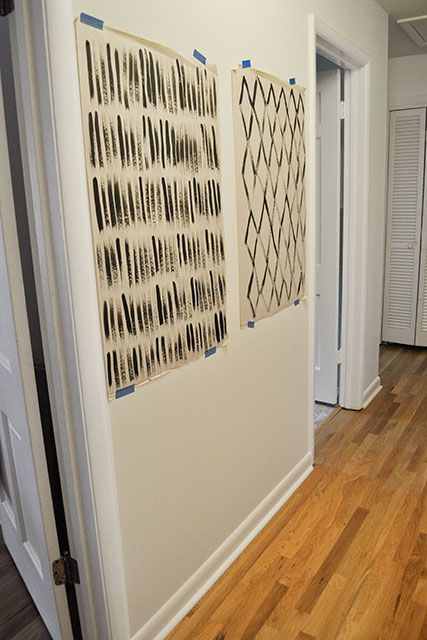 I wasn't sure what to call it, until I started painting on the wall, and then I DEFINITELY felt like a crazy woman making tick marks, counting…something creepy? My brother-in-law said it looked like I was tracking my days in Phil's captivity, haha. But ANYWAYS, I grabbed a half-full quart of black paint and started by doing a row of tick marks the whole way around the hallway. I made the marks really quickly, and let the paint brush dry out a little bit before re-dipping.
Then I started filling in below with more rows of slashes. I just eyeballed the placements because I liked the imperfection of the pattern.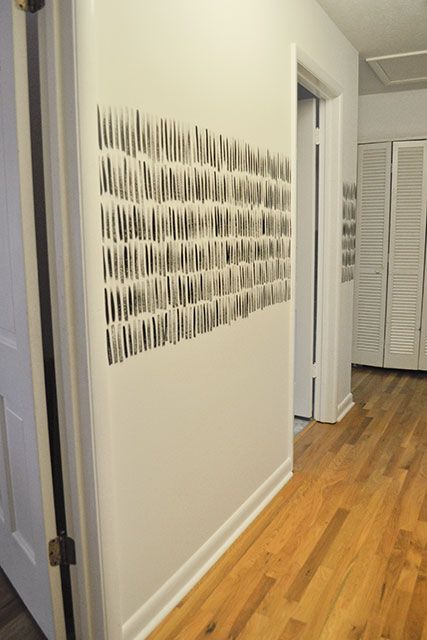 The only time that I thought about the spacing was once I got closer to the top. I mapped out 3 rows to the top of the door frames, and 3 rows from the door frames to the ceiling too so that I wouldn't end up with one random squatty row at the top.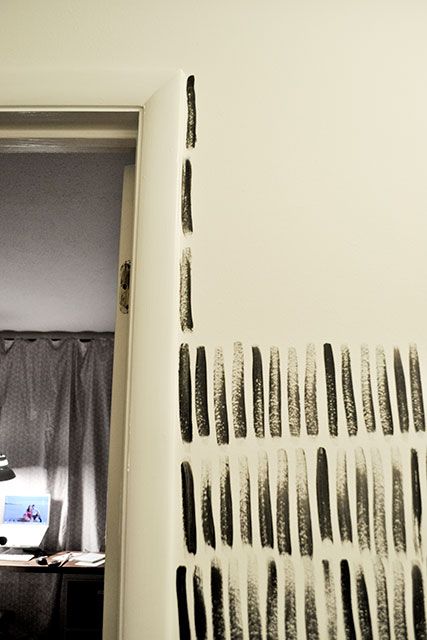 And here she is all finished! It took me 3-4 hours all together, which I was surprised by actually, because I felt like I was flying down the rows. But I guess there are a lot of little brush strokes on these walls!
I really like how it turned out, I think it's fun to have a modern wallpaper look without any of the cons of wallpaper – and even without dealing with stencils! Phil likes it too, although he did call it "hipster," which I took great offense to. Say it isn't so!
The walls aren't highly textured, but I do like how the texture is evident where the brush was more dry.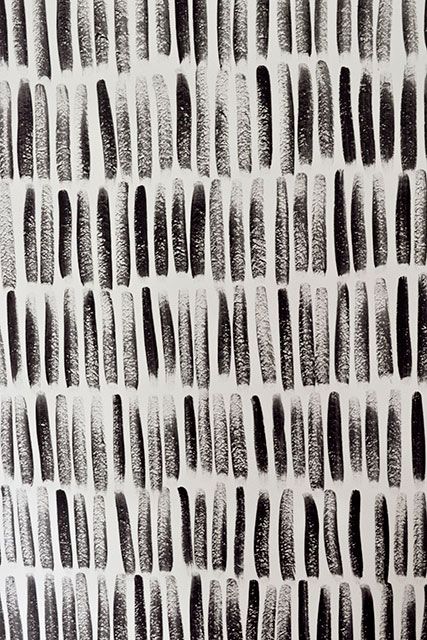 This won't happen for awhile, but I'm picturing a long, colorful runner down the middle. Maybe something vintage?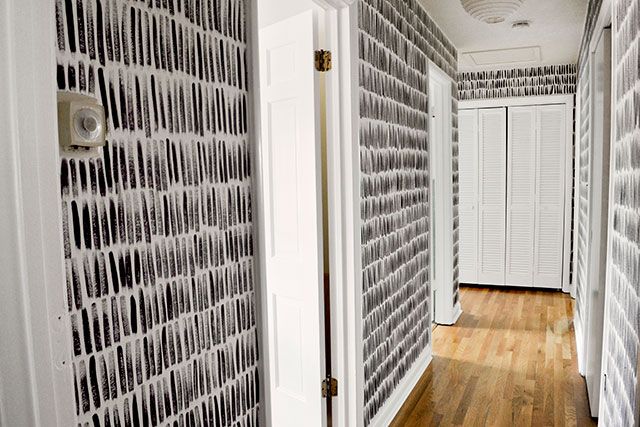 I forgot to mention that I also gave a renter-friendly makeover to the light fixture. I unscrewed the glass globe, and then attached a paper lantern shade over top of the existing fixture with little eyehook screws. I've been doing this all over the house to the overhead lighting. I like that it gives a little more personality to a space in a way that's very easily undone whenever it's time to move.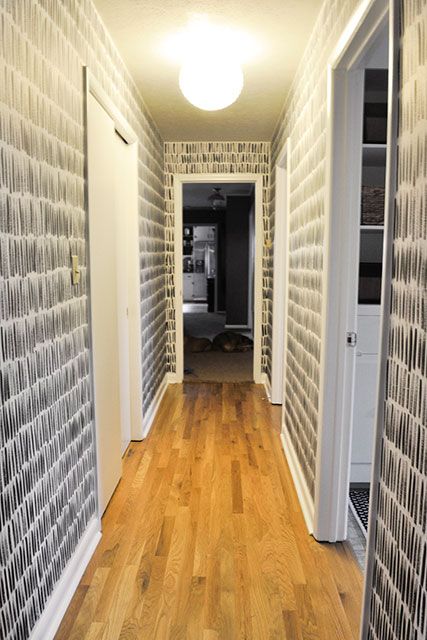 I think it's a fun little before-and-after! And I used paint that I already had on hand, so it doesn't hurt that this look was free too 🙂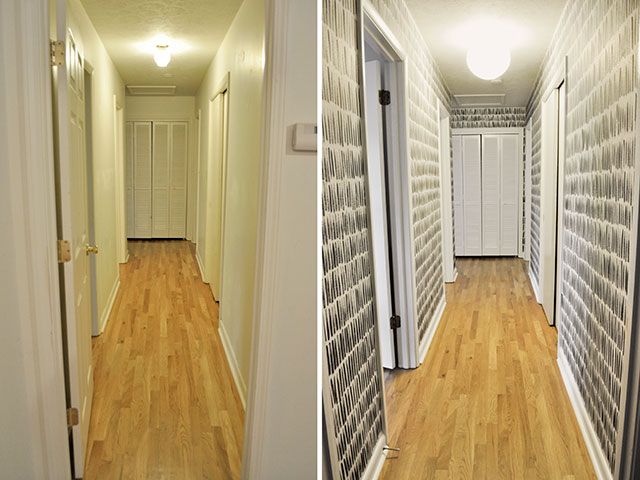 What do you think? Are you into patterned walls?
Related posts: