I showed you our empty master bedroom in the "before" tour –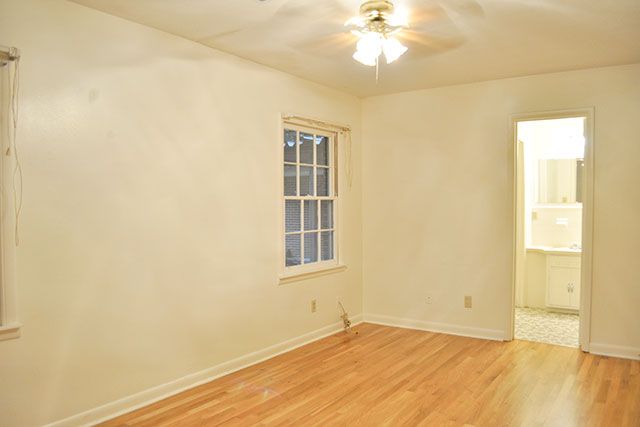 It's a good-sized room, and I love the hardwoods and the fact that there are three windows! Here's how she was looking shortly after we moved in –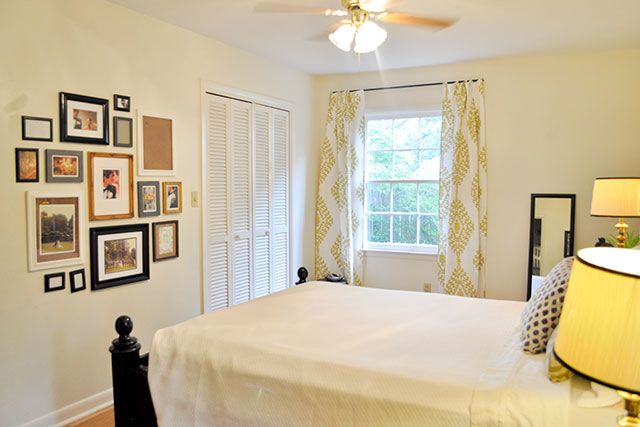 We have a lot of furniture on our shopping list, considering that this house is twice the size of our first home. Our clothes are still piled in suitcases in the closet. I've been stalking craigslist for dressers! But my first order of business once we moved in was getting curtains up for all the windows in the house, since there are only a few windows with blinds. I think naked windows are beautiful during the day, but as soon as the sun sets, those naked windows make me feel exposed and unsafe. It's silly that a piece of fabric hanging over my window is what separates me from paranoia, but it's true. Phil doesn't understand, but I'm not the only one like this…right? So, curtains it is! Here's how I made these ones for our bedroom.
I wasn't finding any (affordable) fabrics that were inspiring me, so I began to look elsewhere for textiles I could use to make curtains, like sheets, tablecloths, etc. I thought this mandala ikat duvet cover from West Elm was perfect! I loved the global feel of the pattern, and chartreuse just happens to be one of my favorite colors 🙂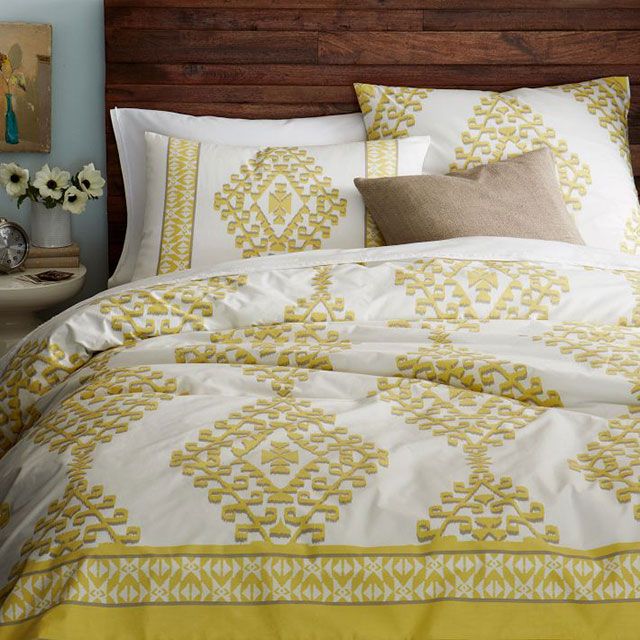 I called customer service to ask if the pattern was printed fully on both sides of the duvet cover (versus a solid on the back), and lucky for me, it was! That meant I would get twice the fabric.
I ordered it in a king size during a 30% off sale for $66.50.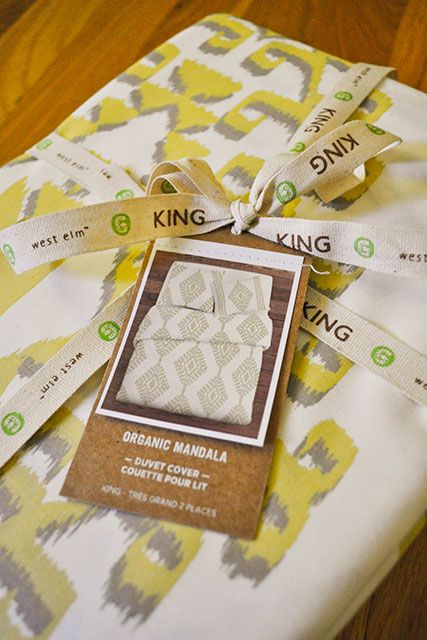 With the king size, I was working with two 92″ x 108″ pieces. I needed 6 panels, so that meant that each piece would be 36″ x 92″ (they're actually 32″ x 89″ after trimming & hemming). The panels wouldn't be as full as I prefer my curtains to be, but I thought that I could get away with it for the size of our windows. I was especially forgiving because it meant that it would come out to $11/panel 🙂
Side note: I know that this isn't a groundbreaking idea, but I do think that this method is an awesome option for making your own curtains. Six panels is stretching it for one duvet cover, but out of a duvet this size, assuming that the design is fully printed on both sides, you could make 4 curtain panels that are 54″W x 92″H. Or 2 panels that are 108″W x 92″H, which would be awesome for patio doors or large bay windows. OR, if the pattern doesn't have an obvious up/down orientation, you could turn it the other way and make 108″H panels if you have taller ceilings. There are a ton of options with this method! I just wanted to point out some of the possibilities. But back to the tutorial…
To get started, I ripped apart all the seams to separate the front & back pieces of the duvet. It would've been way faster to cut them apart, but I really wanted to salvage as many inches as possible since the panels were already going to be on the small side.
Then, I folded and cut each side into thirds.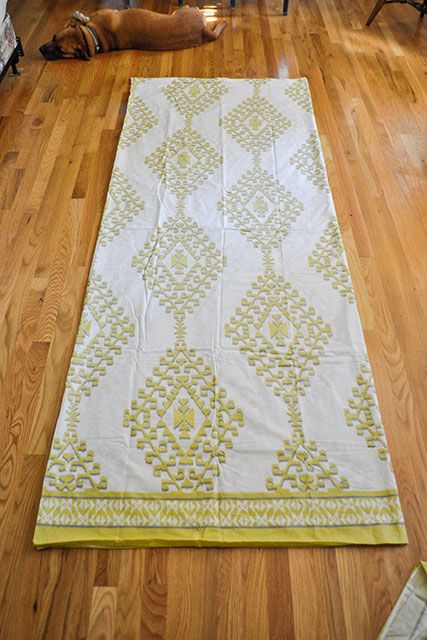 This duvet fabric is pretty thin, so it needed to be lined with something to make it more substantial and also more opaque. It would've been nice to use blackout fabric or even just a heavier fabric like canvas, but I was going for CHEAP. I just used a few twin sized flat sheets that I got from the thrift store for a couple bucks. I figured I could always line it with something better someday if it bothers me.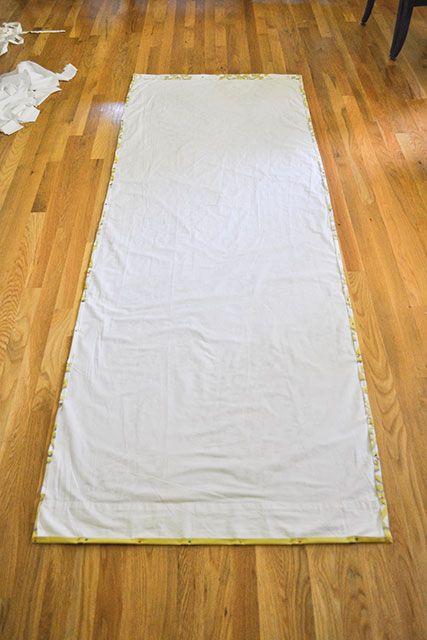 I explained this sewing process in more detail in this post, but basically the liner is tucked underneath the ironed hems before sewing them in place. The top of the duvet already had a seam where the buttons were attached, so I folded that over for the top of the panels.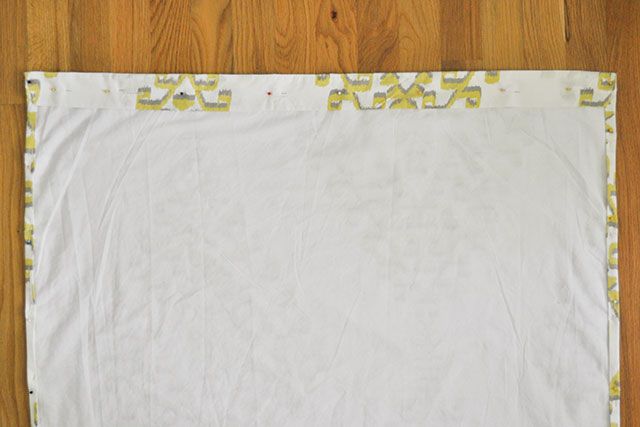 I would normally do a larger hem at the bottom, but I wanted to save the green stripes on the front, so I got away with a tiny 1/2″ hem.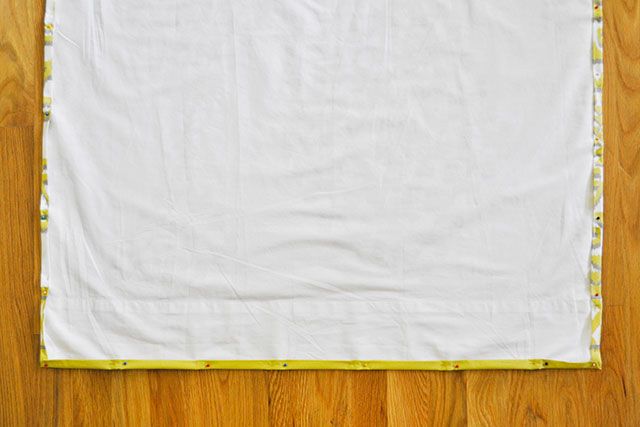 At the top, I used some scrap fabric to create back tabs for hanging.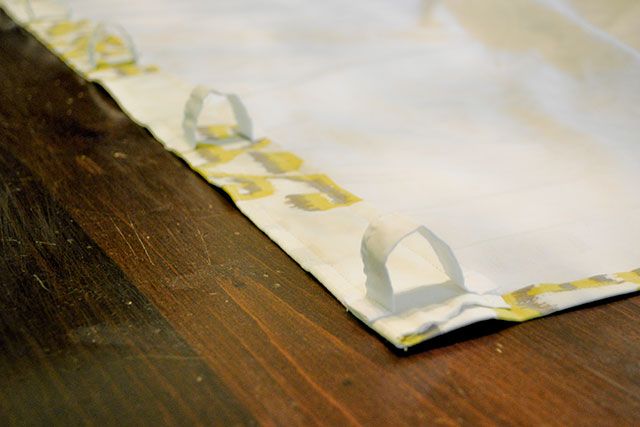 I hung them up from spray-painted electrical conduit rods (which I also explained in this post).
I really like the green band at the bottom of the panels that gives them a little visual weight.
And I'm loving the pattern!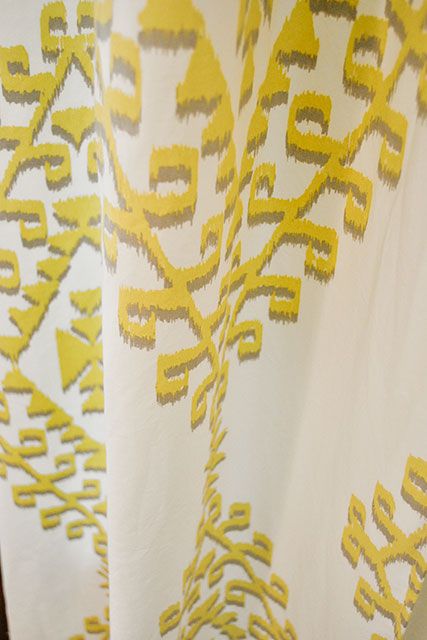 These days the curtains are popping against some freshly painted charcoal walls 🙂 And charcoal walls called for the curtain rods to be spray-painted gold, amiright?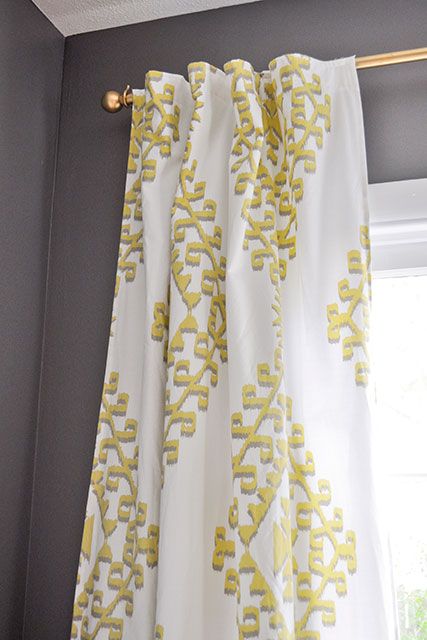 I wanted to save these other changes for another post, but the room has been changing quite a bit and I couldn't end this post without a sneak peak 🙂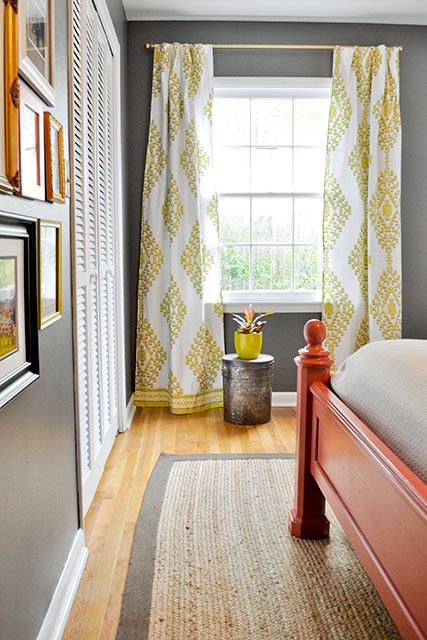 Related posts: