Welcome to my revamped site!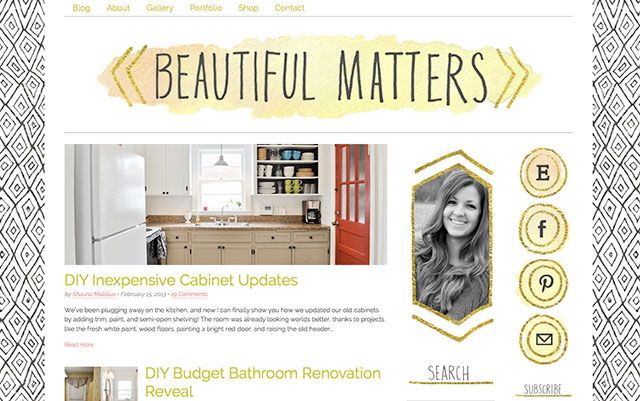 I started this website as an online art portfolio for a job that I was applying to, which is why I used my name for the web address. I never even got an interview, but I kept the domain & it later morphed into my house & DIY blog. This has been a really fun way to update my friends & family back home in PA, and a way to get connected in a online community of people who share similar interests. After all, not everyone loses sleep to dream up curtain ideas, or designs end tables in their heads while they're on the elliptical 🙂 I would love it if this hobby could turn into a source of income one day too. So I'm attempting to be more legit. I've been wanting to switch over to a more generic blog name that would be easier for branding ("Shauna what? Mallough? Mayo? Mailbox?"). The name Beautiful Matters means more to me than "I like pretty things." We are influenced by our environment, so it's about surrounding yourself in a lovely, inspiring, and uplifting space so that you can feel and act that way & share that with others. It's a simple concept, but one that I believe in. You can read a little bit more about it on my About page.
I had a lot of fun designing the new look. It feels a lot more like me. You like? I now have a Beautiful Matters facebook page too – feel free to "like" it and stay connected there!
My house portrait portfolio was also long overdue for updating, so you can check out a bunch of new stuff over there too! Yay!
I won't be using www.shaunamailloux.com for the foreseeable future, so make sure to update your readers to www.beautifulmatters.com. If you receive updates by email, you may need to reenter your email address again in the sidebar. I still have to sort through redirecting all the old links, but feel free to let me know if you notice any kinks on the new site. (For example – can you read the font? It looks different to me on different browsers.) I have to give a big shout out to my genius super talented friend Joy Laforme for walking me through the steps to make the name switch. I was so terribly lost without her 🙂
I have about 800 different projects going on around the house right now…can't wait to share some updates soon!