I've been wanting to replace the futon in our living room from the very beginning, and that day has finally come!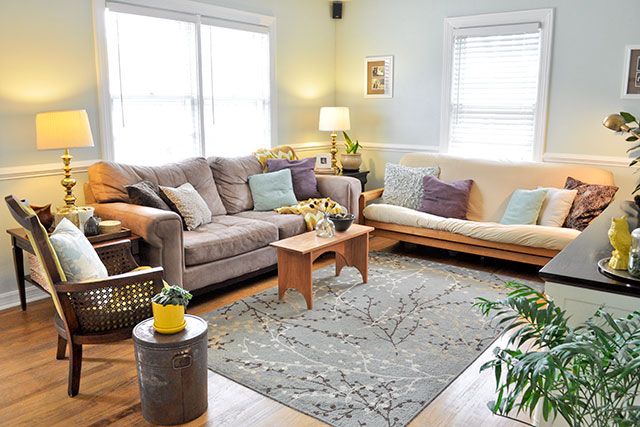 It has served us well as a spare bed for guests, but it's not something that we want in the main living area. For a few weeks, I casually stalked craigslist for a replacement. Of course, without a truck or SUV, that eliminated a sofa or love seat, so I was set on a pair of armchairs. I was thrilled to find this pair of faux leather club chairs for just $40 for the pair!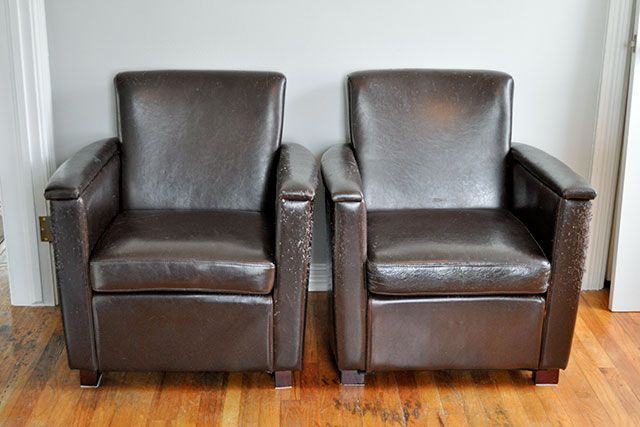 The woman who was selling them had recently adopted 4 kittens that she found abandoned in a parking lot. (She told me that her little boy said, "I've always wanted FOUR cats!" Haha, aw!). Unfortunately though, they ruined her chairs with their claws. So she was selling them so cheaply because they would need to be reupholstered.
I'm pretty sure that a reupholstering job is way above my sewing skill level right now (I still can't even sew a straight line), but I had other plans in mind for this chair. Instead of covering up the cat damage, I thought I would embrace the distressed look. If that didn't turn out, I had 3 other backup plans 🙂 And for $40, it wasn't a big risk anyways.
I started by sanding all the surfaces with 100 grit sandpaper.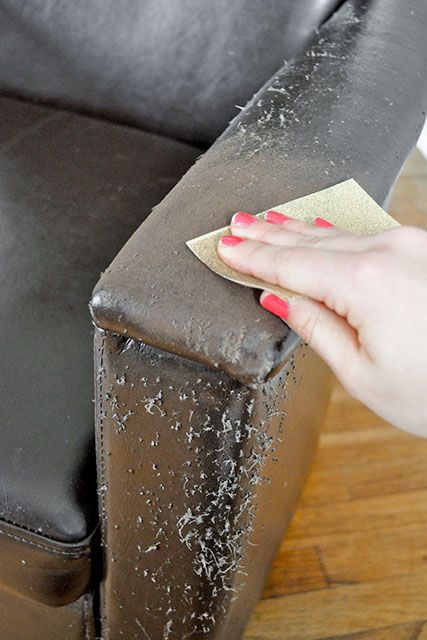 I sanded just enough to dull the surface, and to smooth out all the rips where the cats went to town.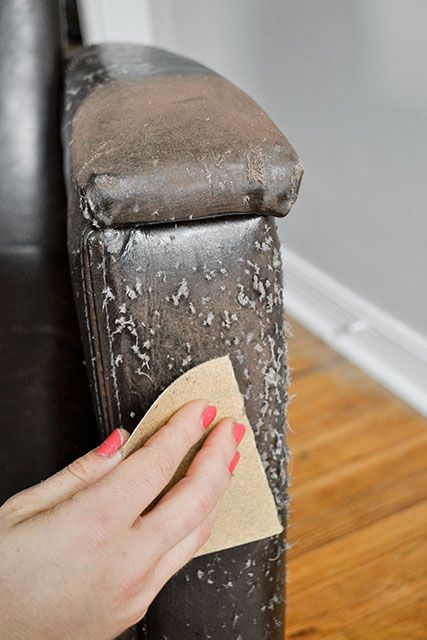 I read somewhere that you could use rubbing alcohol to dull the shine on leather & vinyl surfaces, so I applied that with a cloth to remove the dust. I'm not sure if it did anything after the sanding, but I figured it couldn't hurt either.
The sanding made a huge difference in bringing it down to a more rustic level.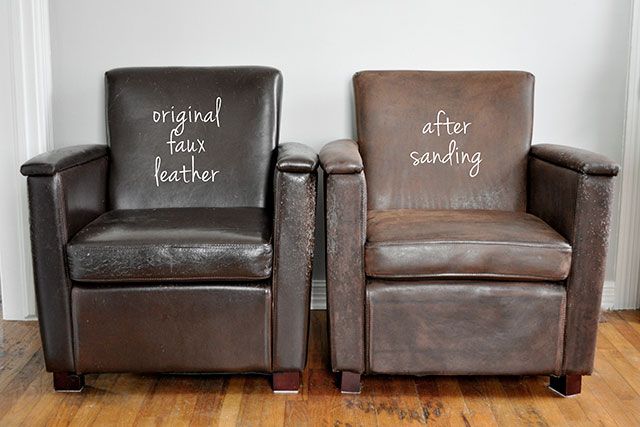 My hope was that if the rest of the surface was dulled & distressed, the cat scratches wouldn't be so out of place, and the whole piece would look more intentionally rugged. Kind of like buying new jeans because of the rips & the fading.
After I finished the second chair, I thought that the legs were looking too perfect. Cherry stain isn't my favorite either, so I painted the legs black & distressed them a little as well.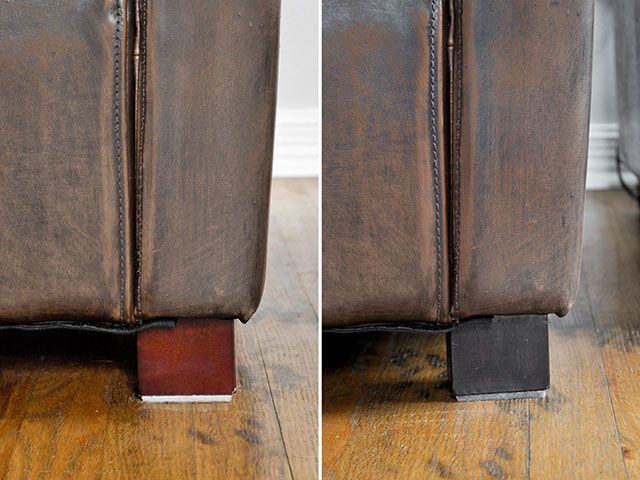 The final detail these guys needed was some nail head trim. I started out using "real" furniture nail heads, but hammering them in place without bending or breaking was turning out to be such a headache. Plus, they came in little packages of 48, and I realized that I was going to have to spend more than I wanted to to get the look that I was going for (I ended up needing over 500). Then I thought that I could just use real nails. They're industrial, rustic…they could go with the look, right? So I bought two 1-lb boxes of roofing nails for just $5 (& returned all the others).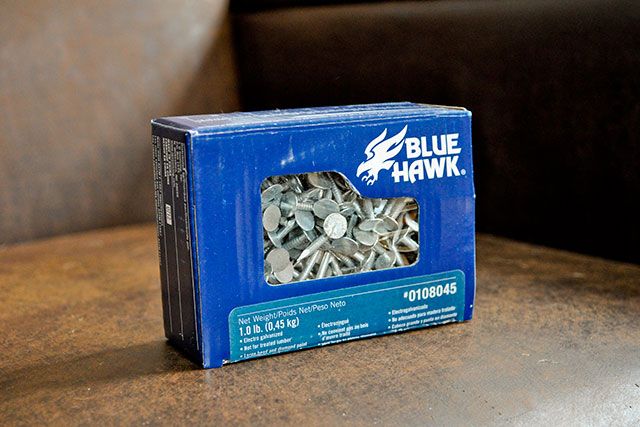 To install them, I eyeballed the placement of 5 nails along the front of the arm & hammered them in. Then, I marked their spacing on a piece of painter's tape.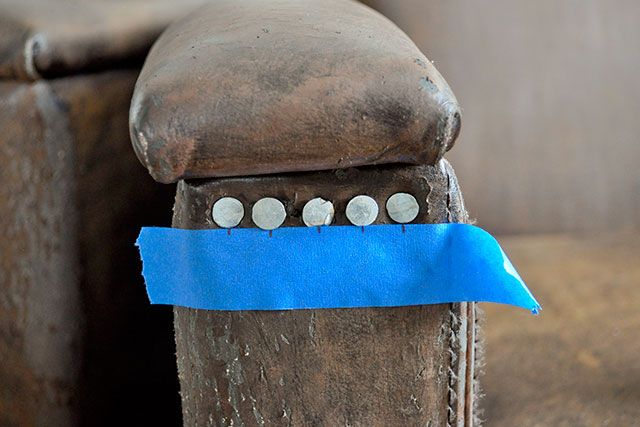 As I moved down the arm, I used the tape as a guide to keep the spacing somewhat consistent. It was still nearly impossible to get the nails lined up perfectly straight or evenly spaced, but that's something I had to learn to get over!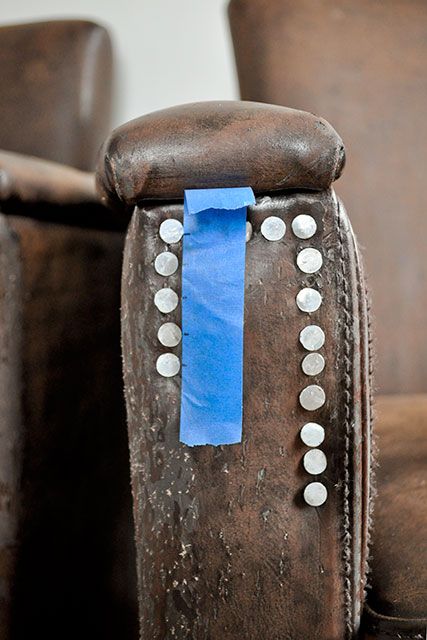 Installing the roofing nails was way easier than using the furniture nails, but let me tell you – it was still a workout. I spaced out this phase over 3 days. I don't know what this chair was made out of, I really had to fight with it to get it to accept the nails. I must have smashed my pointer finger about 10 times (ask Phil, who heard me yelling from the other room!), but it was worth it.
I created a rectangle on the fronts of the arms, then added a line of nails along the bottom of the sides just to give it a little interest, without wanting to overwhelm the chair in nail heads.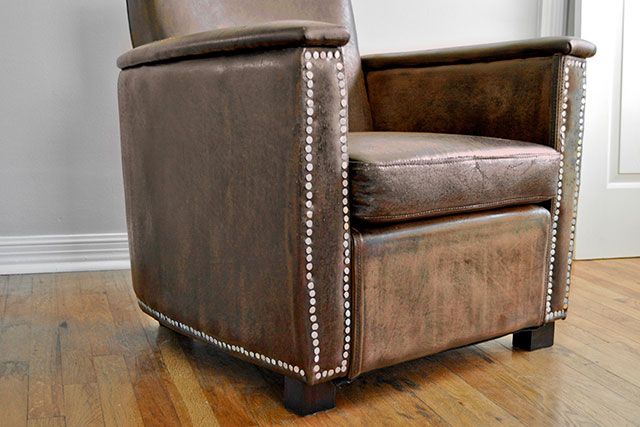 I know this makeover won't suit everyone's style, but I love how they turned out!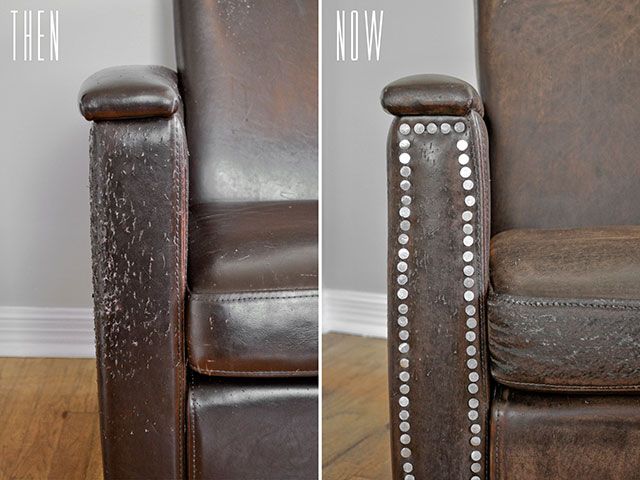 I'm really happy with the outcome! The sanding made the surface much more matte & variegated, which I think helps the cat scratches look more like intentional distressing. The roofing nails are industrial to coordinate with the rugged look of the chair, but they dress it up at the same time.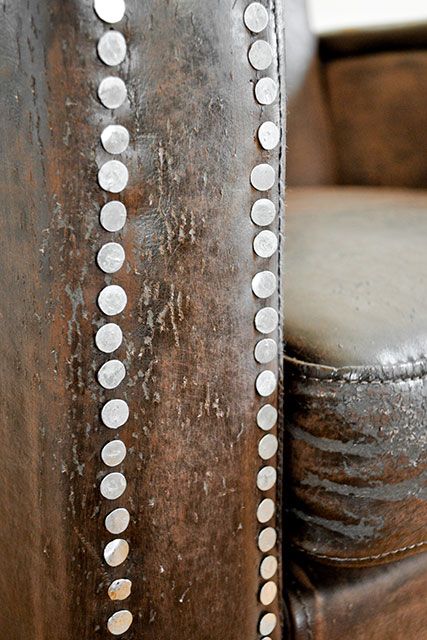 What do you think?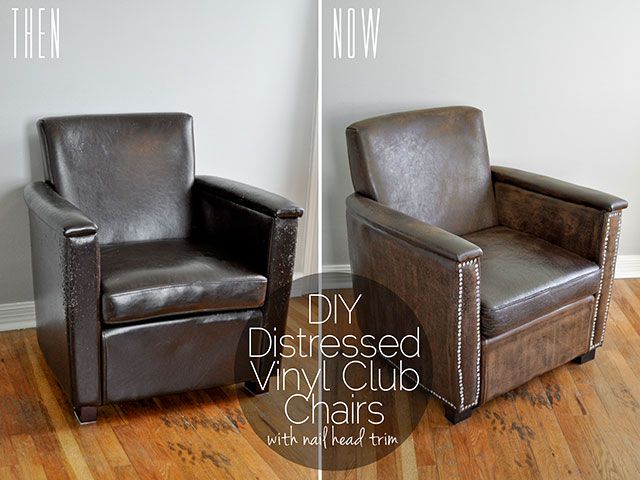 The most exciting part was putting them in our living room! The chairs have a smaller footprint than the futon, so the small space feels much bigger now that the furniture has slightly more breathing room.
I like the masculinity that they bring to the room to balance out the feminine pieces (like all the floral pillows, and the curtains I have planned…).
You might have noticed my new rug, too! It was my Christmas gift from my parents 🙂 Our previous rug was a 5′ x 8′, but I later realized that an 8′ x 10′ would ground the space much better. I love the versatility & the casual vibe of a neutral natural fiber rug!
I think it would look great with a smaller rug layered over top (& a bigger coffee table), but I don't know if that will happen while we're living in this house. Even so, this room is starting to come together!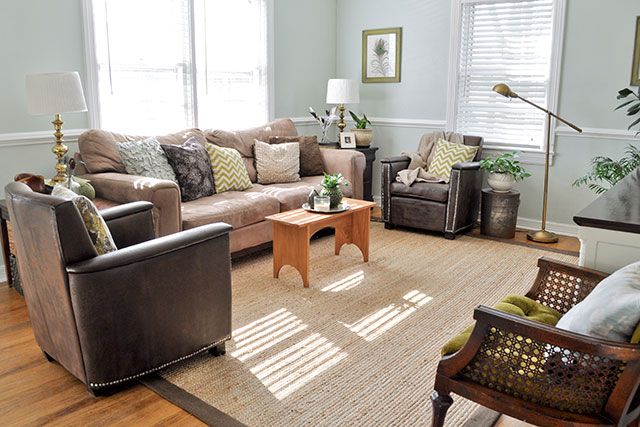 There's still plenty on my to-do list (it's never-ending!), but replacing the futon with these chairs is major progress in my book, so I am a happy girl! And for a total of $45 for the pair…Phil's happy too 🙂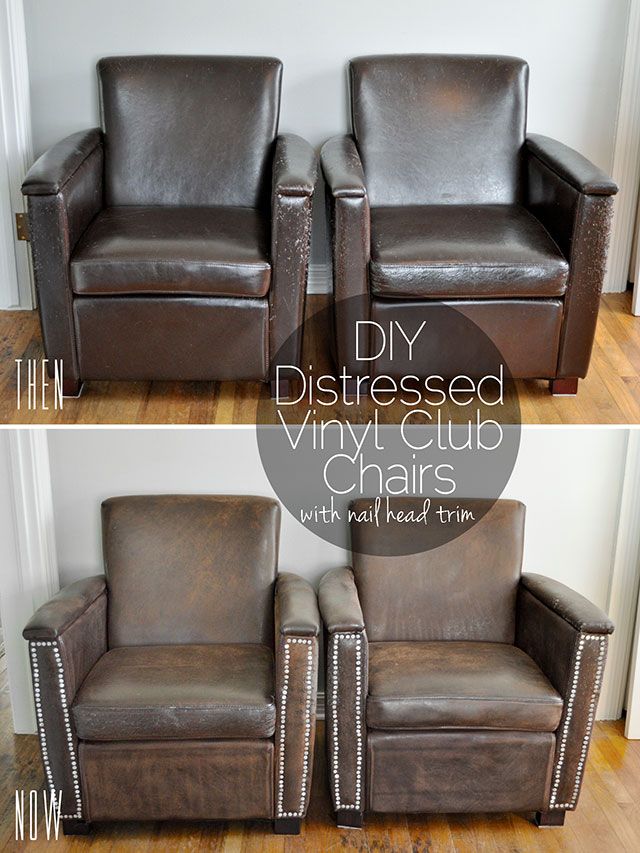 Linking up with:
Liz Marie Blog
Related posts: