We've been plugging away on the kitchen, and now I can finally show you how we updated our old cabinets by adding trim, paint, and semi-open shelving!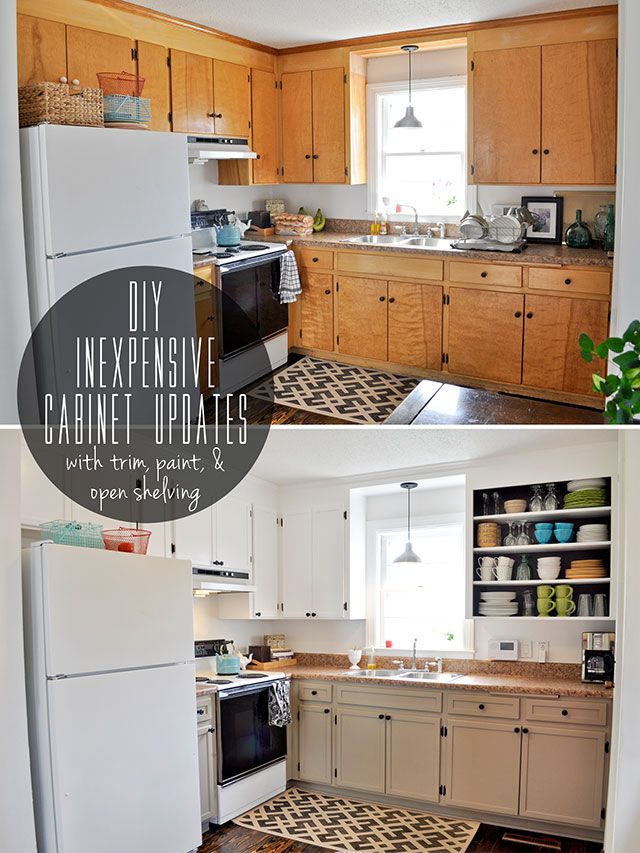 The room was already looking worlds better, thanks to projects like the fresh white paint, wood floors, painting a bright red door, and raising the old header over the sink and adding a new pendant light & rugs. But I couldn't wait to get my hands on the dated 50's cabinetry.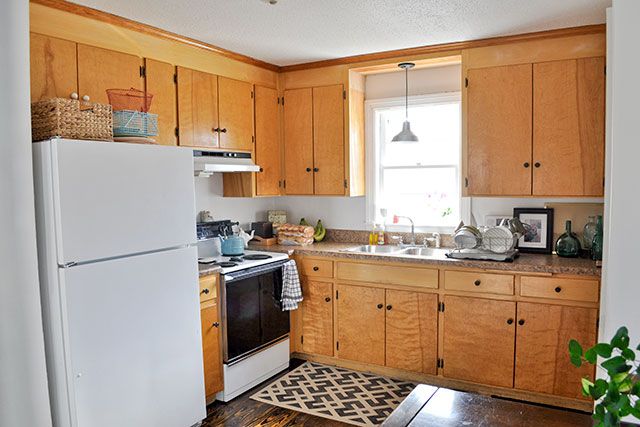 I planned on removing the doors to the cabinet to the right to allow for semi-open shelving for an updated look and easy access to everyday dishes.
New hardware would be fun, but what we had was fine, so I planned to spray paint them all black so they would match each other and coordinate with the other black accents in the room.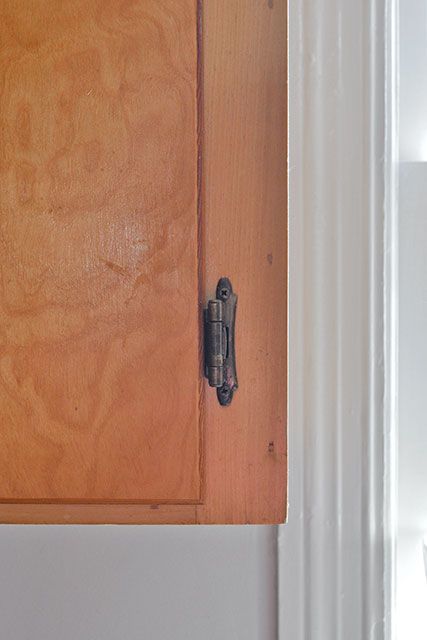 Painting is the obvious answer for dated cabinets, but I was worried that the plain, flat-front doors might still look cheap & bland, even with a fresh coat of paint. I thought that adding simple trim to the fronts would really dress them up and make them look more expensive than they are.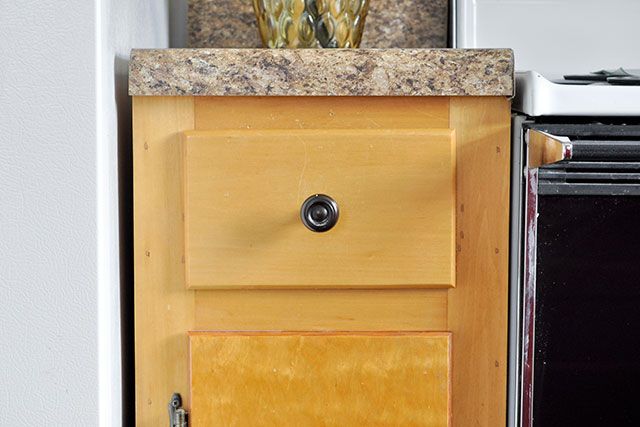 Adding trim to cabinet doors has obviously been done before. One day I was waiting at the paint counter at Lowe's, there was a bucket of yardsticks, and I was thinking that I should buy wood trim that size because it's exactly the look I had in mind – flat, shaker style, and the width of the boards were still small enough for the tiny drawers.
Then it dawned on me that I should just use yardsticks! I came home with a cart full. At just $0.69 a piece, they were much cheaper than plain craft boards the exact same size. All it would take was a quick sanding down with an orbital sander to remove the numbers, right? (Spoiler: nnnnnoootttt.)
So, this is more of a tale of what not to do. But I'll explain anyways. We started this project when my wonderfully giving family came down for a weekend to help us finish up some house projects. While my mom & grammy were inside priming away on the cabinet bases –
My sisters & I were outside tackling the cabinet doors. Alyssa sanded all the doors with an orbital sander, & Megan & I worked on adding the "trim" yardstick detail to the fronts. We figured out that you should cut multiples at once to save time & ensure perfectly even cuts. I didn't bother with mitered corners because I knew you wouldn't be able to tell after they were sanded, primed, and painted.
We simply lined them up & used wood glue to attach them to the doors.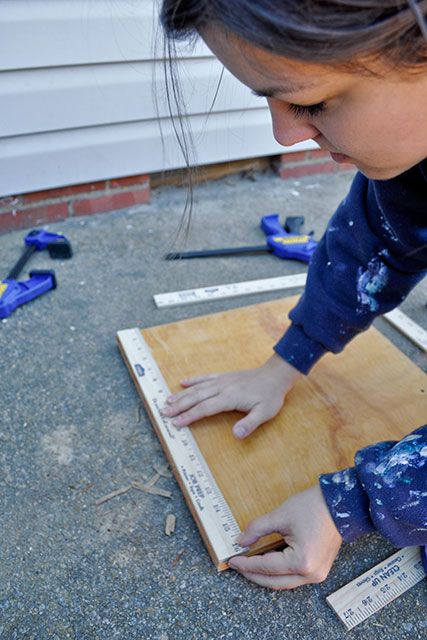 We clamped the trim pieces down for 10 or so minutes before moving onto the next set.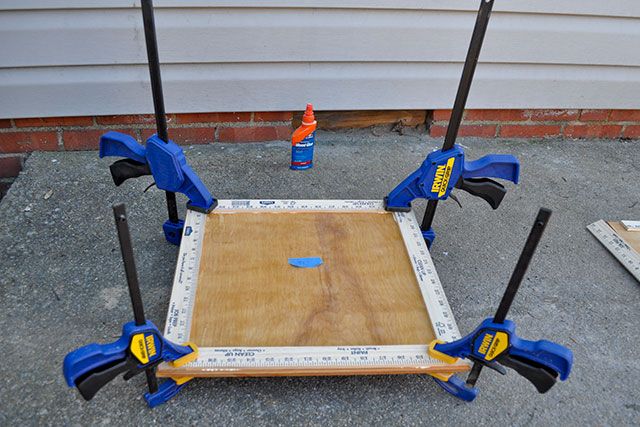 Once the glue had set, Alyssa & Phil used electric sanders to buff off the numbers, which are just slightly indented into the wood.
We cleaned them up and caulked around the outside edges of the trim for a seamless transition. Then we got to work priming! We used Kilz primer, which is so rough that it needed to be sanded lightly afterwards, but it seemed to provide a really strong base coat. Look at my busy worker bees 🙂
The base cabinets were primed too, thanks to my mom & grammy!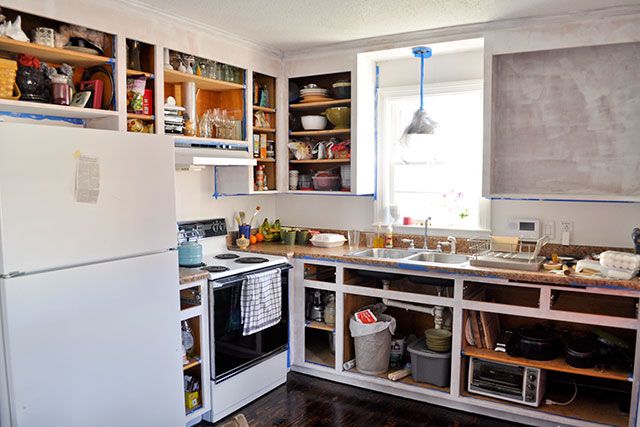 I gave all the hinges, knobs, and hardware screws a light coat of spray primer before I spray painted them a satin black.
Then it was time to bust out the cabinet paint. The uppers are off-the-shelf Valspar semi-gloss "Ultra White" and the lowers are Valspar semi-gloss "Barnwood".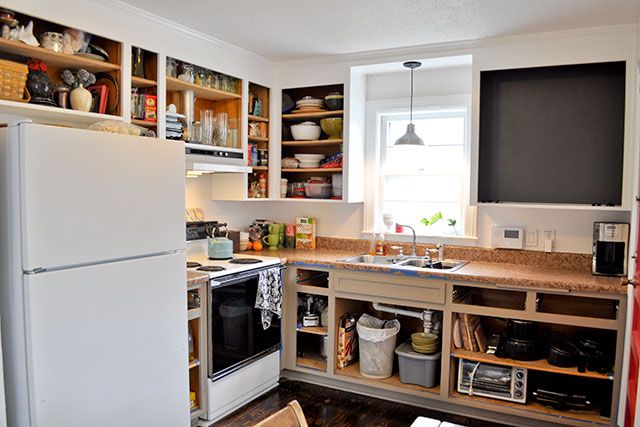 We used leftover paint from the hallway to paint the interior of the semi-open cabinet a dark charcoal gray for some drama!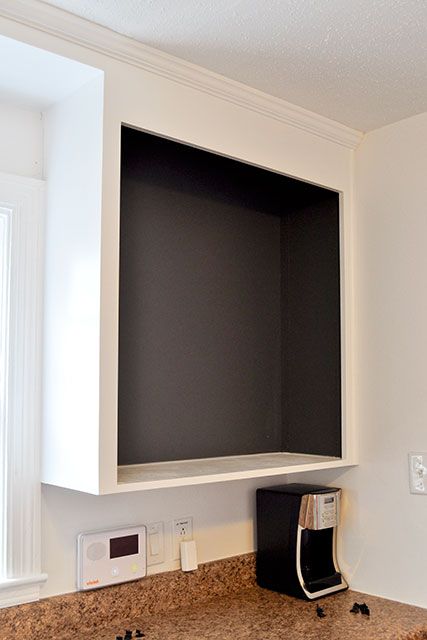 This was about as far as we got with my family, but we had made HUGE progress and I was ecstatic!
Before painting the doors, I pre-drilled holes for the hardware. Adding the trim to the doors covered up the old holes for the knobs, but I wanted to change their location anyways. I put them in the corners of each door because I thought it might be more streamlined to have them all lined at the tops/bottoms rather than partially inwards. Just a personal preference.
When it came to painting the doors, I used a small foam roller for everything.
This is where the story turned sour. As soon as I rolled the paint on the fronts of the doors, the numbers & dashes started to reappear.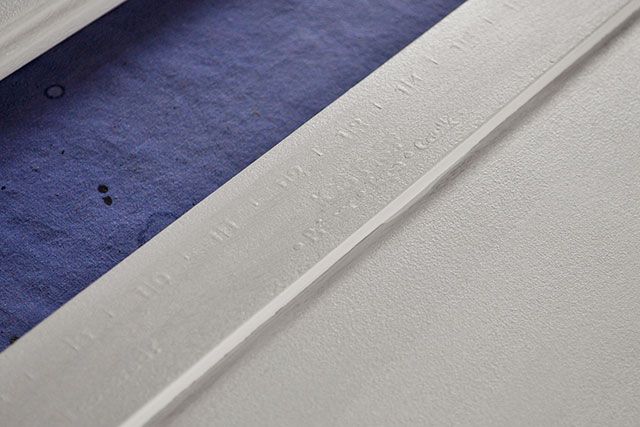 What??? It doesn't make any sense – before, the numbers were indented into the wood. We sanded them completely flat, primed them & sanded again, so these guys were perfectly smooth. But then immediately after I painted them, the numbers were not just visible, but raised. It was like a magic trick that I could watch happen as I was rolling on the paint. Whyyyyy??
I sanded them down, again, repainted, and watched the numbers bubble back up, again. I had to do this on every single door FOUR TIMES before they completely disappeared.
But the good news is, they did finally disappear. Phew.
Before installing, I brushed a coat of polycrylic over all of the inside lips of the doors to help with wear & tear.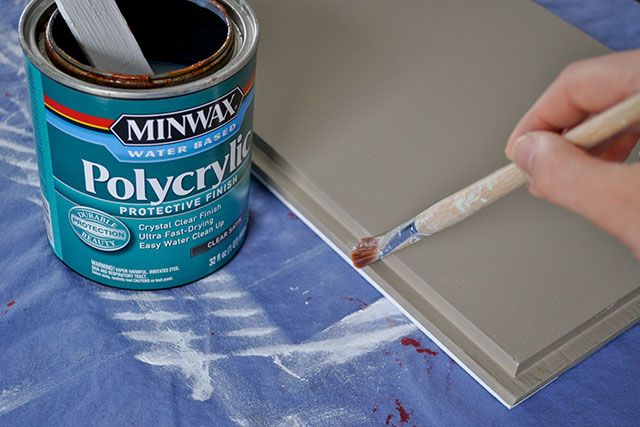 I gave the shelves in the open cabinet two coats of polycrylic too to help protect from scratches from dishes & cups.
We reinstalled the number-free doors, and loved them!
The moral of this story, for anyone who is looking to update their flat-front cabinet doors: just buy the regular craft boards & save yourself the headache! You'll still save a ton of money, compared to refacing your cabinets or replacing them entirely. And your result will be fantastic, if you ask me! 🙂
I really like how the matte black hardware pops.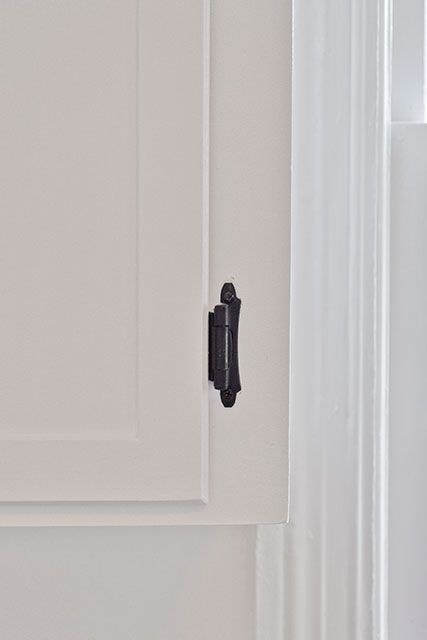 Woo! We are so happy with how it turned out. Our cabinets now have some architectural interest, and combined with the paint, it feels bright & updated. Here they are all decked out –
The tan color for the bottom cabinets ended up being a bit lighter than I expected it to look, but I still love how it coordinates with the countertop.
I love having open shelving to show off our colorful dishes contrasted by the dark gray interior.
The header over the sink finally makes sense now that it is finished!
After seeing a bunch of chalkboard-painted refrigerators out in blogland, I'm decided that I'm going to do the same to ours. I wouldn't do it if our fridge was newer, but since it's not terribly precious, I'm going to go ahead with it. Phil's on board, I think it's a fun addition that will break up all the white.
I love how it's all coming together, finally!
There's still a little more left to do in this room, but all of the major projects are DONE!
COST:
Sanders & sandpaper: $0 (already owned)
Yardsticks (36): $25
Black spray paint: $5
Primer: $21
White paint: $30
Tan paint: $27
Polycrylic: $0 (already owned)
TOTAL: $108
Not bad for the difference that these updates made!
I thought about using the leftover subway tile from the shower surround to add a backsplash (which I would LOVE!). However, the current little backsplash is integrated into the laminate countertop, which means that it can't be removed without removing the entire countertop, and it's my personal pet peeve to have a backsplash that doesn't go the whole way down to the countertop. (Do you know what I mean?) We're not able to replace the countertop, so that means no backsplash either! That's okay though, I still love our kitchen now! Here are the cabinet before & after's –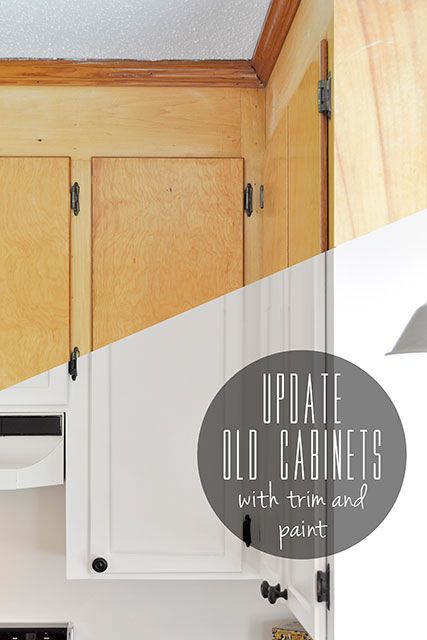 Do you like how it turned out? I have to give a HUGE thanks to my family for all of their hard work that weekend – we made so much progress that would have taken us weeks to finish on our own!
By the way – I will be changing the name of my website, so just a heads up that there will be a transition soon!
Also, my apologies for another massive post! I guess I can't help myself 🙂
Related posts: