Exciting news! I am now a contributor for Celebrations.com. I will be making crafty projects for them in addition to the projects I do for this website. My first batch of assignments was for Valentine's Day. I put together a tablescape with a modern, eclectic, and wintery look. You can can check it out here!
Projects included are homemade heart wall art, a DIY stamped hugs & kisses tablecloth, a repurposed book table runner, a Cupid's arrows centerpiece, and a modern branch centerpiece that you can also adjust for different seasons & occasions . You'll have to check them out & let me know what you think!
From now on, you'll be able to find my Celebrations projects on my profile and at the bottom of the gallery page.
One thing I didn't include in the articles was an idea for inexpensive DIY chargers. Chargers can totally make a table by giving your plates a dramatic contrast. But they can also be expensive depending on how many plates you're setting, especially for an item that doesn't really have a purpose. I liked the texture of non-slip mats (used for drawer liners & such), so I cut out large circles & simply spray painted them a metallic gold. So easy & cheap!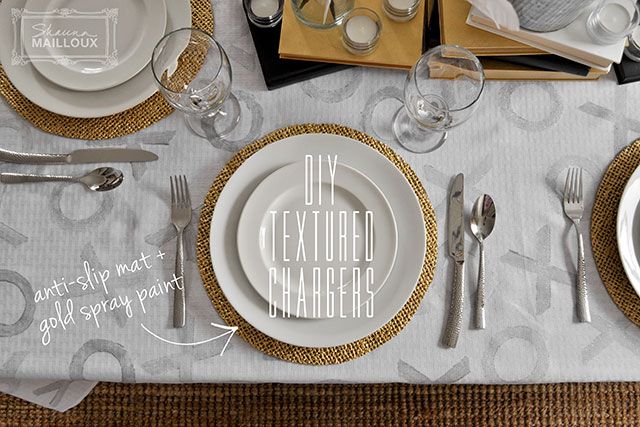 The great thing about this is that you can always spray paint them a different color down the road to match another table setting!
We already put the table setting to good use with some great friends 🙂
By the way, I also updated my about page if anyone's interested!
Related posts: