I like the look of a double shower curtain hung at ceiling height. Having two curtains pulled apart lets you show off your shower tile with nice symmetry. Hung to the ceiling, I think it makes the room look taller and more grand, just like when you hang standard curtains high and wide on a window.
To put together the look, first I bought an extra tall fabric liner from Amazon for $12. Just like the tub refinishing kit, we were able to buy it with credit card rewards, so it was another freebie! I like fabric liners over plastic ones because you can take them down and wash them with a little bleach whenever they start to get gross, instead of throwing them away and buying a new one every few weeks/months. So it is both greener and more economical! Hopefully this liner will stay with us for a very long time!
If you're doing a double shower curtain, you can use a double curtain rod with your two curtain panels on the front rod and your single liner on the back rod so they can slide independently. But I wanted to use the standard curtain rod that I already had, so I just cut the fabric liner in half and hemmed the edges. Even with a liner split right down the center, you don't have to worry about water escaping because you can just overlap them when you pull them closed.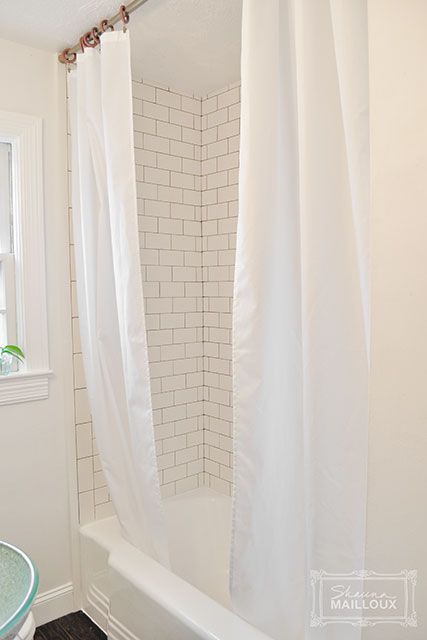 I must say, though – having the tile and the curtains go all the way to the ceiling makes the shower feel MASSIVE. I'm pretty sure that our tub is as small as they come, and we have standard 8′ ceilings, so the shower enclosure is definitely not big. But those two factors make showering an epic experience now. My sister Alyssa agrees – when they came down last weekend, she confessed to standing in our tub on multiple occasions just to stare in amazement. It's that serious.
For the curtains themselves, I sewed two panels using the same method that I used for the vintage sheet curtains in the kitchen. Except I didn't line them, and didn't add the back tabs, so they are as basic as you can get!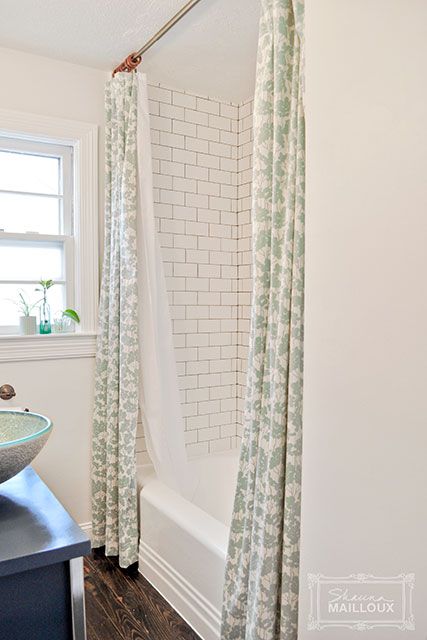 I wanted the fabric to be mostly mint-colored, but finding an affordable option wasn't easy! I ended up getting 6 yards of this Dogwood Floral Sateen from JoAnn's for $55 with a 10% off coupon. It's a little more than I wanted to spend, but I rationalized it by the fact that I was basically making two curtains for $27.50 a panel, which I could later use anywhere in the house if I ever get tired of it as a shower curtain. I think the fabric is really pretty and coordinates nicely with the other mint accents like the mirror and the vessel sink on the vanity.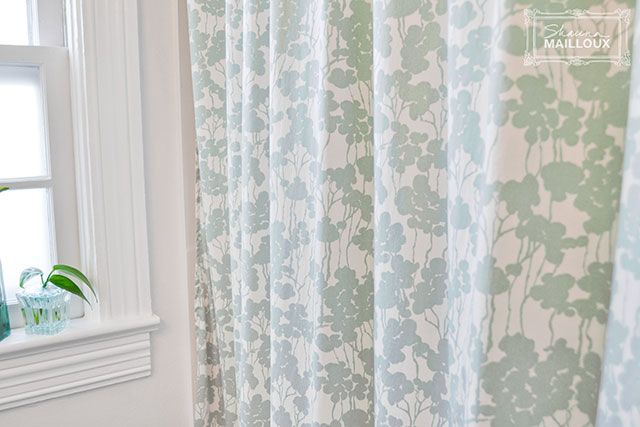 I think it completes the look for the bathroom and really brings it up a notch, especially with the newly refinished tub!
I hung the curtains and the liner together with two packs of large wooden ring clips I got from Lowe's. To help them show better from the front, I wrapped the end of each curtain around the end of the liner before clipping on the rings.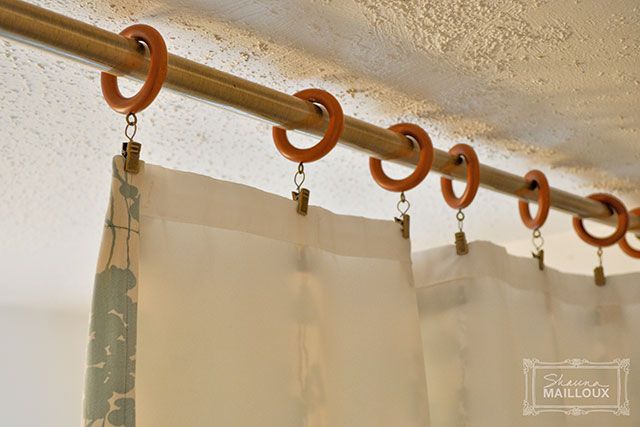 I like that the curtains look good pulled apart to show off the subway tile, or closed together like a standard shower curtain.
Cost:
Fabric (6 yards): $55
Thread: $2.50
Extra tall fabric liner: $12 ($0 using credit card rewards)
Shower curtain rod: $0 (already owned)
Curtain ring clips (2): $14
Total: $83.50 ($71.50 out of pocket with credit card rewards)
This completes all the projects for our looooong term bathroom renovation! We have some art on the walls now, so all that's left to post is the final before and after reveal!
Related posts: