Sorry for my blog absence lately, I have been so BUSY! Lots of house portrait orders have been coming in (a good problem to have!) and whatever spare time that was left was spent catching up on some house projects, which leaves little time for updates! I did allow myself a good part of the weekend to go into full Martha mode for Christmas…making wreaths, trimming the tree, putting up our outside lights, so you can expect a full Christmas tour soon!
I crossed off another small-but-time-consuming task off the kitchen project list – the back door. Shortly after I moved in, I taped up some paper as a "temporary" privacy solution until I got around to painting the door & frosting the windows.
A year & a half later, it still looked like this –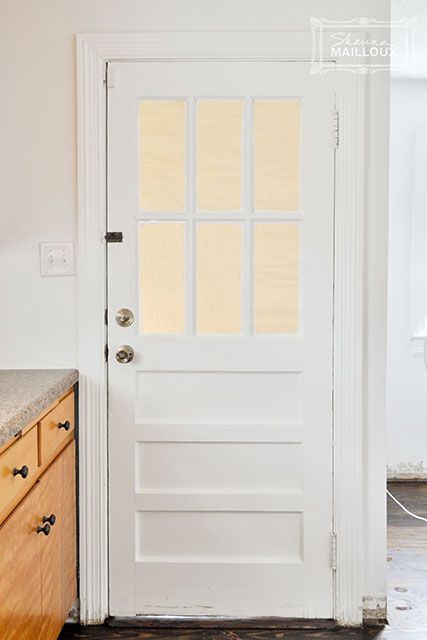 Whoops! It's about time I get around to correcting that "temporary" fix! In this case, I'm glad for my procrastination because I was planning on painting it black before I completely changed the design plan for the kitchen. A bright red door fits the vintage-inspired look and is the pop of color that the room needed after toning down the room with white walls. The color I decided on was Fabulous Red by Valspar. I thought I could get away with skipping the tinted primer since I "splurged" on a nicer paint & primer combo. Not so, apparently, because it took four coats to get to the good-enough point (and probably could use a fifth). Totally worth those four coats of paint though, because I love my bright red door!
This door is the exit to the backyard through a little utility room. It used to be a tiny back porch, but it was enclosed at one point to be converted into a laundry & storage area. I would love a back porch, but this house definitely needs the extra storage space so much more. It's basically our garage (since we don't have one). And also definitely an eyesore.
Nothing that some window film can't fix! I used a textured film by Light Effects. It's similar to the window film I applied before in the bathroom & to the window above the kitchen sink, but it has a dimpled texture instead of an etched glass look.
Installing it is really simple. All you have to do is cut it to size, mist the glass with water, apply the film, & smooth out the air bubbles. It's not quite as opaque as i had hoped, but it definitely does its job of blurring the mess lurking behind it.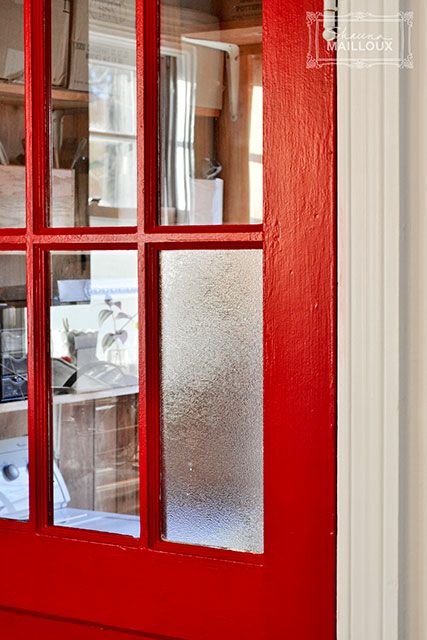 It's hard to tell in the photos from further away, but the dimpled texture is really nice in person. Of course, it's not the same as real textured glass, but it's a very pretty alternative.
This was a simple project with a big impact, don't you think?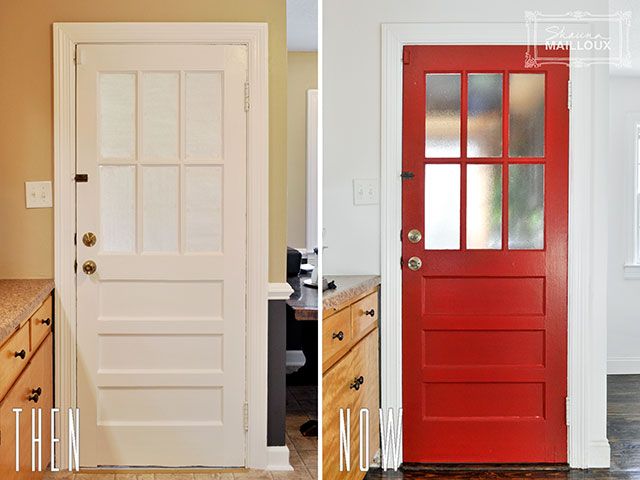 In other kitchen news, we finally installed the trim throughout the room! It made the room look SO much better.
We were going to hold off on the baseboards until after we installed the built-ins around the window, but we actually decided not to go through with that idea, at least for now. Too many other time & money suckers & not enough of either around here. But we are enjoying our refinished wood floors with the new, thick white baseboards!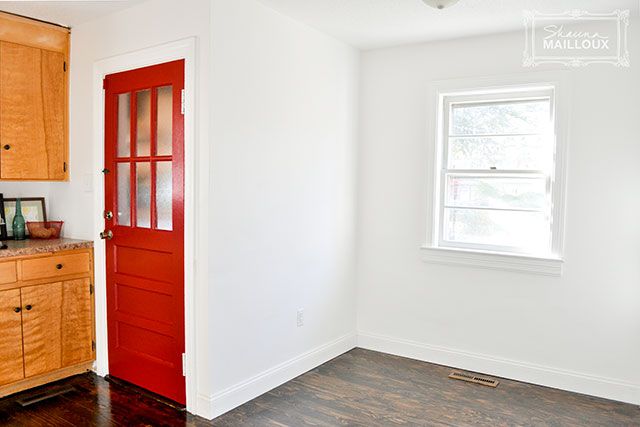 Installed trim meant that we could finally move our appliances back in from their [not so] temporary home in our living room. Yay! It's been so nice to eat real food again, haha. And as you can see, we still have yet to fix the header over the sink. We'll get there…
I've also accepted the realization that the cabinets are not going to be completed before Christmas. I don't know what I was thinking even hoping that they would be finished by then! My overly-optimistic project brain is a real problem. Maybe we'll have the trim for the cabinet doors installed by then, maybe…
I have some fun crafty Christmas projects in the works to share with you, and I'll have to give you the whole Christmas house tour, but for now I'll leave you with this little sneak peak from the kitchen windowsill –
Have you finished your Christmas decorating yet? Phil would probably want me to say that I'm finished, but I feel like it has only just begun…haha.
Related posts: