It's time to start the Christmas house tour! Today I'll just show you the outside, which probably isn't deserving of its own post…but that's all I have photos of at the moment!
I didn't hang any Christmas lights outside last year because we don't have an outside outlet…much to my dismay. This year, I was determined to find a way to make it happen, and thankfully our neighbors came to the rescue again! They let us borrow a plug that you can screw into your light socket for a makeshift outlet. Pretty sweet! I couldn't figure out a good way to tuck in or disguise the cords dangling from the ceiling, so I made a little garland out of boxwood clippings from the yard for a distraction. I think it's pretty cute! It inspired me to make a bigger one for inside the house – I'll show you that one when I do the inside tour!
I liked how my upcycled winter wreath turned out last year, but I wanted something different this year. When we picked out our Christmas tree a few weeks ago, they let me take home a big pile of evergreen clippings. I had enough to make two wreaths & still spread a bunch throughout the house! I never made a wreath without a form before, so that was kind of fun to try. I felt like a little Martha Stewart 🙂 You just use a bunch of evergreen branches & a lot of wire, and keep moving around the circle adding branches & securing them with wire.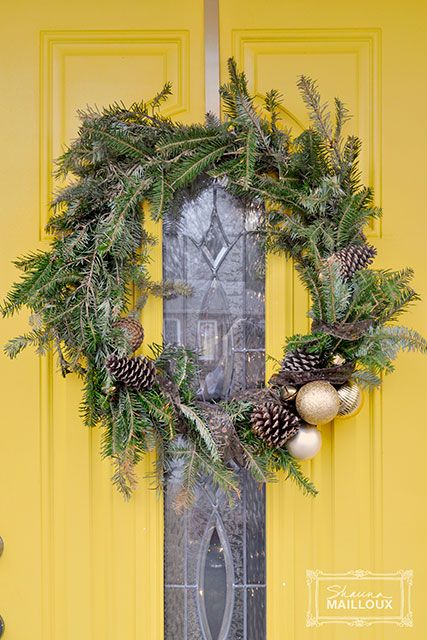 The funny thing about this wreath is that it morphed over time. I planned on keeping it as a plain evergreen wreath because I liked that it was simple and natural and not too tailored. I wanted to rock the woodsy-minimal look. A few days later, I tied on three gold bulbs with some wire…just to see. And a few days after that, I added the gold bells, some pine cones, and ribbon. I guess I can't help myself! Maybe I'm not meant to be a minimalist, haha. But I still like to try sometimes.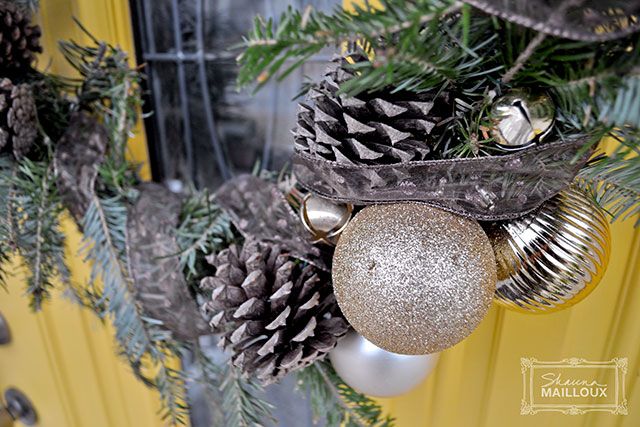 I put a green glass wine jug on either side of the door. I had them leftover from decorations for our wedding. I used them here as a solution to the remainders of the light strands. I piled them inside the jugs & topped them off with more evergreen branches. A little weird, but kind of cute…right?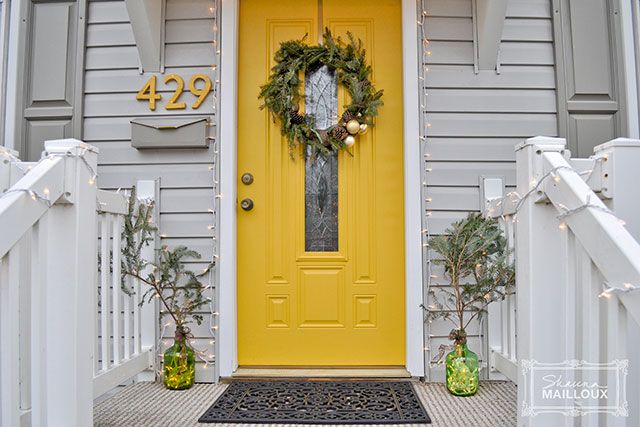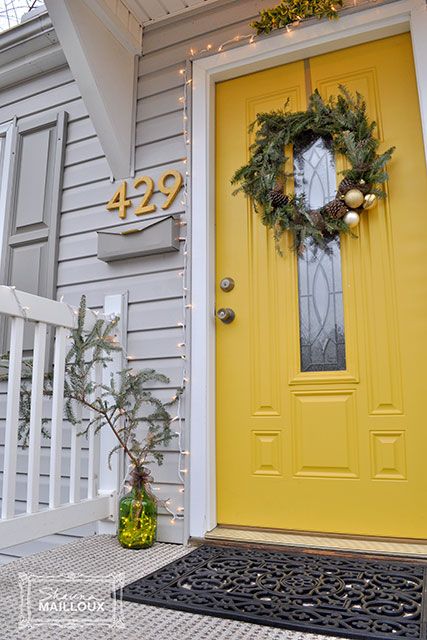 Here's the house all lit up at night. I love coming home to a festive house!
Home sweet home!
Related posts: