The kitchen floor is done! Wohoo!! All that stands between us and functional appliances is installing the baseboards, which is happening tomorrow, so the end of toaster-oven-and-take-out living is in sight! Now I'll take you through the journey of how we got there…
Our kitchen floor was a good inch taller than the rest of the floors in the house, thanks to two layers of linoleum, a layer of plywood, another layer of linoleum, and a layer of tar paper. But thankfully, underneath all that craziness was hardwood floors!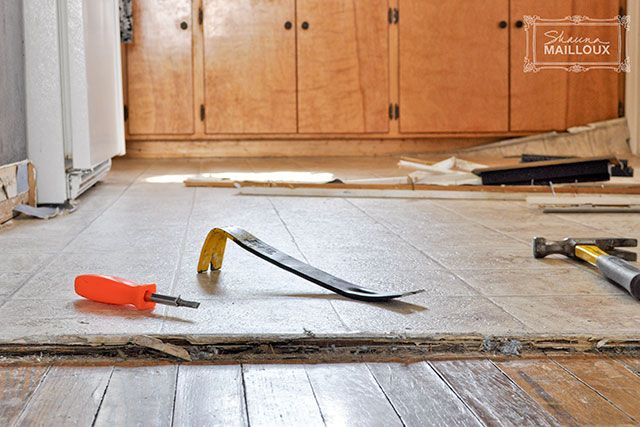 Phil's job is demolition, which is what he does best 🙂 Haha
He ripped off the first two sheets of linoleum & the plywood, and then reached the layer of staples…
Ohhhh, the staples. Each one of the 85974 staples had to be pulled out by hand before the next layer could come off.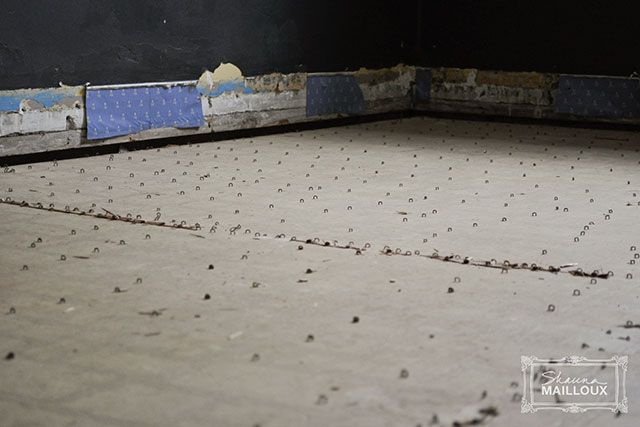 How adorable is it that Leo would choose to lay on a bed of staples just to be near me? That's love 🙂
Jaida was on the couch. That's my girl 🙂
Underneath the last sheet of linoleum was the dreaded tar paper –
This is the stuff that kills souls.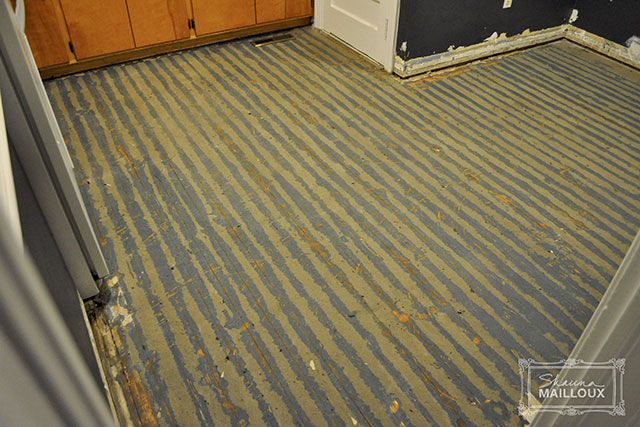 Instead of painstakingly trying to scrape off every inch of tar paper, like we did with the bathroom floor –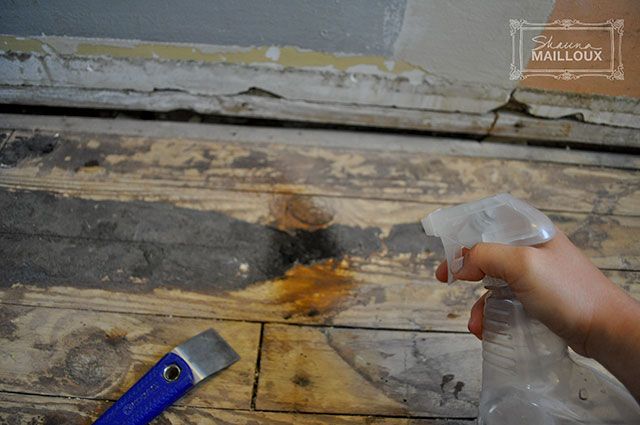 This time, we thought we'd be geniuses and only scrape off what came up easily & let the rented floor sander do the rest of the job.
So we taped everything off & prepared for the impending dust storm.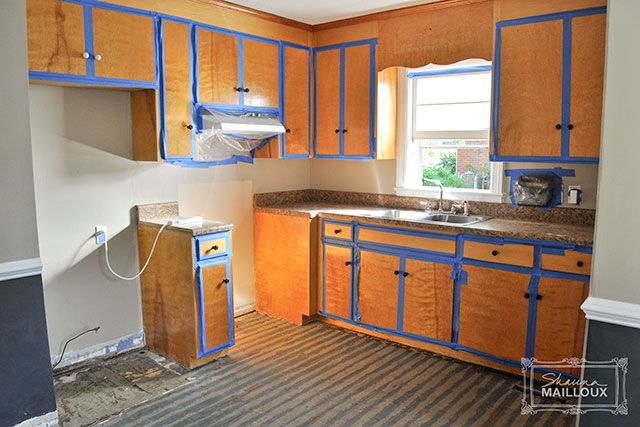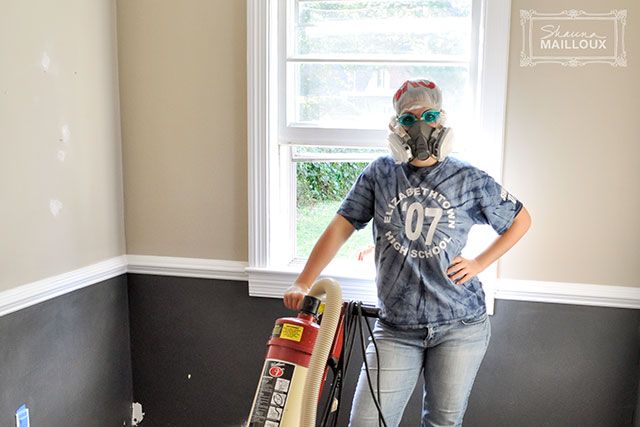 Yep, a plastic bag, swim goggles, & a respirator. That's how you get it done. I apologize to your eyeballs…Phil insisted that I include that lovely photo of myself 🙂
The problem with our genius plan…was that it didn't work. After about an hour of sanding, I had made minimal progress –
Heartbreak. Unfortunately, we didn't see a better option, so I put Phil on drum sander duty & worked my way around the perimeter with my orbital sander.
Progress was painfully slow, but we kept at it.
After two ENTIRE days of sanding, and about $40 in sandpaper, we finally unearthed our pine floor –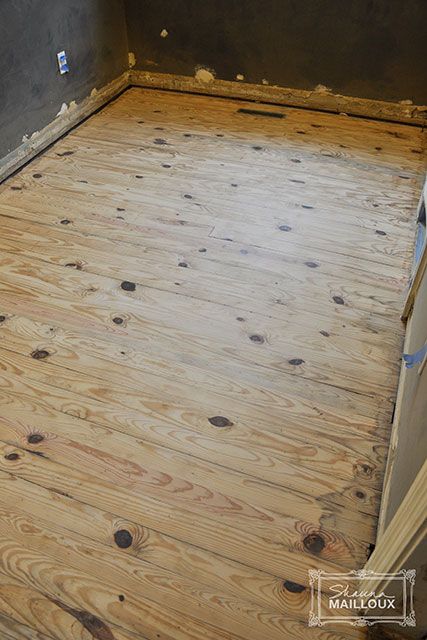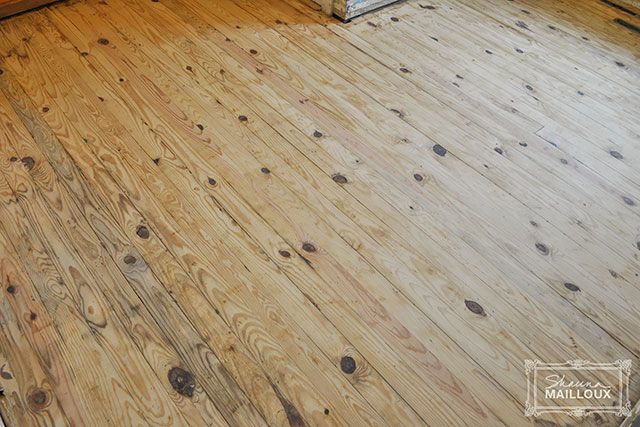 It was at this point that we removed the chair rail & sink header & painted the room a bright white, like I showed you in my last post.
With a crisp white backdrop, I was definitely ready to get my stain on. For some consistency throughout the house, we went with the same Minwax Dark Walnut like we used in the bathroom –
It was a dramatic difference that totally changed the room.
I sealed it with two coats of the same spar varnish too. Because it's made for use on boats, I thought it would be perfect for our bathroom floor, which is exposed to humidity & water drips. It's probably not as necessary for a kitchen, but I had half a quart left that I decided to use up. Combined with another quart, it ended up being the perfect amount.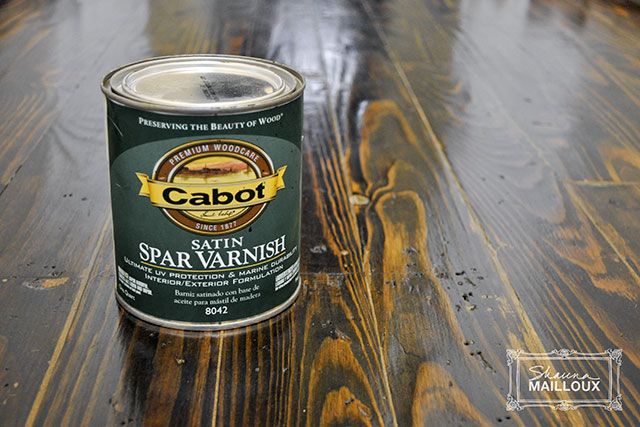 Tar paper may kill souls, but this is the stuff that kills brain cells. You definitely need a respirator, fans, & open windows.
But BEHOLD, our glorious, dark, reclaimed wood kitchen floor!
It still looks a little rough until we get the baseboards in, but I'm still in loooove with the end result.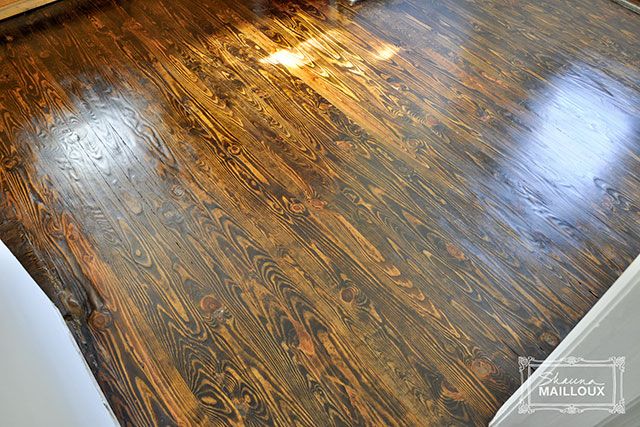 They even makes our cabinets look better. Not that I'm not still ecstatic about painting them…but it's nice in the meantime 🙂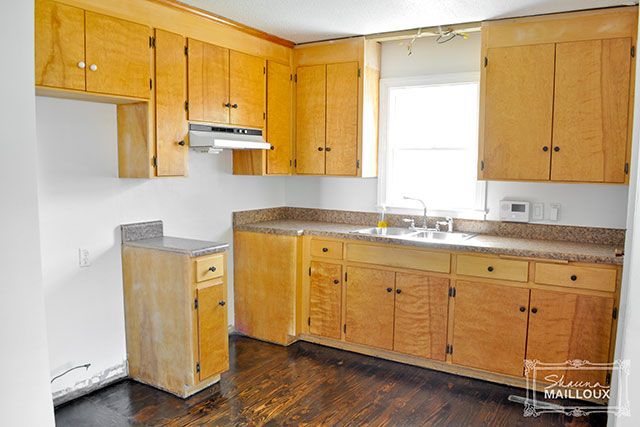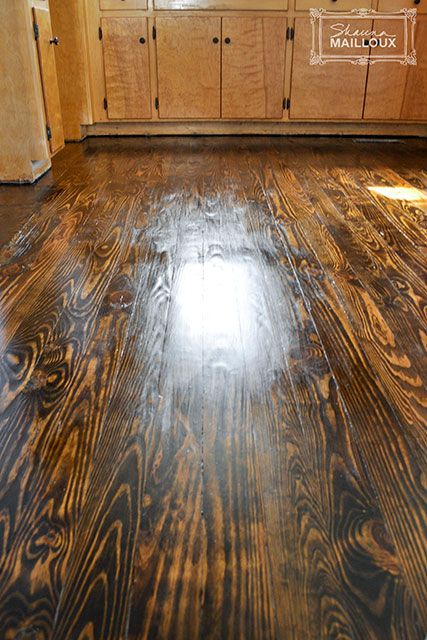 My goal is to have the cabinets done by Christmas…can it be done?? I'm notoriously terrible at judging how long a project will take, but I'd really like to have the kitchen mostly finished to enjoy our last Christmas in this house 🙁 Okay, this post just got really sad. Back to looking at our pretty floors 🙂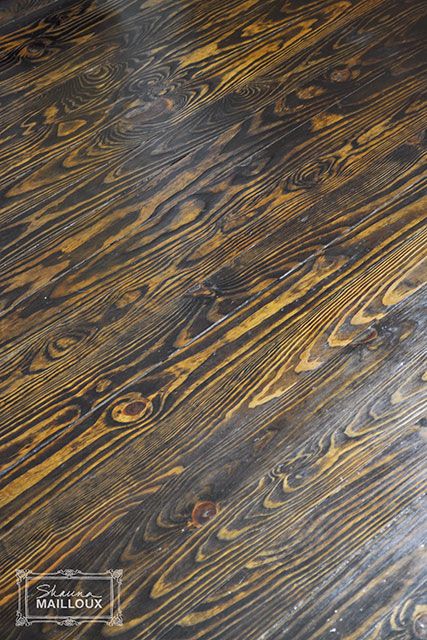 Related posts: