I must say that our floor is looking preeeetty nice, but it still needs one more coat of sealer before I can take the "after" shots. And I'm going to be all dramatic and not let you see it until it's finished 🙂 But I can give you a quick update on some other kitchen progress as proof that things are actually happening over here!
Since the room was already covered in dust from sanding the floor, I figured that we should go ahead and knock out some other messy projects before the room gets scrubbed from top to bottom. Removing the chair rail was one of these things. We decided to remove it for a few reasons – one being that I just don't really like chair rails. I know they're supposed to be a nice feature that everybody appreciates, but I just don't for some reason. I like plain walls, and I like wainscoting & lots of other architectural features, but chair rails simply aren't my style. For that reason, I also didn't want it to affect how we would install the built-ins around the windows. And lastly, it's dangerous! I've gotten bruised hips on numerous occasions from running into this hazard –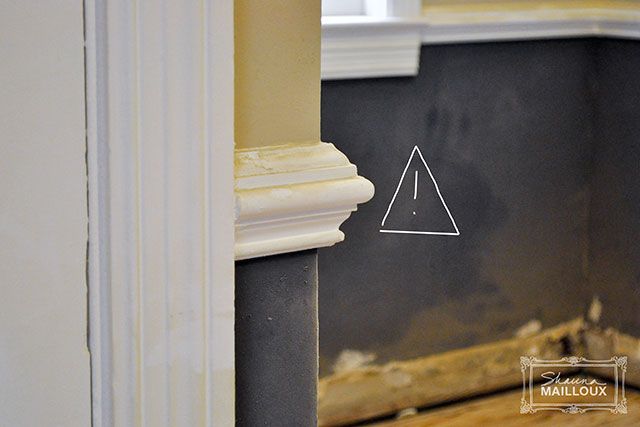 And of course, there are all of the holes that needed filled, thanks to a certain gallery wall 🙂 (And yes, happy gallery walls are totally worth the patching later!)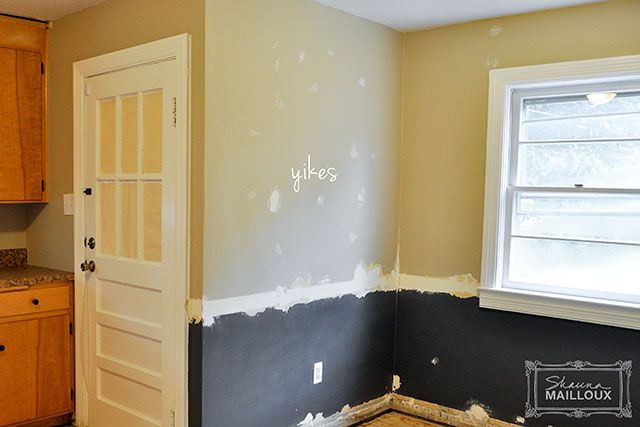 But 3 coats of paint later, we have a beautiful fresh slate as a base for layers of texture & pops of color in the room. I'm really glad that I repainted this room to accommodate our new design plan, even though I painted it somewhat recently when we removed the old wallpaper. After living in this house for over a year now, I've noticed that the kitchen doesn't get great light & always seemed dark & dreary. Crisp white walls will do wonders, in my opinion!
It also seemed like a good time to tackle the dated, encroaching header over the sink.
The plan was to remove the header all the way up to the ceiling and re-cut the top trim to surround the separate left & right cabinets. But then we discovered that the ceiling above the sink doesn't have the same [undesirable] popcorn texture as the rest of the ceiling, and more importantly, the hole for the light fixture was way off center –
Strange, right? Instead of making a new hole, patching the old one, and adding the dreaded popcorn texture to match the rest of the ceiling (or removing the popcorn texture on the rest of the ceiling), we decided to take the easier route & just rebuild a small, non-encroaching, non-swirly header, just big enough to hide the wires so we can hang a centered pendant. We didn't get that far yet, but even in the unfinished state, doesn't it look AMAZING compared to the old swirly header? I swear the room feels taller & the window lets in more light. It certainly doesn't hurt to have bright white walls now & to have gained an extra inch of height when we removed all the layers of linoleum on the floor!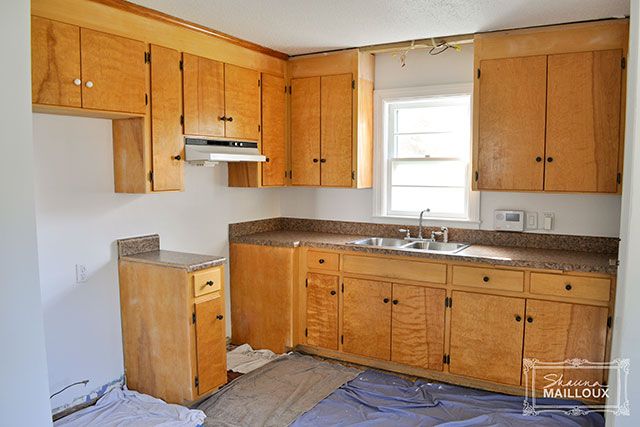 I can't wait to see the difference that trimmed & painted cabinets will make. Dying to show you the floors…soon, I promise!
Related posts: