I hope you all had a wonderful Thanksgiving! We were fortunate to be able to spend the holiday with our families & are still soaking it in. I thought I'd better squeeze in this little update about our fall living room before the season has totally passed. I got the urge to switch up our old gallery wall arrangement around the TV –
And I really like how it turned out! I think it's safe to say that it will stay this way now.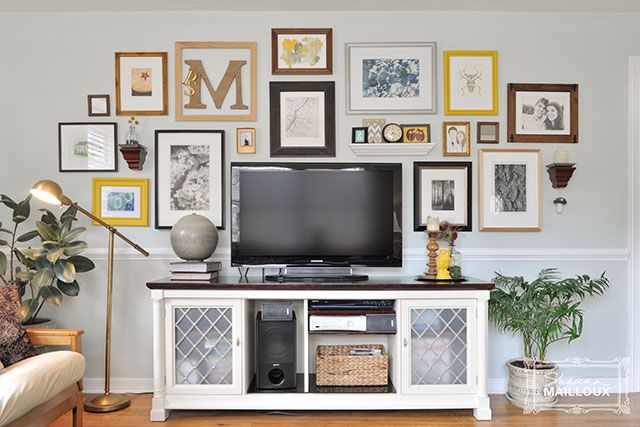 I decided to add in some black frames to help tie in the black TV. I removed all the chartreuse accents to make way for more neutral, aqua, and yellow tones instead. I painted a few frames a mustard shade with leftover paint from our front door.
I had a small canvas and a thrift store frame to fit it, so I tried my hand at a little abstract palette knife painting for the very top of the gallery wall. I just used some leftover wall paint & only let myself have about two minutes to slap down some paint, since I have a tendency to over-work things. It's simple, but I like it!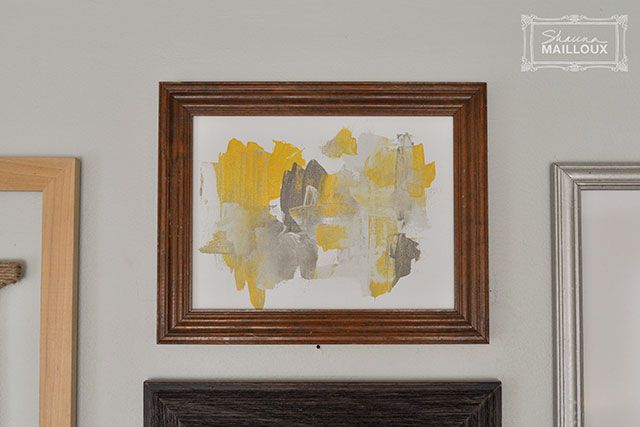 Fall textures & mustard accents are scattered throughout the room too, like my little yellow owl.
It's just a $1.50 figurine from the thrift store. Add a few solid coats of paint, and it's modern & cute!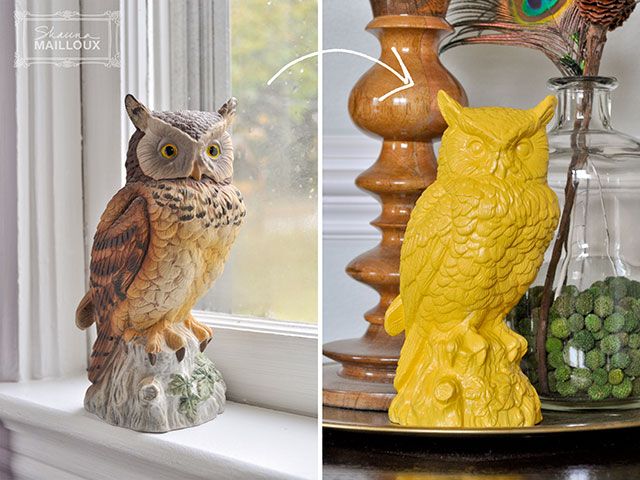 The last time I showed you the living room was after the upcycled pillow extravaganza –
Since then, I've made a few small changes. I moved the old radio to our bedroom where it can be seen & appreciated much better. I'm still itching to get some curtains up – I'm planning on stenciling some drop cloth curtains, which I'm pretty excited about!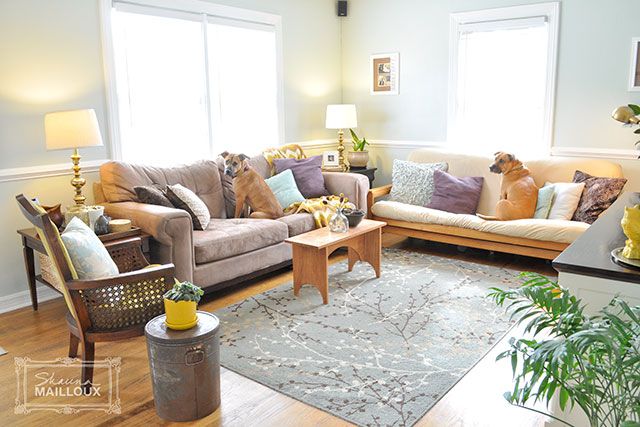 More fall textures!
On the other side of the room, we finally got around to removing the desk.
We just plopped the desk down there when I moved in, but we weren't using it as a desk & I never liked having it there. I guess it's about time that I did something about it!
I replaced the old window with three frames that I built for college. They fill the space much better. I still have to figure out what to put in them, but the change is nice & more my style than window.
Removing the desk really opened up the room, and it's nice to have a more clear walkway in a house without a foyer or traditional entry. I'm thinking about getting a runner to define the space, and perhaps painting the inside of the door a glossy black. What do you think?
Now that fall is basically wrapped up, who's excited for Christmas?!
Related posts: