I am crazy excited about our [budget] kitchen renovation inspired by my vintage recipe box –
Translated into a design plan, it's basically going to mean a neutral base with lots of vintage accents & pops of bright colors. There is much to be done to get us to that point, but I'm excited to achieve a look that we love that adds value to our house without spending much money. We're going to be moving next summer, so it's important to us not to invest too much money into our home out of fear of not seeing the return. But pretty, updated kitchens can only help a sale, right? I'll run you through our plan of attack…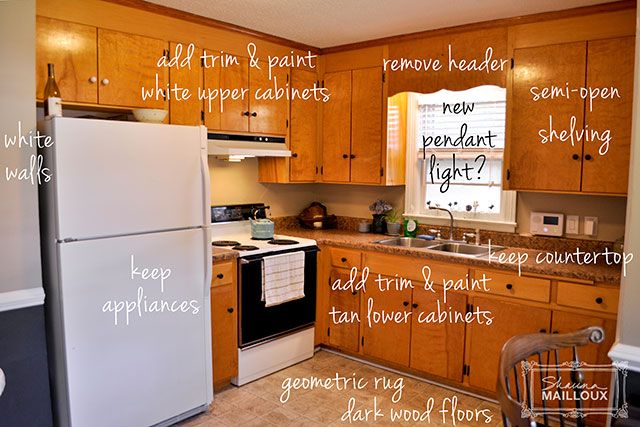 We discovered that underneath 3 layers of linoleum, a sheet of plywood & staples, another layer of linoleum, and finally a layer of glue & tar paper, we have hardwood floors! So we will be sanding & refinishing them in a dark walnut stain like we did with our bathroom floor, paired with fresh white walls –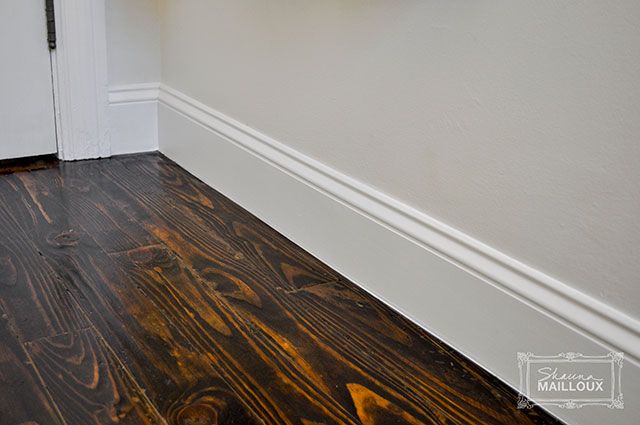 Actually, we already started this part, and I am almost done with the sanding, so hopefully I can have an update soon showing you some gorgeous dark hardwood flooring!
The laminate countertops are definitely not in my ideal kitchen, but they're not bad for a budget kitchen, so we're going to work with them. The cabinets are staying too but are getting a facelift. We're going to add trim to the doors to make them shaker-style. I like two-toned kitchens, so the uppers will be painted white & the lowers will be painted a tan/putty color that matches the countertop.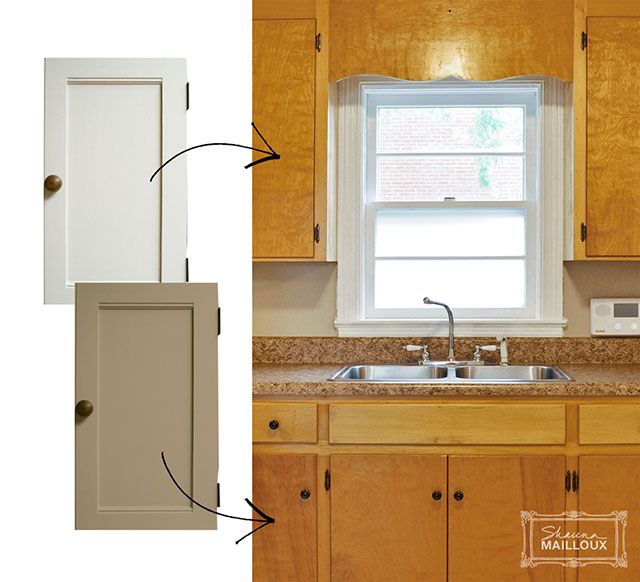 The eat-in side of the kitchen will also look drastically different after we're done.
White walls will really brighten the room & be a fresh slate for all the colorful accents to take the stage. A bright red door will be the pop that the neutral kitchen needs. I'm especially excited about the built-in storage that is going on the window wall. We're going to install two Ikea BILLY bookcases on either side of the window & trim them out to make them look custom & built-in. I think it's going to look awesome, and will give our small kitchen some much-needed storage area for glassware, colorful dishes, & table linens.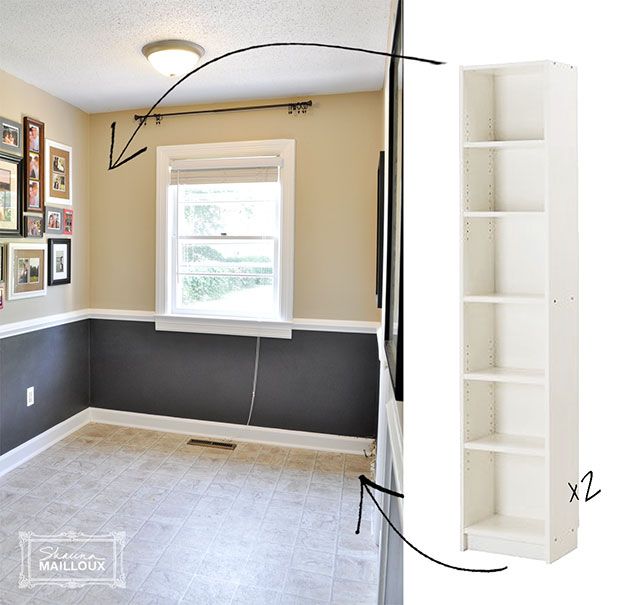 I'm going to make a pair of curtains from a vintage floral sheet that I got from a thrift store for just $3! I love the yellow & mustard tones paired with the other bright red & turquoise accents.
A chunky jute rug will go under the table. I love the warmth that a textured natural fiber rug brings to a room. On the other side of the kitchen, a geometric indoor/outdoor rug will define the cooking area. I feel like I'm a pretty messy cook, so I think that an outdoor rug would be perfect for the space since they're so durable & easy to clean. I like the modern design of this black & white rug to contrast with some other vintage touches.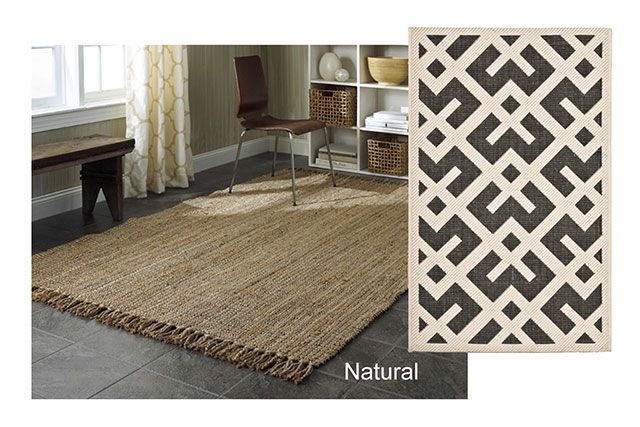 The old windsor-style chairs will be replaced with four of these vintage chairs that I bought off craigslist for $10/each. I actually like the worn wood, but the room will need some more color, so they will be painted a soft turquoise. I might recover the black & white seat covers someday down the road.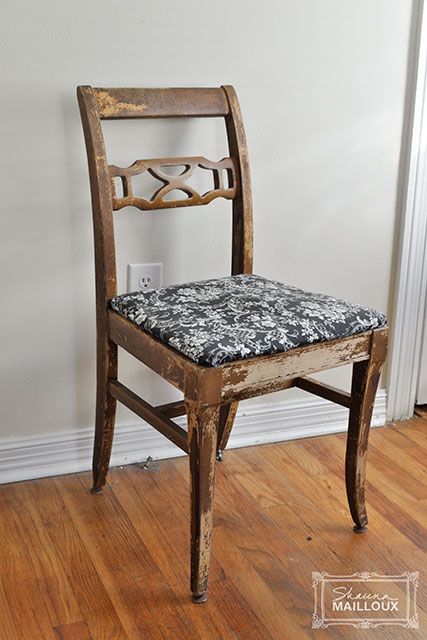 There are more decisions to be made, such as lighting (if we can replace it), art (I'm feeling a vintage plate wall!), and all the fun decorative pieces. I put together a little mood board for our kitchen renovation plan to envision it all together. Who's excited?! {This girl.}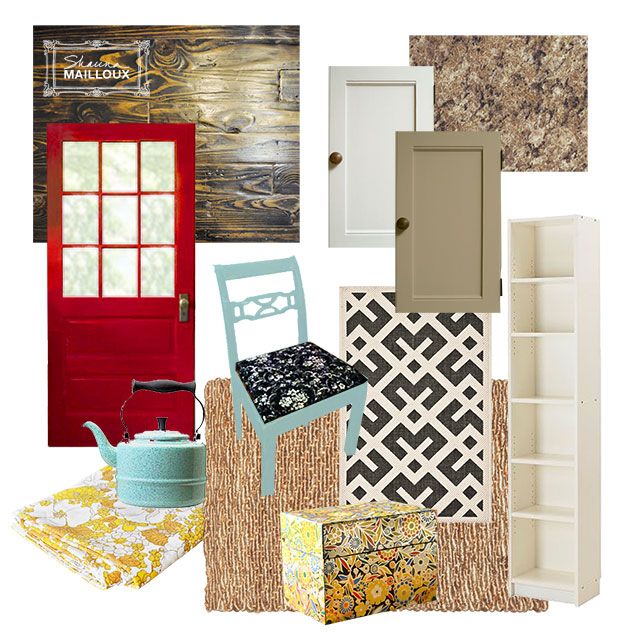 Hardwood Floors
,
Shaker Cabinet Doors
,
Existing Laminate Countertops
,
Red Door
, Painted Turquoise Chairs,
Geometric Rug
,
Ikea BILLY Bookcase
,
Turquoise Tea Kettle
, Vintage Sheet Curtains,
Jute Rug
,
Recipe Box
Related posts: