A few weeks ago, one of our neighbors threw away an old planter. It was just a little plastic one, and it was pretty dumpy looking, but you know I couldn't resist a freebie, right? Besides, I hate seeing things get thrown into a landfill when there's still some life left in them. Snatched that right up. Thanks neighbors!
After a serious scrubbing, some primer, and a few coats of black spray paint, it was looking much better.
I could've left it like that, but I guess I thought that would be too easy. To emphasize the geometric pattern, I used some leftover paint from our shutters and rolled that on the raised areas of the planter for some contrast.
I thought the top of the planter could use some help too, so I beefed it up using some scrap wood that the previous owners left in our shed. Wohoo for more freebies!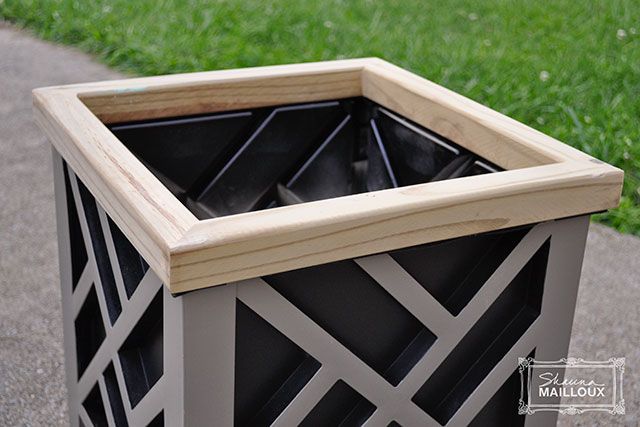 After painting the top, it was complete! My need for thrifty home decor has been satisfied…temporarily 🙂
I potted a yucca plant in it. It's one that we had inside, but I decided I didn't like it anymore, so I graciously donated it to the porch cause 🙂 I think a little round boxwood would be cute to replace it sometime. The yucca works for now, it's just a little messier looking than I like. Maybe I should try giving it a little trim?
Regardless, I am happy with the more cheerful look on our front porch!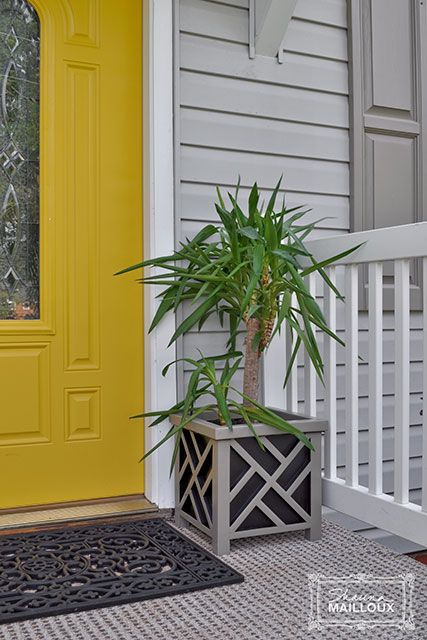 With the painted mailbox & new plywood house numbers, our entry is looking a lot more like us.
While we were at it, we added some greenery on the steps too –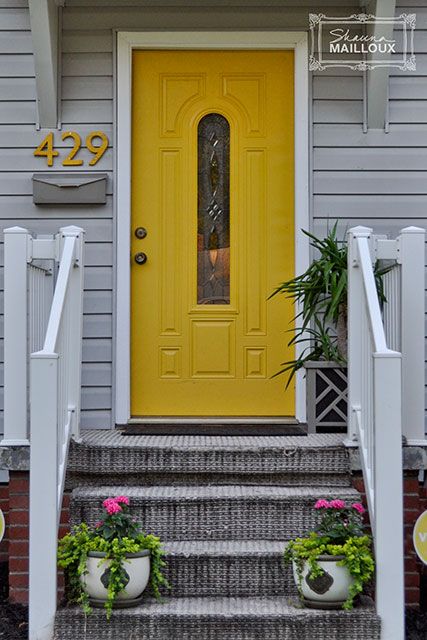 The planters were ones that we were previously using inside, but they got donated to the porch cause too. I filled them with creeping jenny & pentas. I just love creeping jenny – the happy chartreuse green, the cute round leaves, & how it cascades over the sides. I kinda want to use it everywhere now.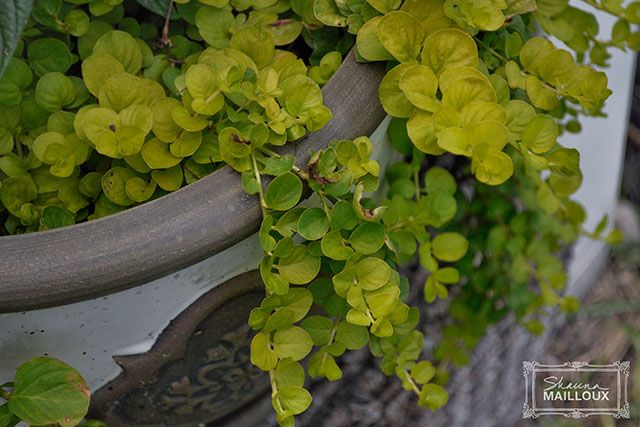 Yeah, we still need to rip that carpet off the stairs. That's been on our project list from day one! I peeked under the carpet & the cement is a complete mess of dried glue…so that's going to be fun to deal with. We'll [hopefully] tackle that in the fall once it cools down a bit. But I'm excited to see how much more fresh & updated it will look with the stained/painted steps! I'd still love to make & install some window boxes filled with red flowers – perhaps next spring? If there's time before we have to move… 🙁
Anyways, our curb appeal is coming along!
Related posts: