In my last update, I mentioned that we found hardwood under all the old layers of linoleum & plywood in our bathroom, & decided to refurbish what we had rather than rip it out & put in new tile.
The decision to keep the hardwood wasn't haphazard. With all the humidity & water splashes, I know that hardwood flooring sounds about as smart as carpet in a bathroom. But after some research, I found that it was possible to use hardwood if it was sealed thoroughly with marine varnish – the stuff that they use to protect the wood on boats. It's a product that's made to stand up to the constant abuse of salt water & UV rays. I was sold.
We knew that refinishing the floor would be a huge job (though I don't think we truly understood what we had gotten ourselves into!). And being the only bathroom in our house, we needed to keep the toilet functioning as long as possible – which meant that we decided to rip out everything up unto the toilet & get that area to an almost-finished state before taking out the toilet & completing the rest of the floor.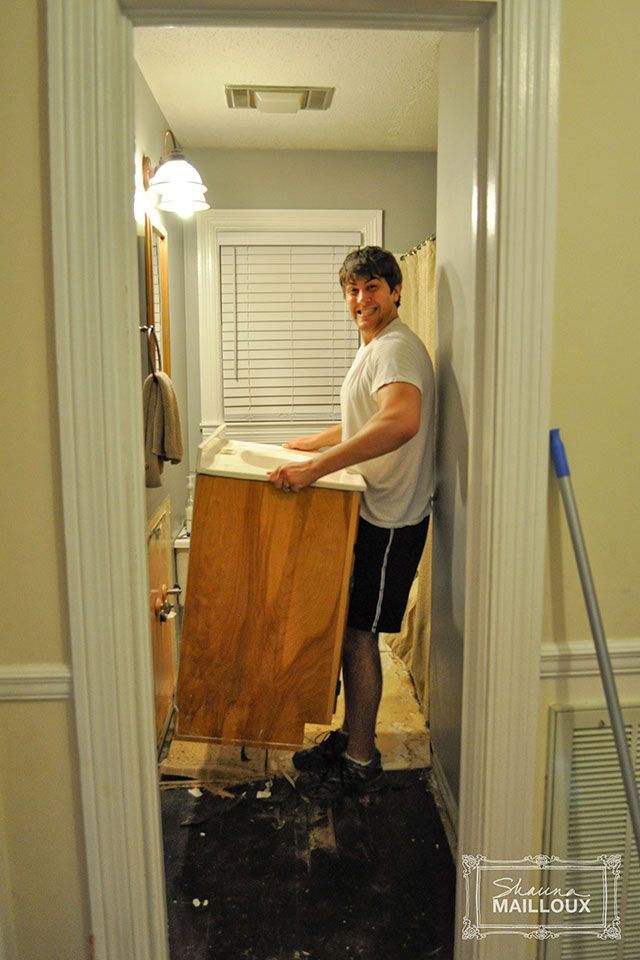 The wood floor in the bathroom is different than the hardwood in the rest of the house. It is hardly high-quality hardwood – it's simple pine tongue & groove planks, with plenty of knots, cracks, dents, & scratches. That didn't scare us off though – we like the rustic look. But unfortunately, the floor was covered in tar paper & hundreds of staples…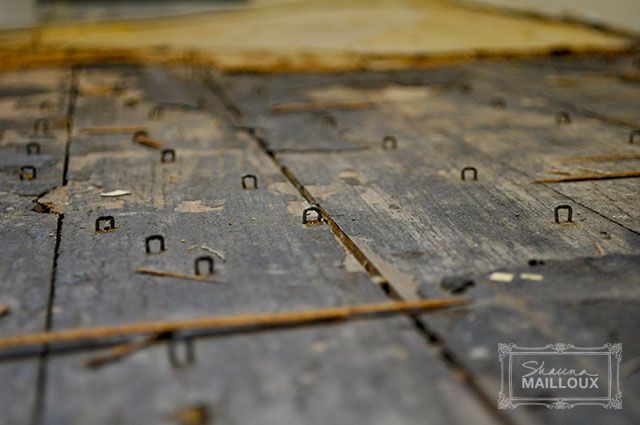 Removing all the staples was a breeze compared to removing the tar paper. I started by scraping it…
…but this was all that I could manage to remove by hand.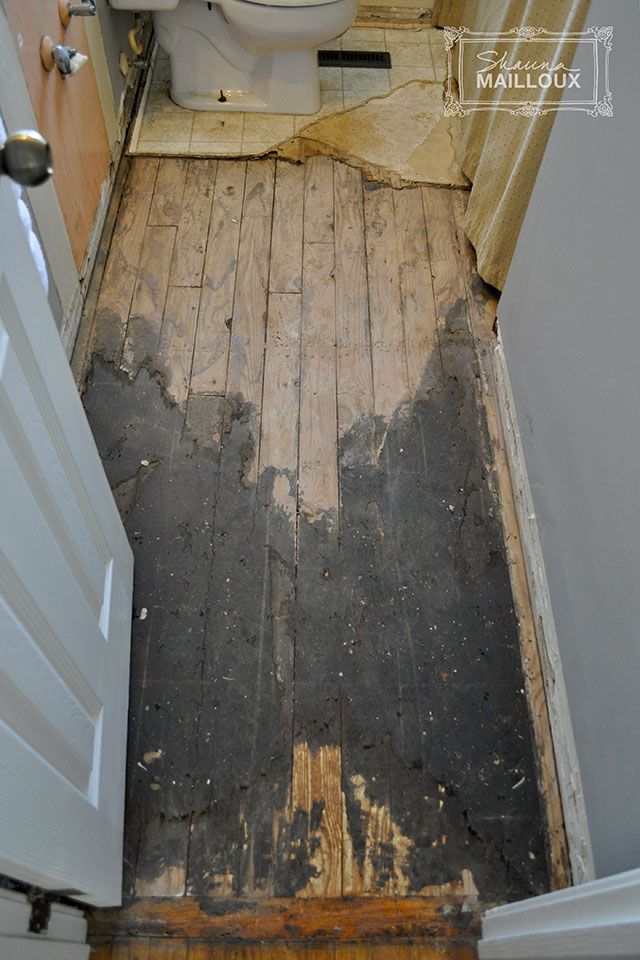 The rest of the tar paper was completely bonded with the wood & scraping it wasn't even possible anymore. We researched some other methods, like using a heat gun, but we didn't have one, and a hair dryer didn't even come close. I also read that you could use a steamer (which we also don't have), but it mentioned that an alternative is to pour boiling water onto the floor over dry towels.
This helped a little, but couldn't get the job completely done.
Then Phil discovered that the best method was to spray a vinegar & warm water solution onto it & scrape it with a wire brush.
I'm sure that all of these things are horrible for wood floors…but ours already had plenty of "rustic charm" 🙂 so we figured that a little bit more couldn't hurt. Actually, I didn't notice any damage from this except for a few very shallow scratches. It's a sacrifice worth making to get that freaking tar paper OFF!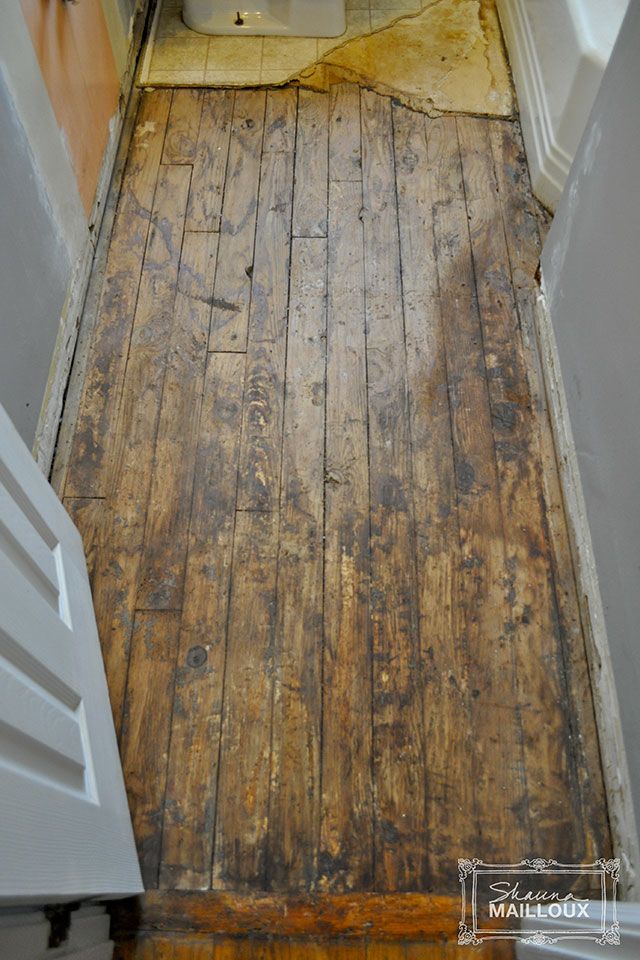 Once we got to this point, we hoped the rest would come off with sanding. And it did. What a difference sanding makes! Here it is halfway sanded –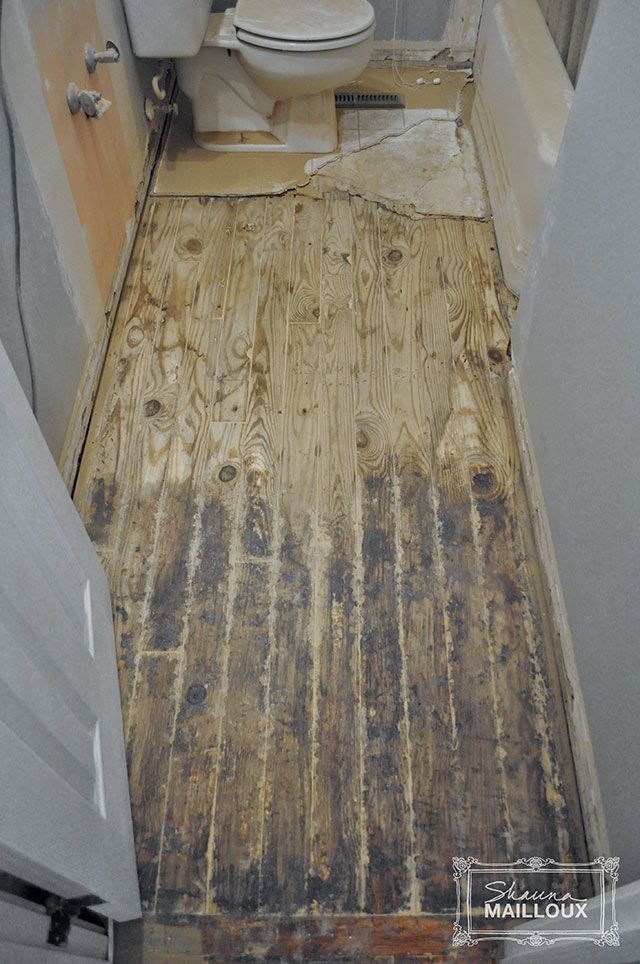 Instead of renting a big floor sander, I just used my little orbital sander. It's definitely not the "right" thing to do…but it got the job done! I figured that it wasn't worth the rental cost for such a tiny area. And likewise, it would probably be pretty difficult to maneuver in there. And using my already-owned orbital sander is free 🙂
We lived in this partially finished, very raw state for a very long time (& through visits from 3 friends – sorry guests!).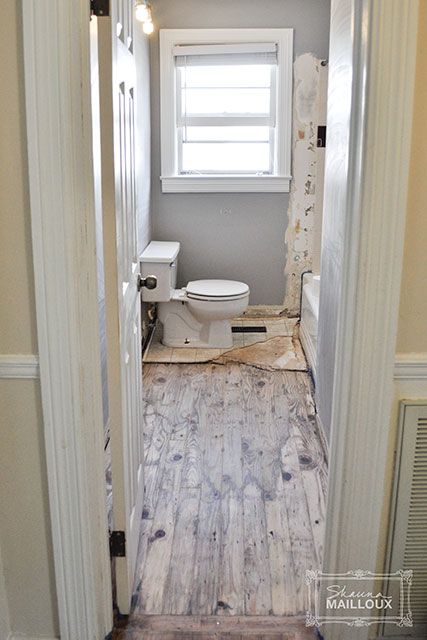 Well, I did paint it white, twice, in that time.
Finally life slowed down enough for us to finish the floor for good, so we said goodbye to our only toilet for the next 5 days! (Not fun, if you were wondering!) If you find yourself in the same predicament…I would have to recommend Lowe's for the best public restrooms 🙂
And to our true dismay…we found that the wood around the drain was rotten & had to be replaced. Now I will show you how we replaced the section in a completely, utterly wrong way! Please don't judge us for our amateur remodeling skills…we hit pure desperation & despair, haha. We were on a deadline to have the floor finished before a visit to PA, which meant that we had to remove the rest of the tar paper, repair the rotten parts of the floor, putty, sand, and apply the stain all in one day if we were going to get it done on time.
Enter circular saw. Yep, we took a circular saw straight to the floor & ripped out that section so we were left with a rectangle. We took out much more wood than what was actually rotten because we figured it would be best to keep the harsh seam hidden under the vanity, rather than definitely cut out around the toilet.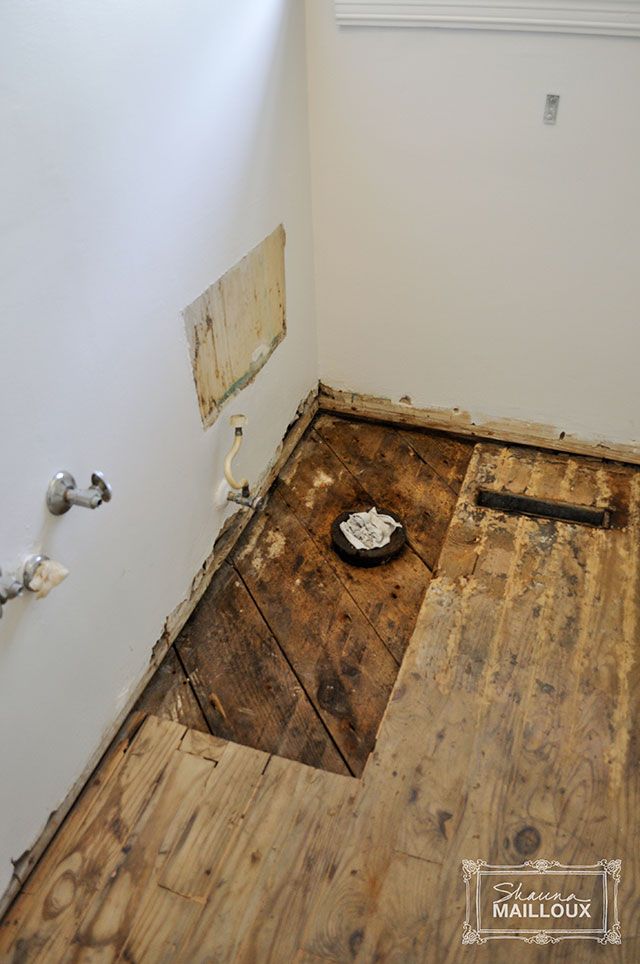 We bought some normal pine boards…not tongue & groove planks like the rest of the floor…just straight up pine boards. We purposely picked out the pieces that had knots so it would somewhat match our floor. Not that it even comes close to matching…but the hope was that I could apply more stain in that area to blend it in. There were two original, rot-free planks from the back that we were able to reuse in the front, and the rest we filled in with the pine boards, cut them down for a snug fit.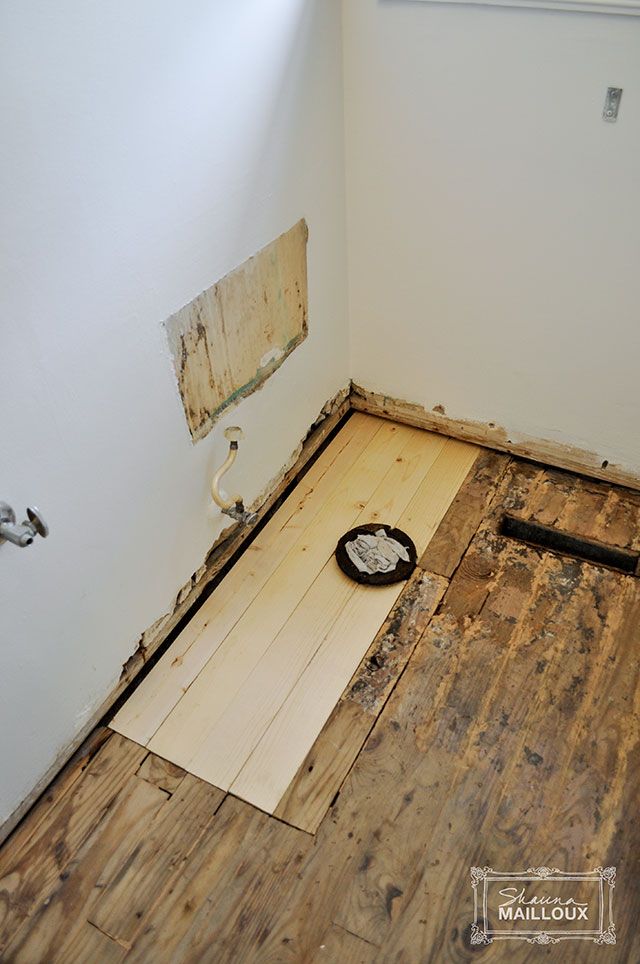 The best part is that we screwed them right down from the top 🙂 Haha. After puttying & sanding, sweeping & scrubbing the entire room & all surrounding rooms free of any dust, the floor was ready for stain.
We went with MinWax Dark Walnut. I applied it by hand with a brush, wiping it off almost immediately because it turned out much darker than my test piece.
But we were loving the the drastic change –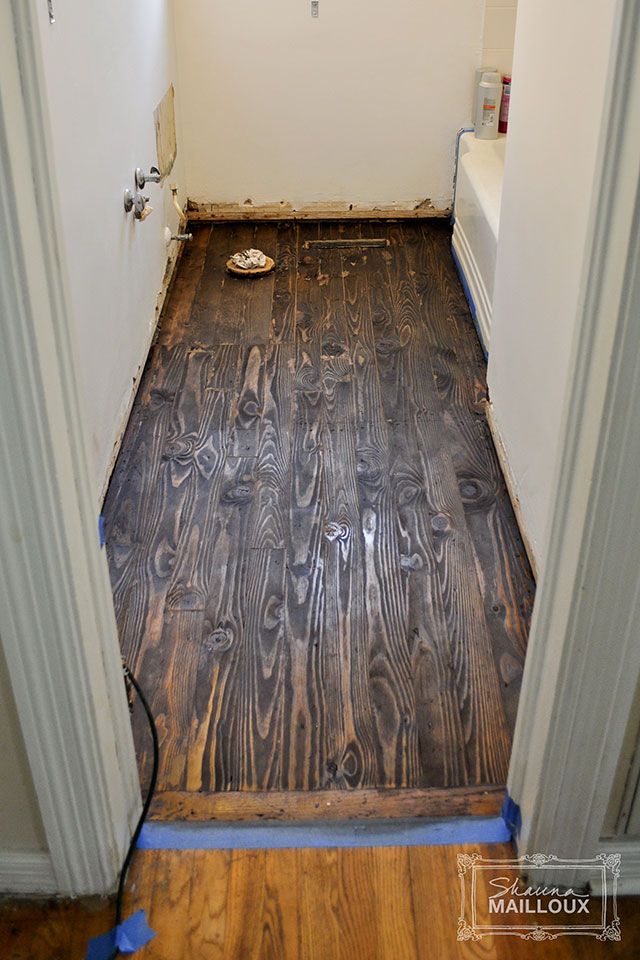 We let it dry for a full day before starting the series of protective finishes. The marine varnish I found was Cabot Spar Varnish.
I applied this with a brush too. You have to work somewhat quickly & be careful not to over-brush because it gets tacky. This stuff is potent…I wore a respirator while I applied it (as I did with the staining & sanding), we kept all the windows open in the house, & had two fans blowing for the next week.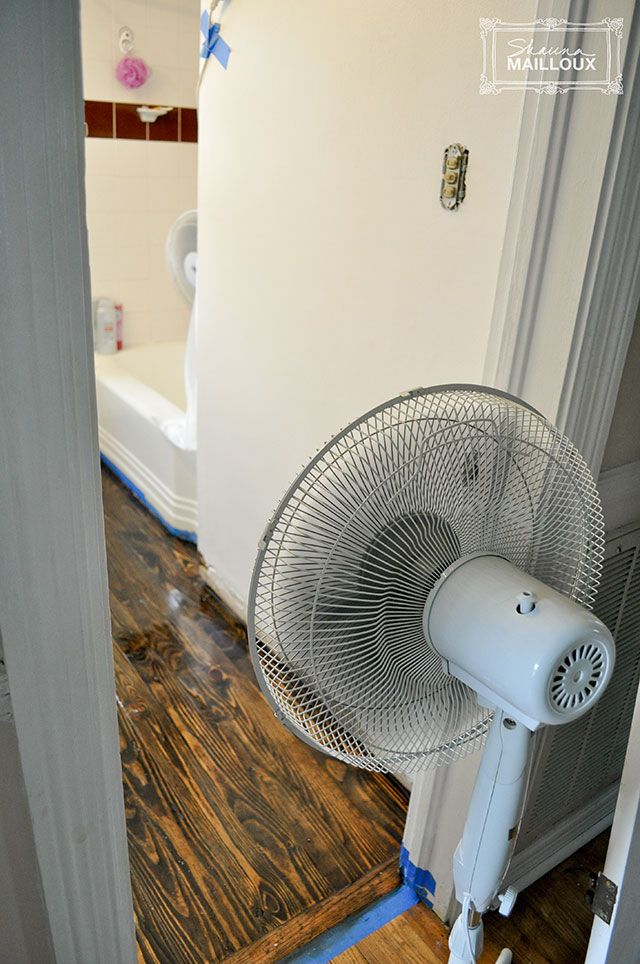 You have to wait 24 hours between each coat, which is why it took so long to finish it. The label recommended doing 2-4 coats, sanding lightly between each one. I thought that two seemed sufficient, but I gave it a third to be safe. The varnish made all the difference with our floor. I was in love.
I love how stripey it turned out. I like to call it our exotic hardwood now 🙂 We knew from the very beginning that this floor would not turn out pristine – you can see plenty of dents, scratches, & nail holes, but that's what I love about it. The worn & rustic qualities are what gives it its character! The varnish really helped to make it feel rich.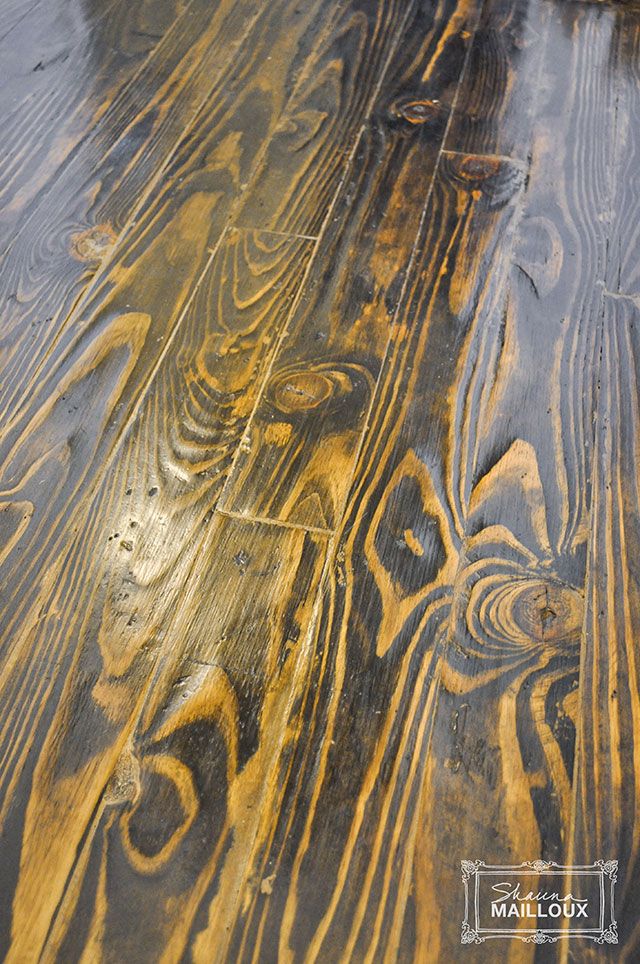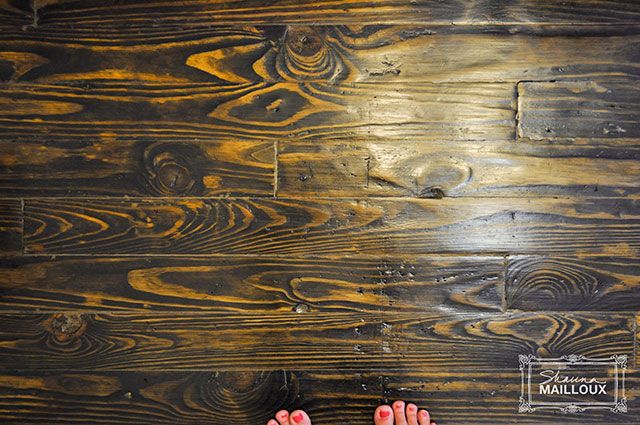 Even the area around the toilet didn't look half bad (knowing that the seam would get covered by the vanity).
You know, considering what we were working with.
The timing ended up working well for us because we were out of town for almost a week after the last coat, so it had plenty of time to fully cure before we got back to work & reinstalled the toilet.
I was ecstatic to get the trim in next. The room looked so rough without it – especially with our old plaster walls crumbling at the base. We had to buy all new floor trim because we needed to account for the area behind the vanity. And since we dropped the height of our floor by a good inch, the old trim no longer covered all of the holes in the wall, haha. So we had to buy extra tall 5 3/4″ trim. Oh darn 🙂
No nail guns here, just good old-fashioned hammer & nail set.
I was so happy to finally have a reason to bust out the miter saw my sister's bought us at Christmas. It did not disappoint!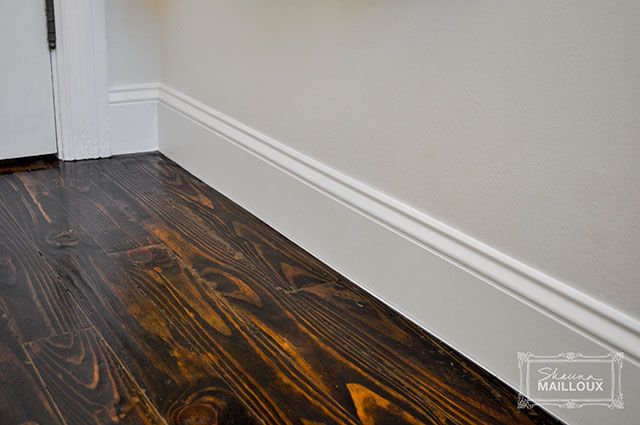 Finally, we can call our floor DONE. No more tar paper, no more rotten planks, no more gaping holes in our walls. Wohoo!
On a side note, I was really loving how much bigger our bathroom looked without the door swinging into it. Wouldn't this be the perfect spot for one of those awesome sliding barn doors or antique reclaimed doors?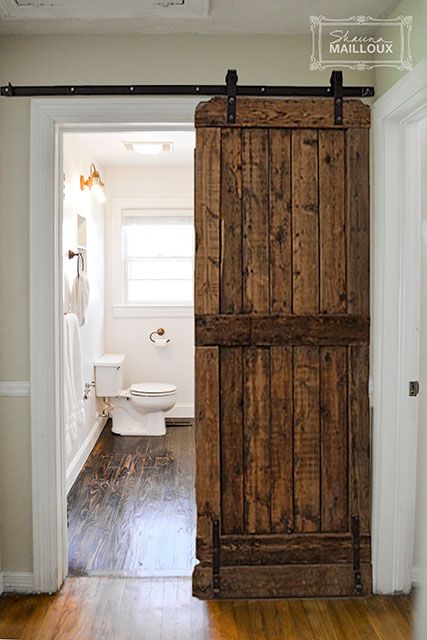 Buuuut that's not going to happen, for two reasons:
Actually, 3 reasons – Phil is not jumping on the sliding door bandwagon. But it would be sweet. Just sayin'.
Anyways. We LOVE our "new" old floors. Don't you? 🙂
Update 2/4/13:
Forgot to add the cost breakdown!
Extra wood: $4
Stainable wood filler: $11
Sander & sandpaper: $0 (already owned)
Stain: $8
Spar Varnish: $13
Trim: $28
Trim paint: $0 (already owned)
TOTAL: $64
Related posts: