Ohhh it was maybe two months ago (or was it 3?) that destruction actually began in our bathroom…
But life kept happening & things moved at a slower pace than we hoped. A few surprises popped up along the way that changed the game plan…like the fact that underneath many layers of linoleum, plywood, & tar paper, we found HARDWOOD FLOORS!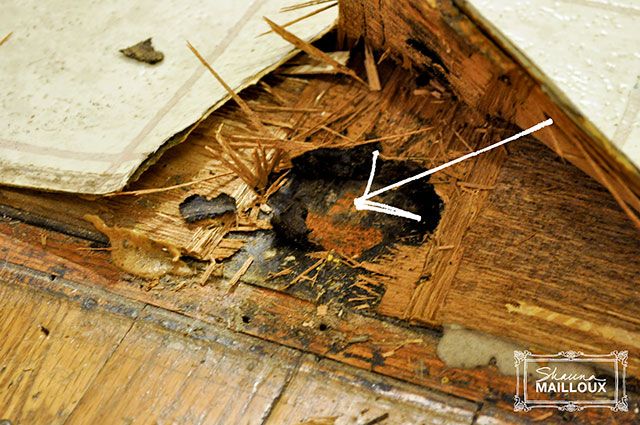 We loved the idea of restoring the original floor, so we decided to go for it. Now, before you think I'm an idiot for using hardwood flooring in a bathroom, which is prone to drips, splashes, and humidity, let me just say that I did some research & found that it's not so crazy of an idea after all! More on that later. So we were able to return our original white octagon & dot ceramic tile & some supplies (and pocket a wee bit of money). I was ECSTATIC to have rustic, rich hardwood floors in the mix, but it did bring its own share of issues, one of them being the colors in the original plan.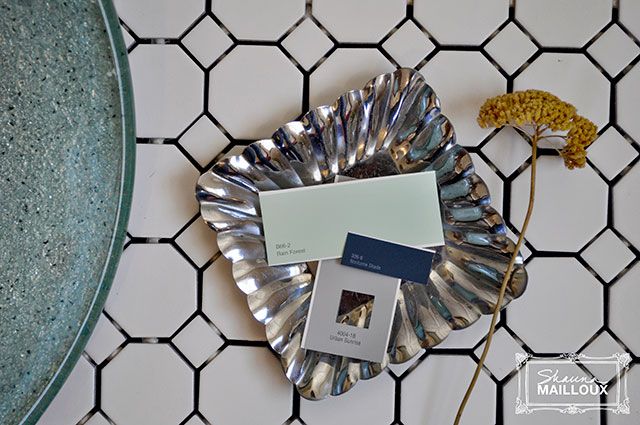 Now with brown toned floors instead of bright white ones, it seemed to me like all of the colors in the room would be medium-toned & felt like we lost all of the contrast. I wasn't willing to give up mint green, and there certainly was NO way I would be repainting the navy vanity after this headache, but I could spare the gray walls for some bright white ones (even though we recently painted them that color last fall).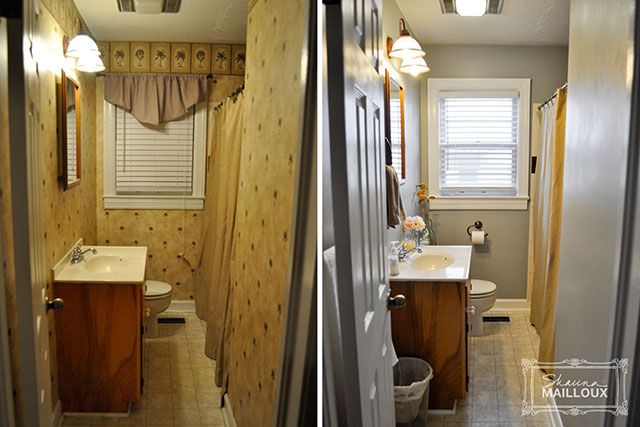 I primed the walls first with some Kilz, which I never do, but I thought it might help to seal the walls better, since there seemed to be a hint of wallpaper paste leftover that condensed on the walls during showers. I'm pleased to report that it worked wonders 🙂 Yay for no more weird brown water spots!
We painted the entire bathroom white, and then repainted it…white. The first one was just off-the-shelf "White" by Valspar, which I thought would be best because I wanted the most normal white there was to pair with our even brighter "Ultra White" trim. Well, I hated it. It seemed like it had purpley-gray undertones, and completely clashed with our slightly off-white subway tile for the shower. So the second white I went with was Valspar's Du Jour. You can see it here with our sample floor color underneath, trim color, and subway tile to the right –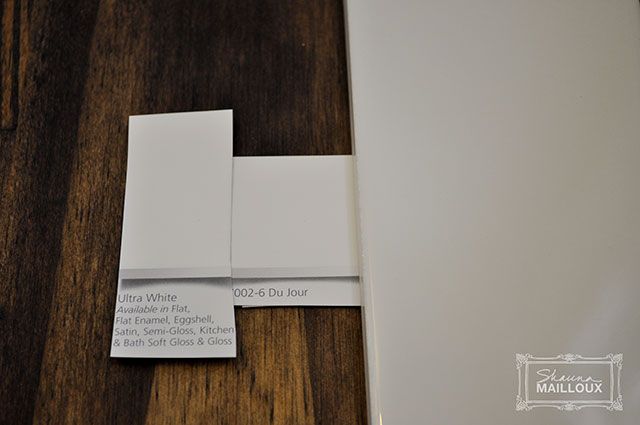 This, I loved. It was not at all a cold white like the first one -it makes the bathroom seem fresh, brighter, and bigger!
The ceiling got a new coat too, and I was surprised at how much better it made the popcorn texture look. Not that I would ever really choose that texture if I had a choice…but a bright white popcorn ceiling is certainly an improvement over a poorly painted dingy white popcorn ceiling with splotches of beige scattered throughout. If this was our forever home, I would love to cover all of our ceilings with white painted wood panels for rustic/cottagey charm. But a fresh coat of white will definitely do for now! I also spray painted the rusted chrome fan white too, hoping that it would help it to blend in a little.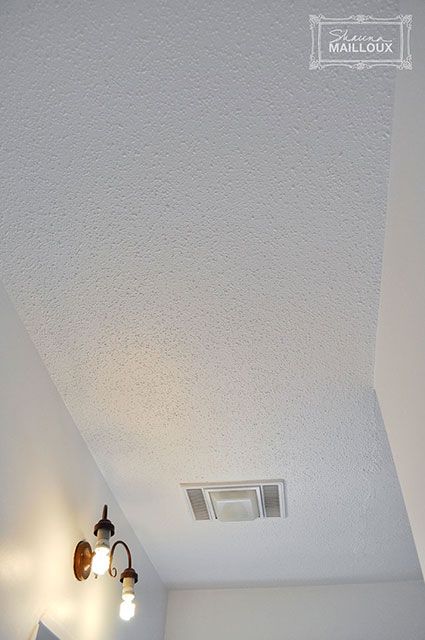 While we were at it, we replaced the ancient light switch –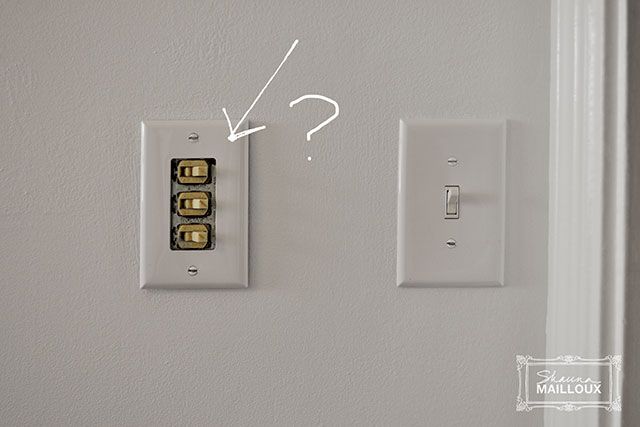 Look at the craziness lurking behind this switch. I actually came very close to being electrocuted & that scared me enough to teach me a lesson! Don't worry, I won't do it again 😀
I never would have thought that a light switch could make me so happy…but it does 🙂
I think it's interesting to see how a design plan changes as you go to adjust to reality & new ideas & surprises along the way. This plan has definitely changed a lot, from the very first idea with green glass tile and a vintage dresser-turned-vanity –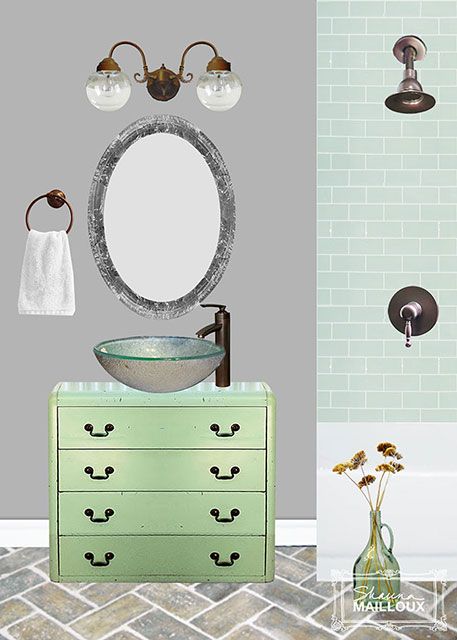 To our second plan, adjusting for the tile & vanity we found that fit in our budget –
And then realizing that the industrial vanity would look better navy blue –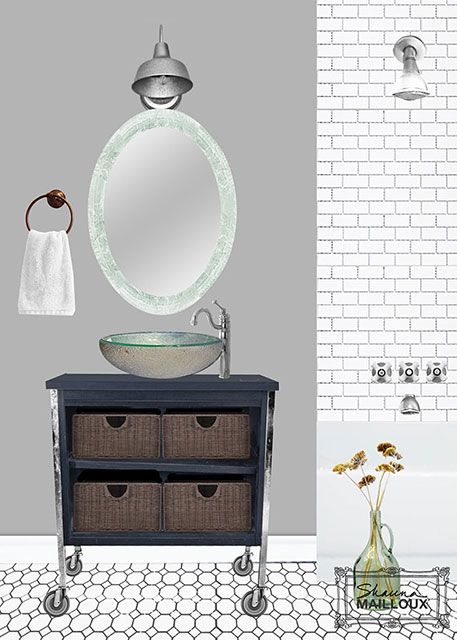 And finally (I hope!), changing the plan to white walls to accommodate our "new" wood floors –
I am so glad that things played out the way that they did, because I am SO much happier with this "final" plan than my original idea. I'm dying to show you our FINISHED floors!…but I'm saving it for my next post 🙂
Related posts: